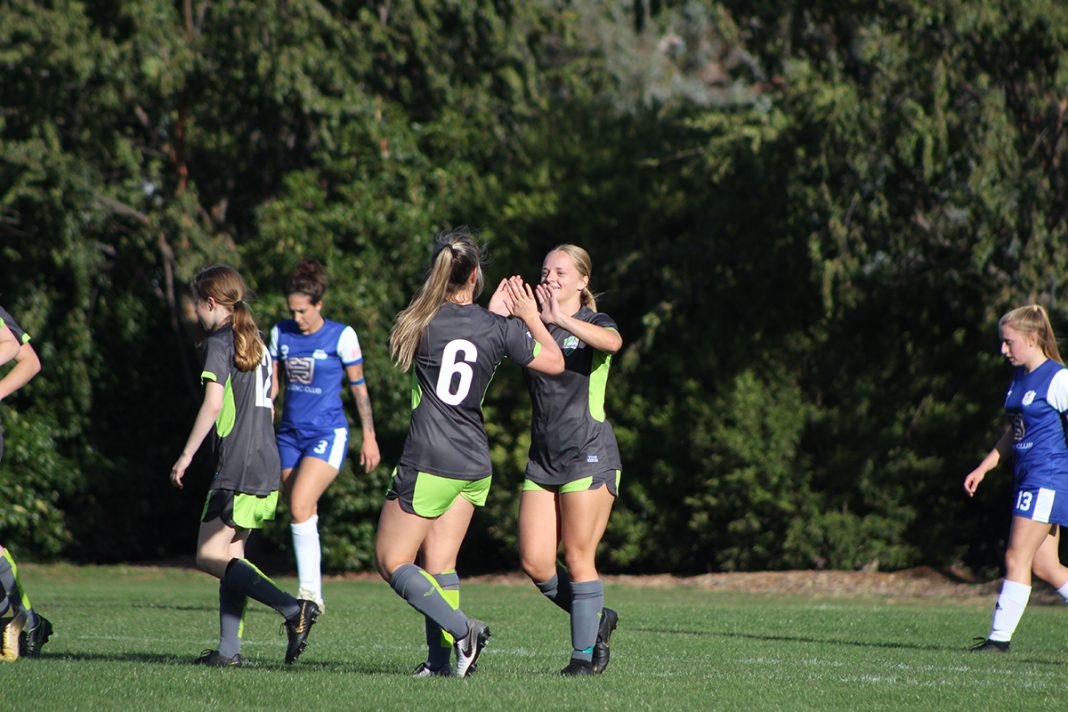 A fine and sunny Sunday afternoon at O'Connor Enclosed Oval greeted this highly-anticipated clash between two of last season's top four finalists. Both of these teams have undergone significant rejuvenation due to losses of experienced players in the off season, including several with W-League experience. The result saw a convincing 9-0 win for Canberra United Academy.
This was to be Olympic's first regular season outing for 2019 – following the postponement of their round 1 game last week – while Academy were looking to continue their strong finish after last week's narrow loss to Woden-Weston.
The first goal of the game in the 12th minute provided a taste of things to come, with Academy's Hayley Taylor-Young turning sharply in possession in midfield before providing a well-weighted through-ball for Sacha Grove, who outpaced her defender and slid the ball past the keeper with composure.
In this early part of the game, Natina Skinner was proving to be Olympic's attacking outlet; her ability to run at the Academy defenders was most effective on the few occasions when she was supported by her midfielders acting as decoys, or in providing passing options.
After some great work by Olympic keeper Madeleine Sanfrancesco in foiling a Taylor-Young one-on-one with an outstretched leg, a second goal was gifted to Grove in the 20th minute when a back pass to the keeper was not hit with sufficient authority. Grove intercepted and coolly rounded Sanfrancesco to score.
In the second period of the first half, much of the game was played in Olympic's half. Taylor-Young's speedy left wing incursions proved a constant threat, providing an outlet for the nimble Academy midfield's ball-winning abilities. Sacha Groves' clever use of space in the attacking third was blunted a little when Mia McGovern limped off the field at around the half hour mark, forcing Grove into a slightly deeper number 10 role.
Both Taylor-Young and Grove had additional one-on-one opportunities with the keeper late in the half, with Grove shooting wide when there was an option to square the ball to Jenny Hill; while Francesco did well to close down and rush Taylor-Young's chance.
Olympic opted to partner Skinner up front with Emma Guo at half time, who came on for Olivia Catherall.
The 46th minute brought a delightful Academy passing move, starting on the right side of defence with Stefi Lejins, with Molly Lawless and Hill featuring in switching the ball across to Taylor-Young who finished with a fine low shot to make it 3-0.
Olympic made a second substitution in the 52nd minute, with midfielder Georgina Woodward coming on for Kiara Gaspari.
By this time Olympic had assigned the speedy Lily Dawson to mark fellow speedster Taylor-Young, and at times in the half Dawson was able to nullify her threat. However, on the hour mark Taylor-Young was able to intercept an errant ball being played out by a defender not far from the 18-yard box. Her low, hard shot at the corner of the goal made it 4-0.
Victoria Jamieson for Olympic did her best to turn things around for Olympic with a couple of encouraging runs from left back to feed her forward line, but chances were proving few and far between.
Taylor-Young was able to complete a hat-trick on the 70th minute, rounding Emily Dillon and burying a near post goal. Just before the restart, Olympic brought on Aiobhim Crimmins in midfield in place of Laura Berry.
Late in the half, Academy's right winger Isabel Mulhall came into her own, which led to an attacking flurry by Academy. After another blistering 73rd minute shot by Taylor-Young that was tipped over the bar, a Mulhall run resulted in a pass into the penalty box to Taylor-Young, who fed an unmarked Sacha Grove for her hat-trick.
Academy made a further two substitutions in quick succession at the 77th and 78th minutes, with Bianca Kimpton coming on for Dillon, and Jade Trewin – returning from an ACL injury – warmly received by the crowd, replacing Demi Nikias. The attacking momentum continued, with additional Academy goals to Taylor-Young coming in the 83rd, 84th and 86 minutes, with Mulhall instrumental in two of them. This goal rush coincided with Olympic's Lily Dawson playing in a more central role after a substitution positional shuffle. Without Dawson's pace to help keep her in check, Taylor-Young ran riot.
Another chance in extra time presented itself to Sacha Grove after an Olympic defensive mix-up, with Sanfrancesco throwing the ball out to her defender for a restart without realising the ball was live. Grove gathered up the ball but shot wide of the open goal.
Academy will be pleased with the response to the Round 1 loss and with the effectiveness of their approach to the game, particularly in the second half. Their mobile and clever midfield will trouble teams this season but their challenge may come in dealing with more physical opponents, who may thus be able to curtail supply to their attacking threats. They were also somewhat wasteful with dead-ball opportunities, with several corners not making it into the field of play, and others targeting a very crowded 6-yard box, often to little effect. At the back, Academy defenders Annie Grove and Stefi Lejins were solid performers and showed promise for the forthcoming campaign.
Olympic will, upon reflection, find positives coming out of the game, and will know that cohesion takes time to form with a new-look squad. Spiteri played with assurance in the heart of defence and cut out many Academy opportunities. Sanfrancesco in goal should be satisfied with her work despite the scoreline. Skinner is a crafty and hardworking attacking threat, just needing some support to shine.
Their midfield, however, were outclassed, and out wide they struggled to contain the attacking threat posed by Taylor-Young, Grove, and Mulhall.
Full time: Canberra Olympic 0 – 9 Canberra United Academy
Teams:
Canberra Olympic – Coach: Andrew Woodman
Madeline Sanfrancesco; Olivia Catherall, Emily Spiteri, Emily Dillon, Victoria Jamieson; Kiara Gaspari, Laura Berry, Eleanor Jones; Lily Dawson, Natina Skinner (c), Emma Finch
Subs: Emma Guo (Catherall 46′), Georgina Woodward (Gaspari 52′), Aiobhim Crimmins (Berry 70')
Yellow/Red cards: nil
Canberra United Academy – Coach: Scott O'Donnell
Isobel Davey; Stefi Lejins, Demi Nikias, Annie Grove, Emily Jensen; Molly Lawless, Mia McGovern, Meg Roden; Isabel Mulhall, Sacha Grove (12', 19', 76'), Hayley Taylor-Young (c) (12', 60', 70', 83', 84', 85')
Subs: Jenny Hill (McGovern 28′), Bianca Kimpton (Hill 77'), Jade Trewin (Nikias 78′)
Yellow/Red cards: nil
Around The Grounds:
Woden Weston 0 – 7 Canberra FC
Tuggeranong United 0 – 6 Gungahlin United
Monaro Panthers vs Wagga City Wanderers – postponed
Belconnen United – bye