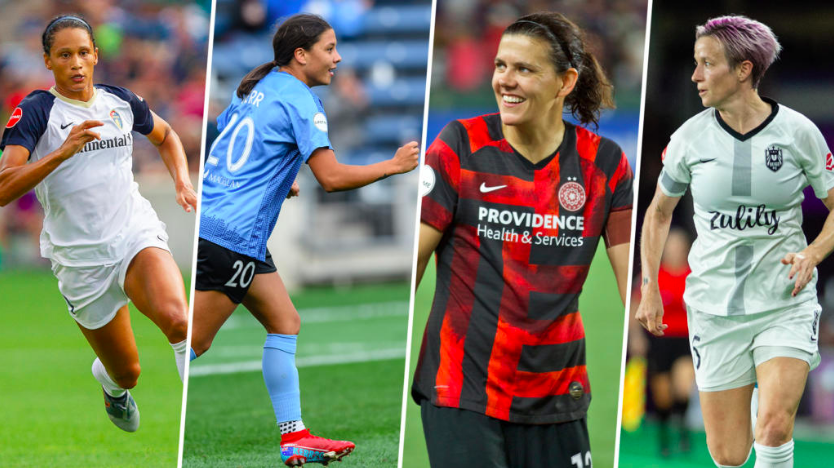 With the NWSL regular season done and dusted, only four teams remain in the race for the NWSL Championship. With a spot in the Big Dance next week on the line, we run the rule over the four contenders.
North Carolina Courage vs Reign FC
North Carolina Courage
While all eyes will be on North Carolina Courage (15-4-5) during the upcoming 2019 NWSL playoffs, Reign FC (10-8-6) are coming in hot and poised to give the defending champs a run for the Championship title. Both sides are stacked with veteran international players, young talents, and record holders.
For North Carolina, there's no place like home and that's where they'll be playing for the entire playoffs, including the NWSL Championship Final on Oct. 27: at Sahlen's Stadium in Cary, North Carolina. The defending NWSL Champions led the league in most home wins in 2019 with a record of 8-4-0.  
North Carolina has plenty of offensive firepower with four players leading the top of the rankings with most goals and assists in the league, including Lynn Williams (second to only Sam Kerr in most goals scored this season), Debinha, Kristen Hamilton, and Crystal Dunn. 
Former USA midfielder Heather O'Reilly will retire from soccer after the season, so expect North Carolina to be extra motivated to win one more for the USWNT fan favourite.
Then, there's striker Jessica McDonald, who scored two goals in North Carolina's last match of the season. The brace brought the team's total number of goals in a season to 54, breaking the team's previous league record set last season.
Many consider North Carolina's defence to be the best in the league, with a stellar back-line featuring Abby Erceg, Abby Dahlkemper, Jalene Hinkle, and Merritt Mathias. Add Canada national team goalkeeper Stephanie Labbé to the equation and you get a defence that led the league in the fewest goals conceded with 23.
Reign FC
Two-time Women's World Cup winner and 2019 FIFA Best Player Megan Rapinoe has won a lot of silverware in her career, but never an NWSL Championship, so expect a little more punch in her already-powerful game. 
England striker Jodie Taylor has been playing some of the best football of her club career, finishing the season by scoring her third game-winning goal of 2019.
Keep an eye on Rookie-of-the-Year favourite Bethany Balcer to add offensive muscle, especially coming off the bench. Forward Darian Jenkins is another valuable playmaker in the late minutes. 
Other Reign players to watch are forward Bev Yanez, who can easily get 40-plus touches in a match, as well as Theresa Nielsen who can assist and score her share of dazzling goals.
Australian defender Steph Catley has been a big part of the Reign's defence on the outside. With Catley, the threat comes in the offensive switch where she's quick to transition to attacking winger, using her dangerous left-footed expertise to feed balls into the box.
With the injury to Australian goalkeeper Lydia Williams, the biggest surprise this season for the Reign has been the late signing of goalkeeper Casey Murphy. The youngster ended the season with six clean sheets in 19 starts and a nomination for the NWSL Goalkeeper of the Year award.
If the Reign should win, they'll continue on the road to face either Portland Thorns FC or Chicago Red Stars. If North Carolina comes out on top, they'll stay in the comfort of their home stadium.
– Patty La Bella
Chicago Red Stars vs Portland Thorns
Portland Thorns
While this weekend's North Carolina vs Reign FC semi-final seems much simpler a narrative – the reigning Champions vs the talented underdog – and perhaps even more of a foregone conclusion, due mostly to the Courage's incredible record at home, it feels as though Chicago vs Portland feels much more contentious, much more contested. And yet, despite the weight of both recent and distant history, perhaps it's the match in the Windy City that should be more of a sure thing.
It's incredible to consider just how different things might've been six to eight weeks ago; Portland was the hottest team in the league, streets ahead of the field, poised to finally wrest the NWSL Shield back from the Courage. The side had just dusted their toughest competitors in front of the biggest crowd history, and everything was coming up Milhouse.
What a change two months can make; since those incredible highs, Portland's form has been – to put it kindly – Not Good. Despite once having silverware within touching distance, Portland have registered just a single win since their meeting against Chicago, managing only to eke out three points at home against a Houston side that felt unable to score even if the match had lasted a month.
Even with a squad featuring two of the best creative players in world football in Tobin Heath and Lindsey Horan, an all-time great finisher in Christine Sinclair, and the speedy directness of Hayley Raso, Portland's biggest concern moving forward will be a lack of polish in the front third. Frequently out-possessing and out-attacking opponents of all stripes across the season, the Thorns have more recently failed to capitalise on their opportunities, too often missing a final pass or run to lose momentum in attack. Ignoring the aberration that was their 0-6 home loss to North Carolina back in September, Portland have racked up 74 shots in total but managed only a single goal since their Chicago win: Tobin Heath's close-range finish against a Houston defence likened by this writer to a Confused Travolta meme.
Chicago Red Stars
That offensive profligacy will worry Thorns manager Mark Parsons, especially against a Chicago side so well-placed to punish a slow, methodical build-up with lightning speed and precise attack. It's no surprise that a team featuring three World Cup champions in Julie Ertz, Alyssa Naeher and Yuki Nagasato, and one of the three best attacking players in the world in Sam Kerr, has spent the last two months scoring for fun. Kerr is surely in career-best form, taking joy from finding new and improved ways to dunk on opposition defenders on the way to yet another goal-scoring record, and with the ageless Nagasato proving a worthy side-kick, Chicago have outscored their last five opponents 12-2, with Kerr contributing five of those goals.
Portland's brilliant defensive management of Kerr in the sides' last meeting will form the framework of Parsons' plan to combat this pyrotechnic Catherine wheel of a Red Stars attack; Thorns defenders Emily Sonnett and Emily Menges will likely be all over Kerr like a cheap suit in the front third, while Horan, Heath and Icelandic international Dagný Brynjarsdóttir will look to pull and push the Chicago midfield in and out of shape to create space in behind.
Similarly, Rory Dames will likely deploy Kerr off the shoulder of the last defender in an attempt to pull Portland's defence around, creating an extra yard for either herself or an onrushing midfielder in the form of Nagasato or Vanessa diBernardo, and look to press Portland's overlapping wingbacks Ellie Carpenter and Meghan Klingenberg back into their own half to block off further attacking raids down the flanks.
This match, like so many that define seasons, is one of contrasts: the unstoppable Kerr against the unflinching Thorns defence; the patient, meticulous Portland playmakers against the intense, incisive Red Stars attack; the two-time NWSL Champions against a side yet to win a match in the playoffs. And so, as things of contrast are wont to do, this match will likely be won around the edges – in the bleeding grey between the two halves.
With one side looking to haul themselves back to the top of the pile once again, and the other looking to fulfil the promise they've held for so many years, this match looks set to be an absolute thriller. No matter the result in Chicago, fans can be sure they'll have seen something special by the final whistle.
– Dale Roots
How to watch:
North Carolina Courage v Reign FC
Kick-off: Monday 4:30AM (AEDT)
Live-stream details: http://www.nwslsoccer.com/game/north-carolina-courage-vs-reign-2019-10-20
Chicago Red Stars v Portland Thorns
Kick-off: Monday 6:30AM (AEDT)
Live-stream details: http://www.nwslsoccer.com/game/chicago-red-stars-vs-portland-thorns-2019-10-20