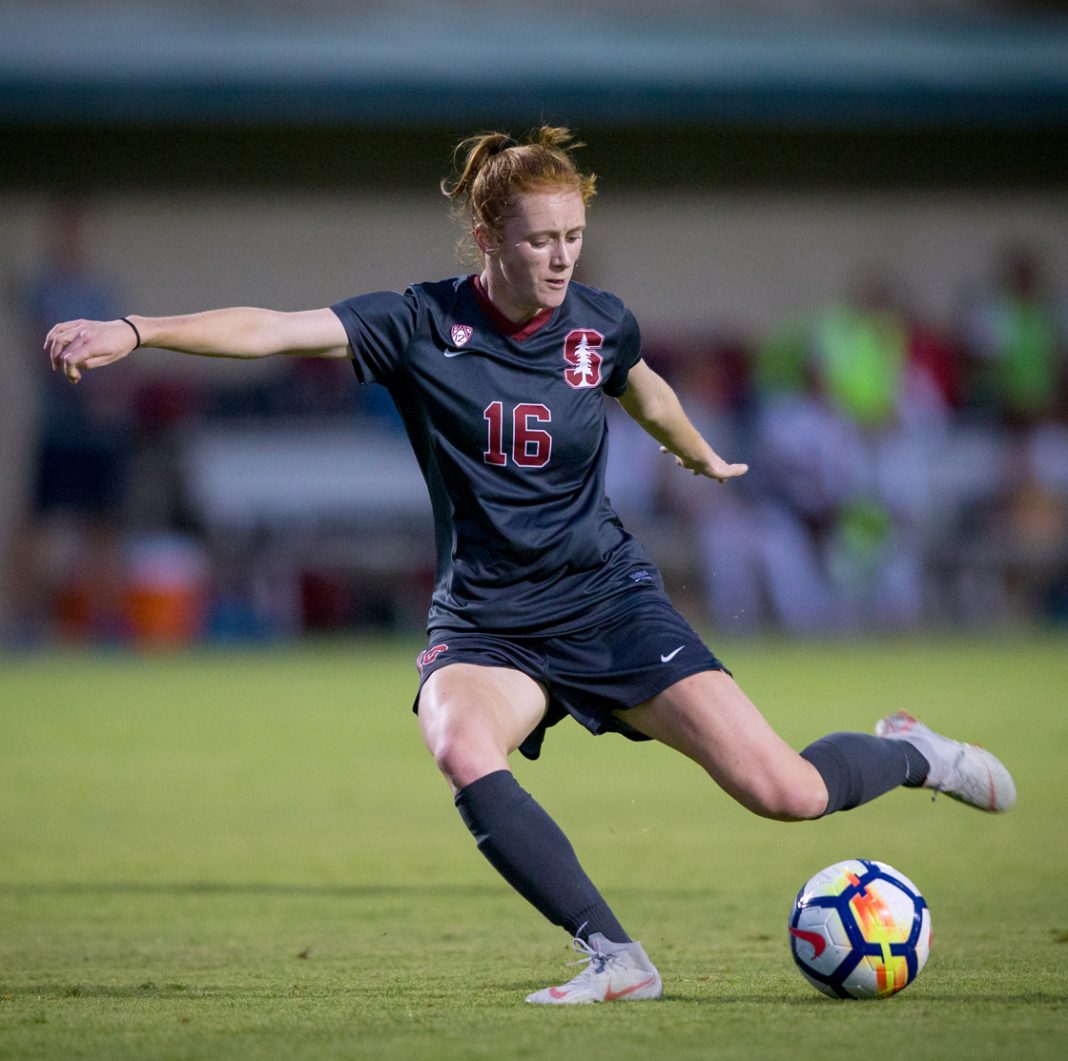 When Beattie Goad first stepped onto the campus at Stanford University in northern California, it seemed like a natural progression for the Melbourne girl who always identified herself as two things: a high-achieving student and a dedicated footballer.
What the ambitious youngster didn't know at the time was that a good part of the education she would receive at the prestigious university would happen outside of the classroom and away from the soccer pitch.
Growing Up Goad
When Goad was growing up in Melbourne, she discovered the game of football by competing against her brothers and eventually joined boys' clubs. The young Goad poured herself into the game in many of the same ways she had in academia – with extreme vigor, an eagerness to learn, and a passion to achieve success at the highest level.
All these attributes were in place well ahead of her time at Stanford. She excelled in school from a very young age, preferring studying over playing outside with her friends. Football gave her a way to express herself outside of the classroom. After all, by the time she graduated high school, she had her pick of just about any university in the world and had already won a W-League Premiership with Melbourne City.
Aussie Abroad
When it came time to choose university or soccer, Goad turned to her teammates and her parents for advice. "At the time, academics was just as important in my life as soccer and I felt that if I stayed home, I would have to choose one over the other," says Goad, who will turn 22 in May. "A few W-League girls from America posed the question to me about attending college in America and that sort of balance was totally feasible there. I obviously have high expectations for myself in terms of academics, so I actually didn't believe that I could get into Stanford, but my parents did.
"In the beginning, I was completely against the idea of going to America. I didn't want to leave Melbourne and I thought I had a good path in terms of my soccer. I'm so grateful that my parents pushed me and believed in me."
Goad is currently in her third year at Stanford, majoring in human biology with a concentration in bioethics, bioengineering and neurobiology. If that isn't enough, she also withstands two-a-day training and playing with the Stanford University women's soccer team, a program known for its year-around intense workout and fitness training. For Goad and her college teammates, the hard work paid off in 2017 when the team won the NCAA College Cup.
At Stanford, Goad continued to excel in academics and football at an even higher level than she did in Melbourne. However, the amicable Aussie possesses an insatiable appetite for learning, and so the education didn't stop there.
New Challenge, New Outlook
"For me, it's really easy to balance academics and soccer because I've done it my whole life, but something that's been challenging for me at Stanford is bringing the social aspect to it," says Goad. "In high school, I didn't really have a social life because it just wasn't feasible. I had soccer and school friends, but not friends just purely in a social sense. So at Stanford, I really wanted to just make friends who weren't academic, weren't pre-med, who weren't doing the same classes as me, and weren't in soccer."
This was a new challenge for Goad, who knew it would take quite an effort to reach out beyond her classmates and teammates. One way she was able to achieve this was by rediscovering an old hobby – her love of the outdoors and hiking.
"I've been able to explore my hobby of the outdoors in California which has awesome natural parks and I've been able to meet friends doing that," adds Goad. "I definitely knew when I looked back [on my years at Stanford], that I didn't want it to just be academic and athletic. I wanted to really make sure that I made some friends outside of those two spheres."
As a pre-med student with an incredibly difficult curriculum and soccer training on par with many professional clubs, how has Goad achieved the other success of developing outside relationships and hobbies? She turned to her own personal formula for success.
"It really comes down to organization, time management, prioritization and not being too idealistic, but more realistic," says Goad. "I ask myself, 'Would I rather spend another 10 minutes working on my essay or enriching myself at different kinds of friendship?' So just learning that balance is really important."
California Awakening
These additional goals and achievements of creating a vibrant life outside of studying and soccer has given the young Aussie a new perspective of herself and growth in a way she's never experienced before.  
"It's really been extensive and emphatic here at Stanford because I've been able to delve into philosophy, delve into going to different national parks, and seeing different landscapes to meeting new people and just opening my eyes," says Goad.
"Before I would say, 'I have soccer, and I have academics and this is who I am.' Now, I have so many more aspects of my life that I associate with my identity. I'm way more outdoorsy – I love the outdoors. I love ethics and philosophy. I love reading. That's not to say I didn't love these things before, I just feel like I am more inclusive in the things I identify myself with."
More Hard Decisions
This new-found growth will be put to the test after she graduates from Stanford in 2020, when Goad will be faced with yet another difficult decision – go directly into medical school or take a few years off to pursue a professional soccer career.
"If you would have asked me in my Freshman year, I would have said, 'Yes, absolutely I'm going pro.' Now, since coming to Stanford, I've just opened my eyes to other things in life. At the moment, I definitely would like to take one to two years off after college to go pro, but not at the highest level, just so I can do other things while I play."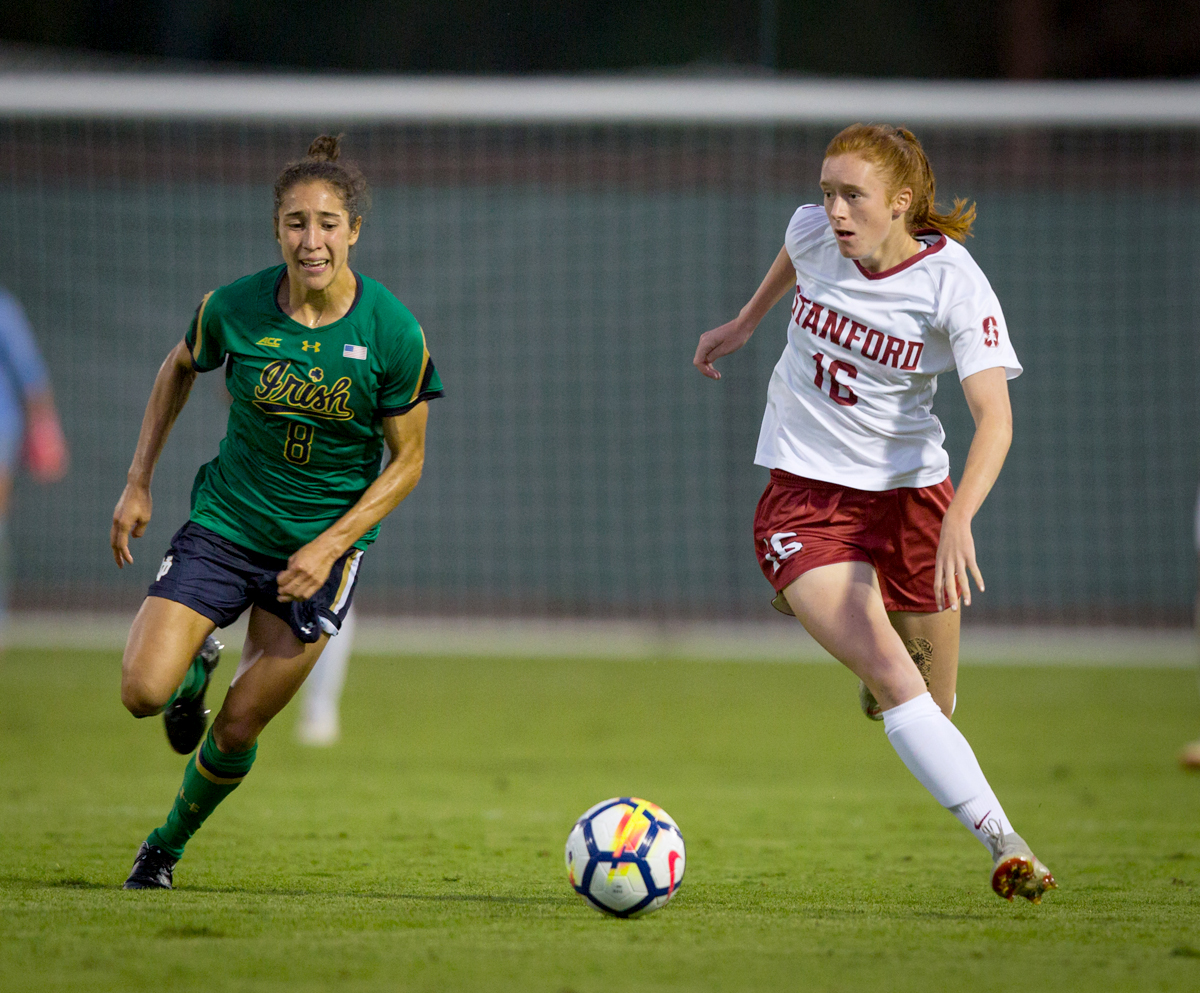 Goad sees herself possibly playing in Europe or Scandinavia for a few years before going into med school. She adds thoughtfully, "I think if I really blossom and play well next season, then I'll probably keep the ball rolling. If I don't, well I have so many other things in my life going for me, so I wouldn't be truly upset."
Strength, Gratitude, Growth
The efforts and determination of Beattie Goad to jump-start personal growth and transform her identity is inspiring and yet not too surprising coming from someone who has always challenged herself and never shied away from stepping outside of her comfort zone.
"I didn't know how strong I was until I came here (to Stanford) and that's in terms of mentally, physically, emotionally, and everything," says Goad. "You never know how strong you are until you push yourself to your absolute limits, and you live away from home. I haven't been home in a year. Not seeing your family in a full year can take the toll on you.
When she does eventually leave California, Goad will take with her the titles of Stanford Graduate and NCAA College Cup Champion. Yet, these two things won't be her sole identity.  
Beattie Goad sums it up best – "I've realized how strong I am, how lucky I am to have the family and friends that I have back home and here in California; and certainly, my identity has become much more multidimensional than just soccer and academics."