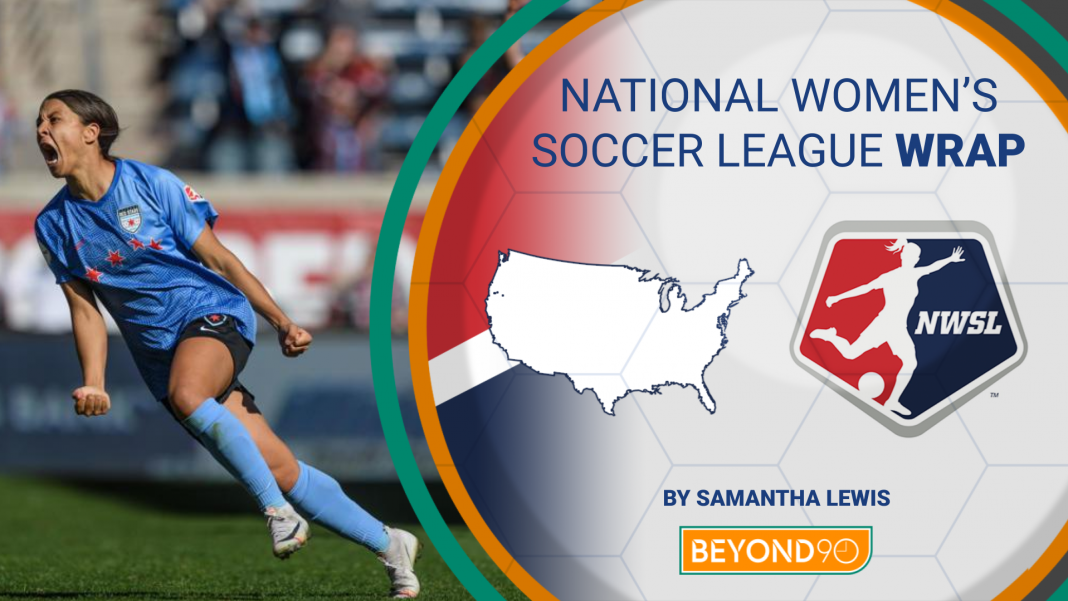 The games are coming thick and fast in the NWSL now that all teams are rediscovering their pre-World Cup chemistry, with some teams playing two games in four days to make up for past byes. This week saw more sell-out and record crowds, some absolutely wild score-lines, and, of course, brilliant football.
Last-placed Sky Blue FC hosted the Washington Spirit in the first game of Round 15 in front of a sell-out crowd in New Jersey.
With both teams now back with their full complement of World Cup players, including Carli Lloyd, Rose Lavelle, and Mallory Pugh, it was Washington who would come away with all three points after a lone Ashley Hatch goal.
.@ash_hatch33 finds plenty of space and doesn't make a mistake with a cool finish to give @WashSpirit the lead!

0-1 | #NJvWAS pic.twitter.com/yZ3YkBIjof

— NWSL (@NWSL) July 25, 2019
Sydney FC and Matildas team-mates Chloe Logarzo and Amy Harrison both started for the Spirit, getting a solid hour of game time, while Melbourne City midfielder Elise Kellond-Knight came on as a substitute with half an hour to go.
Highlights:
#Highlights: @WashSpirit 1 – @SkyBlueFC 0
—-

The Spirit prevail in front of large Sky Blue home crowd on the strength of @ash_hatch33's goal.

—-#NJvWAS pic.twitter.com/BxxGUaziLm

— NWSL (@NWSL) July 25, 2019
It was the best welcome-back present the Portland Thorns could have given their World Cup heroes, slotting five goals past a shambolic Houston Dash at Providence Park in front of a club record 22,329 fans.
USWNT star Lindsey Horan was the first on the scoresheet in the 6th minute.
Welcome 🏡, @LindseyHoran! She nets the opening goal for @ThornsFC.

1-0 | #PORvHOU pic.twitter.com/sp8L8akUC4

— NWSL (@NWSL) July 25, 2019
Five minutes later, Brisbane Roar and Matildas winger Hayley Raso had the first of her two goals of the afternoon, capitalising on some poor Dash defending.
Can't leave @HayleyRaso unmarked at the back post, she'll make ya pay.

2-0 | #PORvHOU pic.twitter.com/e5E9ZJLMDc

— NWSL (@NWSL) July 25, 2019
Just over 15 minutes into the game, Canada captain Christine Sinclair slotted home a penalty after a foul by Adelaide United centre-back Amber Brooks. 3-0.
Hayley Raso scored her second just after the 20-minute mark, burying a lovely square ball from Midge Purce.
✌️ for @HayleyRaso

4-0 | #PORvHOU pic.twitter.com/cfN61WvNGT

— NWSL (@NWSL) July 25, 2019
It could have been 5-0 within half an hour after Horan attempted an insane bicycle kick, but Dash goalkeeper Jane Campbell's double-save was equally brilliant.
THIS GAME. @LindseyHoran went for the 🚲 and somehow @jane_campbell1 kept it out!

4-0 | #PORvHOU pic.twitter.com/vSTcaWpurr

— NWSL (@NWSL) July 25, 2019
The fifth goal for Portland eventually came in the 70th minute after a Tyler Lussi strike was deflected into the net for an own goal.
Hayley Raso's recent hot form earned her another starting spot this week, while Sydney FC striker Caitlin Foord got half an hour off the bench. Canberra United and Matildas defender Ellie Carpenter remains on the sideline after sustaining an ankle injury last week.
Melbourne City forward Kyah Simon started for Houston, but was dragged after half an hour as the team tried to shore up their defence.
Highlights:
#Highlights: @ThornsFC 5 – @HoustonDash 0

—-

The Thorns score a stunning four goals in less than 30 minutes in the big victory at home.

—-#PORvHOU pic.twitter.com/3Z09M5GldN

— NWSL (@NWSL) July 25, 2019
North Carolina created history this week, defeating Utah Royals for the first time in a 2-1 win away from home. Last season's Premiers now move to within a point of ladder-leaders Portland.
USWNT winger Christen Press scored a spectacular opener for Utah in the 12th minute.
.@ChristenPress with a 💎to open the scoring in the 13th minute at the RioT.

1-0 | #UTAvNC on ESPNews pic.twitter.com/Be2fR1XtpH

— NWSL (@NWSL) July 28, 2019
But the Courage came back to equalise in the 34th minute thanks to a piece of acrobatic brilliance from the in-form Kristen Hamilton.
Press with a great goal on one end, @khamilton17 answers at the other with a stunner of her own.

1-1 | #UTAvNC on ESPNews pic.twitter.com/CYcPuMA8YV

— NWSL (@NWSL) July 28, 2019
It was a tense, tactical battle between two exceptional teams, and while Utah controlled the ball for much of the match, it was North Carolina who'd come out on top through USWNT forward Jess McDonald, proving once more why the defending Champs are still a force to be reckoned with.
Here's how @TheNCCourage took the lead through @J_Mac1422's finish.

1-2 | #UTAvNC on ESPNews pic.twitter.com/henih4K2rr

— NWSL (@NWSL) July 28, 2019
Highlights:
.@TheNCCourage went behind early, but pulled out the win. #UTAvNC in 60 seconds. #NWSL pic.twitter.com/qcgTJZZGI2

— NWSL (@NWSL) July 28, 2019
Reign FC slumped to a 0-4 defeat at the hands of Chicago in front of 7,479 fans in Tacoma, a home record crowd for the club, and the largest for any match – baseball or football – at Cheney Stadium this year.
The home side were looking to extend their 12-match unbeaten run at Cheney, but their plans took a huge dent after only four minutes, with Newcastle Jets star Arin Wright turning in a shot from close range after keeper Casey Murphy could only weakly parry a strike by Brisbane Roar's Yuki Nagasato back into play.
Nagasato's initial shot is saved, but @agilli16 there to slam it home for @chiredstarsPR.#SEAvCHI pic.twitter.com/FTD1o5DEPC

— NWSL (@NWSL) July 28, 2019
USWNT keeper Alyssa Naeher was called into action moments later, superbly denying Morgan Andrews' craning header from close range.
.@AlyssaNaeher makin' goal line stops. #SEAvCHI pic.twitter.com/bF0eVzs5GZ

— NWSL (@NWSL) July 28, 2019
Vanessa diBernardo extended Chicago's lead in the 14th minute, latching onto a Sam Kerr cutback to sweep her shot inside the far post from just inside the box.
.@samkerr1 cuts back to @vdibernardo10 with choice placement to double @chiredstarsPR's lead. #SEAvCHI pic.twitter.com/tsYaQ8cwBx

— NWSL (@NWSL) July 28, 2019
Kerr almost had a goal of her own in the 32nd minute, her header forcing a magnificent save on the bounce from Murphy after Reign's defence stopped to claim offside.
A diving stop from @CaseyMurph keeps this one from getting out of hand before halftime. #SEAvCHI pic.twitter.com/cEDQNWMzrL

— NWSL (@NWSL) July 28, 2019
Melbourne City and Matildas wingback Steph Catley looked to get the home side on the score sheet in first half stoppage time, only to see her bullet cross turned wide by USWNT midfielder Allie Long with the goal at her mercy.
Chicago continued the onslaught immediately after the break, as Nagasato turned home a brilliant cross from Casey Short to beat Murphy at her far post.
.@CaseyShort3 🛫⚽️ @Yuki_Ogimi ⚽️🥅#SEAvCHI pic.twitter.com/m27UaiUxyv

— NWSL (@NWSL) July 28, 2019
Kerr put the cherry on top for Chicago in the 81st minute, capitalising on a brilliant run and through ball from substitute Katlyn Johnson to turn her shot inside the far post for her 11th goal of the season.
.@samkerr1 and goalscoring… a love story. #SEAvCHI pic.twitter.com/270Q3Px2yj

— NWSL (@NWSL) July 28, 2019
Catley would play all 90 minutes for the home side, while Kerr saw 84 minutes of action.
Highlights:
#Highlights: @ReignFC 0 – @chiredstarsPR 4

—–@agilli16 🥇 #NWSL ⚽️@AlyssaNaeher 🧤🧤@vdibernardo10 🎯⚽️ (via @samkerr1)@CaseyShort3 💫 @Yuki_Ogimi ⚽️@samkerr1 🧙‍♀️⚽️

—-#SEAvCHI pic.twitter.com/Po61ivGQMn

— NWSL (@NWSL) July 29, 2019
Houston Dash v Sky Blue
Sixth-placed Houston bounced back from their drubbing at the hands of Portland, defeating last-placed Sky Blue 1-0 in front of 3,510 fans in the last game of the round.
The home side had plenty of opportunities in the opening minutes, with England international Rachel Daly and Sydney FC wingback Sofia Huerta both missing gilt-edged chances from close range, the latter somehow spooning a shot over the bar from five metres.
Goalkeeper's best friend. Striker's worst enemy. @RachelDaly3 hit the post early for @HoustonDash.#HOUvNJ pic.twitter.com/qrgwHBYVVU

— NWSL (@NWSL) July 29, 2019
USWNT veteran Carli Lloyd would go close at the other end moments later, spurning a great one-on-one from a tight angle and blazing her shot over the bar. 
Houston would however open the scoring in the 22nd minute, with Daly capitalising on a brilliant dummy from Huerta to latch onto defender Ally Prissock's through ball, driving her shot high across the keeper and inside the far post. 
p o w e r

by @RachelDaly3#HOUvNJ pic.twitter.com/yuXCSXte7h

— NWSL (@NWSL) July 29, 2019
Sky Blue would go closest in the 55th minute through Paige Monaghan, who burst into the attacking third and unleashed a shot from 20 metres, only to see it fizz past Houston keeper Jane Campbell's near post.
Houston continued to dominate late into the game, as Kristie Mewis latched onto Melbourne Victory midfielder Christine Nairn's floated free kick in the 77th minute, her back-post header finding the post from close range and rebounding to safety.
Melbourne City forward Kyah Simon saw another 10 minutes of action, coming on as a late substitute as her team looked to push on in attack.
Highlights:
#Highlights: @HoustonDash 1 – @SkyBlueFC 0

—-@RachelDaly3 🚀⚽️

—-#HOUvNJ pic.twitter.com/hsfzqOXPoE

— NWSL (@NWSL) July 29, 2019