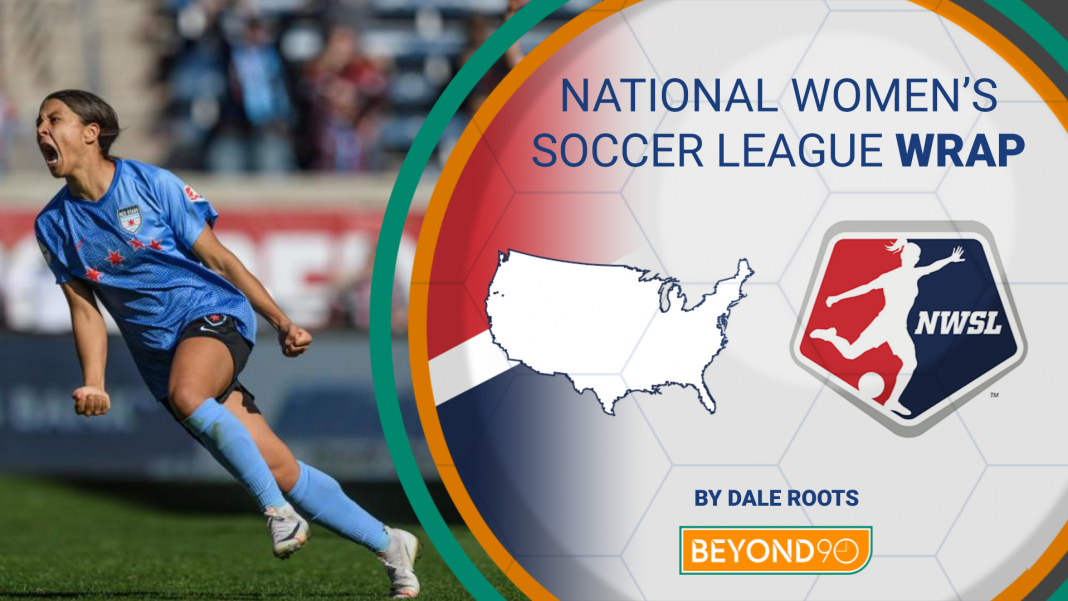 Six saves aren't enough for a point, and Washington draw the biggest crowd in club history. All that and more in round 19 of the NWSL.
North Carolina put aside the disappointment of their International Champions Cup loss to Olympique Lyonnais to defeat Reign FC 1-0 and extend their undefeated run at home to 14 league games. Reign keeper Casey Murphy had a night to remember, making six saves against one of the best attacking lineups in women's club football, only to be undone by a delightful four-pass attacking move culminating in Lynn Williams' close-range winner.
.@J_Mac1422 ➡️ @crysdunn_19 ➡️ @lynnraenie @TheNCCourage push in front.

1-0 | #NCvSEA pic.twitter.com/iWA1oFKCUF

— NWSL (@NWSL) August 25, 2019
Matildas fullback Steph Catley played a full 90 minutes for Reign, while keeper Lydia Williams remains sidelined with injury.
Highlights:
#Highlights: @TheNCCourage 1 – @ReignFC 0

—–@lynnraenie provides the difference as the Courage were victorious over Reign FC.

—-#NCvSEA pic.twitter.com/ouUpraebVH

— NWSL (@NWSL) August 25, 2019
A near-capacity crowd of 19,471 packed into Audi Field in DC to watch Washington Spirit run out 2-1 winners against an under-strength Orlando. With Orlando missing striker Alex Morgan with concussion and Matildas defender Alanna Kennedy through suspension, the Pride started in the worst way possible, with keeper Ashlyn Harris fluffing her lines to allow Chrystal Thomas to open the scoring early on.
Crystal Thomas pounces on a mistake by Ashlyn Harris to put @WashSpirit in front.

1-0 | #WASvORL pic.twitter.com/DfNFqMPmGH

— NWSL (@NWSL) August 24, 2019
Orlando equalised with a silky close-range finish from Marta at the half-hour mark, only for Washington to re-take the lead on the hour with a neat header from Ashley Hatch. Spirit keeper Aubrey Bledsoe made two incredible saves late in the match – including an unbelievable close-range kick save in stoppage time – to give Washington their first win over Orlando in four matches.
.@AubreyBledsoe is not of this world. 👽

2-1 | #WASvORL pic.twitter.com/MEP2DUKjXt

— NWSL (@NWSL) August 25, 2019
Matildas wingback Amy Harrison was an 87th-minute substitute for Washington, while Kennedy will return from suspension in her side's next match.
Highlights:
#Highlights: @WashSpirit 2 – @ORLPride 1

—–

The Spirit take all three points in front of team's record crowd against Orlando.

—-#WASvORL pic.twitter.com/TknR0EOO8P

— NWSL (@NWSL) August 25, 2019
Sky Blue extended its unbeaten run to three matches with a 2-1 win in Houston to continue the Dash's wretched home form. Veteran striker Carli Lloyd scored both goals for the New Jersey side, latching onto inch-perfect passes from Jen Hoy and Rocky Rodriguez to slot home.
.@CarliLloyd is on 🔥

0-2 | #HOUvNJ pic.twitter.com/6err1ARKhI

— NWSL (@NWSL) August 25, 2019
Houston can count themselves unlucky not to get anything from the match however, with both Sofia Huerta and Rachel Daly hitting the crossbar with close-range headers either side of the break, before Kealia Ohai's last-minute goal from just outside the box.
Matildas defender Clare Polkinghorne announced before the match that she would be leaving the Dash to return home on personal leave.
Highlights:
#Highlights: @SkyBlueFC 2 – @HoustonDash 1

—–@CarliLloyd's double powers Sky Blue past Houston.

—-#HOUvNJ pic.twitter.com/I5xmyr6Cer

— NWSL (@NWSL) August 25, 2019
Portland maintained their place atop the NWSL ladder with a 3-0 win against Chicago Red Stars in front of 17,542 fans at Providence Park. Thorns skipper Christine Sinclair was at the centre of almost everything good for the home side, scoring one goal from close range and providing the assist for Midge Purce's second, as her side easily dealt with a Chicago team now on a three-game slide.
✌️ goals on the day for @100Purcent.

Here's how she scored the second.

3-0 | #PORvCHI pic.twitter.com/QIt83nXjML

— NWSL (@NWSL) August 25, 2019
The match could have featured no fewer than five Matildas players, with Sam Kerr leading the line for Chicago, and Ellie Carpenter and Hayley Raso both seeing an hour on field for the Thorns, however Chicago keeper Mackenzie Arnold and Portland winger Caitlin Foord were both unused substitutes.
Highlights:
.@100Purcent scores 2️⃣. @sincy12 adds 1️⃣. All 3️⃣ points for @ThornsFC.

Recap #PORvCHI in 60 seconds. pic.twitter.com/f6usi3CUXJ

— NWSL (@NWSL) August 25, 2019