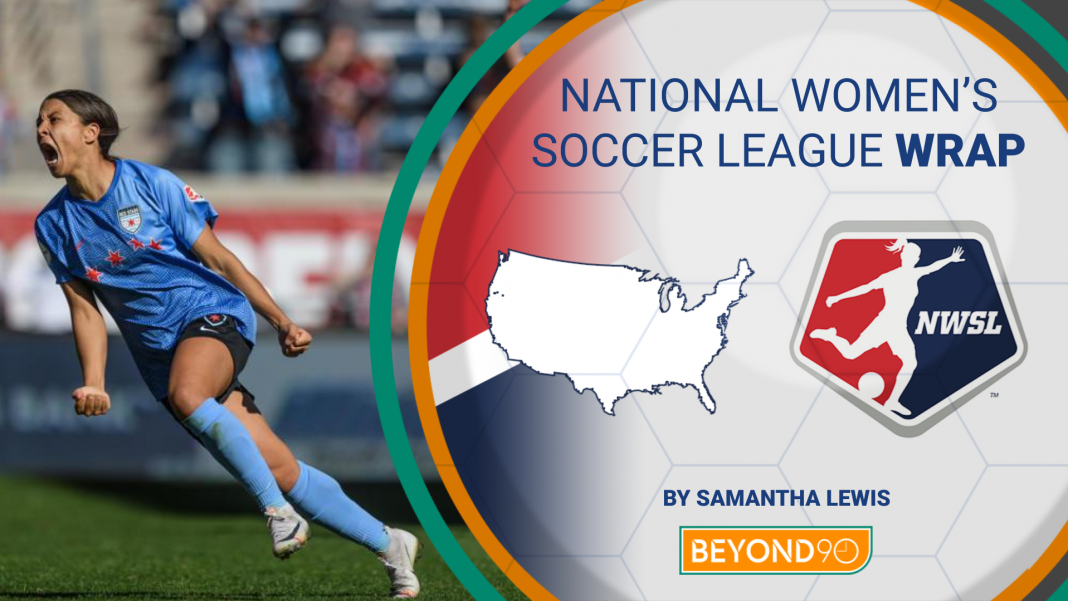 With a number of Aussies playing abroad in the National Women's Soccer League this year, Beyond 90 will be keeping up with all the results and major talking points across each round.
The Courage reminded everyone why they're still the team to beat this season, demolishing Orlando Pride 5-0 mid-week at home.
Canberra United guest player Denise O'Sullivan was back in the starting XI for North Carolina, while the Pride welcomed back Matildas and W-League stars Emily Van Egmond (NEW) and Alanna Kennedy (SYD). The two Aussies started alongside four W-League internationals including Weatherholt (MVC), Ubogagu (BRI), Pickett (BRI), and Hill (PER).
Despite being stacked with international talent, Orlando experienced their second loss in two games as North Carolina put on another thoroughly dominant display over the visiting side.
After last week's loss, Pride captain Ashlyn Harris took to the media to fire up her players. It looked as if this may have worked, as Orlando played out almost the entire first half without conceding.
However, their hopes were dashed in the 45th minute when Lynn Williams got the home side's first goal of the evening, after Alex Morgan was dispossessed by Dunn in midfield.
Patience pays off. @TheNCCourage snag one just before HT courtesy of @lynnraenie.

1-0 | #NCvORL | @YahooSports | https://t.co/qrxmsA7HaO pic.twitter.com/RMYVz58Riy

— NWSL (@NWSL) April 17, 2019
The Courage's second came ten minutes into the second half, when Jess McDonald slammed the ball home after a poor pass from Kennedy was intercepted by Williams.
In the 70th minute, North Carolina made it three. USWNT full-back Crystal Dunn was in the right place at the right time after a corner pinged around the Orlando box, and she stuck her foot through it to make it 3-0.
Dunn would get her second soon afterwards in almost exactly the same manner and from exactly the same spot following a NC free-kick near the corner flag. 4-0.
The home side would put the nail emphatically in the coffin when Swedish international Julia Spetsmark after some more poor passing out from the back by Orlando, her shot deflected up and over Ashlyn Harris and into the net.
After a poor 2018 season, it's becoming clear that Orlando still have plenty of work to do to improve. North Carolina, on the other hand, remain terrifying.
#Highlights: High ✋. @TheNCCourage top @ORLPride, 5-0, behind @crysdunn_19's two goals and an assist. #NCvORL | #NWSL pic.twitter.com/xNzCkfJ08k

— NWSL (@NWSL) April 18, 2019
The high-scoring matches didn't end there, as Chicago and Portland played out a 4-4 draw at SeatGeek Stadium in Bridgeville, Illinois on Sunday morning AEDT.
Thorns and Canada WNT captain Christine Sinclair would come away with the second hat-trick of her career, while Brisbane Roar forward and Japanese international Yuki Nagasato would end the game with a brace, including the 90th minute equaliser.
Chicago's starting XI featured Perth Glory trio Sam Kerr, Katie Naughton, and Alyssa Mautz, alongside Sydney FC midfielder Danielle Colaprico, and Newcastle Jets winger Arin Wright, while Perth midfielder Nikki Stanton was an unused substitute. Meanwhile, Sydney FC striker Caitlin Foord was back in the starting line-up for Portland, alongside Matildas team-mate Ellie Carpenter (CBR) and fellow W-League player Celeste Boureille (BRI). Newcastle Jets goalkeeper Britt Eckerstrom was an unused sub.
It was the visiting Thorns first on the scoresheet in the 16th minute after a cheeky chip by midfielder Lindsay Horan found Sinclair in behind Chicago's defence, who then lobbed USWNT starting goalkeeper Alyssa Naeher. 0-1.
How about a @sincy12 chip for an afternoon snack?

0-1 #CHIvPOR | @YahooSports | https://t.co/SmhMEfYlsD pic.twitter.com/5nPM3RRm0N

— NWSL (@NWSL) April 20, 2019
Two minutes later, Chicago levelled it up after a Thorns handball in their own box led to Nagasato rifling home a penalty. 1-1.
Two minutes after that, Chicago were ahead. Matildas and Perth Glory striker Sam Kerr dispossessed former Sydney FC defender Emily Sonnett around the top of the box and shot low and hard beneath the onrushing goalkeeper. 2-1 to the hosts.
The two sides would exchange a few more chances before Portland equalised in the 33rd minute when Swiss international Ana Crnogorcevic headed home from a cross. 2-2.
It's hard to believe there were four goals yet to be scored in this wild and windy match.
Five minutes after half-time, the fifth goal of the game arrived: Sinclair got her brace after poking past Naeher following a delightful lofted pass by Megan Klingenberg. 2-3 to Portland.
Chicago would level it up AGAIN in the 77th minute, reward for a brilliant passing move involving six interchanging Red Stars players around the top of the box. 3-3.
75th min: @murph_vas7 ➡️

77th min: @murph_vas7 ⚽️

3-3 #CHIvPOR | @YahooSports | https://t.co/SmhMEfYlsD pic.twitter.com/CW1KL5xnQW

— NWSL (@NWSL) April 20, 2019
Sinclair would complete her hat-trick in the 87th minute through a penalty after Perth Glory defender Katie Naughton brought down Portland full-back Midge Purce in the area. 3-4.
But it was Brisbane's Yuki Nagasato who would save Chicago's blushes, tapping home a deflection following a Sam Kerr strike.
The game would end, almost impossibly, 4-4.
#Highlights – @chiredstarsPR 4 – @ThornsFC 4:@sincy12 🎩 trick ✅@samkerr1 strike ✅

Substitute stardom ✅

Big saves. Crossbars. ✅

90 min+ heroics from @Yuki_Ogimi ✅#CHIvPOR HAD IT ALL. pic.twitter.com/MKwdHPYE6A

— NWSL (@NWSL) April 20, 2019
The 0-1 scoreline may not have been as massive as the previous two matches, but Houston's visit to Yurcak Field in New Jersey to take on last season's wooden spooners Sky Blue FC still had plenty of drama.
While Sydney FC and US international Savannah McCaskill has signed on with Sky Blue for the 2019 season, she has yet to make an appearance. On the other hand, Houston Dash featured Matilda and Brisbane Roar centre-back Clare Polkinghorne, Melbourne Victory midfielder Christine Nairn, and Adelaide United pair Amber Brooks and Veronica Latsko, all of whom made the starting XI for Houston, while Matilda and Melbourne City forward Kyah Simon was an unused substitute.
Sky Blue goalkeeper Kailen Sheridan had an outstanding match, keeping her team in the 90 minutes after making several big saves, including two one-on-ones with England international Rachel Daly.
Sky Blue could have taken the lead in the 25th minute when USWNT forward Carli Lloyd was tripped in the box. Lloyd stepped up to take the penalty kick, but her shot squeezed just wide of the post.
JUUUUUST a bit outside. PK missed for @SkyBlueFC.

0-0 #NJvHOU | @YahooSports | https://t.co/gECmVpE0TN pic.twitter.com/lPDMKOPANy

— NWSL (@NWSL) April 20, 2019
The hosts were regularly on the defensive throughout the match, and were it not for Sheridan in a Player Of The Match performance, they likely would have lost by several more goals.
Houston would take the lead and score the only goal of the match in the 83rd minute when Sydney FC full-back Sofia Huerta's shot outside the box was deflected up and over Sheridan after the goalkeeper made yet another brilliant save to deny Daly.
At first if you don't succeed… try, try again. @schuerta bags her seventh career goal against @SkyBlueFC.

0-1 #NJvHOU | @YahooSports | https://t.co/gECmVpE0TN pic.twitter.com/doIKxz1B9C

— NWSL (@NWSL) April 20, 2019
0-1 is how the game would end, with Houston claiming their first win of the 2019 season, while Sky Blue are yet to put any points on the board after two losses in their opening two games.
#Highlights: Stop us if you've heard this one before, but @HoustonDash's @schuerta scored against @SkyBlueFC. #NJvHOU pic.twitter.com/UggZ8Ds2bs

— NWSL (@NWSL) April 21, 2019
Washington were hoping to make it two wins from two as they travelled to Rio Tinto Stadium in Sandy, Utah to take on the Utah Royals in front of 18,000 fans.
However, it was the home side who would come away with a 1-0 win thanks to a strike from Western Sydney Wanderers midfielder Lo'eau LaBonta.
LaBonta wasn't the only W-League player to star for the Utah Royals; she was joined by Adelaide United midfielder Gunny Jonsdottir and Canberra United centre-back Rachel Corsie, while Newcastle Jets striker Katie Stengel made an appearance off the bench.
Sydney FC midfielder Amy Harrison made her first start of her NWSL career for the Washington Spirit, and was accompanied by Sydney FC team-mate Aubrey Bledsoe in goal, while Wanderers guest player Paige Nielsen started in the Spirit backline.
The Royals began their season on the front foot, with USWNT forward Christen Press's curling shot in the third minute sailing just over the crossbar.
Utah's early enthusiasm would pay off in the 10th minute when they opened the scoring. Press was in action once again, intercepting a ball being played out from the back of Washington's defence and demonstrating some individual brilliance to charge into the box and weave through several defenders, eventually cutting back for LaBonta who shot low and hard into the net.
.@ChristenPress: Steal, dribble, dribble, dribble, dribble, distribute@L0momma: Shoots. Scores.

1-0 #UTAvWAS | @YahooSports | https://t.co/5bC2KUcP8N pic.twitter.com/eT7pHctaNC

— NWSL (@NWSL) April 21, 2019
The Spirit almost levelled it up in the 41st minute after Harrison put a lovely ball through for winger Mallory Pugh, but her shot was saved.
It was a tight contest, with chances at both ends as Washington continued knocking on Utah's door.
USWNT midfielder Rose Lavelle was close to pulling a goal back for the Spirit from a free kick at the top of the box in the 76th minute, but her curling effort went just wide.
Pugh had another chance in the 84th minute when she found herself one-on-one with Utah goalkeeper Nicole Barnhart, but the winger's shot went straight into the keeper's torso and was cleared.
Utah almost made it 2-0 in stoppage time when a neat through-ball found substitute Katie Stengel, but Bledsoe made a brilliant diving save to keep the score at 1-0.
#Highlights – @UtahRoyalsFC 1 – @WashSpirit 0:@ChristenPress dances 💃@L0momma scores ⚽️@nbarnhart saves 👐

18,000 watched 👊#UTAvWAS pic.twitter.com/oU6FmdShbP

— NWSL (@NWSL) April 21, 2019
Demoralised after their loss to North Carolina just four days ago, Orlando travelled to take on Reign FC in the closing match of the round, where they would finally get some points on the board after playing out a 1-1 draw at the Reign's new home at Cheney Stadium in Tacoma, Washington.
Matildas and Melbourne City players Elise Kellond-Knight and Lydia Williams would keep the bench warm all game for Reign FC, while their two City colleagues in Lauren Barnes and Theresa Nielsen would start and make a late appearance respectively.
Meanwhile, Orlando fielded a similar team to their loss to the Courage earlier in the week, with Matildas Alanna Kennedy and Emily Van Egmond starting alongside W-League players Pickett, Weatherholt, and Hill, while Ubogagu came on as a substitute in the second half.
It was Orlando who would get themselves off to the best start possible, opening the scoring in the 6th minute when Alanna Kennedy performed a spectacular bicycle kick following a set-piece, sending social media into raptures.
😱😱😱

RIDE THAT BIKE @AlannaKennedy!!!!!!

0-1 #SEAvORL | @YahooSports | https://t.co/9UeSmGftxw pic.twitter.com/dx5yloVfQN

— NWSL (@NWSL) April 22, 2019
Holy bicycle kick

— Beast Mode Soccer™ (@BeastModeSoccer) April 22, 2019
I can confirm- this is true. Real homie 🙌🏽

— Alanna Kennedy (@AlannaKennedy) April 22, 2019
However, their lead wouldn't last long as the Reign equalised in the 21st minute following a spell of pressure. It was the rookie Bethany Balcer who looped the ball over Orlando goalkeeper Ashlyn Harris following a scuffed clearance from Emily Van Egmond.
Picture perfect placement from Bethany Balcer for the @ReignFC equalizer.

1-1 #SEAvORL | @YahooSports | https://t.co/9UeSmGftxw pic.twitter.com/gF7Eb7iz6f

— NWSL (@NWSL) April 22, 2019
The hosts could have had a second in the 32nd minute when a clearance from Harris clattered into the onrushing striker Shae Groom, but the deflected ball just trickled wide of the post as Groom slid to keep it in. Five minutes later, a header from Allie Long would be saved miraculously by Harris' shoulder and cleared.
Harris was again responsible for keeping the scores level after half-time, making a horizontal diving save to palm away a header from Rumi Utsugi, as well as pushing away a hard shot from Groom less than a minute later.
Orlando Pride's Brazilian play-maker Marta almost stole the lead in the 86th minute after a poor punch from Reign goalkeeper Michelle Betos fell right into her path. Marta tried the long chip, but Betos got back just in time to dramatically tip the ball out for a corner.
1-1 is how the game would end after a final Reign FC corner was missed by everybody in the box.
#Highlights – @ReignFC 1 – @ORLPride 1:@AlannaKennedy 🚲

Bethany Balcer 💫@Ashlyn_Harris + @MichelleBetos = 👐#SEAvORL pic.twitter.com/D1OjTfPqMf

— NWSL (@NWSL) April 22, 2019