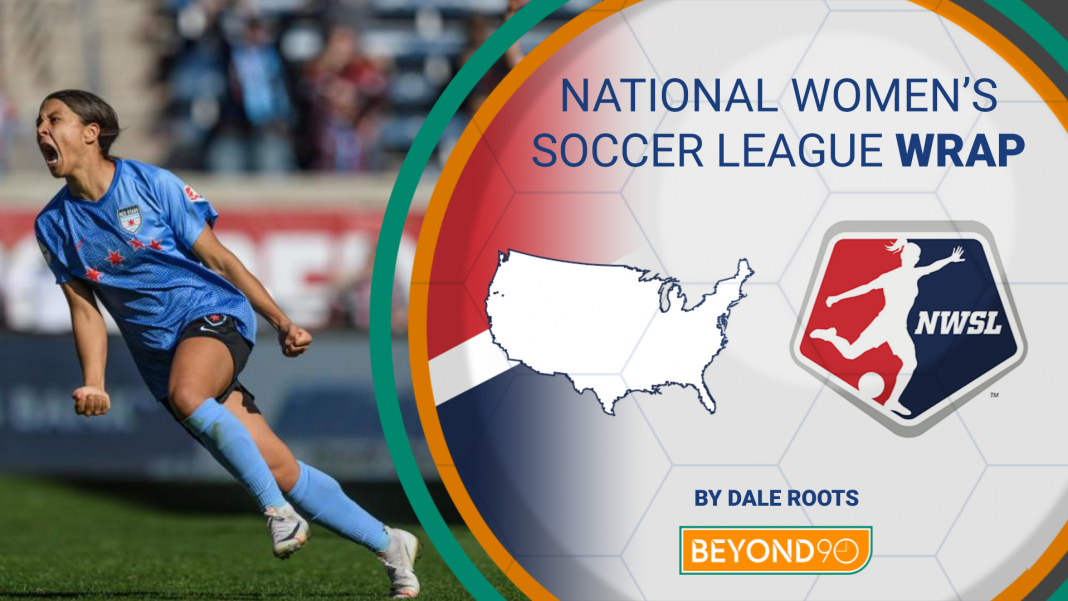 North Carolina gain ground on leaders Portland, and Sam Kerr's rockets give Houston a problem. All that and more in this week's NWSL Wrap.
Utah Royals vs Portland Thorns
Utah pulled a rabbit out of the hat at home this week, defeating Portland for the first time since the club relocated to Salt Lake City two seasons ago.
It was a week of firsts in the Beehive State, as captain Becky Sauerbrunn scored her first club goal since May 2017, heading Christen Press' in-swinging cross past Thorns 'keeper Adrianna Franch from just inside the area for the game's only goal.
.@beckysauerbrunn's header was 🎯

And how about that ⚽️ from @ChristenPress? 👀

1-0 | #UTAvPOR pic.twitter.com/aFRPQDrRyx

— NWSL (@NWSL) September 7, 2019
Portland were reduced to ten players after 80 minutes, with former Sydney defender Emily Sonnett being given her marching orders for a second bookable offence, dragging Amy Rodriguez down to stop an attack, leading to some push-and-shove and two further bookings.
Matildas wingback Ellie Carpenter and attacker Hayley Raso both started for the Thorns, getting 75 and 87 minutes on the pitch respectively, while striker Caitlin Foord replaced Midge Purce in the 67th minute.
Highlights:
#Highlights: @UtahRoyalsFC 1 – @ThornsFC 0

—–

Royals FC has now won four of their last five games, thanks to @ChristenPress combining with @beckysauerbrunn for the game's only goal.

—-#UTAvPOR pic.twitter.com/cdguKNXURX

— NWSL (@NWSL) September 7, 2019
Sky Blue vs North Carolina Courage
North Carolina claimed all three points in New Jersey, snapping Sky Blue's three-game undefeated streak with a 2-1 win in the Garden State.
The home side got off to the worst-possible start, with defender Erica Skroski turning a cross into her own net after just 49 seconds, much to the bemusement of both fans and commentators.
An own goal has the visitors in front early.

0-1 | #NJvNC pic.twitter.com/pFtlbpVkYP

— NWSL (@NWSL) September 7, 2019
USWNT captain Carli Lloyd equalised from the spot 12 minutes later, slotting her attempt past Abby Dahlkemper after the North Carolina keeper conceded the spot kick with a foul on Paige Monaghan.
North Carolina found the winner in the second half through Crystal Dunn, the midfielder calmly slotting her shot from close range after some excellent lead-up work on the right wing by Kristen Hamilton.
👃 for the 🥅 @crysdunn_19 slots the ball home from close range to put @TheNCCourage in front.

1-2 | #NJvNC pic.twitter.com/V557yily6d

— NWSL (@NWSL) September 7, 2019
Highlights:
#Highlights: @TheNCCourage 2 – @SkyBlueFC 1

—–

The Courage grabs all 3️⃣ points on the road on the strength of @crysdunn_19's game-winner.

—-#NJvNC pic.twitter.com/7UWlYCm0wt

— NWSL (@NWSL) September 7, 2019
Reign FC vs Orlando Pride
Reign celebrated superstar Megan Rapinoe's return with a 3-1 win over an understrength Orlando side in a rain-soaked Tacoma.
Darian Jenkins opened the scoring for the home side after Bethany Balcer pinched the ball from a dithering Carson Picket and fed a perfect pass for the left winger to slot home.
.@ReignFC wasting no time. @darian_jenks puts the home side in front already.

1-0 | #SEAvORL pic.twitter.com/UeblVNRSya

— NWSL (@NWSL) September 8, 2019
Jenkins doubled the Reign's advantage nine minutes later, weaving through defenders along the goal line and shooting into the roof of the net from a tight angle to score what is surely a goal of the season contender.
.@darian_jenks is on 🔥

2-0 | #SEAvORL pic.twitter.com/VHHzL3mQpa

— NWSL (@NWSL) September 8, 2019
Beverly Yanez completed the scoring for the home side, latching on to Rachel White's scuffed attempt to smash her shot into the top corner from 15 metres out.
It's ☔️ goals.

This time it's @beverlygoebel that gets on the scoresheet.

3-0 | #SEAvORL pic.twitter.com/rt19hKsSMC

— NWSL (@NWSL) September 8, 2019
Shortly after Yanez's goal however the game was delayed for more than two hours, with referee Karen Abt leading the players from the field due to lightning strikes in the area.
With play restarting at 9.30pm Pacific time – well past midnight on the East Coast – fans would've been forgiven for expecting the goals to keep flowing. However, it wasn't until  almost 11pm in Seattle that the next goal came.
Orlando dragged one back through Brazilian striker Camila, who slotted her 79th minite penalty past Reign keeper Casey Murphy after Danica Evans drew the foul from defender Megan Oyster.
Matildas defenders Alanna Kennedy and Steph Catley both saw out the 90 minutes for their respective teams.
Highlights:
#Highlights: @ReignFC 3 – @ORLPride 1

—–

A brace from @darian_jenks and a goal from @beverlygoebel led Reign FC to victory over Orlando.

—-#SEAvORL pic.twitter.com/IjpP0vyXXb

— NWSL (@NWSL) September 8, 2019
Chicago Red Stars vs Houston Dash
Matildas captain Sam Kerr was on target yet again as her Chicago team brushed aside struggling Houston 3-0 in the Windy City.
With Julie Ertz, Morgan Brian, and Tierna Davidson all returning from international duty, Chicago was quick to take a stranglehold on the match, opening the scoring inside seven minutes after Sam Kerr latched onto a Brian through-ball and slammed her shot inside the near post.
Who else? @samkerr1 opens the scoring for @chiredstarsPR.

1-0 | #CHIvHOU pic.twitter.com/LYFVrZUzOW

— NWSL (@NWSL) September 8, 2019
Kerr was at it again just before the break, sending her marker the wrong way with a swivel of the hips and shooting inside the left upright from the top of the box, chalking up her 15th goal of the season to date.
She's a baaaaaaaad woman. @samkerr1 nets her second goal of the match.

2-0 | #CHIvHOU pic.twitter.com/Bha2TjmSGe

— NWSL (@NWSL) September 8, 2019
Former Sydney midfielder Savannah McCaskill added some polish to the scoreline in the 65th minute, beating both the onrushing goalkeeper and trailing defender to slot her shot into an open net and register her first goal in Red Stars colours.
.@smccaskill_21 chases down a long ball from @CaseyShort3 and finishes the attacking move off with a little nutmeg.

3-0 | #CHIvHOU pic.twitter.com/D0zChLAc0g

— NWSL (@NWSL) September 8, 2019
Chicago didn't have it all their own way however, with Houston keeper Jane Campbell producing a wonder save to deny Yuki Nagasato from the spot.
.@jane_campbell1 with a big 🛑 on a @chiredstarsPR penalty-kick attempt.

3-0 | #CHIvHOU pic.twitter.com/5Eoa249x0x

— NWSL (@NWSL) September 8, 2019
Highlights:
#Highlights: @chiredstarsPR 3 – @HoustonDash 0

—–@samkerr1 sits at 15 goals after her brace and @smccaskill_21 added the third goal in the win over Houston.

—-#CHIvHOU pic.twitter.com/euTnR0RdS4

— NWSL (@NWSL) September 9, 2019