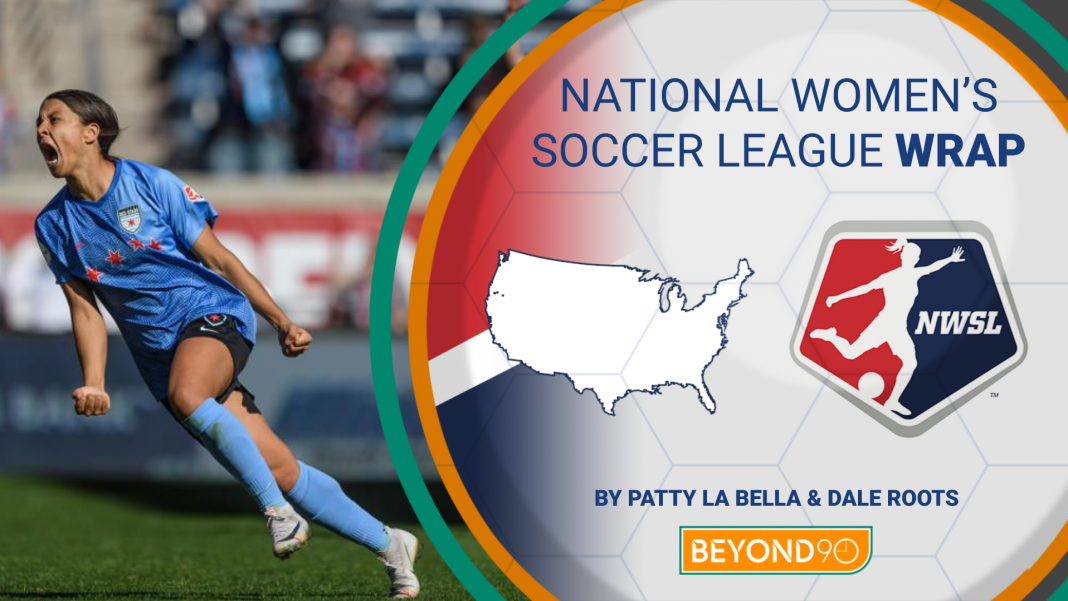 The 2019 NWSL season is wrapping up. However, the Matildas are not slowing down as they continue to make an impact on the league. Mid-week and weekend matches combined for Rounds 22 and 23.
Three goals sealed the third consecutive win for the Chicago Red Stars in a 3-0 defeat of Sky Blue FC. 
Morgan Brian, Yuki Nagasato, and Sam Kerr scored a goal a piece in Chicago's third win over a seven-day span. Chicago is now tied with an NWSL-best 12 wins and currently sit second on the ladder with 38 points.
Kerr was involved in Brian's goal, as the Aussie dished an almost-impossible pass from the edge of the back line for Chicago's first goal of the match. 
Minutes later, Kerr running hard with the ball at her feet, punched a left-footed nutmeg between the legs of Sky Blue's goalkeeper for the 75th goal of her NWSL career.   
If you blinked, you might have missed @chiredstarsPR double the lead in quick fashion through @samkerr1.

0-2 | #NJvCHI pic.twitter.com/aGyipNIuPX

— NWSL (@NWSL) September 15, 2019
This was Kerr's 16th goal of the year, expanding her lead in the NWSL Golden Boot Race and matching her goal total from last season. Kerr's assist for Brian's goal is her 23rd NWSL career assist, the second most in the history of the league.
Highlights:
#Highlights: @chiredstarsPR 3 – @SkyBlueFC 0

—–
@moeebrian's first #NWSL goal ✅@samkerr1's 16th goal of the year ✅
Goal and league-leading seventh assist for @Yuki_Ogimi ✅
3️⃣ points for Chicago ✅

—-#NJvCHI pic.twitter.com/3ZYHBolAZC

— NWSL (@NWSL) September 16, 2019
North Carolina Courage vs Houston Dash
North Carolina extended their lead atop the NWSL ladder with a controversial last-gasp 1-0 win over Houston.
With the league leaders having scored six goals in both of their last two games, most fans would've been forgiven for expecting them to run up a cricket score against the seventh-placed Dash.
However, with the Dash also coming off a home win against Utah, the visitors looked more assured in making their hosts' job significantly more difficult, setting up in a deep-lying 4-5-1 with English striker Rachel Daly leading the counter on her own.
As Houston sat back in their own half absorbing pressure, the Courage peppered Dash keeper Jane Campbell with shots from all over the park – 18 all tolled – only to be turned away at each time of asking.
It wasn't until the 87th minute that North Carolina would finally take their chance – one they were given in a cloud of controversy.
Free down the right flank, Courage winger Julie Spetsmark played a floated ball to Lynn Williams at the back, who nodded the ball back towards Crystal Dunn in front of goal. With Campbell rushing out to collect, Dash midfielder Kristie Mewis expertly shielded Crystal Dunn off the ball, only for referee Thomas Snyder to point to the spot, flashing a yellow card at Mewis shortly after.
Sam Mewis stepped up to finally beat Campbell, the Houston keeper diving to her right and getting a hand to the shot, only for it to slide inside the post and in.
Highlights:
.@TheNCCourage booked their spot in the playoffs.#NCvHOU in 60 seconds. pic.twitter.com/9W7e64VwUc

— NWSL (@NWSL) September 18, 2019
Chicago Red Stars vs Washington Spirit
Chicago Red Stars ran out 3-1 winners at home against Washington to leapfrog Portland into second on the NWSL ladder with four matches to play.
In a match that had it all, Matildas striker Sam Kerr equalled and then broke her own single-season goalscoring record, chalking up yet another assist in the process.
It took only nine minutes for Kerr to unlock the Washington defence, running onto a through-ball from Katy Johnson and deftly chipping keeper Aubrey Bledsoe from a tight angle, equalling her record tally of 17 goals in a season.
1️⃣7️⃣@samkerr1 just keeps adding to her league-leading tally.

1-0 | #CHIvWAS pic.twitter.com/5W5UPgAr9e

— NWSL (@NWSL) September 22, 2019
Just 14 minutes later Kerr was turning provider, slipping between defenders to meet a delicious backheel and squaring the ball to Yuki Nagasato, who duly roofed her shot into the top of the net.
.@samkerr1 not just a goalscorer. @Yuki_Ogimi the beneficiary.

2-0 | #CHIvWAS pic.twitter.com/uyGDJAPwQs

— NWSL (@NWSL) September 22, 2019
Things just seemed not to be going the Spirit's way, even when the opportunities presented themselves. Matildas winger Chloe Logarzo was brought down in the Red Stars area by Casey Short, but her penalty was easily saved by Alyssa Naeher.
🚫🚫🚫@AlyssaNaeher denies the penalty-kick attempt.

2-0 | #CHIvWAS pic.twitter.com/IkyvbdlEan

— NWSL (@NWSL) September 22, 2019
Four minutes of the second half was all it took for Kerr to seal her brace, and find a record-breaking goal number 18 for the season. Running through onto Nagasato's expertly-clipped pass, Kerr cut back inside onto her right foot and unleashed a wicked shot into the bottom left corner, completely wrong-footing Bledsoe and the Washington defence.
Record-breaking.@samkerr1 now has 18 goals this season for the most ever scored in an #NWSL season.

3-0 | #CHIvWAS pic.twitter.com/fKbWPQHlHd

— NWSL (@NWSL) September 22, 2019
Washington would pull a goal back late on through Mallory Pugh, running onto a route-one long ball from defender Sam Staab and rounding the keeper to tap home.
.@MalPugh flashes composure in front of goal and pulls one back for @WashSpirit.

3-1 | #CHIvWAS pic.twitter.com/hM9jJyr6Px

— NWSL (@NWSL) September 22, 2019
Logarzo and Kerr saw 66 and 90 minutes of game time respectively, while Amy Harrison was an unused substitute for Washington.
Highlights:
#Highlights: @chiredstarsPR 3 – @WashSpirit 1

—- @samkerr1 breaks goalscoring record, Chicago clinches postseason spot in win.

—-#CHIvWAS pic.twitter.com/N4fPg7326Q

— NWSL (@NWSL) September 22, 2019
Utah Royals vs North Carolina Courage
North Carolina claimed its third consecutive NWSL Shield, defeating Utah 3-0 to seal the title at the RioT.
North Carolina took the lead on the half-hour mark, as Sam Mewis dispatched her penalty after Kristen Hamilton was fouled in the box by Becky Sauerbrunn.
Cool as you like from the penalty spot. @sammymewy puts @TheNCCourage in front.

0-1 | #UTAvNC pic.twitter.com/4N5YO7qf6B

— NWSL (@NWSL) September 22, 2019
Courage wing-back Jaelene Hinkle wrote her name on the scoresheet, but in the most unlikely of ways, her regulation cross from the left flank slipping through the hands of Royals 'keeper Nicole Barnhart and into the net.
A ball played towards the net by @JaeHinkle_15 started as a cross, but ended as a goal.

0-2 | #UTAvNC pic.twitter.com/lZzqHwZGHE

— NWSL (@NWSL) September 22, 2019
Debinha sealed the result for the champions-elect, lashing home a shot from inside the box after a quick ball in from Crystal Dunn.
.@Debinha7 tacks on another goal for @TheNCCourage.

0-3 | #UTAvNC pic.twitter.com/qcpD3DKtTe

— NWSL (@NWSL) September 22, 2019
Highlights:
#Highlights: @TheNCCourage 3 – @UtahRoyalsFC 0

—-

The Courage claimed a third-straight NWSL Shield in the victory over Utah.

—-#UTAvNC pic.twitter.com/ue7F7QBHHi

— NWSL (@NWSL) September 22, 2019
Reign FC vs Sky Blue
In what could surely appear in football's dictionary next to the phrase "smash-and-grab win", Sky Blue put a huge dent in the playoff hopes of Reign FC, securing a 1-0 win away in Tacoma to leave the home side adrift from the playoff spots on goal difference.
Boasting the attacking prowess of Matildas wingback Steph Catley and USWNT winger Megan Rapinoe on one flank, and Danish international Theresa Nielsen on the other, Reign understandably looked to overload Sky Blue down the flanks, sending in an incredible 36 crosses throughout the match.
However Reign simply didn't bring their shooting boots to the match, as the side wasted chance after chance to take the lead, unable to score from any of their 15 shots inside the area, only four of which managed to even trouble Sky Blue 'keeper Kailen Sheridan.
That profligacy in front of goal allowed Sky Blue to capitalise on their best opportunity, with USWNT captain Carli Lloyd running off the shoulder of her markers and onto Nahomi Kawasumi's through-ball, slotting her shot under Reign keeper Casey Murphy to score.
.@CarliLloyd with a chance. No mistake.

0-1 | #SEAvNJ pic.twitter.com/Q8ZG9WetS0

— NWSL (@NWSL) September 22, 2019
Matildas wingback Steph Catley played the full 90 minutes for Reign, while keeper Lydia Williams continued towards her return from injury as an unused substitute.
Highlights:
#Highlights: @SkyBlueFC 1 – @ReignFC 0

—-

Reign FC misses opportunity to grab precious points in postseason chase as Sky Blue FC earns a road win.

—-#SEAvNJ pic.twitter.com/ZK4oG15Oon

— NWSL (@NWSL) September 22, 2019
Portland Thorns vs Houston Dash
Portland continued their march towards the playoffs with a 1-0 home win against Houston at a packed Providence Park in the Rose City.
Knowing full well the Thorns' attacking prowess, Houston once again sat deep in their own half, looking to use Rachel Daly's pace on the counter-attack. Unfortunately for Houston, the home side were in no mood to entertain that possibility, restricting the Dash to just six shots inside the box – one of which went out for a Portland throw-in.
Portland's attacking pressure would eventually take its toll on the visitors early in the second half, as Lindsey Horan found an unmarked Tobin Heath with a low cross to the penalty spot for the USWNT winger to side-foot home, leaving five Houston defenders looking around like a confused John Travolta in Pulp Fiction.
No more deadlock in Portland.

1-0 | #PORvHOU pic.twitter.com/SBERNK6mTB

— NWSL (@NWSL) September 22, 2019
Portland continued to pile the pressure on the Dash defence, but were restricted to just two shots on target following Heath's opener, thanks in part to Houston pushing further up the pitch to restrict the Thorns' traffic through midfield.
Houston's best attacking opportunity would come in the 54th minute, with Kristie Mewis forcing a sharp front post save from Thorns 'keeper Adrianna Franch.
.@ADizzle23 with a 🙅‍♀️ on this @HoustonDash shot.

1-0 | #PORvHOU pic.twitter.com/mt92UY9Vzf

— NWSL (@NWSL) September 22, 2019
Matildas winger Hayley Raso and wingback Ellie Carpenter both started the match for Portland, clocking up 79 and 94 minutes respectively, while striker Cailtin Foord was an 87th-minute substitute.