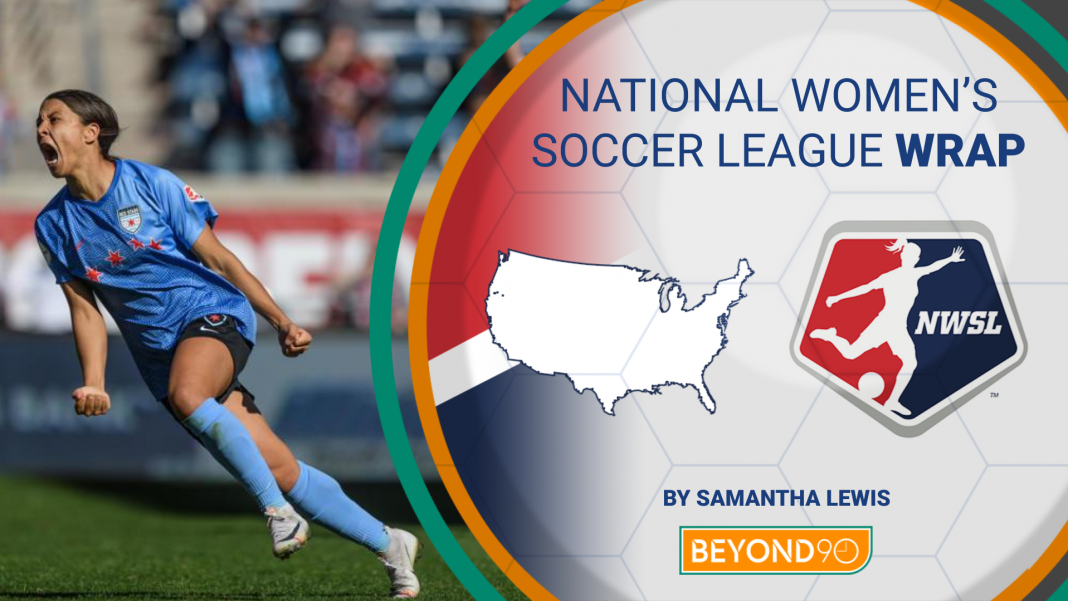 With a number of Aussies playing abroad in the National Women's Soccer League this year, Beyond 90 will be keeping up with all the results and major talking points across each round.
Round 4 saw just two goals scored across all four matches, with Utah claiming one of them in a 1-0 win over Chicago at Rio Tinto Stadium in Sandy, Utah in front of 16,500 fans on Saturday morning AEDT.
Chicago's Sam Kerr was the only Aussie on either team sheet, but she was joined by a wealth of W-League internationals including Arin Wright (NEW), Katie Naughton (PER), Danielle Colaprico (SYD), Alyssa Mautz (PER), Yuki Nagasato (BRI), and Nikki Stanton (PER). Meanwhile, Utah featured the likes of Sam Johnson (MVC), Lo'eau LaBonta (WSW), Gunny Jonsdottir (ADL), Rachel Corsie (CBR), and Katie Stengel (NEW).
Kerr almost opened the scoring in the seventh minute after she was put through on goal thanks to a lucky deflection, but her shot was well saved by Utah keeper Nicole Barnhart.
The two sides exchanged plenty of chances in the first half, but the scores remained even at 0-0 in the final minutes of the first half. In the 42nd minute, however, a straight red card was controversially dished out to Chicago's Katie Johnson for violent conduct when challenging for a ball in the air. Judge for yourself:
42' Chicago's Katie Johnson was issued a straight red card on this challenge. #UTAvCHI || #URFC pic.twitter.com/9KRmxs3rGL

— Salt City FC (@saltcityfc) May 4, 2019
Now down to ten players, Chicago had it all to do in order to get any points from the game.
Kerr had another chance in the 54th minute when a flick-on header found her in space charging into the box, but she narrowed her angle too much and Barnhart was able to deflect her shot out for a corner.
.@nbarnhart turns away another Kerr shot.#UTAvCHI | #NWSL | https://t.co/nnfsjUZFes pic.twitter.com/FjsCwr7cEo

— NWSL (@NWSL) May 4, 2019
There was more controversy in the 78th minute, but this time for a no-call when Kerr was dragged down in the penalty area. Kerr's Chicago team-mate Sarah Gorden tweeted this close-up of the incident after the game, clearly suggesting something should have been done:
🐸☕️ pic.twitter.com/QjWc7vUa3Q

— Sarah Gorden (@sarahlgorden) May 4, 2019
After an intense back-and-forth battle, Utah would find their opening in the 84th minute as Adelaide United's Gunny Jonsdottir found Amy Rodriguez, whose clipped shot rolled just wide of the diving Chicago keeper, Emily Boyd.
Shooting for the ⭐ with @AmyRodriguez8 pic.twitter.com/RpUeqdU849

— Utah Royals FC (@UtahRoyalsFC) May 4, 2019
The 1-0 win means Utah sit atop the ladder with three wins from three, while Chicago suffer their first defeat and sit in fifth.
A late goal from @AmyRodriguez8 and a third consecutive clean sheet from @nbarnhart.@UtahRoyalsFC stay perfect.

All the highlights from #UTAvCHI ⤵️ pic.twitter.com/wWqO19dVvq

— NWSL (@NWSL) May 4, 2019
The second game of Week 4 saw Reign FC travel to face Washington Spirit in Boyds, Maryland, where the two teams played out a dramatic 0-0 draw thanks to some brilliant goalkeeping from Spirit's Aubrey Bledsoe.
Aussie Amy Harrison was again in the starting XI for the Spirit, while her Sydney FC and Matildas team-mate Chloe Logarzo is back from injury and made the Spirit bench. On the other side of the aisle, Melbourne City and Matildas team-mates Elise Kellond-Knight and Lydia Williams were on the bench for Reign FC.
The Aussies were joined by a slew of W-League international talent such as Aubrey Bledsoe (SYD) and Paige Nielsen (WSW) for Washington, and Lauren Barnes (MCY), Theresa Nielsen (MCY), and Jodie Taylor (MCY) for Seattle.
The two sides battled hard across the entire match as both teams had chances on goal, but neither seemed to be able to break the deadlock.
Sydney FC's Chloe Logarzo made her first appearance of the NWSL season in the 66th minute, coming on as a substitute for Washington. Elise Kellond-Knight also saw more NWSL minutes, coming on as a sub for Reign FC in the 72nd minute.
Reign FC thought they had locked away the three points in the 85th minute when Shae Groom got on the end of a corner that had bounced around the six-yard box. Step up Aubrey Bledsoe. The Sydney FC goalkeeper made what is possible the Save Of The Week and kept her clean sheet alive with this unreal reaction save:
HOW DO YOU DO THAT, @AubreyBledsoe?

0-0 | #WASvSEA

Watch Live: https://t.co/N0djnPYwOy pic.twitter.com/VVonWvY1wv

— NWSL (@NWSL) May 5, 2019
Minutes later, Bledsoe was at it again, saving this free kick attempt from Kellond-Knight:
.@AubreyBledsoe: The Last Jedi

0-0 | #WASvSEA

Watch Live: https://t.co/N0djnPYwOy pic.twitter.com/ofI6fTIMe0

— NWSL (@NWSL) May 5, 2019
In the final minute of the 90, Washington found themselves in a 2-on-1 situation following a cleared corner. With the speedy Cheyna Matthews on the ball, Logarzo made a sprint toward goal, finding herself in acres of space down the middle, but Matthews decided to go herself instead of squaring for the Matilda, who surely would have found the back of the net:
.@Cheynalee_ making the Kessel run in under 12 parsecs.

0-0 | #WASvSEA

Watch Live: https://t.co/N0djnPYwOy pic.twitter.com/XnayU3Z197

— NWSL (@NWSL) May 5, 2019
Despite these close chances, the game would end 0-0, with Washington and Reign FC sitting in sixth and seventh respectively on the ladder.
#Highlights | @WashSpirit 0 – @ReignFC 0

——–@AubreyBledsoe 🙌 x2#WASvSEA | #NWSL pic.twitter.com/3ri6WDuURo

— NWSL (@NWSL) May 5, 2019
In what appeared to be the most lop-sided contest of Round 4, last season's wooden spooners Sky Blue FC travelled to Sahlen's Stadium in Cary, North Carolina to take on last season's Premiers and Champions, North Carolina Courage. However, the New Jersey team would shock the league by hanging on for a 0-0 draw.
While there are no Aussies playing for either of these teams this year, both feature a superstar of the most recent W-League season: Denise O'Sullivan (CBR) for North Carolina and Savannah McCaskill (SYD) for Sky Blue.
The game also saw a weather delay of over 90 minutes just inside the start of the second half as the area was pummelled by a thunderstorm.
Predictably, the first big chance of the match fell to North Carolina, as striker Lynn Williams made a perfect run in behind Sky Blue's defence, but her shot pinged off the post.
Hey @TheNCCourage… do not like this post.

0-0 | #NCvNJ

Watch Live: https://t.co/wbUb1iSzQy pic.twitter.com/ufLdOkkrv8

— NWSL (@NWSL) May 4, 2019
The same post would save Sky Blue yet again just over ten minutes later, deflecting a shot from the Brazilian play-maker Debinha.
.@TheNCCourage: 0

Left Post: 2

0-0 | #NCvNJ

Watch Live: https://t.co/wbUb1iAYZ0 pic.twitter.com/tbshsnvlGj

— NWSL (@NWSL) May 4, 2019
While North Carolina dominated possession, as per usual, Sky Blue didn't shy away from the fight, bringing the game to their hosts. Sydney FC's Savannah McCaskill had a chance after the weather delay with a first-time volley headed toward the bottom corner, but it was parried away by Courage keeper Stephanie Labbe.
It was a battle of the goalkeepers this week, with Sky Blue's Kailen Sheridan also making some tremendous saves to keep her side in the match.
We've got an ol' fashioned KEEPER DANCE OFF happening tonight. @stephlabbe1 💃

💃 @Kailen_Sheridan#NCvNJ | #NWSL pic.twitter.com/aK080qlOIo

— NWSL (@NWSL) May 5, 2019
Sky Blue had the chance to claim their first win of the season in the 89th minute when McCaskill played in winger Imani Dorsey down the left side, but Courage defender Merritt Mathias made a last-ditch clearance on the goal line to keep the scores locked at 0-0.
ALL CLEAR, @merrbear11.#NCvNJ | #NWSL pic.twitter.com/oDqqsKJ2cp

— NWSL (@NWSL) May 5, 2019
It was a well-earned point for the New Jersey side against a team that many believe will take out the Premiership title once again.
#Highlights | @TheNCCourage 0 – @SkyBlueFC

——@stephlabbe1 🙌@Kailen_Sheridan 🙌@Debinha7 💃@merrbear11 🙅#NCvNJ | #NWSL pic.twitter.com/Yd29ErnyqE

— NWSL (@NWSL) May 5, 2019
The final game of Week 4 saw the Houston Dash host Orlando Pride at BBVA Compass Stadium in Houston, Texas, where the hosts would earn their second win of the season after defeating the Pride 1-0.
Both sides are swimming with familiar faces. Brisbane Roar and Matildas centre-back Clare Polkinghorne started for Houston once again alongside Adelaide United's Amber Brooks and Sydney FC's Sofia Huerta. Meanwhile, Orlando featured Sydney FC's Alanna Kennedy and Newcastle Jets' Emily Van Egmond, both of whom were in the starting XI with Carson Pickett (BRI), Dani Weatherholt (MVC), Chioma Ubogagu (BRI) and Rachel Hill (PER). Houston also had Adelaide's Veronica Latsko come off the bench.
Houston would get off to the best start possible, scoring the first and only goal of the match in the seventh minute thanks to this curling effort from Kelia Ohai:
"Oh my @KealiaOhai!" – @jordangeli

1-0 | #HOUvORL

Watch Live: https://t.co/icY5E7Rw91 pic.twitter.com/GjQKv25eG8

— NWSL (@NWSL) May 5, 2019
The Pride could have been back on even terms four minutes later through Perth Glory's Rachel Hill, who stretched every fibre to latch onto a cross from Brisbane Roar's Carson Pickett, but the ball went just over her head.
England international Rachel Daly could have made it two for Houston in the 29th minute after she broke the offside trap down the right side and went one-on-one with Orlando goalkeeper Hayley Kopmeyer, but Daly's shot was tame and easily saved.
Big one-on-one save for @hkopmeyer.

1-0 | #HOUvORL

Watch Live: https://t.co/icY5E7Rw91 pic.twitter.com/kQcMypnv4p

— NWSL (@NWSL) May 5, 2019
Just after the half hour mark, Orlando had another chance as Brazilian star Marta found herself in space in the box, but her header came off the crossbar; a minute later, her left-footed strike skimmed just over it.
Orlando thought they had the equaliser in the 52nd minute through Rachel Hill, but she was deemed just offside after she had put the ball in the back of the net.
.@ORLPride thought they had their equalizer, but Rachel Hill was just offside.

1-0 | #HOUvORL

Watch Live: https://t.co/icY5E7Rw91 pic.twitter.com/yVdDkNWNxp

— NWSL (@NWSL) May 5, 2019
Alanna Kennedy almost had a chance towards the end of the match after an almost-perfect free kick from Marta, but there was just too much power on the ball and Kennedy wasn't able to connect her header.
1-0 is how the game would end with Houston claiming their first win at home, taking them to third on the ladder, while Orlando are rooted to the foot of the ladder without a win in their opening five games.
#Highlights | @HoustonDash 1 – @ORLPride 0

——–@KealiaOhai 💫@hkopmeyer 🙌

Crossbar ❌#HOUvORL | #NWSL pic.twitter.com/JjQuSIMGv9

— NWSL (@NWSL) May 6, 2019