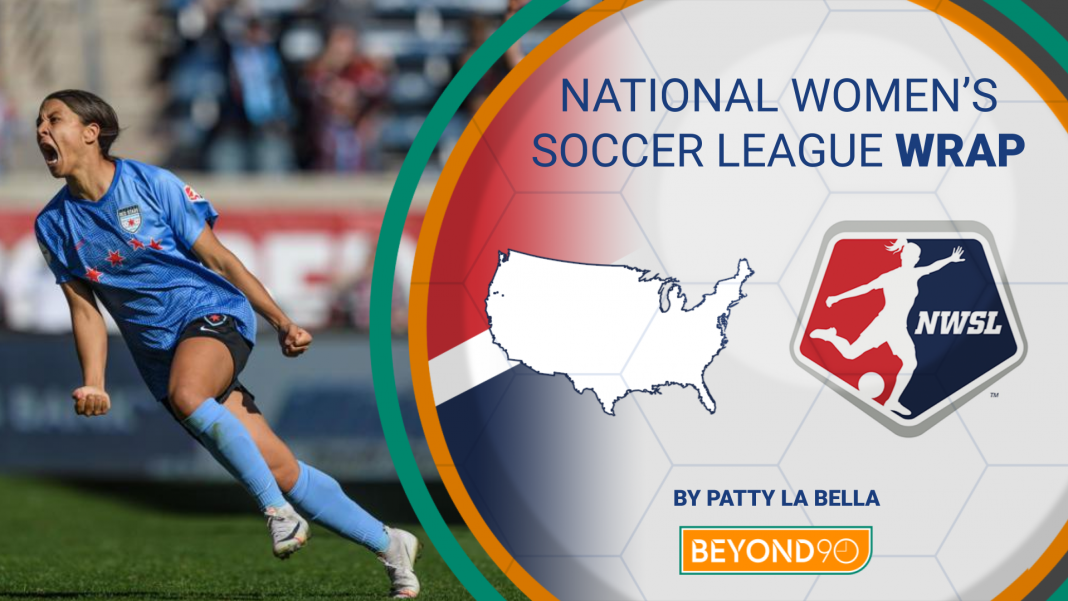 With a number of Aussies playing abroad in the National Women's Soccer League this year, Beyond 90 will be keeping up with all the results and major talking points across each round.
The American and Canadian national team players have already departed their club sides for international duty to prepare for Women's World Cup. This leaves the Australians to carry their respective NWSL teams until they depart after Round 6.
The Houston Dash traveled to face an undefeated Utah Royals, who despite getting off to a fast start in the first half, ultimately fell short losing 2-1.
Houston outshot Utah 11-7 while only possessing the ball 34 percent on the day. Houston's first attempt came in the 16th minute, when Daly sent a long ball into the box where midfielder Sofia Huerta (SYD) fired a shot that was cleared by the Utah backline.
Utah had their first shot on goal in the 26th minute when forward Katie Stengel (NEW) got in behind the Dash back line, but was denied by Houston goalkeeper Jane Campbell.
In the 29th-minute, Utah forward Amy Rodriguez scored her second goal of the season after receiving the ball from an exquisite run by Vero Boquete.
Houston leveled the score just before halftime when Rachel Daly won the ball off Utah defender Sam Johnson (MVC) and slammed a shot past Utah goalkeeper Nicole Barnhart.
Daly struck again in the 50th minute when the England striker ran on to a chipped pass from Houston defender Ari Romero behind the Utah back line to drive in a goal from a wicked angle.
.@RachelDaly3 on the double!

1-2 | #UTAvHOU

Watch Live: https://t.co/ZmaElBi2pB pic.twitter.com/i0899hr4Rc

— NWSL (@NWSL) May 11, 2019
With a strengthened midfield anchored by Christine Nairn (MVC) and solid backline featuring Brisbane MVP Clare Polkinghorne, Houston is off to their best start to a season in franchise history with three wins, including two road victories.
Houston forward Kyah Simon is still sidelined due to left ankle injury and Veronica Latsko (ADL) will miss the remainder of the 2019 NWSL season with a left knee injury suffered during training.
#Highlights: @UtahRoyalsFC 1 – @HoustonDash

——-@AmyRodriguez8 ⚽️💨@RachelDaly3 ✖️✌️@UtahRoyalsFC undefeated record ❌#UTAvHOU pic.twitter.com/nJzQtn1QfC

— NWSL (@NWSL) May 12, 2019
Bitter rivals Sky Blue FC and Washington Spirit matched up in a hard-fought battle that resulted in a slew of rapid-fire shots on goal, highlight plays, and a ton of scoring chances.
It was the visiting Spirit however that came away with a 3-2 victory in their second meeting of the season.
In her first start of the season, Sky Blue goalkeeper Didi Haracic made her first save coming off the line to stop a ball played into Washington midfielder Chloe Logarzo.
The Spirit opened up the scoring in the 22nd minute after Haracic saved the initial shot from Cheyna Mathews inside the box, but Matthews collected the rebound and hit the back of the net for her first goal of the 2019 season.
Logarzo was involved in many plays attacking from the midfield and linking up with Matthews, Amy Harrison, and Ashley Hatch throughout the match. In the first half, Logarzo made a brilliant run up the right finding space between defenders before executing a nifty back heel to Matthews, who lost possession of the ball.
One after another, shots came in from Sky Blue FC to take on last week's NWSL Save of the Week winner Aubrey Bledsoe (SYD).
With the constant tenacity and persistence from the Sky Blue offence, Rodriguez was able to capitalize on the selfless slip pass from Savannah McCaskill (SYD) to tie the game up 1-1 going into the 32nd minute.
Come for no-look dish from @smccaskill_21, but stay for the @raque_rocky finish.

1-1 | #NJvWAS

Watch Live: https://t.co/d9Oj0BxIL6 pic.twitter.com/AsXGpmVfz0

— NWSL (@NWSL) May 11, 2019
After halftime, a counter attack off of a Sky Blue free kick put the Spirit back on top 2-1 as Jordan DiBiasi scored her first NWSL goal after a build up by Logarzo and assisted by Harrison.
Logarzo —> Harrison —> @DiBiasiJordan —> GOAL.

1-2 | #NJvWAS

Watch Live: https://t.co/d9Oj0BxIL6 pic.twitter.com/YGmZy30k5D

— NWSL (@NWSL) May 11, 2019
The Spirit widened their lead when Matthews scored her second goal of the match with a left-footed strike in the 67th minute.
Sky Blue forward Imani Dorsey scored in the 80th minute, bringing the scoreline up to 2-3 to end this exciting match.
https://twitter.com/NWSL/status/1127339241657257984
With the bulk of their national team players out due to international duty, Orlando and Portland were missing the core of their teams. However, it didn't show as both teams played up to their own strengths.
Orlando jumped out to an early lead thanks to a Toni Pressley (CBR) header off of a perfectly-placed Carson Pickett (BRI) corner kick.
That's using your head @Toni_Deion!

1-0 | #ORLvPOR pic.twitter.com/lALcEiIXQ2

— NWSL (@NWSL) May 11, 2019
Portland equalized the scoring with a goal from Dagny Brinjarsdottir, who jumped on the end of a rebound off a Celeste Boureille (BRI) shot that deflected off the post.
Portland took the lead in the 37th minute just after Ellie Carpenter was fouled on the edge of the penalty box. Portland forward Adressinha stepped up and struck a brilliant free-kick that curled over the head of Orlando goalkeeper Haley Kopmeyer (CBR).
In the 45th minute, much to the delight of the fans (including the Orlando fans!), Portland subbed in forward Hayley Raso for her first appearance of the 2019 season.
46' Welcome back, @HayleyRaso!

🎀 replaces @AnaCrnogorcevic to start the second half. #BAONPDX #ORLvPOR pic.twitter.com/TdLJMEY15E

— Portland Thorns FC (@ThornsFC) May 12, 2019
After second-half foul inside the penalty area, Portland forward Caitlin Foord stepped up to take the penalty kick. However, in a series of rapid-fire plays, Foord's PK was saved by Kopmeyer, then rebounded by Raso and then parried away by Kopmeyer from close range.
Wait for it…. Wait for it….@CaitlinFoord POW!

1-3 #ORLvPOR

Watch Live: https://t.co/L2403ek9iW pic.twitter.com/OV0VDbqA45

— NWSL (@NWSL) May 12, 2019
Foord didn't let that stop her however, coming back in the 58th minute to notch her second goal of the season when a rebounded shot fell to her feet. Foord powered her volleyed shot past Kopmeyer into the lower right corner, giving the Thorns a 3-1 lead and final score.
In her first start of the 2019 season, Portland goalkeeper Britt Eckerstrom (NEW) finished the match with four saves, including a brilliant diving save from a Marta volley.
#Highlights: @ORLPride 1 – @ThornsFC 3

——@Toni_Deion 💆⚽️

Andressinha 💫😱@CaitlinFoord ⬆️⬇️💥@hkopmeyer 🙅🙌#ORLvPOR pic.twitter.com/mA1jKfQC6m

— NWSL (@NWSL) May 12, 2019
The North Carolina Courage's 15-game undefeated streak was snapped thanks to Sam Kerr and the Chicago Red Stars.
Tell us if you've heard this one before?@Yuki_Ogimi —> @samkerr1 —-> @chiredstarsPR GOAL.

1-0 | #CHIvNC

Watch Live: https://t.co/inBuEZNuhw pic.twitter.com/uPJ6iad6Q8

— NWSL (@NWSL) May 12, 2019
Kerr opened the scoring in the 13th minute with a close range shot, after the ball bounced off of Courage goalkeeper, Katelyn Rowland (NEW), making her first start of the season.
In the 33rd minute, North Carolina striker Lynn Williams scored on a ball played in by defender Merritt Mathias. Williams volleyed the ball in for her third goal of the season.
In the 40th minute, despite being surrounded by a swarm of NC players, Chicago forward Michele Vasconcelos took a shot on goal just outside of the box and snuck the ball into the far corner of the net.
Sam Kerr may have opened the door to the scoring, but she slammed it shut three minutes into stoppage time. The "Wonder Down Under" sealed the deal with a strike well out of Rowland's reach. Much to the delight of the fans, Kerr topped it off with her signature celebratory backflip.
North Carolina's 3-1 loss marks the team's first defeat since June 2018.
https://twitter.com/NWSL/status/1127753595041067008