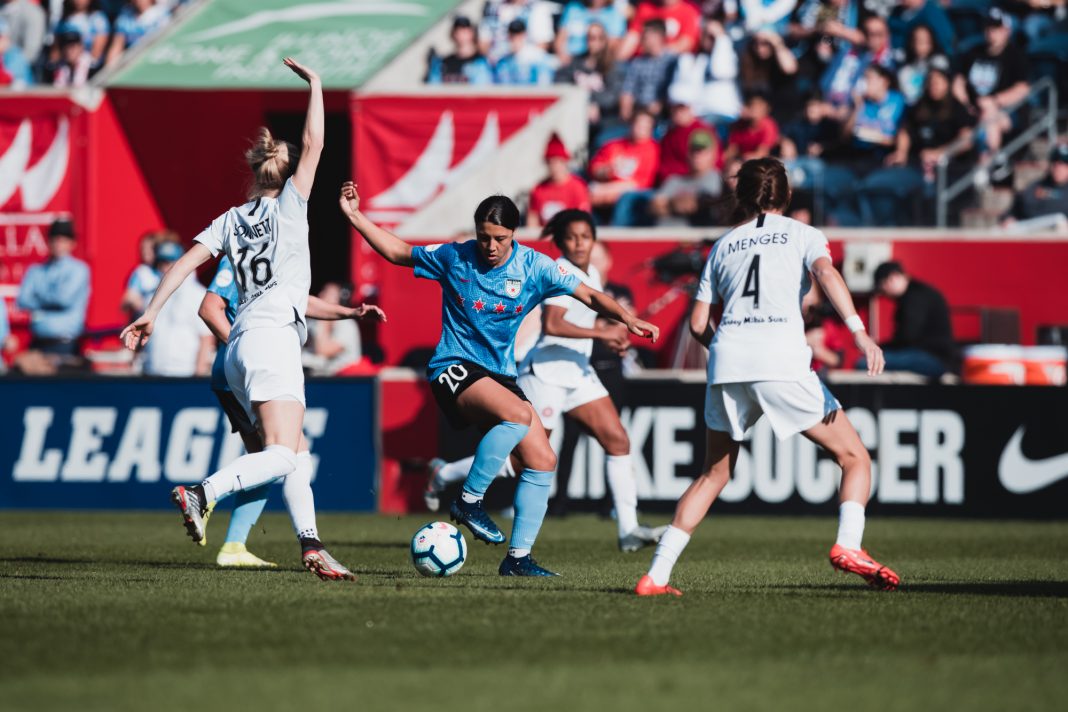 Chicago Red Stars and Matildas striker Sam Kerr has been named the NWSL Most Valuable Player for 2019, becoming the first player in the competition's history to win the award a second time.
Goalscorer. Record breaker. MVP.@samkerr1 set the single-season goalscoring record with 18 and is the 2019 #NWSL MVP. pic.twitter.com/Muw1GoVGj0

— NWSL (@NWSL) October 25, 2019
This season's award follows Kerr's 2017 MVP honour – won while playing for Sky Blue – and her second-placed finish behind Portland midfielder Lindsey Horan in 2018.
Kerr scored a league-record 18 goals in 21 appearances for Chicago this season, while also finishing equal-fifth with five assists to help her side to its first-ever NWSL Championship match.
"I don't do this by myself," said Kerr at the NWSL awards ceremony.
"18 goals doesn't just come from one player so thank you to my teammates. I love playing for Chicago. I love the girls, I love the team, and they allow me to be the best player I can be. This is a huge team effort and this all really means nothing unless we win on Sunday."
Kerr received an incredible 64.8% of final-round votes, finishing well clear of North Carolina pair Debinha (12.1%) and Kristen Hamilton (8.5%), while Kerr's teammate Yuki Nagasato finished fourth (8.2%) with Courage striker Lynn Williams in fifth (6.4%).
The first two-time MVP winner. @samkerr1 gives her reaction to earning the 2019 #NWSL MVP Award Presented by @budweiserusa. pic.twitter.com/iSfCxrfS48

— NWSL (@NWSL) October 25, 2019
"I love what I do and feel very lucky to be in the position I am. I just take it as I go, I'm still learning every day and there's new challenges every day. But I just always be myself," Kerr said.
The award caps off an incredible personal season for Kerr, which saw her claim a third consecutive NWSL Golden Boot, was named NWSL Player of the Week six times, Player of the Month twice, and earned Goal of the Week in Round 16 for her close-range effort against Utah Royals.
Nike athlete Kerr also became one of just three players – alongside Cristiano Ronaldo and Kylian Mbappé – to debut the exclusive Mercurial Dream Speed boot when she took to the field in Chicago's NWSL playoffs victory over Portland last week, scoring the only goal in her side's 1-0 home win.
Kerr and her Chicago Red Stars side will take on NWSL Shield winners North Carolina Courage in the NWSL Championship match at WakeMed Soccer Park in Cary on Sunday 27 October (Monday 28 October at 6.30am AEDT).