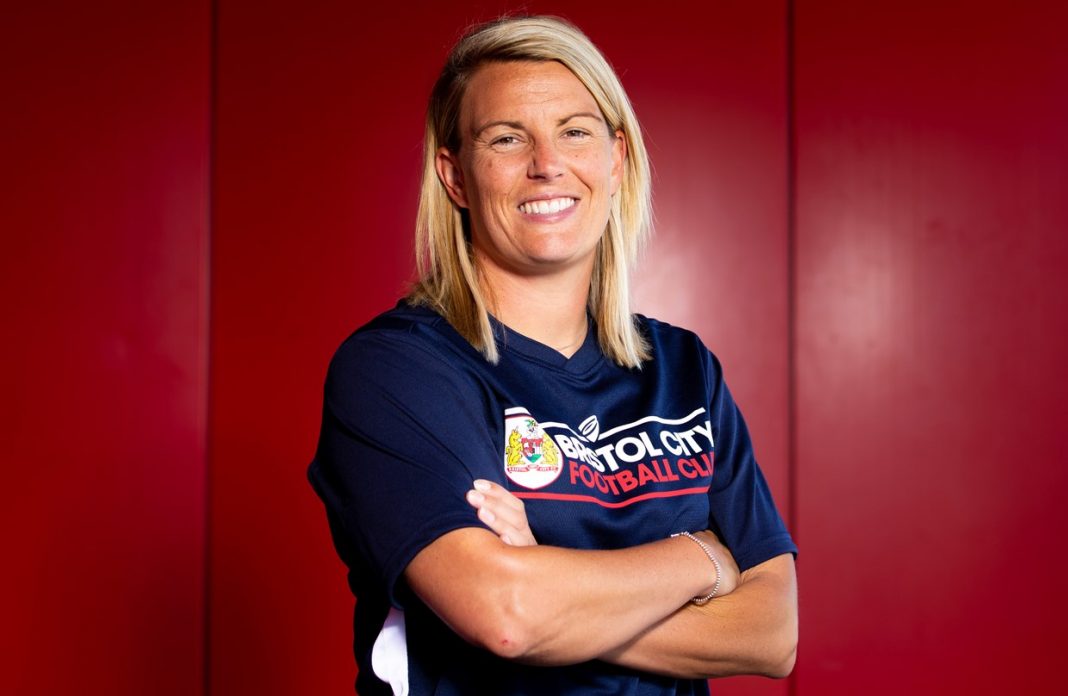 Beyond 90 had the opportunity to interview the FA Women's Super League's Bristol City coach Tanya Oxtoby. Hailing from Western Australia, the 37-year-old's playing career includes leading Perth Glory as captain for their first four seasons in the W-League and a stint in the UK with Doncaster Belles. Oxtoby worked as an assistant coach for Perth Glory in the W-League in 2014 and the Young Matildas before returning to England to coach. Before taking up the role at Bristol City, Oxtoby was an assistant at Birmingham City.
Tanya Oxtoby picked up sticks to move to the UK because of her hunger to develop as a coach following a successful stint as an assistant coach at Perth Glory in their trophy-winning 2014 season. Leaving family and friends behind in the pursuit to coach full time also meant starting from scratch in a different football landscape.
"[I] had to pretty much start all over again, in terms of obviously building my reputation, my experience and credentials as well, because a lot of the Australian credentials aren't necessarily recognised over here," Oxtoby said.
Oxtoby admits the change was tough. The landscape of the game is more open to scrutiny, as people live and breathe football. However, it has also provided a field of opportunities to develop.
Wind the clock forward to the present, Oxtoby is the head coach of Bristol City in the FA Women's Super League.
"Now I'm in a great position, obviously, with Bristol, where I've got my own football philosophy that's implemented from the top all the way down to our youth. And I get to do all the things I love every day. So I guess, kinda, the sacrifices were worth it."
Compared to Australia's four month W-League, the WSL has a longer season, ordinarily running from early September to the middle of May. In addition there is the added pressure of promotion/relegation and increased media scrutiny in England.
For Oxtoby the learning experiences available at Bristol and in Europe are in contrast to her Aussie home in Perth. Bristol's inter-club approach means she can learn from the club's Men's Championship Coach Lee Johnson. There have also been opportunities to observe and work with other coaches ranging from men's Premier League clubs, to other women's clubs in Europe.
"Obviously, in Perth you're quite isolated. Whereas here, everything's at your fingertips, and everyone's really open. So it's fantastic for me because I'm constantly getting ideas and different ways of working. [I] would have struggled probably to do [that] at home being in Perth."
https://www.instagram.com/p/BxDSnx-haUw/
Oxtoby went on to describe a moment when she took her Dad to last year's FA Cup final to demonstrate the contrast between women's football in England compared to Australia.
"And honestly, his face was priceless. There were 44,000 people there, watching a women's football game.'
The emotional moment between the pair only cements Oxtoby's hope for full seasons and massive crowds back in Australia.
"I really, really hope that obviously Australian football gets to that point in my lifetime. It would be amazing to see."
Women's football in the UK has boomed following the 2019 Women's World Cup. The competition has also experienced an increase in accessibility due to the FA Player, that allows audiences to watch for free at any time.
A dark side also lurks in the shadows of the growing women's game in England. As the coach of a team who has spent the season in a relegation battle, unfortunately, Oxtoby has experienced that ugly side of football.
"When we played Arsenal, we got absolutely tonked on TV. And it was horrific… I got threats and stuff like that on social media and I thought even though it was not a nice thing, 'oh I hope you die' is you know, [and] horrible things like that. I thought, gosh, it shows how far the women's game's come."
"Because… back in my day, that never happened. Because not enough people watched it. So the fact that, even though that's not a nice experience, and it was really emotionally traumatic to have things sent like that to you, I try to take positives out of it and say, 'Well, actually, people care enough'."
The journey during Oxtoby's time at Bristol hasn't been simple.
Last season was Oxtoby's first at the helm. Three days out from preseason only three players were signed on. Bristol pulled off an unlikely sixth-place finish, with everything going as perfectly as it could.
In contrast, this current season has seen everything go wrong. The injury tally, stacked with unpreventable contact injuries, has battered a side who already have the lowest budget in the league. According to Oxtoby, it's a nightmare.
"I'm not gonna lie, it's been really really tough, emotionally draining. I've learned a lot about myself and who I can trust."
Oxtoby has used the experience to learn who her true supporters are, the ones that know what is needed to battle through the stresses of fighting to remain in the league.
"I think there's probably two or three managers in this league that have been so, so, so supportive and helpful to me. Obviously my family as well."
"Getting those death threats, things like that, it's nothing I've ever experienced before. Nothing. There's nothing in a coaching course to teach you how to deal with that."
https://www.instagram.com/p/B7_brz1F_BA/
The relegation battle has been an extremely anxious and sleepless one for the Bristol coach.
"Sunday's are horrendous for me because you just know that you're trying to patch things up. You know you've got a squad with bare-bones and you've got kids playing."
"But credit to the girls. They go out and fight every single week and they try really, really hard."
The young squad has seen some inconsistent results, with the harsh competitive nature of England's top division making a total 90-minute performance essential.
A crucial 1-nil victory over Birmingham is now a timely glimmer of hope for Bristol's season.
"Thank goodness we got the win against Birmingham. [Now] going into this extended break, if you like, we're not kind of sitting on the bottom. So that's definitely a positive."
💬 "Look after each other in this difficult time, it's important we make sure we are all in a good mental space, and please continue to follow government guidelines."

A message from #BristolCityWomen Manager, Tanya Oxtoby.

Read in full. ⬇️

— Bristol City WFC (@bristolcitywfc) April 20, 2020
Bristol's survival in the league remains on hold, as everyone waits to survey the real impact of the Coronavirus pandemic on sport competitions. So far, the WSL has postponed the current season and intends to pick up where it took off. Likely cramming matches into a tight schedule.
"So it's gonna be a whirlwind if we get back on the pitch to get the games finished and hopefully stay out of that bottom place."
---
Find out more about Aussies playing in the FA WSL and abroad.