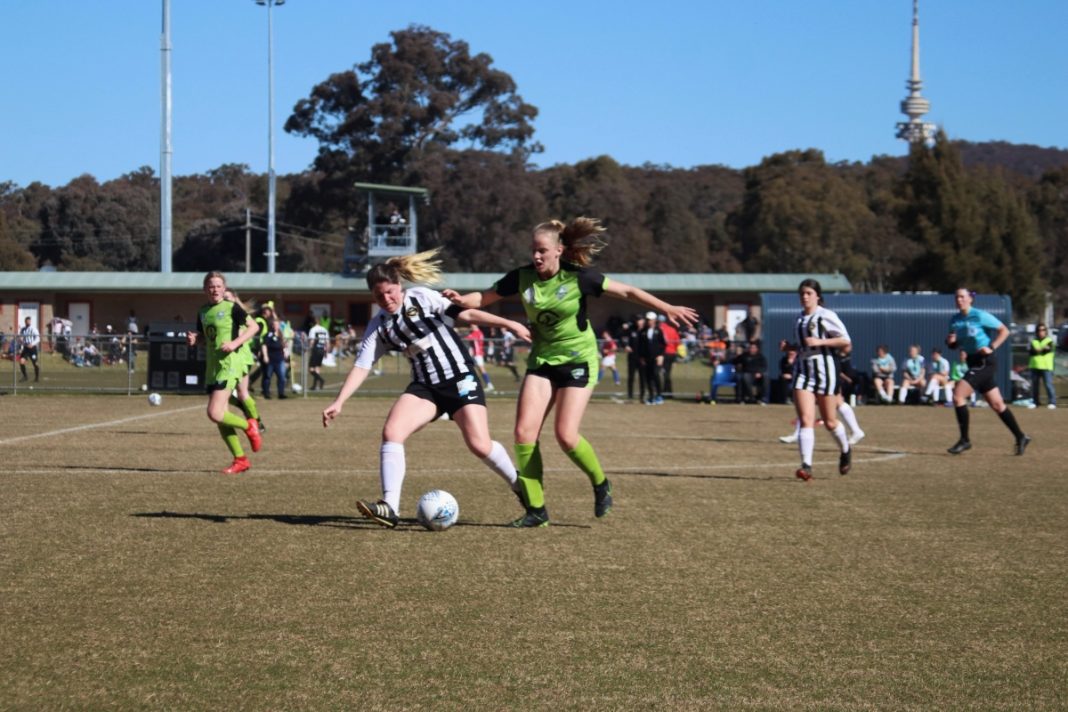 Week 1 of the Capital Football NPLW1 finals featured two back-to-back games at the AIS Grass Fields. Third and fourth placegetters Canberra United Academy and Gungahlin United contested the Elimination Final, while premiers Belconnen United took on runners-up Canberra FC for direct entry into this season's Grand Final in the Qualifying Final.
Elimination Final: Canberra United Academy v Gungahlin United
Two extraordinary Gungahlin United chances in the Canberra United Academy six-yard box in the first 7 minutes threatened to derail Academy's game, but they steadied with goals to Sacha Grove and Hayley Taylor-Young in each half apiece, allowing them to hold off the Gunners' two-goal challenge and progress to next week's Preliminary Final.
Academy's Mia McGovern seemingly stepped off the plane from the Young Matildas South Pacific tour and onto the field; a welcome inclusion in Heather Garriock's squad, especially with Jade Trewin still unavailable. Garriock chose to play Sacha Grove and Hayley Taylor-Young upfront, with Isabell Mulhall also given free rein to push forward. For Gungahlin, Dhiaan Siddu was chosen by coach Diego Iglesias to partner Maddie Perceval in the centre of defence, with the side otherwise unchanged from last week.
On no less than two occasions within a minute, Gungahlin's Jade Brown almost gifted her team (and fellow striker Ella Brown) the perfect start to the Elimination Final in the 7th minute. Showing determination to win the ball off Annie Grove, her first effort was struck low firmly across goal, neither a shot nor a cross, and just beyond Ella's reach. Elke Aitolu did well to win the ball from the resulting goal kick and managed to find Jade Brown again via Erika Pennyfield. This time, Brown's shot was unable to be held by Academy keeper Isobel Davey. The ball fell to the unmarked Ella Brown but with the goal beckoning, Brown scuffed the shot over the bar.
With these scares behind them, the Academy settled into the game and their possession-based game. In the 12th minute, McGovern played a diagonal ball from midfield into the centre of the Gungahlin penalty box, and the onrushing Taylor-Young did well to get in front of her defender and get a first-time left-foot strike into the bottom right of the net.
Academy doubled their lead five minutes later when the diminutive Sacha Grove somehow managed to impose herself on a high bouncing ball between two defenders and keeper Kailey Tonini, getting a foot to the ball and directing it towards goal.
17' | 2-0 | #CUAvGUFC
Goal! Sasha Grove extends @CanberraUnited Academy's lead to two! They've got one foot in the preliminary final already!#NPLWCF pic.twitter.com/rLrEmGnY8V

— NPL Capital Football (@officialNPLCF) August 31, 2019
The Academy weren't having it all their way, however, and in the 25th minute, Gungahlin captain Rachel Corbett was given enough time on the ball in midfield to play a one-two with Jade Brown, and unleashed a wonder strike from 25 yards out into the top right of the net.
The rest of the half was mainly played in Gungahlin's half, with Academy midfielders Molly Lawless, Meg Roden and McGovern somewhat overshadowing their opposition counterparts. Gunners central defender Siddhu went down with a lower leg injury just after half an hour and could not continue, with Marija Rathouski coming on.
The half ended with Sacha Grove beginning to show signs of being able to get away from her defender in and around the Gungahlin box. McGovern shot from distance on two occasions but stumbled in a challenge and looked uncomfortable thereafter with a possible turned ankle. McGovern was not to reappear after the half time break, with Bella Barac coming on in midfield.
NPLW HT |@CanberraUnited got off to a fast start before Rachael Corbett pegged one back for @GUFC1997, to leave it 2-1 at the half!#NPLWCF pic.twitter.com/bs4ilYD9nM

— NPL Capital Football (@officialNPLCF) August 31, 2019
Sacha Grove was to extend the Academy's lead to 3-1 just three minutes into the second half. Left unmarked in the box, Grove was the recipient of Taylor-Young's centred ball from the left by-line after a trademark dash down the left wing in pursuit of Tara Cannon's fine through ball.
Five minutes later it was Taylor-Young's turn to score, seemingly putting the game beyond Gungahlin's reach at 4-1. Lawless gained possession of the ball just over halfway and took off downfield, outpacing Ruby Gambale on the right edge and sending a terrific ball into the Gunners' six-yard box. Taylor-Young once again showed her hunger for the ball, getting in ahead of her defender and slotting the ball past Tonini.
In the remainder of the game, Barac was seemingly in everything put together by Academy with Lawless also busy, but Tonini was doing her level best to keep her team in the game including blocking a one-on-one from Taylor-Young. At the end it was Gungahlin's Gambale who got on the end of an accurate through ball by Aitolu in the 93rd minute (with Niamh Larkin running interference for the Gunners), finishing with authority at the far post for a consolation goal.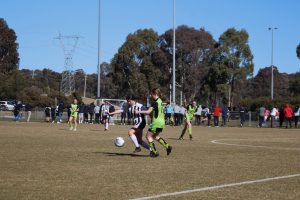 So ends Gungahlin United's season, one which they can be proud of for attaining a Finals spot, and one filled with entertainment. A well-balanced squad, they were at their best when Nat De Marco partnered her sister in midfield, and Alex Paterson was bombing on from right-back and giving another outlet for Aitolu's canny distribution from her favoured false 9 role.
The Academy will be contesting the Preliminary Final next weekend and will have to do so without McGovern as she embarks on her next Young Matildas commitment. As well as they played today, they will likely need to play at another level of intensity and physicality to win through to the Grand Final.
Canberra United Academy 4 (Taylor-Young 12′ 53′, S. Grove 17′ 48′)
Gungahlin United 2 (Corbett 25′, Gambale 90+3′)
Teams:
Canberra United Academy – Coach: Heather Garriock
Isobel Davey, Stefi Lejins, Annie Grove, Emily Jensen, Tara Cannon, Molly Lawless (c), Mia McGovern, Isabell Mulhall, Meg Roden, Sacha Grove, Hayley Taylor-Young, Bella Barac, Jenny Hill, Charli Mitchell, Alex Gidis, Ally Hinson
Yellow/Red cards: Nil
Gungahlin United – Coach: Diego Iglesias
Kailey Tonini, Brigitte Sander, Dhiaan Sidhu, Maddie Perceval, Ruby Gambale, Stella De Marco, Rachael Corbett (c), Jade Brown, Elke Aitolu, Erika Pennyfield, Ella Brown, Niamh Larkin, Marija Rathouski, Sophie Spice, Dani Gaspari, Freya Jacobsen
Yellow/Red cards: Nil
Qualifying Final: Belconnen United v Canberra FC
Their rivalry renewed, there would be no backwards steps for either team in their quest to reach the Grand Final and gain a week off. In a game with plenty of feeling and intensity, shirt pulls and arm pulls, and yet small moments of humour and nods of mutual respect, it was Belconnen United who gained the upper hand with a goal in each half to progress through to the Grand Final, due in no small part to their ability to sufficiently contain Canberra FC's attacking weapons on this occasion.
There were no real surprises with either team's starting eleven for this important clash, with Belconnen's Maddy Whittall still unavailable (having last played in early July); however it was no doubt a real boost for Canberra FC seeing Chantel Jones' name on the team sheet as a reserve having missed over a season due to a serious knee injury.
Belconnen's Caitlin Munoz got her team off to a quick start, scoring in just the 3rd minute after Keira Bobbin pounced on a Canberra FC goal kick and laid the ball off to Bronte Pyke. Pyke played a perfectly weighted through ball to Munoz in the box, who was able to guide the ball past the advancing custodian Nat Vasta and inside the bottom right post.
The goal seemed to inflame passions on both sides with several shirt and arm pull-backs evident. Over the next 20 minutes, it was Canberra FC asking the most questions of their opponents, with attempts on goal by Jamie Berkeley, Brittany Palombi, and captain Grace Gill, whose strike from distance in the 20th minute was saved athletically by Belconnen keeper Sally James.
Canberra FC's Mel Bunker meanwhile was hounding the Belconnen backline, not allowing them any time on the ball. On the half-hour mark, Belconnen were able to respond with shots on goal by Katie Woodman and Catherine Brown, but neither troubled Vasta in the Canberra FC goal.
The referee brandished a yellow card at Canberra FC central defender Ivana Galic in the 35th minute for one too many overly physical challenges. In the 38th minute, Belconnen captain Lauren Keir went over the ball heavily and appeared to be in some discomfort, but she was able to battle on.
Belconnen's Jessie Rasschaert was in the thick of the action late in the half, first making an excellent run up the left wing in the 42nd minute and then receiving a yellow card two minutes later after her challenge on Canberra FC's Bunker. Bridgette Wright for Canberra FC was also active in this part of the game from right fullback, making runs forward in attack yet able to get back and defend as required.
NPLW HT |
An early goal from Caitlin Munoz sees @BLUE_DEVILSFC take a slim 1-0 lead into the break against @CanberraFC1!#NPLWCF pic.twitter.com/WVdJsV9I1i

— NPL Capital Football (@officialNPLCF) August 31, 2019
The second half commenced and for the spectator the Keir/Palombi battle was proving to be a highlight of the match, with Keir able to keep her dangerous opponent mostly under wraps. This – and the ability of the Belconnen defence to also keep Rachel Goldstein and Bunker quiet – was key to the outcome of the game. Grace Gill remained as influential as ever but with fewer available options in space, had to work harder at times to find attacking outlets.
A feature of the game was the willingness of players to interchange positions with teammates for periods of time to change things up. It's a credit to the coaching staff of both teams that this flexibility has been encouraged, with Belconnen especially prepared to do so. There were times when defenders went forward for several minutes, with those normally playing further forward coming back to cover without batting an eyelid, or pressing for normal positions to be resumed.
On the hour mark, Belconnen's Karen Clarke had a moment to remember, first taking a long throw deep into the Canberra FC penalty box and then collecting Gill's clearance around 25 yards out on the left side of the field. Clarke unleashed a fearsome strike every bit as good as Corbett's strike in the earlier game, giving Vasta in goals no time to get a hand on the ball before it flew into the net to give her side a two goal buffer.
60' | 2-0 | #BUFCvCFC
Goal! Karen Clarke scores an absolute belter from long range and @BLUE_DEVILSFC now have one foot in the Grand Final!#NPLWCF pic.twitter.com/W9cQqAvylp

— NPL Capital Football (@officialNPLCF) August 31, 2019
Canberra FC's Bunker was replaced after the goal having worked tirelessly harrying the Belconnen defence, with Vanessa Ryan coming on to add her brand of pace to proceedings. With Ryan on, Palombi assumed a more central attacking role and was not afraid to come back looking for work in an effort to spark her team's efforts.
The play opened up somewhat after the second goal, with Canberra FC now pressing hard but unable to convert enterprising play into concrete chances on goal. This was no better illustrated in the 66th minute when Palombi executed a breathtaking turn on the halfway line and evaded Rasschaert, finding Gill on the move towards the Belconnen penalty box. In Gill's last step before winding up for the shot and with Ryan also closing in on the chance, Keir came across and managed to put off both attackers just enough to diffuse an otherwise excellent offensive move.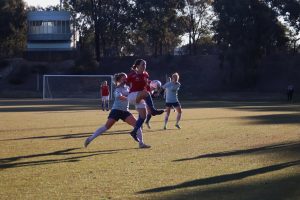 Alexia Forner replaced Katie Woodman for Belconnen in the 76th minute and this was followed 3 minutes later by Canberra FC replacing Galic with Amy McLachlan, and Isabella Tammaro with Sharon Chao. Both Canberra FC's substitutions were made with an eye to next week but also for a last push to get something out of this game.
Belconnen's Bobbin almost capitalised on an errant backpass in the 81st minute but Vasta was up to the task, getting a foot to the attempted shot, and allowing Wright to clean up afterwards.
Nicole Jalocha set up Leah Carnegie – who had replaced Karen Clarke – for a strike on the edge of the Canberra FC box in the 87th minute, but her side-footed shot sailed over the bar. Jalocha set her up again a minute later with a through ball as part of a smart one-two, but Vasta and Churchill between them were able to see the ball out for a corner.
From here Belconnen were able to close the game out with a couple of half-chances on the Canberra FC goal; the Canberra FC substitutes unable to make the most of their fresh legs.
In Jagarinec's next to last NPLW1 game as Belconnen coach, it was fitting that a poster hung beside the game in an outpouring of admiration and respect by his players for their coach and his role in the team's long and successful run in the Canberra NPLW1 competition.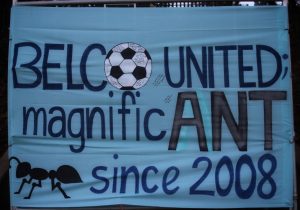 Week 2 of the finals series sees Canberra United Academy take on Canberra FC on Sunday 8 September at Deakin Stadium, with kickoff at 2pm.
Belconnen United 2 (Munoz 3′, Clarke 60′)
Canberra FC 0
Teams:
Belconnen United – Coach: Antoni Jagarinec
Sally James, Lauren Keir (c), Karen Clarke, Jessie Rasschaert, Catherine Brown, Bronte Pyke, Michaela Day, Katie Woodman, Caitlin Munoz, Nicole Jalocha, Keira Bobbin, Jayla Murphy, Leah Carnegie, Alexia Forner, Ayla Robertson, Maria Pachi
Yellow cards: Rasschaert (44′)
Canberra FC – Coach: Nik Brozinic
Nastaja Vasta, Bridgette Wright, Ivana Galic, Isabella Tammaro, Alice Churchill, Krista Hagen, Grace Gill (c), Jamie Berkeley, Rachel Goldstein, Melissa Bunker, Brittany Palombi, Amy McLachlan, Sharon Chao, Vanessa Ryan
Yellow cards: Galic (35′)