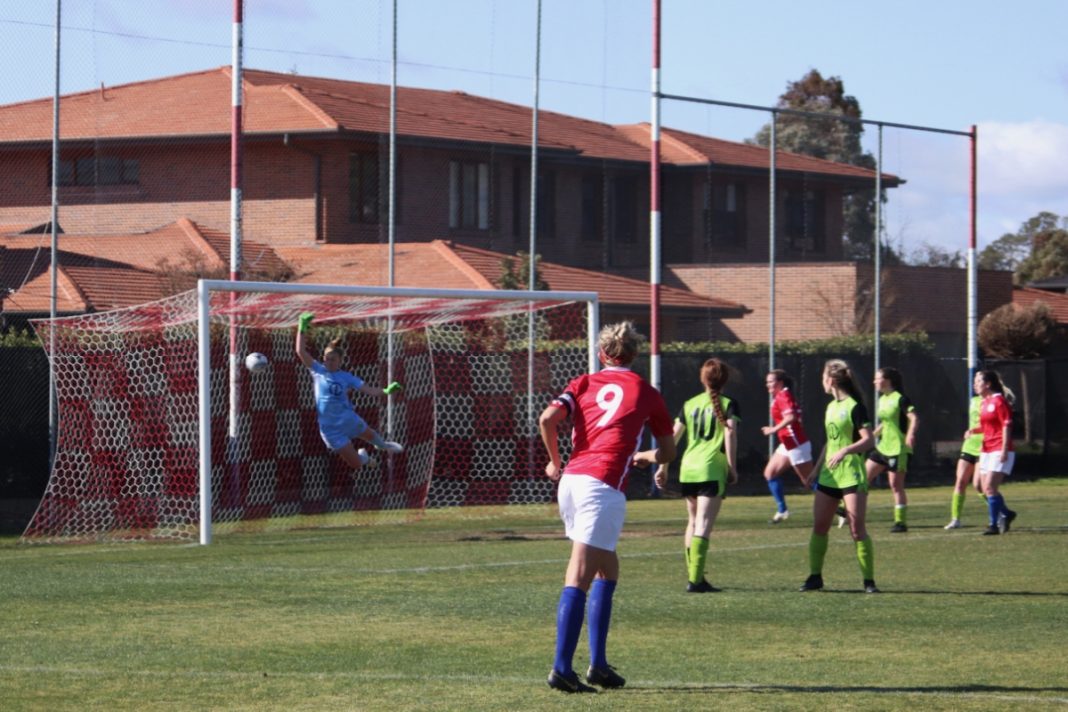 Week two of the Capital Football NPLW1 finals series saw third-placed Canberra United Academy (winners of last week's Elimination Final) taking on second-placed Canberra FC (defeated by Belconnen United in last week's Qualifying Final) for a place in the 2019 Grand Final.
Preliminary Final: Canberra FC v Canberra United Academy
In windy conditions, a commanding first-half performance by Canberra FC – with Rachel Goldstein and Grace Gill prominent – set up the home side for a 4-1 victory in the Preliminary Final. Characteristically, a determined Canberra United Academy never let up on their effort, and held Canberra FC to a goal apiece in the second half, but it will be Canberra FC contesting next week's Grand Final against Belconnen United.
Canberra FC were able to field the same side as last week's Qualifying Final game, while the Academy were without Mia McGovern (on Junior Matildas duties), with Jade Trewin also still unavailable due to an injury sustained while in Junior Matildas camp.
As referee Del Dimoski blew the whistle to commence the game it became apparent that both sides had opted for attacking formations in support of the presence of both competition leading goalscorers Brittany Palombi and Hayley Taylor-Young. Canberra FC captain Gill looked to be playing further forward in a central attacking role with Palombi on one flank and Mel Bunker on the other. Canberra United Academy also set up with three speedy attackers in Charli Mitchell, Sacha Grove, and Taylor-Young, but greater numbers in midfield (despite leaving orchestrator Bella Barac on the bench) and three at the back.
It took half an hour for the Academy to settle into their defensive patterns, with captain Molly Lawless, in particular, coming to the aid of the back three, but by then some damage to their grand final chances had been done.
Canberra FC's Rachel Goldstein was highly influential in the first half, doing well to anticipate and intercept an Academy backpass to keeper Isobel Davy in the 7th minute, making the most of the opportunity to give her team the early lead.
7' | 1-0 | #CFCvCUA
Goal! An errant back pass opens the door for Rachael Goldstein to net @CanberraFC1's first!#NPLWCF pic.twitter.com/4qv1KS0Aii

— NPL Capital Football (@officialNPLCF) September 8, 2019
Ostensibly in a midfield role, Goldstein was alternating with Gill between attacking and midfield positions and this was adding to Academy's defensive uncertainty.
Davy meanwhile was doing an outstanding job keeping Academy in the game, making vital saves from an unmarked Palombi in the 8th minute, and twin saves six minutes later from Goldstein and then Palombi again.
On two occasions in the game, Gill (as striker) found herself in the unfamiliar position of chasing through balls for shots on goal, managing to outpace her younger opponents both times. The first of these was in the 26th minute but in opting for placement over power, wasn't able to elude Davy.
A Canberra FC set-piece ended with Goldstein receiving the ball on the edge of the penalty box in the 28th minute. Taking the ball to her left and skipping past a defender, Goldstein struck the ball sweetly on the bounce with her left foot across the goal and inside the right post, granting her side a two goal buffer.
28' | 2-0 | #CFCvCUA
Goal! Goldstein grabs her second with this lovely strike into the far corner of the net!#NPLWCF pic.twitter.com/iebIEP3DeG

— NPL Capital Football (@officialNPLCF) September 8, 2019
It took until the 35th minute for the Academy to have their first shot on the Canberra FC goal. Taylor-Young received the ball on the half-way line and ran towards the Canberra FC goal at speed, cutting inside Ivana Galic, but her shot from range posed no threat to keeper Nat Vasta. Taylor-Young made a repeat performance a minute later with the same result. For their part, fellow attackers Mitchell and Sacha Grove were starved of opportunities up to this point and finding it hard to get into the game, with Grove coming back at times to assist her midfielders.
Annie Grove in the heart of the Academy defence was giving her best effort to match it physically with her older opponents – and would continue to do so all game – but fouled Gill on the left side of the Academy penalty box in the 38th minute. Gill stepped up and struck the free kick beautifully, giving Davy no chance in the top left corner of goal.
38' | 3-0 | #CFCvCUA
Goal! @gracegill9 curls home a stunning free-kick to give @CanberraFC1 a 3-0 lead! They've got one foot in the Grand Final already!#NPLWCF pic.twitter.com/7UE3v19fpy

— NPL Capital Football (@officialNPLCF) September 8, 2019
The 43rd minute saw Gill's second downfield sprint chasing a through ball, this time holding the ball up to centre the ball under pressure, however none of her fellow attackers were there to make the most of the assist.
Academy midfielder Meg Roden went down clutching her left leg just on half time after an innocuous contact, and unfortunately was stretchered off the field. Bella Barac would take the field in her place after the half time break.
NPLW HT |@CanberraFC1 have one foot in the NPLW Grand Final after a dominant first-half display at Deakin! #NPLWCF pic.twitter.com/3uOeirwTvR

— NPL Capital Football (@officialNPLCF) September 8, 2019
A flurry of chances came Gill's way early in the second half but amazingly none of them resulted in an addition to the Canberra FC goal tally. Alice Churchill centred a ball into the six yard box but under pressure from Davy, Gill could only sky the ball over the bar. The same result for Gill came a minute later after getting her head onto Krista Hagen's accurate corner kick.
Academy defender Tara Cannon played a lovely through ball for Sacha Grove to run onto in the 54th minute but her attempt to lob Vasta from inside the Canberra FC penalty box fell wide of the goal.
Coach Heather Garriock replaced forward Mitchell with Jenny Hill on the hour mark. Four minutes later it was the turn of Canberra FC forward Palombi, however, to make her mark, taking hold of a goal kick and racing into the Academy penalty box before firing a low ball into the bottom right of the net for a 4-0 lead.
64' | 4-0 | #CFCvCUA
Goal! Brittany Palombi slots the ball home after charging through the @CanberraUnited Academy defence! @CanberraFC1 are off to the Grand Final!#NPLWCF pic.twitter.com/QK9JmiPp4q

— NPL Capital Football (@officialNPLCF) September 8, 2019
The four goal margin was the cue for Canberra FC coach Nik Brozinic to ring in the changes, with Vanessa Ryan coming on for Gill, and Sharon Chao for Hagen.
Academy midfielder Barac was asked by the referee to spend 10 minutes in the sin bin after expressing displeasure at a free kick awarded against her in the 70th minute. Palombi seemed determined to take advantage of the extra player, firing a dangerous corner into the Academy six yard box in the 73rd minute which eluded everyone including Davy's attempted punch. A minute later Palombi crossed perfectly for Canberra FC's Jamie Berkeley, whose powerful header clattered onto the Academy crossbar, with Chao blasting the rebound over the goal from close range.
Taylor-Young provided some hope for a late Academy surge in the 77th minute with a stunning goal, getting onto the end of Hill's clever through ball under pressure, racing forward, and unleashing an unstoppable left foot strike once inside the Canberra FC box.
77' | 4-1 | #CFCvCUA
Goal! @CanberraUnited Academy peg one back thanks to a powerful strike from Hayley Taylor-Young!#NPLWCF pic.twitter.com/35cz0kvkvx

— NPL Capital Football (@officialNPLCF) September 8, 2019
Ryan was involved in the final two attacking movements of the game in the last five minutes, first as supplier for Palombi's shot having won the ball off Barac, then as striker, shooting high and wide after getting around Cannon in the penalty box.
The Canberra United Academy campaign thus comes to an end in season 2019. They are a delightful inclusion to the competition for the neutral observer, composed beyond their years, and always a defensive handful due to their speed and nimbleness. They ask different kinds of questions to any other team in the league, and their competitiveness throughout the season cannot be denied. The NPLW competition is certainly an excellent proving ground for these future stars.
Canberra FC's robustness and experience was on show today, exposing frailties when they were apparent and in true Canberra FC style going about their business in no-nonsense fashion and "getting the job done". "The job" in next week's grand final against title-holders Belconnen United will, however, be a sterner proposition against a canny and disciplined opponent who will be determined to send their talismanic coach out in style.
Canberra United Academy 1 (Taylor-Young 77′)
Canberra FC 4 (Goldstein 7′ 28′, Gill 38′, Palombi 64′)
Teams:
Canberra FC – Coach: Nik Brozinic
Nastaja Vasta, Bridgette Wright, Ivana Galic, Isabella Tammaro, Alice Churchill, Krista Hagen, Grace Gill (c), Jamie Berkeley, Rachel Goldstein, Melissa Bunker, Brittany Palombi, Amy McLachlan, Sharon Chao, Vanessa Ryan, Chantel Jones, Lara Agnew
Yellow/Red cards: Nil
Canberra United Academy – Coach: Heather Garriock
Isobel Davey, Stefi Lejins, Annie Grove, Emily Jensen, Tara Cannon, Molly Lawless (c),  Isabell Mulhall, Meg Roden, Sacha Grove, Charli Mitchell, Hayley Taylor-Young, Bella Barac, Jenny Hill, Ally Hinson, Alex Gidis
Yellow/Red cards: Nil
Next week:
Grand Final
Belconnen United v Canberra FC, Saturday 14 September, Deakin Stadium @3pm