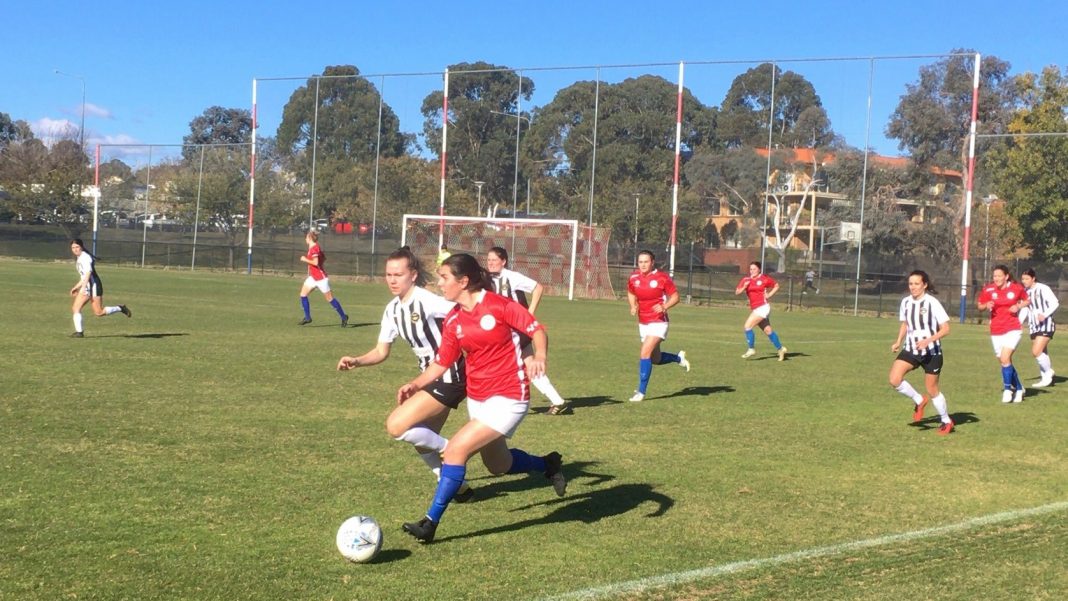 Round 9 sees the completion of the first half of the Capital Football NPLW season, with plenty of quality matchups meaning spectators were spoilt for choice. This fixture between the second and third placed teams was not the only one featuring teams in the top four, as Belconnen United and Canberra United Academy (first and fourth respectively) played the previous evening. All four teams were looking over their shoulders at Woden-Weston Wanderers whose recent results were threatening to have them displace any faltering team in the top four.
On a fine and sunny afternoon at Deakin Stadium, Gungahlin found themselves with less possession and fewer chances to get forward than in recent games. A brave effort in defence was unable to prevent the home side drawing ahead just on half time after Gungahlin had equalised minutes earlier. Canberra FC held their form throughout the second half to run out 2-1 winners, breaking their opponents' five game winning streak.
NPLW FT |
Important wins for home sides today, as @COFC1956 and @CanberraFC1 picked up maximum points. #NPLWCF pic.twitter.com/6qfQzS7vOF

— NPL Capital Football (@officialNPLCF) June 2, 2019
The match started well for the home side as they had the lion's share of possession. Canberra FC's defence sat back comfortably against a Gungahlin United formation that was initially cautious in venturing forward, with only Elke Aitolu pressing high. An early shot by Canberra FC's Rachel Goldstein from wide of the Gungahlin United penalty box, as well as another chance for her a minute later off a Brittany Palombi cross, signalled the influence these two in particular were to have up front for Canberra FC.
In the 4th minute Palombi was released on the left edge after a deflected ball from team-mate Jamie Berkeley. Palombi whipped a dangerous ball into the Gungahlin six yard box for Mel Bunker, who met the ball sweetly and made no mistake from close range to give Canberra FC an early lead.
Gungahlin's Stella De Marco found herself in a one-on-one with Canberra FC keeper Nastaja Vasta in the 13th minute after an excellent through ball from Maddie Perceval, but Vasta advanced and made herself big, and was able to get a toe onto the attempted shot.
A wide long ball switch from Canberra FC's Grace Gill found Palombi in space in the 18th minute, but the resulting low shot went across the face of goal.
Gungahlin were content to let the Canberra FC defence sit deep and play the ball across the backline, advancing only to press when the ball threatened to break the next line in midfield. In attack for Gungahlin, Aitolu was delighting the crowd on occasion with deft touches and was proving most effective when supported by Erika Pennyfield or Ella Brown with forward wide runs, however occurrences of these runs were limited. An Aitolu through ball for Pennyfield in the 31st minute was dealt with by Vasta in keeper-sweeper mode.
In the 33rd minute Brown pounced on a rare stray Gill pass just outside the Canberra FC box. A one-two passing move with Aitolu culminated in Brown advancing upon goal, but Vasta again advanced to block the danger with her feet.
This was a good period for Gungahlin, and they picked up an equaliser in the 37th minute when Aitolu chimed into midfield and passed to Natalie De Marco just on the half way line. De Marco spread the ball to her sister Stella and took off downfield. In the meantime Stella De Marco found Pennyfield on the right wing, who knocked a first time ball back in to Nat De Marco at the end of her run towards the penalty box. De Marco controlled the ball and shot the ball neatly just inside the left post to score; a fitting reward for her effort at the end of a terrific team move.
Gungahlin were jubilant but their joy was to be short-lived. Their goalkeeper Kailey Tonini was called upon in the 42nd minute to make a save off a low Palombi shot, and in the 43rd minute Canberra FC dealt a blow to the away side, regaining the lead with their own fine team passing move. Bunker picked up the ball on the halfway line and dashed forward to pass to Goldstein, who went back to Gill. Gill passed to Krista Hagen who played a wide through ball for the overlapping Bridgette Wright. Wright centred the ball into the six yard box where it was met authoritatively by Berkeley for the finish.
Canberra FC entered the sheds at half time 2-1 up having weathered a period of Gungahlin pressure, while dishing up some of their own at the death of the half.
The second half was a scoreless affair but there was plenty of action for the crowd to enjoy. In line with first half proceedings, the ball was mainly in Gungahlin's half. A 68th minute Wright back post shot was cleared off the Gungahlin line by Tonini, and the resulting corner was narrowly headed over the bar by Gill.
The 71st minute uncovered some nice Gungahlin build-up play, with Alex Paterson at right back distributing to Brown and then to Aitolu for a low shot after a Brown/Stella DeMarco one-two pass, but Vasta was able to deal easily with the shot.
Two minutes later Goldstein shot with her left foot from outside the Gungahlin penalty box, but Tonini was able to turn it away. From the resulting corner, Gill climbed high again but this time glanced her header wide of goal.
Canberra FC's Vanessa Ryan came onto the field in place of Bunker, and in the 79th minute was presented with a one-on-one opportunity after a Gill incursion into the penalty box, but could disappointingly only shoot directly at Tonini's feet.
Perceval and Ruby Gambale double-teamed in the Gungahlin defence in the 80th minute to deny a rampaging Goldstein after yet another Tonini block with her feet. The corner that followed also fell to Goldstein at the back post with her shot going just to the left of goal.
A rare Gungahlin corner was taken by Ella Brown in the 86th minute but Aitolu was only able to squeeze her shot over the bar.
The final meaningful act of the game was a fierce Berkeley shot on the Gungahlin goal, which forced another great save from Tonini.
Among the best on ground for Gungahlin United were keeper Tonini and the central defensive pairing of Gambale and Perceval, with all three getting through a mountain of work, while Nat De Marco displayed both enterprise and effort in central midfield.
For Canberra FC Goldstein was a constant threat, and there were excellent contributions by Palombi, Wright, and Berkeley. Gill was effective in central midfield, returning to the team after an absence of several weeks.
The result sees both sides maintain their places in the top three unchanged; however, Woden-Weston's good win the previous day over a tired Monaro Panthers – who had played twice in two days – and Academy's loss to Belconnen mean that Woden-Weston jump into fourth place on the ladder at Academy's expense.
Final score:
Canberra FC 2 (Bunker 4', Berkeley 43')
Gungahlin United 1 (N. De Marco 37')
Teams:
Canberra FC – Coach: Nik Brozinic
Nastaja Vasta, Bridgette Wright, Isabella Tammaro, Ivana Galic, Alice Churchill, Krista Hagen, Grace Gill (c), Jamie Berkeley, Rachel Goldstein, Melissa Bunker, Brittany Palombi, Amy McLachlan, Sharon Chao, Vanessa Ryan, Lara Agnew, Lucy D'Arcy
Yellow/Red cards: Nil
Gungahlin United – Coach: Diego Iglesias
Kailey Tonini, Brigitte Sander, Alex Paterson, Rachael Corbett, Maddie Perceval (c), Stella De Marco, Erika Pennyfield, Ella Brown, Elke Aitolu, Natalie De Marco, Ruby Gambale, Freya Jacobsen, Jade Brown, Sophie Spice, Courtney McCann
Yellow/Red cards: Nil
Around The Grounds:
Monaro Panthers 2 – 3 Canberra Olympic (Friday night – rescheduled from Round 1)
Canberra United Academy 1 – 3 Belconnen United
Monaro Panthers 0 – 5 Woden-Weston
Canberra Olympic 2 – 1 Wagga City
Tuggeranong United – bye
Ladder:
| | | | | | | | | | |
| --- | --- | --- | --- | --- | --- | --- | --- | --- | --- |
| Pos | Team | P | W | D | L | For | Against | GD | Pts |
| 1 | Belconnen United FC | 8 | 7 | 1 | 0 | 56 | 1 | 55 | 22 |
| 2 | Gungahlin United FC | 8 | 6 | 0 | 2 | 26 | 12 | 14 | 18 |
| 3 | Canberra FC | 8 | 5 | 2 | 1 | 39 | 7 | 32 | 17 |
| 4 | Woden-Weston FC | 7 | 5 | 0 | 2 | 22 | 20 | 2 | 15 |
| 5 | Canberra United Academy FC | 8 | 4 | 1 | 3 | 28 | 9 | 19 | 13 |
| 6 | Canberra Olympic FC | 7 | 2 | 0 | 5 | 5 | 36 | -31 | 6 |
| 7 | Tuggeranong United FC | 8 | 2 | 0 | 6 | 7 | 40 | -33 | 6 |
| 8 | Monaro Panthers FC | 8 | 1 | 0 | 7 | 10 | 33 | -23 | 3 |
| 9 | Wagga City Wanderers FC | 8 | 1 | 0 | 7 | 10 | 42 | -32 | 3 |