The life of an elite footballer is rarely straightforward. For some, the ultimate goal isn't always to stay at the highest playing level. Instead, for ex-professional players like Caitlin Friend, their greatest success comes from helping others achieve their own goals – this time, from her position off the pitch.
The Beginning
Having started out playing football as a seven-year-old, Friend was kicked off her team five years later because girls weren't allowed. Following a year of tennis, Friend came back to football via community club, the Brunswick Zebras.
"My coach helped me apply for the elite program which was at the time coached by ex-Socceroos Head Coach Ange Postecoglou," Friend said.
The program included approximately 12 girls and 40 boys. One of the girls was former Matilda Ash Brown. Across the other side of the pitch, the National Training Centre (NTC) squad was also training, with a squad that included the likes of Steph Catley and Brianna Davey.
Just weeks later, Friend found herself training with the NTC as well.
"I went from playing community level, to hitting the jackpot and going to the NTC and then youth national team within a year."
Throughout it all, there were the four Victorians.
"Myself, Steph Catley, Ash Brown and Brianna Davey. I spent my whole youth development with these three other players."
They remain close friends.
Victory and Beyond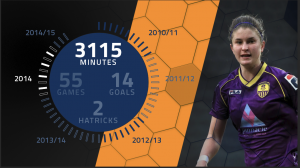 Friend played with Melbourne Victory before signing a professional contract with English team Notts County. However, constant football was beginning to take its toll.
"I came back and was straight into the Victory squad and travelled to Japan. I was just a little bit burnt out with football at that point because it was just year round. I was copping a few little injuries here and there. It was just a lot to take in," she said.
Friend was also juggling a university degree (Exercise Science) at the time and wasn't being paid very well but continued another season with Victory before travelling to Seattle to play in the WPSL. To get a little bit of extra money, Friend was also coaching.
Falling in Love
"I fell in love with coaching. It was a lot more rewarding for me," Friend said.
"Now I've taken a step back from playing pro football. I still play [for NPLW Victoria's Bulleen Lions], but I put all my focus into coaching."
Friend doesn't seem to have struggled from a lack of purpose in life after professional football, or in anything for that matter.
"I've always been really happy with what I achieved in football. I represented my country, I played professional football. I did hit those points, which made me happy. And it's given me the tools to then coach.
"I was just lucky to have qualities for the coaching world, but also to be super passionate about developing youth female football because it was a little bit of a rough road for me."
There are no doubts in Friend's mind that her future is to be a full-time coach. She already holds an AFC/FFA B licence.
"I definitely have to show the world that I can be taken seriously as a football coach, not just in understanding the game, but in a managerial role.
"It helps that I have my football history. You're automatically given more respect."
Elite Female Football
Friend founded Elite Female Football, a private skill acquisition and training company for young female footballers, and is fortunate to be supported by her NTC friends who have been there throughout her journey.
"I'm lucky enough to have them involved with Elite Female Football. Bri Davey comes down to talk to the girls about her journey.
"Then I get Steph [Catley] to come and obviously she's the young girls' idol. For them to see that is just awesome. Ash Brown runs the Strength and Conditioning Department."
Big Goals
Finally, Friend has big goals for the future.
"I have a five-year plan to develop Elite Female Football with a huge focus on youth development.
"I'm just so passionate because I just wasn't given those opportunities. I've fallen in love with helping these young girls.
"I want to run a clinic in rural areas. So that I can make sure girls in those areas also have opportunities."