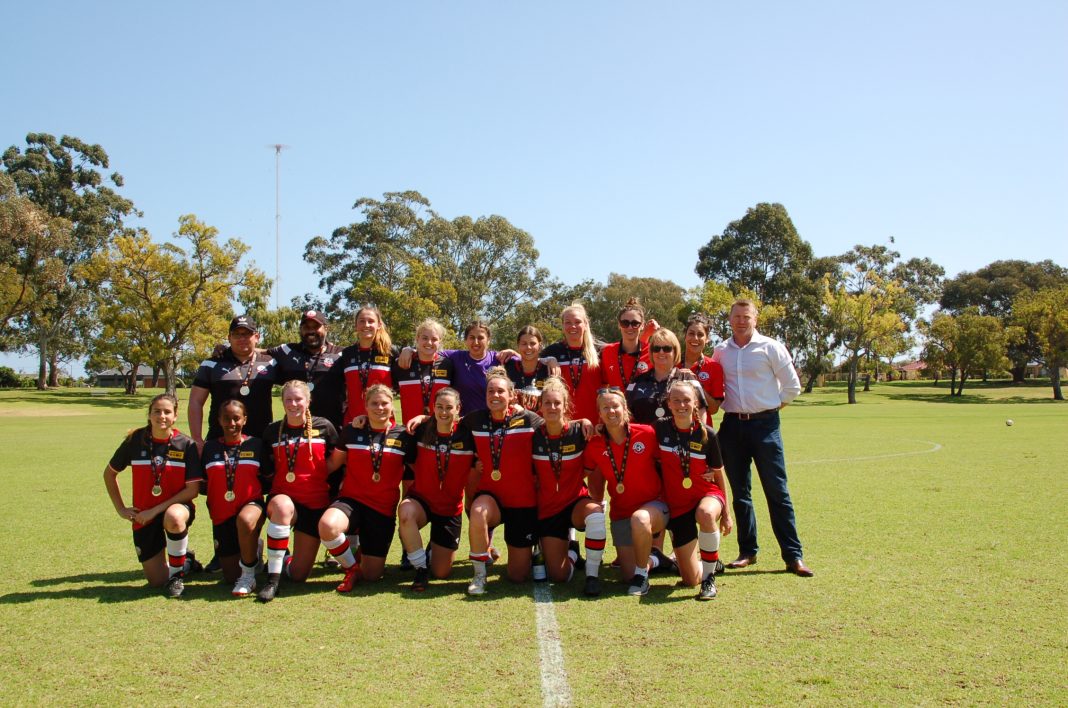 The Northern Redbacks became this season's WA Women's Premier League champions after finishing nine points ahead of second-placed Fremantle City.
They wrapped up the season in style with a convincing 5-1 win against National Training Centre (NTC), having secured the title with a 1-0 victory against reigning champions Queens Park in the penultimate game of the season.
The women-only club from Perth's northern suburbs also won the State Cup at the beginning of the month and finished runners up in the preseason night series competition.
Their coach, Conrad McKelvie, was delighted as his team had exceeded the goals and expectations he set for them at the beginning of the season.
"Our aim this season was to rebuild, and to blood new youngsters into the first team," he said.
"We achieved this with a number of U21's regularly starting for the first team, and were able to remain competitive, so yes this has been better than expected."
He felt that the standard of the league had improved this season and was particularly impressed by the form of runners up Fremantle City.
"Fremantle City's elevation to the elites of the league has impressed me with several wins against the traditional big clubs."
Fremantle City proved to be the breakout side this season, with their high paced pressing game enabling them to trouble every team in the league. With a young squad and a strong youth structure in place, there's no reason to think they can't build on this season's impressive showing.
Their coach, Thomas Richard, paid tribute to his players saying he had a fantastic group to work with. Of the other sides in the competition, he said "The offensive power, rotations and movement off the ball of Northern Redbacks is impressive. Their offensive transition supported by their pace is deadly, and their ability to play on opposition weakness is also a strength.
"I am always impressed by Queens Park's intensity and organisation in possession, and their ability to control the game and dominate for 90 minutes.
"Balcatta had a slow start and missed a few key players, but their ability to play on the counter and to adjust tactically is quite strong.
"NTC has a very young team, [but] the intensity, pace, and energy that comes out of the team is impressive."
In third place was 2018's double winners Queens Park. On paper, they had the strongest squad in the competition with no fewer than four current and five ex Perth Glory players available. However, their performance weren't as consistent as in previous seasons, and despite beating Redbacks twice they dropped too many points against others in the league. This proved to be costly. They also lost points for fielding an unregistered player early in the season.
Fourth spot went to Balcatta who were also runners up in the State Cup. Like Redbacks, Balcatta is also currently rebuilding, with many young players in their squad. They found themselves struggling early in the season due to injuries to key players but finished strong, losing just one of their last five league games.
The NTC U19's came fifth. Consistency was a problem they faced. On their day they were a match for any team, but if core players were missing due to State or International duties then results suffered. They ended up scoring the second highest number of goals, whilst also conceding the second highest number.
Stirling Panthers rounded out the table in sixth spot. They endured a difficult season, ending up with just one point and a goal difference of minus 100.
The upcoming top four competition promises to be an intriguing battle, with Queens Park looking to atone for the loss of their league and cup crowns by adding to their preseason night series win. Fremantle will be itching to crown their season with a trophy, whilst Balcatta will be determined to defend their title. However, Northern Redbacks loom as the team to beat and they will be desperate to finish the season with a treble.