Article co-written with Catherine Marsh.
---
Applying the laws of the game and controlling the emotions found on a soccer pitch requires more than the armchair critic bemoaning a 'contentious' call. Hard work, training and study are all requirements for referees at any level, whether it's at the local ground or a FIFA World Cup.
In Australia, there are well-established pathways for women to referee at the top of the game. The W-League is at the very heart of elite development for referees. The competition provides an opportunity to reach the pinnacle of the profession in Australia, without the need to officiate in the men's competition.
To better understand our referees, in this series we're placing the spotlight on them.
---
Delfina Dimoski
The beginning
Originally hailing from Wollongong, refereeing started for Del during her final year of high school.
"I used to play, discovered I wasn't much of a player and wanted to still be involved in sport."
Wanting to remain involved in the game, the balance of being able to stay physically active, and a bit of pocket money, Del decided to pick up the whistle.
The road to her current role in officiating
Opportunities quickly opened up at Del's local refereeing federation.
With the support of her federation, Del would soon have the chance to do an education development program in Sydney. The opportunity provided the chance to be out on the field with other female referees.
"Being on my own in Wollongong was pretty isolating. It was definitely a cultural thing of a bit of a boys club. I bucked that trend, so it was ok. But I was fortunate that they gave me the opportunity to go and try it out in Sydney"
It snowballed from there, as she continued on the development pathway, attending national tournaments before moving to Canberra seven years ago.
Initial hesitation surrounding the balance between a fledgling public service career and officiating was overcome quickly. Support from the then referee development manager, Allyson Flynn, plus an appointment to the W-League panel three months later, has seen her remain in the sport.
"In a lot of ways I was in the right place at the right time. But also I was pretty fortunate to be surrounded by a couple of people who really offered me that support to help my career progress"
Del is now a level one referee, instructor and an assessor. In the W-League, she is an assistant referee. Locally she referees and assistant referees both the women's and men's National Premier League competitions and is on the panel A for top tier ACT referees.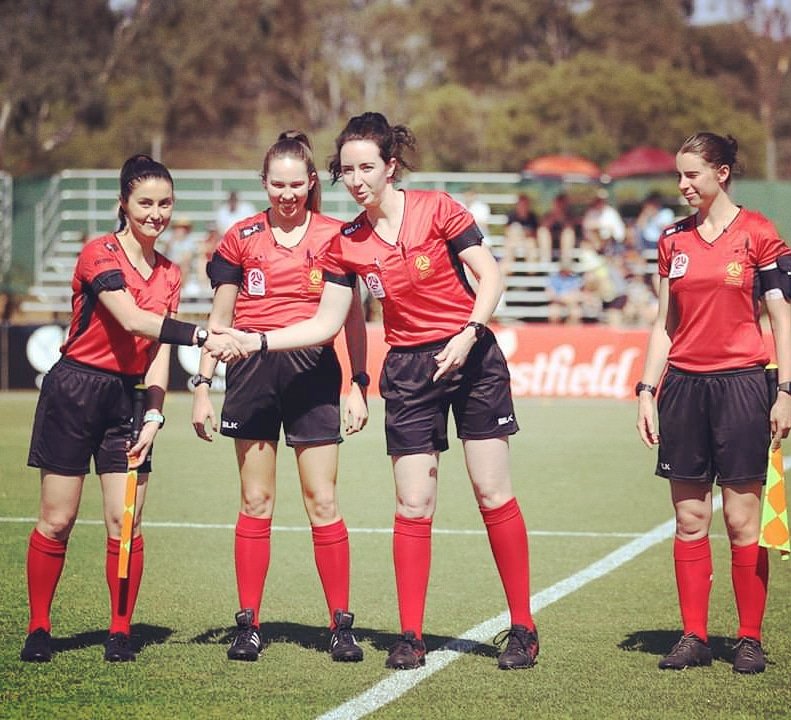 Support System
"I can't even put into words how important it is to have."
Del describes her support system as two streams. One is her partner, family, parents and close friends. The people she turns to during irrational moments, for a shoulder to cry on or rant.
The other is fellow referees, mentors and assessors. These are the people in her corner, but will also provide her with constructive criticism to improve her game.
Del points out she's fortunate there are four W-League referees in Canberra, which builds a sense of understanding and support. More broadly in the W-League, Del explains the unity within the group has never been stronger.
"We had some of our girls cop some pretty nasty stuff on social [media] and the way we all banded around each other which has been really, really good."
Why stick to it?
The inspiration that comes from her unorthodox pathway is why Del continues to referee.
"I look at my background where I've come from, and girls like me don't end up in the W-League."
Being a role model for Del also means using her profile as an elite athlete to speak out against some of the 'stupid sexist abuse' women face as match officials. After opening up on the abuse she faced during interviews with ABC and Women's Sport Australia, many young referees reached out who had been in the same position or worse.
"So that was the moment where I'm like "this is why I'm still involved, [and to] the extent that I'm involved"."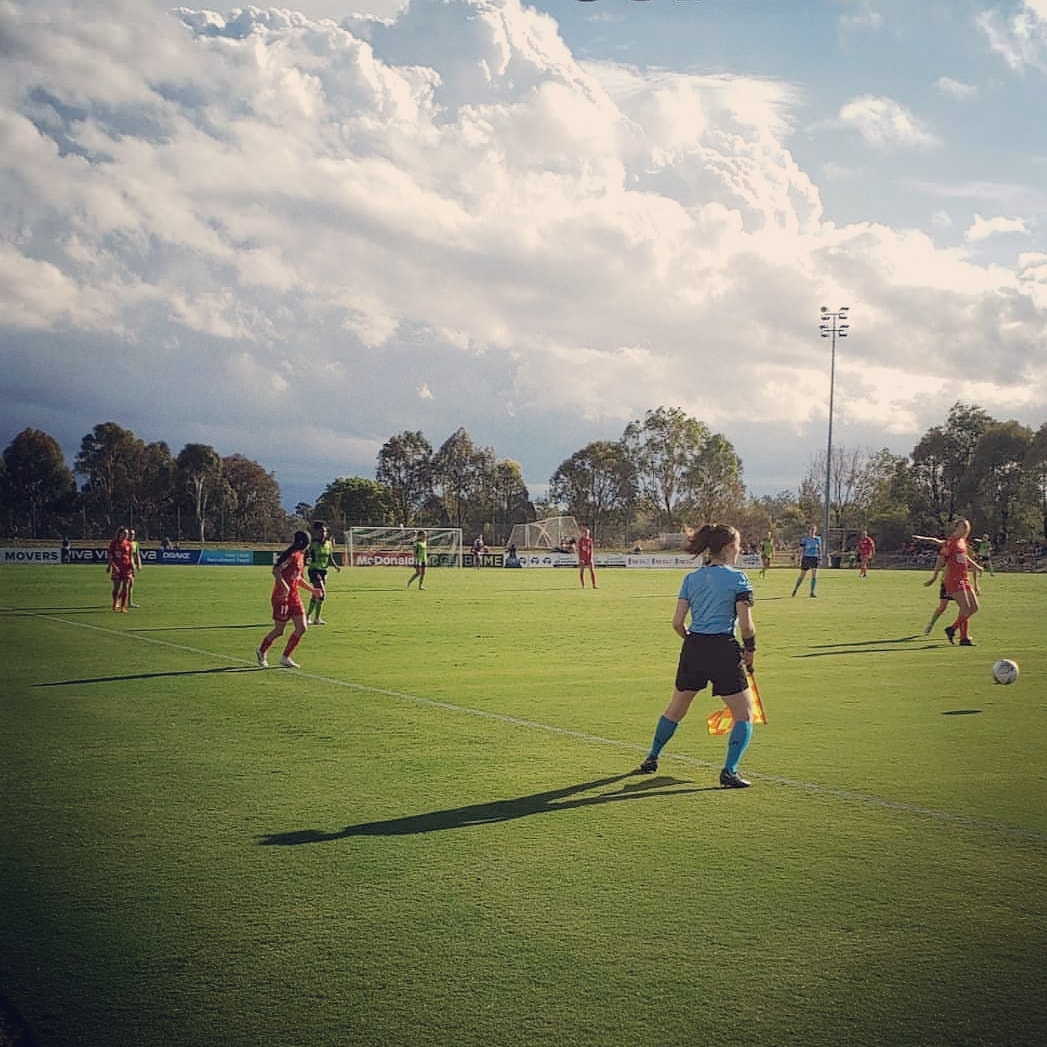 Most memorable moment
"I remember screaming when I put down the phone after FFA rang me to tell me I was going to Perth to do the Semi-Final."
With hesitation to pick just one, Del shared two moments. The first was her selection to be an assistant referee at Perth Glory v Sydney FC in Perth for the 2016-17 semi-final with good friends Casey and Lara.
The other moment that equals that feeling of excitement for Del was winning the Capital Football Men's Premier League Referee of the Year award – the first woman to do so.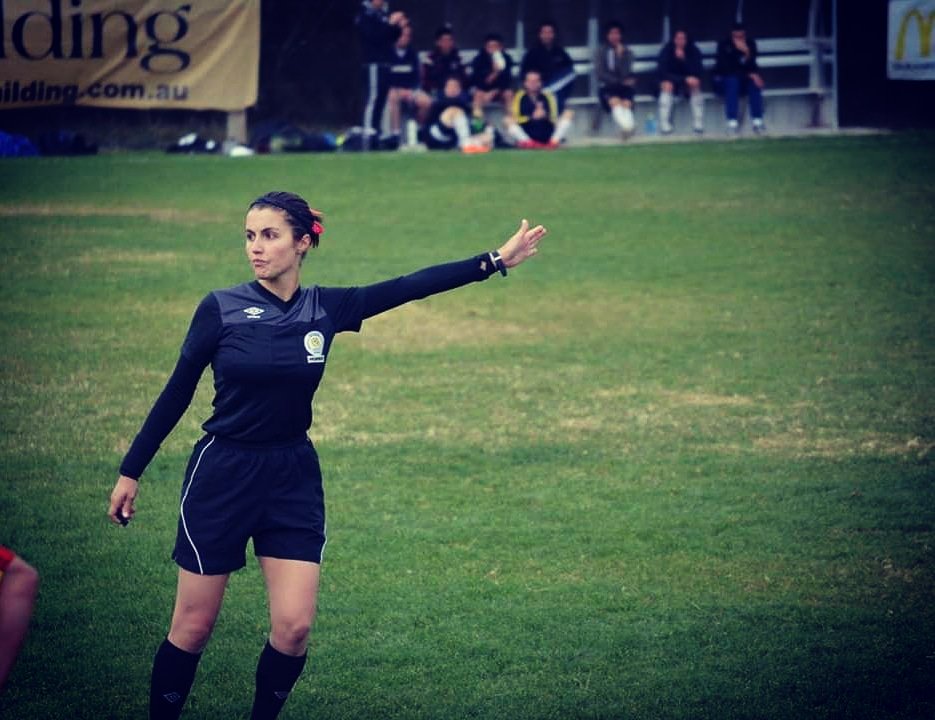 The Hard Stuff
"Just the feeling of doubt, thinking 'am I not good enough'."
After sharing tough moments of self-doubt, Del proceeds to open up about the darker side referees, particularly female referees, can experience while officiating.
"I had a few really nasty abuse incidents here in Canberra, and that doubt started creeping back in epically."
From copping abuse through to the smaller struggles of not being selected for matches, Del explains it's the resilience to rebuild after a setback that's helped her accomplish what she has in the game.
"What makes a good elite official, whether it be at a W league level or local NPL level, it's how you rebuild after things go wrong."
To See More Women Referee
'It's really difficult because there's not a one size fits all approach'
The common thread Del concludes is making sure there are support services in place. Those come in a variety of ways. While pointing out it could seem like giving favours to women, she made clear the reality remains referees need to go through the same tests and possess the same skills, no matter the gender.
"I'm a firm believer now that if you're a female match official and you're good enough, you will do what you need to do and you'll go where you need to go."
---
If any of this has inspired you to pick up a whistle, head over here
to find out how you can start your journey.