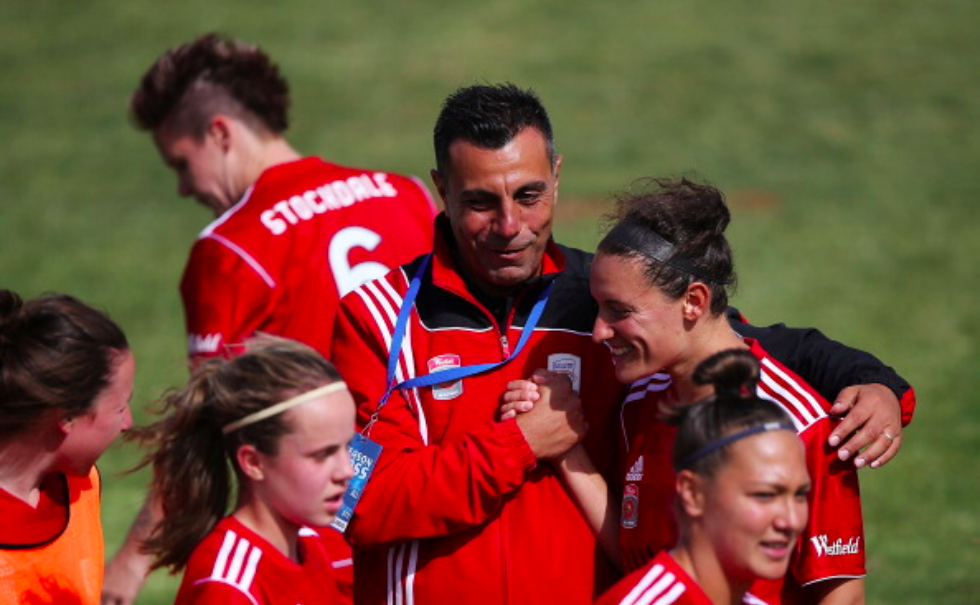 AFC Pro Licence holder, former Socceroo, ex Matildas assistant coach, ex Adelaide United W-League Coach and Head of Women's Football for Football Federation South Australia (FFSA) including the NTC program, Ross Aloisi has a clear pedigree and passion for football and he has recently launched his own venture to develop the women's game.
Happy Accident
"My real passion is women's football, and I fell into the into the game by accident," Aloisi said.
"I was asked by the TD of FFSA to coach Adelaide United Women's team. That first season, I loved it. It was the best thing I ever did. It was so rewarding.
"The players that we had, a lot of them were state league players and hadn't played w-league before. And so that's where the passion grew."
Aloisi went on to become Assistant Coach of the Matildas and while he loved the experience, the lack of a contract with FFA saw him return to the men's game with Brisbane Roar.
"I left the Matildas before they ended up going to the Olympics. Watching on TV, there was always that burning passion so I decided to start up a program where I could actually coach female footballers and help them to become better footballers. This is also a really good pathway for female coaches." 
Female Football Development
And so Female Football Development [FFD] was hatched, Aloisi's own plan to improve the women's game through more time on the ball, techniques, tactics and hand-picked coaches.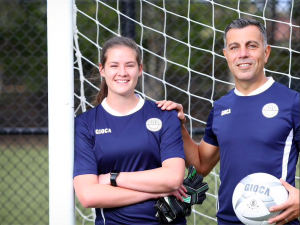 "Female Football Development is about players that play at their club, but they can come in and do holiday clinics or do another two nights a week playing for a term block 10 week term blocks. 
"Generally, if you find an NPL side, you're training two nights a week. If you do another two with FFD and the other coaches I have onboard like Amy Chapman, and Georgina Worth, that leads us to five days a week training and a majority of that is based on technique. 
"Dribbling, striking, stepovers, cutbacks, eventually we'll start to do some one v one defending. It's based on a lot of the things that they don't focus on in the curriculum. The more that the female players train, the better they're going to become. The more ball contact, the better footballer you going to be and then decision making any then anything else that comes with it. 
Aloisi is so committed to the women's game that he's putting his money where his mouth is.
"The coaches that work with me will be paid. I don't want to be taking anything from this because I still want to coach but it's a way of being involved in actually helping develop the women's game in Australia.
"Part of the pathway for the female coaches with FFD will be if we can't get grants from the PFA or wherever that possibly FFD will pay for for the coaching licenses. 
"Hopefully, we can branch out into as many areas as we can and have female coaches running the centers." 
Inequality
Aloisi is somewhat uniquely placed in the game, in that he has had experience playing with men, as well as playing and coaching men and women. As a consequence, he could see the inequality.
"I started coaching Adelaide United women's team, I had one of the best captains I've ever coached in Kristy Moore. She is a great, great leader, and a great footballer," Aloisi stated. 
"I said to her, that I'll fight tooth and nail for the girls to get what they need. 
"I saw it [inequality] from day one. You know, the gear that we were given for the players was men's gear that was leftover. And I was like, This is horrible. 
"So the following season, that all changed. The training grounds changed, I've got to give credit to Michael Carter (FFSA) he played a big part in that, and Wendy Carter. 
"Unless you've been involved in seeing the other side, you don't know what's out there. You don't know."
The Future
Aloisi is philosophical on his time back coaching men.
"If I hadn't gone with my brother, I probably wouldn't have learned as much. 
"So when we talk about learning and having female coaches at club level, if you can place them with good coaches, for example, with Ante Milicic, and they're with him, day in, day out, then they start to learn different ways of different training sessions, on communication, leadership on different things. 
"Then I think we'll get a female coach at a really good level to be able to coach the national team."