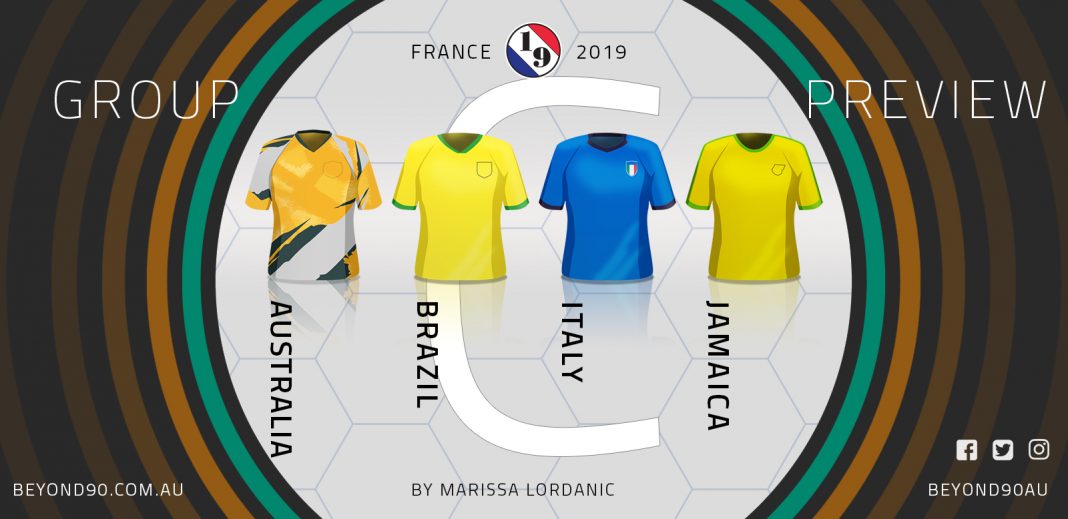 Group C: Australia, Brazil, Italy, Jamaica
Average Group Ranking:  21
Group C has it all: a team that's qualified for every World Cup, a side making their debut, a long-awaited return to the world stage for Italy, and a dark horse for the title in Australia.
The Matildas are the highest-ranked side and with that comes the expectation of not only topping the group but progressing deep into the tournament.
At the start of 2019, it was safe to assume that Brazil would also likely make it out of the group stage. However, less than impressive results since July 2018 have cast some doubts over the Seleção.
Conversely, Italy's qualification for the Women's World Cup for the first time in 20 years has been backed up with an undefeated streak in 2019. They could match their 1991 result of progressing through to the knockout rounds.
Jamaica is one of several countries to be debuting at this World Cup. While they are the clear underdogs in this group, they have a remarkable story.
Group Schedule
9 June: Australia v Italy (Valenciennes, 21:00 AET)

9 June: Brazil v Jamaica (Grenoble, 23:30 AET)

14 June: Australia v Brazil (Montpellier, 02:00 AET)

15 June: Jamaica v Italy (Montpellier, 02:00 AET)

19 June: Jamaica v Australia (Grenoble, 05:00 AET)

19 June: Italy v Brazil (Valenciennes, 05:00 AET)
_______________________________________________________________________
AUSTRALIA (AUS) – AFC
https://www.instagram.com/p/Bxb6ZL6His7
Coach:

Ante Milicic

Captain:

Sam Kerr

Ranking:

6

Average Age:

26.3

Average Caps:

55.4

Previous WWC:
Group stage:

3-1 loss vs USA

2-0 win vs Nigeria

1-1 draw vs Sweden

Round of 16:

1-0 win vs Brazil

Quarter final:

1-0 loss vs Japan

Last 5 Matches:
WWWWL
3 Key Players:
Steph Catley:

Catley will be at her second World Cup and assuming she is injury free, will play a vital role for the Matildas. Not only is she strong defensively, her ability to push up the field and whip in balls from the left flank makes her a crucial part of the Matildas' attack.

Elise Kellond-Knight:

This is Kellond-Knight's third World Cup and her importance to the team cannot be understated. With the ability to cut out attacks as the number six,, she also has the vision and passing range to be a key link in building Australia's attacks from deep inside the defensive half.

Caitlin Foord:

Foord has battled injury in the last couple of years but looks set to light up France in what will be her third World Cup. Australia has an embarrassment of riches up forward and while Sam Kerr – now donning the captain's armband – will be vital, Foord is both scoring and providing freely.
The lead-up to Australia's seventh consecutive Women's World Cup has been interesting to say the least. The four year cycle since Canada 2015 has been jam packed with highs and lows.
The furore over Alen Stajcic's sacking in January 2019 threatened to derail the Matildas' World Cup campaign. However, with the signing of Ante Milicic until the end of the 2020 Olympics and an inaugural Cup of Nations triumph, there's a renewed sense of hopefulness surrounding Australia's chances at the world's biggest tournament.
Expectations have been building since the Matilda's Round of 16 victory over Brazil at the 2015 Women's World Cup. The Olympics, 2017, and the Asian Cup produced the full gamut of results and emotions.
The transition from team with potential to team realising their potential hasn't been smooth. Navigating the expectations of a nation who are really taking notice of their women's national team, thanks in no small part to Sam Kerr's international recognition as one of the world's best, won't be easy.
But a squad filled with youth and experience with the potential for history to be made from Mary Fowler to Lisa De Vanna is cause for excitement.
Many will expect another quarter finals berth at a minimum. And there's plenty of evidence to suggest that expectation will be met.
ITALY (ITA) – UEFA
https://www.instagram.com/p/Bw4anoWgg1M
Coach:

Milena Bertolini

Captain:

Sara Gama

Ranking:

15

Average Age:

28.4

Average Caps:

40.0

Previous WWC:
First qualification since 1999
Last 5 Matches:
WWLDW
3 Key Players:
Sara Gama:

Gama is a veteran of the Italian national team, having been a part of the senior set up since 2006. She is currently the captain of the squad and has spent the last two seasons domestically with Juventus. A strong central defender, she will be the defensive rock of the Azzurre.

Barbara Bonansea:

Gama's club team mate, Bonansea is a silky midfielder with plenty of pace. She has already found the back of the net three times this year and is known to score spectacular goals. Bonansea may provide Italy's x-factor when they need it most.

Cristiana Girelli:

The top goal scorer for the Azzurre in qualifying with seven goals, Girelli is another of the many Italian players on the books at Juventus. With 13 goals in 19 games in Serie A Feminile this season, Girelli will look to translate her club form to country.
In 1999, Italy qualified for their second World Cup bowing out at the group stage. Twenty years later, the Azzure are back on the world stage after so many years away from the World Cup.
Italy's rise during this four-year cycle has been impressive. At the 2017 Euros, the Azzurre managed only one win – against Sweden – and finished bottom of their group. When it came to World Cup qualifying, Milena Bertolini's side topped group six with seven wins and only one loss in their eight matches.
A shift on the domestic front is being hailed as a major catalyst for the team's return to the biggest football tournament in the world. Investment from men's teams into Serie A Feminile has seen professionalisation and increased standards.
Considering most of the squad plays in Italy and are concentrated to a few clubs, the likes of Juventus, Fiorentina, AC Milan and Roma, this investment has benefits both domestically and internationally.
In 2019, Italy has played eight games so far and has lost only once to North Korea on penalties in the final of the Cyprus Cup. The Azzurre have only played two other World Cup bound teams: Chile and Thailand.
Italy are the dark horses of Group C and their battle against Brazil appears to be the key to see who will progress to the Round of 16.
BRAZIL (BRA) – CONMEBOL
Coach:

Vadão

Captain:

Marta

Ranking:

10

Average Age:
28.6
Average Caps:
40.3
Previous WWC:
Group stage:

1-0 win vs Korea Republic

1-0 win vs Spain

1-0 win vs Costa Rica

Round of 16:

1-0 loss vs Australia

Last 5 Matches:
LLLLL
3 Key Players:
Marta:

A living legend, Marta is a six-time Fifa World Player of the Year winner and holds the record for most goals scored at the Women's World Cup. Currently playing for Orlando Pride in the NWSL, her creative flair and keen eye for goal will be massively important for Brazil.

Ludmila:

A member of the title winning Atletico Madrid team, Ludmila made her national team debut in 2017. With 11 goals in 26 games on the domestic front this season, the 24-year-old will look to bring that goal scoring form to Brazil and work in conjunction with the other brilliant forwards Brazil has.

Formiga:

The history-making Formiga will become the first player male or female to partake in seven World Cups should she take to the pitch. Even though she is 41-years-old, any sentimentality behind her selection is minimal. She is still playing for PSG in France and still has a lot to offer this Brazilian team.
To say Brazil's preparation for the Women's World Cup hasn't been great would be an understatement.
The road to qualification was straight-forward enough. The Seleção secured a seventh Copa América Femenina trophy – the tournament doubles as World Cup qualification – with seven wins in as many matches. The Brazilians scored 31 goals courtesy of 14 different goal scorers and conceded only twice across the two stages of the competition.  
But after their undefeated run through the continental competition, the Seleção has won just one of their past 11 games – a 2-1 victory over Japan at the Tournament of Nations in July 2018 – and lost the other 10.
In that time Brazil has conceded 22 goals and scored only eight but has played against fierce competition including World Cup favourites the USA, England and France.
Brazil will look to perennial star Formiga, who will become the first ever player to participate in seven World Cups if she takes to the field in France, and aim to tighten things up at the back.
The beauty of a tournament like the Women's World Cup is progression out of the group stage isn't impossible and Brazil's fortunes could turn in their favour just in time.
JAMAICA (JAM) – CONCACAF
https://www.instagram.com/p/BxxhtAiB8X_/
Coach:

Hue Menzies

Captain:
Ranking:

53

Average Age:
23.6
Average Caps:
10.1
Previous WWC:
First qualification in history
Last 5 Matches:
LWWWD
3 Key Players:
Khadija Shaw:

The 2018 Guardian footballer of the year, Shaw is a prolific striker. The 22-year-old netted 19 goals in the Reggae Girlz World Cup qualification process, the most of any player in any confederation. She most recently played for the University of Tennessee and won a host of honours in her senior year.

Dominique Bond-Flasza:

Bond-Flasza is one of a handful of Jamaican players to ply her trade in Europe. Her side, PSV, was top of the table in the regular season but failed to dominate in the finals series. Bond-Flasza will always be a part of Jamaican folklore; it was her penalty which sent the Reggae Girlz to France.

Cheyna Matthews:

Matthews is one of two NWSL players in this Jamaican squad. The Washington Spirit attacker did not feature in the qualification process nor did she play in the NWSL last season as she was pregnant. But she has started the new NWSL campaign strongly with two goals and an assist in five matches.
Jamaica's story is one of many great narratives in football. In 2010, the team ceased to exist when the Jamaican Football Federation cut their funding. As late as June 2017, the team was inactive on Fifa's rankings.
Thanks to Cedella Marley, the Bob Marley Foundation and the Alacran Foundation, the Reggae Girlz became the first Caribbean nation to qualify for the Women's World Cup.
They did so in dramatic fashion, beating Panama 4-2 on penalties in the third-place play-off of the Concacaf Women's Championship – the continental tournament which doubles as World Cup qualifying.
Jamaica's matches in 2018 and 2019 were mainly against fellow Concacaf opposition. Once they qualified they began to branch out and with a high degree of success. Jamaica has won friendlies against Nottingham Forest 3-1 in England and two games against fellow World Cup debutant Chile (1-0 and 3-2).
The Reggae Girlz were also able to secure a 1-1 draw with South Africa – another nation set to appear at its first World Cup – and most recently defeated Panama 3-1.
Hue Menzies' side also has a friendly against Scotland lined up later this month.
This team is inexperienced – which is unsurprising considering the adversity they have faced in order to exist. But there is plenty of talent and the added excitement and pride in qualifying for a first World Cup.