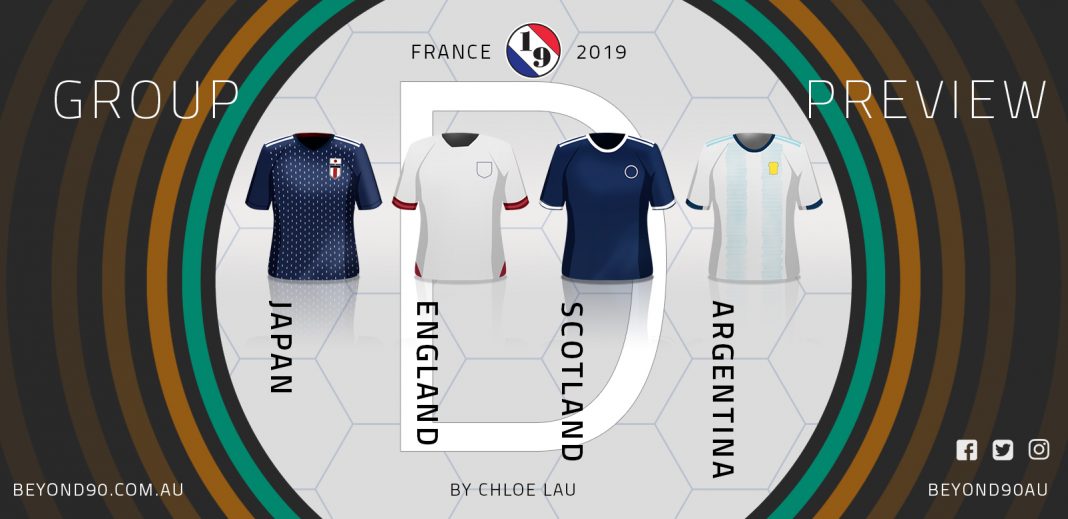 Group D: England, Scotland, Japan, Argentina
Average Group Ranking:  16.75
Group D is stacked up with plenty of talent across the four teams, and with each of them bringing a different style of football to the table, this group could serve up some interesting clashes in style of play.
England are currently playing their best football and would be aiming to add to their silverware collection as a reward for the progress they have made in recent years.
This is Scotland's first-ever qualification at a senior World Cup tournament; hence excitement and nerves would be at an all-time high. They are tipped to be the dark horses though and could potentially churn out some shock results to shake up the group.
Argentina returns to the World Cup after a 12-year hiatus to bless audiences with some incredibly creative South American football that would leave anyone dreaming about their tekkers.
Meanwhile, Japan, with their former World Champions and current Asian Champions' titles in tow, would be looking to improve on their performance from Canada in 2015 with all eyes on the big trophy.
England and Japan are the favourites to progress through to the knockout stage, both teams needing to bring their A-game every time to take out the top spot. Scotland will likely fight for a third-place playoff spot, while Argentina have the chance to rain on any of their parties for some good ol' qualifying drama.
Group Schedule
10 June: England v Scotland (Nice, 02 : 00 AET)
11 June: Argentina v Japan (Paris, 02 : 00 AET)
14 June: Japan v Scotland (Rennes, 23 : 00 AET)
15 June: England v Argentina (Le Havre, 05 : 00 AET)
20 June: Japan v England (Nice, 05 : 00 AET)
20 June: Scotland v Argentina (Paris, 05 : 00 AET)
_______________________________________________________________________
ENGLAND (ENG) – UEFA
Coach:
Phil Neville
Captain:
Steph Houghton
Ranking:
3
Average Age:
27.6
Average Caps:
44.8
Previous WWC:
Third place finish

Group Stage:

Lost to France 1-0

Defeated Mexico 2-1

Defeated Colombia 2-1

Round of 16:

Defeated Norway 1-2

Quarter Final:

Defeated Canada 2-1

Semi Final:

Lost to Japan 2-1

Third Place Play-off

Defeated Germany 1-0

Last 5 Matches:
WLWDW

England have had a solid start to the year, most recently defeating Spain (2-1) and taking out the SheBelieves Cup with 2 wins over Brazil (2-1), Japan (3-0) and a draw against USA (2-2). Interestingly and most surprisingly, England lost to Canada, ranked fifth, in a friendly match (0-1).

The Lionesses will be hoping to keep their momentum going with two more friendlies scheduled in the lead-up to the World Cup, against Denmark and New Zealand.

3 Key Players:
Defender: Lucy Bronze

Arguably one of the best right backs in the world, Lucy Bronze is undoubtedly an important piece of the puzzle in England's set-up. Bronze is a sound defender who also provides a great outlet for England's attack down the right flank with her overlapping runs and pinpoint crosses. Phil Neville has been trialing her out in the holding midfield position in recent friendlies, so it's a possibility that she could alternate between those two roles to provide more versatility in the Lionesses' game plans.

Midfielder: Jill Scott

Jill Scott, alongside Karen Carney, is one of the two English players making their fourth World Cup appearance, and the team will be looking to her and her wealth of experience to guide them through the tournament. Scott will have to take on a crucial role in the center of the field as a box-to-box midfielder, due to the unfortunate exclusion of Jordan Nobbs, who suffered an ACL injury in November.

Forward: Beth Mead

Beth Mead is one of the most exciting players to keep an eye on in this Lionesses' squad. She has had a fantastic run with both club and national team in recent years – bagging five goals in 12 appearances for England. If Mead continues on with her great form, she will surely be lighting it up in front of the big crowds at her first-ever World Cup tournament.
This is the Lionesses' highest-ever ranked team heading to a World Cup tournament. Where once they were considered a dark horse in the competition, this time around, England are firmly in the camp as one of the favourites to take out the trophy in France.
Head coach Phil Neville has called up a mixture of veterans and younger players – 11 of whom are making an appearance at their maiden senior World Cup. The Lionesses will be relying on the careful balance between experience and youthful energy to go one step further than their previous World Cup record of winning bronze in 2015.
The England that will take the stage in June will look different to the squad that was on show during the 2015 World Cup. Switching from a direct style of play to a more possession-based game instilled after Neville took over the top job in 2017, expect to see England exert control on a majority of the games.
On top of that, they are a team that are not afraid to use their speedy fullbacks and wingers to stretch the game, to exploit the width of the field. England will be relying on the likes of Toni Duggan and Beth Mead to put the team on target in front of goals.
SCOTLAND (SCO) – UEFA
https://www.instagram.com/p/Bxe6piJn4BM/?igshid=5hbwvxmsebcs
Coach:
Shelley Kerr
Captain:
Rachel Corsie
Ranking:
20
Average Age:
27.4
Average Caps:
59.0
Previous WWC:
First World Cup qualification in history.
Last 5 Matches:
WDWWL

Scotland have enjoyed a good run so far; their most recent outings have seen them win 1-0 against Brazil and draw 1-1 against Chile.

Prior to that, Scotland were defeated 0-1 by Canada in their opening match of the Algarve Cup, before they turned it around with 4-1 and 1-0 victories against Iceland and Denmark respectively, to come away with a fifth place finish in the tournament.

Scotland have lined up a final friendly match on home ground leading up to the start of the World Cup. They will play against Jamaica on May 28.

3 Key Players:
Defender: Jennifer Beattie

Jennifer Beattie is the core of any defensive line she plays in. After a fantastic year at Melbourne City's inaugural season in 2015, she has been the heart and soul of Manchester City's defence since then. Beattie is the defender that makes gritty, last-ditch challenges, but also finds her way onto the scoresheet by popping in crucial headers off set pieces.

Midfielder: Kim Little

Scotland and Kim Little are almost synonymous to each other, think of one and the other will most definitely pop into mind. With more than 10 years of experience on the national stage and 132 caps under her belt, Little will be one of the handful of veterans guiding this team through their maiden appearance at a World Cup tournament. Her creativity and ability to conjure up attacking plays in the middle of the field will be key in Scotland's tactics.

Forward: Erin Cuthbert

Chelsea's Player of the Year, a nominee for the PFA's Young Player of the Year – these are just some of the awards that Erin Cuthbert had earned for her wonderful season with Chelsea in 2018/19. At just 20-years-old, Cuthbert possesses game intelligence beyond her age, and a keen sense to sniff out goals, but is also known for her hard work and determination, putting everything on the line and leaving nothing behind in every game she appears in.
Scotland is one of a handful of nations making their first-ever appearance at the World Cup and could even be the surprise dark horses of Group D to unsuspecting viewers.
After a solid hit-out at their first major campaign at the Euro 2017, Scotland have been on an upwards trajectory – winning a majority of their games so far, and finishing first in their group (which contained Switzerland, Poland, Albania and Belarus) during the qualification stages for the 2019 World Cup.
Scotland will be hoping to carry their fine form to France come the 10th of June, with their opening match against storied rivals England.
Expect fiercely disciplined defensive showings across the field from Scotland, sitting deep in blocks of fours until the opportunity to break for a counterattack pops up. The quick transition from defence to attack will go through Kim Little, who can conjure up magic in the midfield, before setting it up for Erin Cuthbert to finish.
ARGENTINA (ARG) – CONMEBOL
(final 23 to be announced on May 24)
Coach:
Carlos Borrello
Captain:
Florencia Bonsegundo
Ranking:
37
Average Age:
Average Caps:
Previous WWC:
First World Cup qualification since China 2007.

Group Stage:

Lost to Germany 11-0

Lost to Japan 0-1

Lost to England 1-6

Round of 16:

Did not qualify

Last 5 Matches:
LLLDW

Argentina participated in the inaugural Cup of Nations tournament, but unfortunately lost all their matches against Korea Republic (0-5), New Zealand (0-2) and eventual title holders Australia (0-3).

Before that, the only two friendlies that Argentina had in 2018 were back-to-back games against Panama, and came away with 4-0 win and 1-1 draw.

Argentina have scheduled one final friendly against Uruguay prior to the start of the World Cup. The match will be held on May 23.

3 Key Players:
Defender: Aldara Cometti

Aldara Cometti is the centre-back all teams need in their backlines. Not one to shy away from strong tackles, Cometti makes aptly-timed challenges to clear the defense line.

Midfielder: Estefanía Banini

Estefanía Banini embodies creativity; give her the ball and she will spin a magic trick for you. The Argentinian team is built around Banini and her ability on and off the ball, especially her knack for sending in stunning through-passes for the forward line to run onto. The Levante player is surely one to watch out for in Group D.

Forward: Soledad Jaimes

Soledad 'Sole' Jaimes plies her trade with Olympique Lyonnais, recent winners of the 'French triple' – UEFA Champions League, Coup de France and the Division 1 Féminine. Although Jaimes has only played for Lyon in a handful of games, being able to train in an environment with some of the world's best players would work wonders for the improvement of her game. Argentina will be counting on her to be on target to find the back of the net.
After waiting for 12 long years, Argentina have finally qualified to get back onto the world stage. Being drawn in a group filled with heavy weights, it is unlikely that Argentina could progress through to the Round of 16, however it does mean that they have all the opportunities in the world to go all out and potentially cause trouble for the other teams.
Argentina's road to qualification has not been an easy ride. They were forced to go up against Panama in back-to-back play-off matches, after finishing just one point short of automatic qualification to the World Cup during the 2018 Copa América Femenina.
Since then, Argentina have only played in the inaugural Cup of Nations tournament, unfortunately finishing last after losing all their matches against strong sides in Korea Republic, New Zealand and hosts Australia.
Argentina will be serving up some of the more creative football during the World Cup, with free-flowing play with the ball at the players' feet to show off their tekkers, as expected of a South American footballing nation. However, as seen throughout their qualifying campaign, their defensive lapses could cost them at key moments, leaving the opposition free and open in and around the box.
JAPAN (JPN) – AFC
https://www.instagram.com/p/BxSUu09Fw-8/?igshid=1ats712radsgy
Coach:
Asako Takakura
Captain:
Saki Kumagai
Ranking:
7
Average Age:
24.6
Average Caps:
37.7
Previous WWC:
Silver medal finish

Group Stage:

Defeated Switzerland 1-0

Defeated Cameroon 2-1

Defeated Ecuador 0-1

Round of 16:

Defeated Netherlands 2-1

Quarter Final:

Defeated Australia 0-1

Semi Final:

Defeated England 2-1

Grand Final:

Lost to United States 5-2

Last 5 Matches:
DLLWD

It's a mixed bag of results for Japan thus far, however understandably so as plenty of youngsters have been given a run during these friendlies. Most recently, they played out a 2-2 draw against Germany and lost 3-1 to France. The SheBelieves Cup provided some interesting results, as they drew against tournament hosts USA (2-2), defeated Brazil (1-3) and lost to England (0-3).

The Nadeshiko have just one more friendly up their sleeves in the lead-up to the World Cup, playing against Spain on June 2.

3 Key Players:
Defender: Saki Kumagai

Saki Kumagai is the heart and soul of the Japanese defensive line. Her key interceptions and calming presence makes her an impenetrable force at the back. With a wealth of experience and 103 caps under her belt, Kumagai will be key to marshalling and captaining the side through the tournament.

Midfielder: Yui Hasegawa

Even though Yui Hasegawa is only 22, she has solidified her claim on the starting position as left winger with her speed and ability to draw defenders out wide. Hasegawa's pinpoint crosses and her strong partnership with the forward line, especially Mana Iwabuchi and Kumi Yokoyama, will be vital in Japan's pursuit in attack.

Forward: Mana Iwabuchi

Mana Iwabuchi is the striker to fear due to her keen sense for goals and her ability to create something out of nothing. While she has not featured much for the national team in the past few months due to head coach Takakura's experiment with uncapped players, expect Iwabuchi to have her shooting boots on and her striker instincts turned up on the get-go.
Former World Champions and current Asian Champions, Japan, are the legends of Group D. As soon as the World Cup knocks on the door come June, the team will hit the ground running to avenge their world title after they were defeated by USA in a thrilling 5-2 grand final in Canada 2015.
This will be the Nadeshiko's first World Cup without the well-loved and renowned Homare Sawa. The squad that Asako Takakura has elected to bring to France contains a good mix of both experienced and young faces – ranging from seven players from the previous World Cup to eight newly capped youngsters.
Japan will be an interesting one to keep an eye out for, as Takakura have been busy bringing younger players through into the senior team during friendly matches after the 2018 Asian Cup. A handful of the players called up to the World Cup have not seen much game time with the team due to this experiment, which could potentially affect their team chemistry compared to other teams.
Neat triangles, quick passes in tight spaces, smart decision-making and clean football – those elements are at the core of Japanese football and will definitely be on show throughout the tournament.