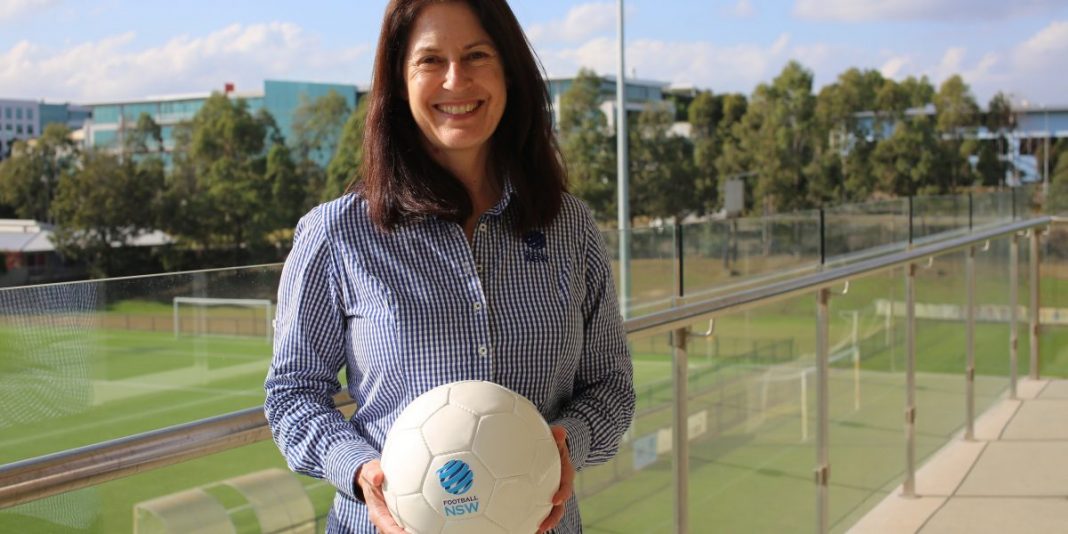 Football tournaments are an intricate microcosm requiring much more than two teams turning up to a random ground to play a game of football. That's where Jo Fernandes fits in as a FIFA Women's World Cup General Coordinator.
"It could mean anything really," Fernandes admits when describing her role.
In a position that covers a variety of elements ranging from ensuring the venue is pitch perfect for kick off, to knowing where the teams are and including match day operations, it's definitely a wide-spanning position. The general gist of the role being, if anything is going to happen on or around Match Day, the General Coordinator and their team will know about it.
Landing her first job in football having never played the game, Fernandes' relationship with football is a whirlwind type of story. Beginning at ACT Women's Soccer as their first Executive Officer, she went on to become the High Performance Manager with the Matildas for 13 years.
Fernandes' work in football administration in Australia extends even further. She oversees the W-League, works at Football NSW as their Women's & Girls Development Manager, and also manages broader projects.
Fernandes has a stunning list of achievements in the game that have provided her the experience necessary to understand the intricacies of what a side requires during a major tournament. These skills have translated into her work as a FIFA General Coordinator on the international stage, including at both the Women's and Men's World Cups.
"I fell in love with the game," Fernandes explains.
Clearly unafraid of jumping in at the deep end, Fernandes doesn't shy away from a challenge. With her first tournament in the role, at the 2008 Under 20 FIFA Women's World Cup, Fernandes was challenged with looking after the Final at her venue.
"It was a fantastic experience. So I'll always remember that one fondly," Fernandes recollects.
"And then I was very fortunate to keep getting called back."
For the upcoming FIFA Women's World Cup, Fernandes is tasked with being the General Coordinator for Montpellier before moving on to Lyon for the later stages, including the Final.
With the aid of her competition coordinator, the Local Organizing Committee, and a group of up to 50 others from a range of departments, together they will be the ones keeping the wheels on the bus during the tournament.
Fernandes was able to chat with Beyond 90 before heading on the plane to France. Here's three experiences within her role as General Coordinator which stood out.
THE BROKEN LIFT ON MATCH DAY
"It is quite hard to explain, because for every event you do, something different crops up," Fernandes said of the curly situations match day can provide.
"You know, there's always some unusual situation. We had a lift break down last year on match day. That was where people with wheelchairs went up to a certain area in the stand. So you have to be rushing people around to have that fixed. Which happens, but there's always issues to resolve."
KIDS AND THE MOMENTS BEFORE MATCH DAY KICK OFF
"I think it is when we actually walk out," the General Coordinator begins talking of her favourite part of her job.
"I give the signal to the kids to start walking with the flag. I try and tuck myself away in the tunnel so no one sees me. I leave the kids, the referees and the teams [in the tunnel]. So you shouldn't see me. If you see me on TV, then maybe that means something's not quite right.
"That signal when you're sending the kids out, they look so happy and you're saying to them 'good luck'… you know… they just love it and when they walk out, they've done the rehearsal five hours before… but when they walk out, they have a full stadium and the crowd just roars. The look on the kids' faces is just gold.
"So I love that moment.
"Then signalling to the referees to start to walk out. You can feel and see the teams. They're focused and they're ready to do the job. I think I enjoy that time because that is when you know we're ready to go.
"After that, obviously they line up, do the anthems and shake hands with photos.
"I'm the one who actually signals the game to start for the referee to blow the whistle.
"But I think it's that actual walk-out where I'm like 'OK. We're here. We've made it.'"
THE MATILDAS AGAINST BRAZIL IN BELO HORIZONTE AT THE 2016 OLYMPICS
"I suppose I can't really cheer my team on from the sideline. I'm a total neutral," said Fernandes of the reality of her work during tournaments. She went on to speak about that fateful night, when she was General Coordinator at the venue where the Matildas lost to Brazil on penalties.
"People ask me about the Australia v Brazil match back in Belo [Horizonte]. They ask, how did you do it? The Matildas were playing and obviously, it was a very intense game.
"You know what I said? For me at that time, and on match day, we have a Team A and a Team B. It doesn't matter what colour shirt they are. We treat them equally, we treat them all the same.
"And I really don't see them as Australia. I don't see them as Brazil or the famous player on the pitch. I just think Team A and Team B. And that we have to get this match happening.
"It was really only days after that I kind of thought, OK, well, that was Australia v Brazil and this is what happened."