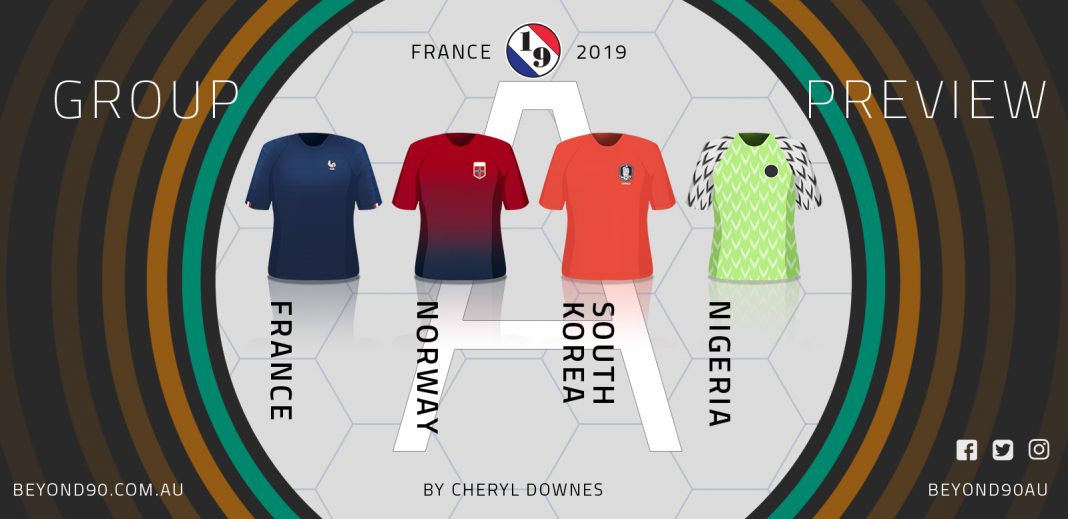 Group A: France, Korea Republic, Norway, Nigeria
Average Group Ranking:  17
With France and Korea Republic set to kick off the 2019 World Cup tournament in Paris, there will be no bigger chance to see how prepared the home nation is.
France has continually struggled in major tournaments, whilst Korea Republic has rarely been able to shine completely in their difficult AFC confederation.
Norway are perhaps at a crossroads with their football. Aga Hegerberg still refuses to play in the national team, while Caroline Graham-Hansen is their brightest light.
Nigeria will be the biggest wildcard in the group, with speed and a lack of fear, they're a chance to knock down any team.
The group will likely see France progress in top spot, with Norway and Korea Republic battling it out for second in the last match of the group stage.  
Group Schedule
08 June: France v Korea Republic (Paris, 5:00 AET)

09 June: Norway v Nigeria (Reims, 5:00 AET)

12 June: Nigeria v Korea Republic (Grenoble, 23:00 AET)

13 June: France v Norway (Nice, 5:00 AET)

18 June: Nigeria v France (Rennes, 5:00 AET)

18 June: Korea Republic v Norway (Reims, 5:00 AET)
_______________________________________________________________________
FRANCE (FRA) – UEFA
https://www.instagram.com/p/Bw-Hq5zn1Ik/
Coach:

Corinne Diacre

Captain:

Amandine Henry

Ranking:

4

Average Age:

26.7

Average Caps:

49.4

Previous WWC:
Group Stage:

1-0 win vs England

0-2 loss vs Colombia

5-0 win vs Mexico

Round of 16:

3-0 win vs Korea Republic

Quarter Finals:

1-1 (5-4) loss vs Germany 

Last 5 Matches:

WWWLW

20 Jan 2019: France 3 – 1 United States
1 March 2019: France 0 – 1 Germany
5 March 2019: France 6 – 0 Uruguay
5 April 2019: France 3 – 1 Japan
9 April 2019: France 4 – 0 Denmark

With two friendlies still to play before the World Cup kickoff, France has a strong 4-1 win-loss record, including 3-1 victories against both the USA and Japan.

3 Key Players:
Defenders:

Defensively France has two of the very best players you could hope for in Sarah Bouhaddi (Goalkeeper) and Wendie Renard.

Bouhaddi is excellent in goal, comes off her line with extreme confidence and is quick to move and make decisions. With 139 caps, Bouhaddi has experience at the back to command the team.

French and Olympique Lyonnais goalkeeper Bouhaddi has also claimed the top goalkeeper honour for the past three years (2016, 2017, 2018) in the IFFHS Awards (International Federation of Football, History & Statistics).

Renard is excellent as a central defender and is a huge presence on the field with her 187cm height and aerial ability. Will definitely be a presence on set pieces.

Midfielder:

Amel Majri is a standout to watch out for. Starting as a defender for club side Olympique Lyonnais, Majri can quickly fly into a midfield position and push higher up the park.

Awarded the Silver Ball in the 2015 World Cup, captain Amandine Henry is a superb defensive midfielder, with an extremely high work rate and known for her excellent tackles.

Forward:

Eugenie Le Sommer describes herself as fast and technical, and we're inclined to agree. Add in Le Sommer's creativity and you can see why she's definitely a player to watch. Despite her veteran status, Le Sommer is still one of the most clinical strikers in the game.
This is the moment for France. With home crowd support backing them the whole way, this is their tournament and they're playing good football. The challenge for France is that playing good football isn't always enough. They need to deliver in the biggest tournament, something they haven't lived up to thus far.
Tactically France has demonstrated they can shift their game, coupled with individual technical brilliance and quality throughout their squad.
Group A is a tough one, but France should easily see their way through, albeit with the double-edged sword of support and pressure playing in front of their home crowd.
KOREA REPUBLIC (KOR) – AFC
https://www.instagram.com/p/BxjpAIKDrg_/
Coach:

Yoon Deok-yeo

Captain:

Cho So-hyun

Ranking:

14

Average Age:

26.6

Average Caps:

46.9

Previous WWC:
Group Stage:

0-2 loss vs Brazil

2-2 draw vs Costa Rica

2-1 win vs Spain

Round of 16:

0-3 loss to France

Last 5 Matches:

DLWDW

28 February 2019: Argentina 0 – 5 Korea Republic
3 March 2019: Australia 4 – 1 Korea Republic
6 March 2019: Korea Republic 2 – 0 New Zealand
6 April 2019: Korea Republic 2 – 3 Iceland
9 April 2019: Korea Republic 1 – 1 Iceland

Mixed results for Korea Republic across their last five matches. Most recently, back-to-back games against Iceland (22) saw a 1-1 draw preceded by a 3-2 loss.

Prior to that saw better results with 2-0 and 5-0 victories against New Zealand and Argentina respectively at the Cup of Nations tournament, split by a 4-1 loss to eventual title-holders Australia.

3 Key Players:
Defender:

Korea's most capped player, captain Cho So-hyun (West Ham), is the key to Korea Republic's defence.

Cho is able to push up with the midfield to control the play, and coupled with the team's structured formation, is able to thwart attacking threats.

Midfielder:

Lee Young-ju is a player who can control a match on a string if given the time and space to manoeuvre. Working industriously off the ball, Lee is pivotal to how Korea use the space in between their defensive and midfield lines.

If Lee is left unmarked and with room to move, expect her to turn a game on its head and produce something special, very likely launching Korea's attack.

Forward:

As an attacking midfielder/forward, Ji So-yun (Chelsea) is a hugely important player for Korea Republic with her sublime touch and pinpoint passing.

Ji has won the Korean Footballer of the Year award four times and is a threat in the midfield as well as scoring goals.
Korea's ability to shut down their opposition could potentially be the game winner for them at the World Cup. Expect them to hold the ball and frustrate the opponents.
Korea, along with Norway, are strong contenders to make it out of the group stages but may struggle thereafter.
NORWAY (NOR) – UEFA
https://www.instagram.com/p/Bw9CAUzHt23/?utm_source=ig_web_copy_link
Coach:

Martin Sjögren

Captain:

Maren Mjelde

Ranking:

12

Average Age:

25.8

Average Caps:

45.0

Previous WWC:
Group Stage:

4-0 win vs Thailand

1-1 draw vs Germany

3-1 win vs Cote d'Ivoire

Round of 16:

2-1 loss vs England

Last 5 Matches:

LWWWL

23 January 2019: Canada 1 – 0 Norway
28 February 2019: Norway 2 – 1 Denmark
2 March 2019: China PR 1 – 3 Norway
7 March 2019: Poland 0 – 3 Norway
10 April 2019: New Zealand 1 – 0 Norway

A somewhat surprising 1-0 loss to New Zealand (19) in an April friendly makes it difficult to qualify Norway's form leading into the World Cup.

Prior to that, Norway were undefeated at the Algarve Cup, eventually winning the tournament 3-0 against Poland.

3 Key Players:
Sweeper/Midfielder:

The hot tip is to look out for Norway's captain Maren Mjelde (Chelsea), who scored this stunning strike and has made a comeback from challenging injuries.

That moment! 😍

We're watching @MarenMjelde's goal all night! #PSGCHE pic.twitter.com/Cpxf47HQxU

— Chelsea FC Women (@ChelseaFCW) March 27, 2019

More regularly playing as a midfielder, Mjelde is versatile and can drop into a sweeping role.

Midfielder/Forward:

Caroline Graham Hansen missed the 2015 World Cup after failing to recover from a knee injury but is sure to showcase her speed and technical skill in France, giving Norway a major threat on the wing.

Forward:

Coming into her fourth World Cup is Isabell Herlovsen.

Herlovsen was Norway's only multiple goalscorer at the recent Algarve Cup and is ranked in the top five all-time goalscorers for Norway.

Keep an eye out for her on set pieces and for her aerial skills.
Runners-up in the inaugural Women's World Cup in 1991, Norway followed up by winning the tournament in 1995. Since then, however, the team has been on a gentle slide with their world ranking and World Cup results. Ballon d'Or winner Ada Hegerberg refuses to play for her country, citing disillusionment with their domestic and international development whilst other countries overtake them.
Norway still has a lot of firepower and should make it through to the Round of 16.
NIGERIA (NGA) – CAF
💃💃It's D-DAY! @NGSuper_Falcons face the hosts nation in the final today in a bid to secure the WAFU Women's Cup title.

⚽ Cote d'Ivoire Vs Nigeria
🏟 Stade Robert Champroux, Abidjan
⏰ 6:30 pm (NGA time)

Let's go and win it!#SoarSuperFalcons #Team9jastrong #WAFUWomenCup pic.twitter.com/ij40Rj44c9

— NGSuper_Falcons (@NGSuper_Falcons) May 18, 2019
Coach:

Thomas Dennerby

Captain:

Onome Ebi

Ranking:

38

Previous WWC:
Group Stage:

3-3 draw vs Sweden

0-2 loss vs Australia

0-1 loss vs USA

Last 5 Matches:

LWLWL

28 February 2019: Nigeria 1 – 4 Austria
1 March 2019: Slovakia 3 – 4 Nigeria
5 March 2019: Nigeria 0 – 1 Belgium
7 March 2019: Nigeria 3 – 0 Thailand
9 April 2019: Canada 2 – 1 Nigeria

Four of the five most-recent matches for Nigeria came at the Cyprus Cup, where they finished 7th amidst a challenging competition for them.

More recently, Nigeria started energetically against Canada where they took a 1-0 lead before succumbing to a 2-1 defeat.

Nigeria are expected to regroup in May for the Wafu Women's Cup scheduled for Abidjan, Cote d'Ivoire between 8-18.

3 Key Players:
Goalkeeper:

Tochukwu Oluehi may have picked up a red card in the recent Cyprus Cup, but generally she has a calming presence on the Super Falcons in ensuring they maintain their defensive structure.

Midfielder:

Defensive midfielder Rita Chikwelu will be crucial to Nigeria's game as she looks to change things up carrying the ball and feeding the flying forward.

Attacker:

Three-time African Player of the Year Asisat Oshoala is currently the leading goalscorer playing for Dalian in the Chinese Super League.

The former Arsenal and Liverpool striker is currently on loan to Barcelona, seemingly a winning move in a bid to prepare for the World Cup.
Nigeria's World Ranking continues to head south but that means little on the park, where the Super Falcons can dominate in a flash.
Asisat Oshoala told FIFA.com recently that:
"The team has not been together properly for about two years, which has made things more difficult because we hadn't had many proper sessions, we were just together for about two weeks prior to the tournament and it was pretty difficult".
It will be a tough ask for Nigeria to make it out of the group stage, but never count them out.