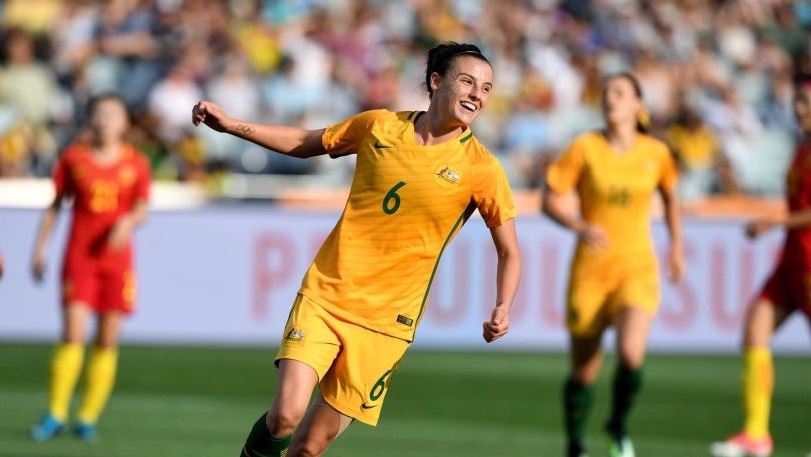 With the FIFA Women's World Cup only a few months away, we decided to take a look at each position on the field in depth and discuss the various player options available for the Matildas.
While there are some certainties, other spots on the field are up for grabs for anybody who can make their mark before June.
CURRENT POOL
This generation has brought a blessing of quality midfielders. If you want players who are gifted with the ball at their feet, look no further than the likes of Tameka Butt, Katrina Gorry and Emily Van Egmond. When in form, all three are special to watch.
Gorry was obviously missing from the Cup of Nations squad due to injury, but the other two were there. Butt had a marvellous time of it during the tournament, while Van Egmond's form was a bit more patchy. Despite this, Van Egmond's ability to see space and make defence-cutting passes warrants her in the squad, even when her starting spot is questioned.
Other players in the Cup of Nation's squad playing at centre midfield were Alex Chidiac and Amy Harrison. However, Harrison came in as an injury replacement for Chloe Logarzo, which suggests that Milicic is looking at Logarzo to play a big role in central midfield.
Chidiac is a player who has been in and around the squad for a while now. If her passing during the Argentina match means anything, she's only further cemented herself in the squad.
Harrison saw some good minutes on the park, however little time in the midfield this W-League season, a rough trot with injuries, and her patchy performance against Argentina may be working against her.
For Logarzo, it's a matter of: if she's not injured, she's a no-brainer in the squad. Able to play as a forward and in the midfield, she is a workaholic and likely a shoe-in.
THE OUTSIDERS
The pool for centre midfield is already deep. You've got four players working in the eight and ten consistently over the last few years in Butt, Gorry, Van Egmond and Logarzo. Add in Chidiac and that's a decent pool already.
Harrison would remain an outsider, especially when Logarzo and Gorry are back fit. Whether or not she gets game time in the NWSL with her new club Washington Spirit could be a deal-breaker here.
To throw a spanner in the works and to consider a youth player, Leticia McKenna's form at Perth Glory is worth noting. Giving World Cup experience to a young player who could turn out to be the next world-beater is a smart move and definitely some forward thinking.
Another wild card is Clare Wheeler. A few solid seasons at the Newcastle Jets, and a nifty, hard working midfielder, Wheeler deserves some kudos for that.
A lack of experience and the intensity of competition in this position make these two outsiders unlikely to crack into the team.