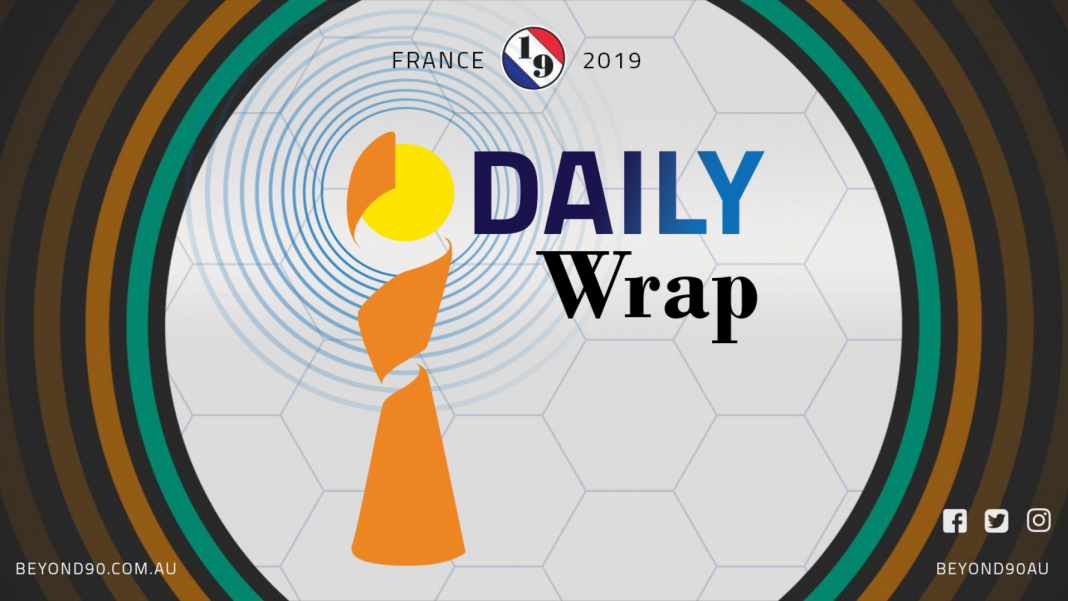 Day 7 of the World Cup saw China and Australia record their first wins in the 2019 World Cup. South Africa need a unlikely series of events to fall their way if they are to proceed to the Round of 16.
South Africa v China
As both China and South Africa were defeated in their respective opening matches of the World Cup, this was a crucial game for either side to secure points and boost their chances of qualification for the next stage of the tournament.
It was the Chinese who got the job done – Li Ying's lone goal in the first half was the only thing that separated China from the South Africans in last night's match.
Zhang Rui sent a fantastic ball into the 18 yard box to find an outstretched Li, who beat her defender and poked the ball past goalkeeper Kaylin Swart just five minutes before the half-time whistle.
China get their first win of the #FIFAWWC!

And it was a 1-0 victory over #RSA thanks to this tidy Li Ying finish.#FIFAWWC #OptusSport pic.twitter.com/SAkdvRJnnm

— Optus Sport (@OptusSport) June 13, 2019
China had a chance to double their lead moments later during a corner-kick when Zhang's header came off the underside of the crossbar. However, goal-line technology deemed it a no-goal as it did not completely cross the line.
Unfortunately for Banyana Banyana, this almost certainly marks the end of their chances to get out of Group B. South Africa need a victory against heavyweights Germany in their final group stage game to have any chance of progressing.
South Africa       0
China                   1 (Li Ying 40')
Australia v Brazil
Australia have taken out their first win of the World Cup in a drama-filled 3-2 game against long-time rivals Brazil.
The Matildas bounced back from a two-goal deficit to complete a sensational comeback – the second time a team has come from 2-0 down to win a Women's World Cup match.
27' #AUS 0-1 #BRA
38' #AUS 0-2 #BRA
45' #AUS 1-2 #BRA
58' #AUS 2-2 #BRA
66' #AUS 3-2 #BRA

Comeback complete.#AUSBRA #FIFAWWC pic.twitter.com/pn8sISP7VP

— COPA90 (@COPA90) June 13, 2019
Brazil drew first blood through a penalty taken by Marta, before Cristiane doubled the score with a brilliant header in the 38th minute.
However, Caitlin Foord kept the Matildas in the game when she scored a crucial goal right at half-time. The equaliser came just before the hour mark, with a sensational strike by Chloe Logarzo.
Australia took the lead in a controversial moment, when Mônica headed Emily van Egmond's cross – intended for Sam Kerr, who was offside – into Brazil's goal. However, the goal stood when Kerr was judged to not be interfering with play upon review.
A full Beyond 90 match report is available.
Australia              3 (Foord 45+1', Logarzo 58', Mônica (OG) 66')
Brazil                    2 (Marta (P) 27', Cristiane 38')