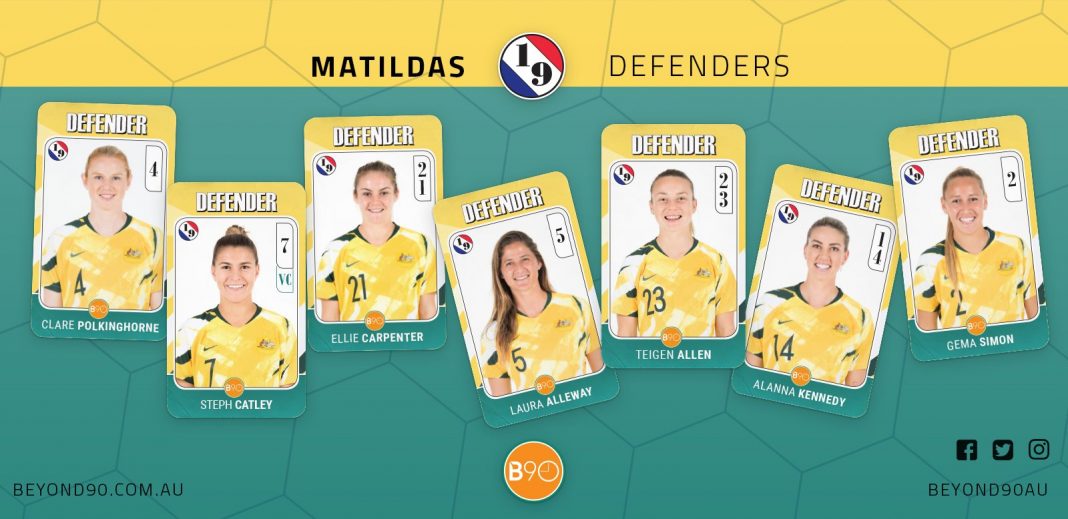 Here are the Matildas defenders for the 2019 FIFA Women's World Cup.
Combining experience and battle hardened veterans with youth and a couple of newcomers to the World Cup stage, these are the players who Australia will rely upon to keep things tight at the back.
However, they bring more than just defending to the table, so don't be surprised to see these players supporting the attack and possibly even getting on the scoresheet in France.
#2 Gema Simon, 28
DOB:
19 July 1990
Caps (Goals):
11 (0)
Club(s):  
Newcastle Jets (AUS)
World Cups:
Debutant
Follow:
Instagram: @gema.simon

Twitter: @gema_simon7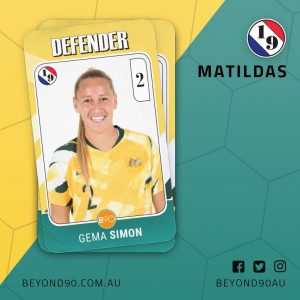 A case of better late than never for Simon, who is set to make her World Cup debut at the age of 29. With the eighth highest appearance total in W-League history, she has been rewarded for years of consistent play with Newcastle Jets.
Simon brings much needed depth to the left side of the Matildas backline, while also being able to operate in a more attacking role. Despite a relatively small number of Matildas caps, Simon has been dependable when called upon in the past, and will contend with Steph Catley for the starting left fullback role.
---
#4 Clare Polkinghorne, 30
DOB:
1 February 1989
Caps (Goals):
116 (9)
Club(s):  
Brisbane Roar (AUS) / Houston Dash (USA)
World Cups:
China 2007, Germany 2011, Canada 2015
Follow:
Instagram: @polks89

Twitter: @clarepolks89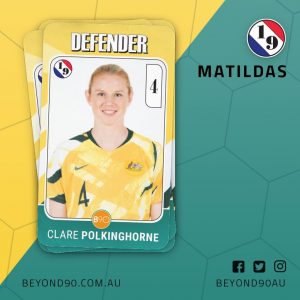 Polkinghorne has been involved in the Matildas setup for 13 years, and shows no signs of slowing down. Fearless in the challenge, whether it be on the ground or in the air, the 30 year old is expected to feature regularly in the centre of defence, but can also play at right back if needed.
She was seemingly born to be a leader, and has been immense over the last two W-League seasons, leading Brisbane Roar to a pair of top two finishes and a Premiership. Polkinghorne will be keen to make a mark in France, especially after injury robbed her of playing time at the 2015 World Cup.
---
#5 Laura Alleway, 29
DOB:
28 November 1989
Caps (Goals):
60 (2)
Club(s):  
Melbourne Victory (AUS)
World Cups:
Germany 2011, Canada 2015
Follow:
Instagram: @laura_alleway

Twitter: @LauraAlleway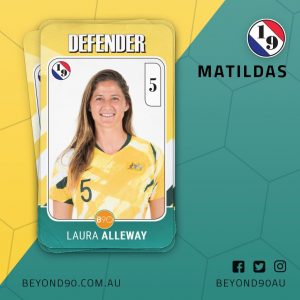 After returning to where it all began for her in the W-League, Alleway found success in her second season back at Melbourne Victory. She helped the club to their first ever Premiership, missing only one game along the way, and has been rewarded with a trip to her third World Cup.
The experienced centre back has plenty of familiarity with the other defenders in the squad, so cohesion shouldn't be an issue, while her aerial ability will give the Matildas an extra weapon at set pieces.
---
#7 Steph Catley, 25
DOB:
26 January 1994
Caps (Goals):
71 (2)
Club(s):  
Melbourne City (AUS) / Reign FC (USA)
World Cups:
Canada 2015
Follow:
Instagram: @stephcatley

Twitter: @stephcatley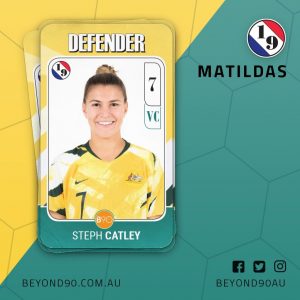 This will be Catley's second appearance at a World Cup. She can play as a centre back if required, but her skills are best utilised on the left side of the defence, where she can lock down opposing wingers, and also get forward to whip in some trademark crosses.
Even though Melboune City missed the 2019 W-League finals, Catley still shone brightly, and her rare combination of defensive steel and attacking trickery will make her one of the players to watch in France.
---
#14 Alanna Kennedy, 24
DOB:
21 January 1995
Caps (Goals):
77 (7)
Club(s):  
Sydney FC (AUS) / Orlando Pride (USA)
World Cups:
Canada 2015
Follow:
Instagram: @alannakennedy

Twitter: @AlannaKennedy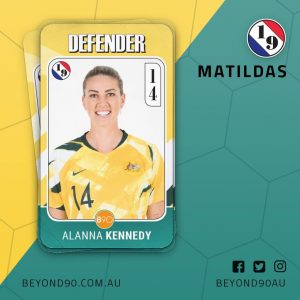 Kennedy has a good chance of reaching 80 caps during the World Cup, quite an achievement for a player who is still only 24 years old. A 2019 W-League Championship winner with Sydney FC, she'll be one of the experienced members of the squad this time around after making her World Cup debut in 2015.
Her positional sense and reading of the game will be crucial if the Matildas are to go far in France. Of course, Kennedy offers far more than just defending, with an exquisite passing range, and free kicks that have become legendary.
---
#21 Ellie Carpenter, 19
DOB:
28 April 2000
Caps (Goals):
31 (1)
Club(s):  
Canberra United (AUS) / Portland Thorns (USA)
World Cups:
Debutant
Follow:
Instagram: @elliecarpenterr

Twitter: @CarpenterEllie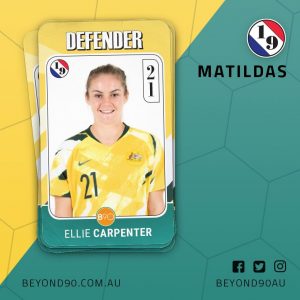 It seems like Ellie Carpenter has been around for years, so it's hard to believe that she's still a teenager. Her development since making her Matildas debut as a 15 year old in the 2016 Olympic Games qualifiers has been fascinating to watch, and she is unlikely to be overawed by the occasion.
Mature beyond her years, look for Carpenter's all-action performances on the right flank, where her speed and overlapping runs will cause problems for opposing defences.
---
#23 Teigen Allen, 25
DOB:
12 February 1994
Caps (Goals):
40 (0)
Club(s):  
Melbourne Victory (AUS)
World Cups:
Germany 2011
Follow:
Instagram: @teigenallen

Twitter: @Teigenallen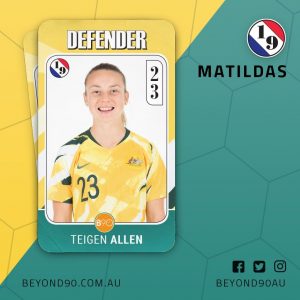 It's a comeback of sorts for Teigen Allen. After missing the last World Cup and falling down the Matildas pecking order, Allen was resurgent after signing for Melbourne Victory in 2018. She was a key part in their run to the W-League Premiership, appearing in every game and starting all but two of them.
Allen adds depth to the backline, and previous World Cup experience will see her challenge Ellie Carpenter for the starting right fullback role in France.