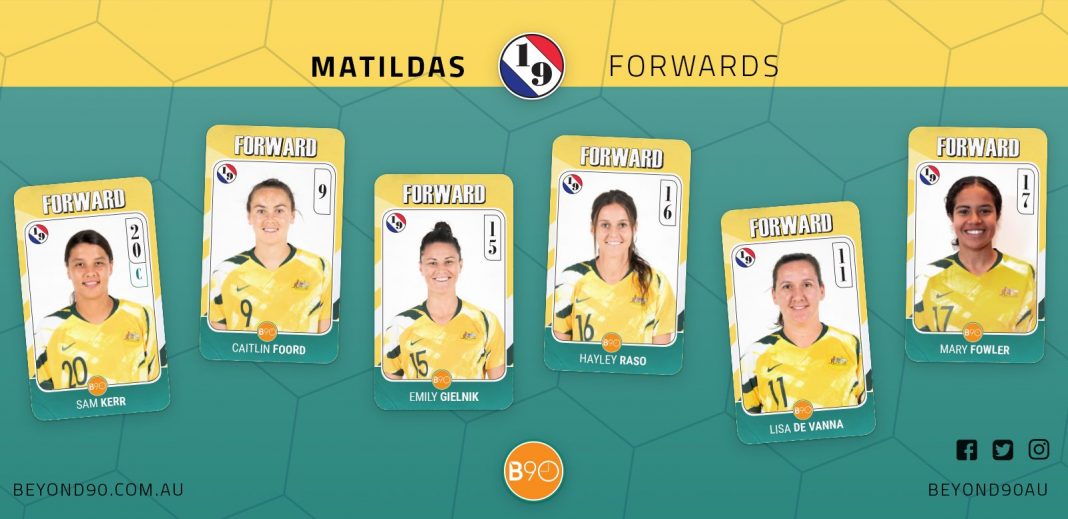 It is one of the most dynamic and potent attacks in women's football.  
It is a forward pack that has a mixture of experience with the veteran De Vanna as well as a nod to the future with debutant Fowler.  
But it also rewards the most consistent performance for Australian football in the past 12 months.  
If there is one thing the Matildas are blessed with in the forward line is pace.  Whether out wide or centrally, the Matildas forwards will cause all sorts of problems for defences in France.  
These are the Matildas forwards for the 2019 FIFA Women's World Cup.
#9 Caitlin Foord, 24
DOB:

11 November 1994

Caps (Goals):

71 (16)

Club(s):  

Sydney FC (AUS) / Portland Thorns (USA)

World Cups:

Germany 2011, Canada 2015

Follow:

Twitter:

@CaitlinFoord

Instagram: @CaitlinFoord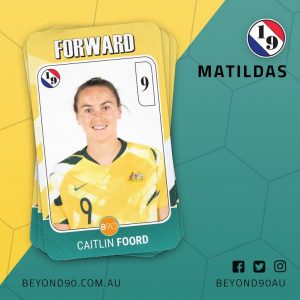 Caitlin Foord became the youngest Australian footballer to play at a World Cup when she debuted at the 2011 World Cup at the age of 16. Although the Matildas were eliminated in the quarter finals, Foord was awarded "Best Young Player" for the tournament and went on to win the AFC Youth Player of the Year for 2011.
In 2015 Foord played every minute of the World Cup in Canada and in 2016 Foord added AFC Player of the Year to her list of accolades.
Foord's versatility makes her a key selection in the squad.
---
#11 Lisa De Vanna, 34
DOB:

14 November 1984

Caps (Goals):

147 (47)

Club(s):  

Sydney FC (AUS)

World Cups:

China 2007, Germany 2011, Canada 2015

Follow:

Twitter:

@LisaDeVanna11

Instagram: @LisaDeVanna11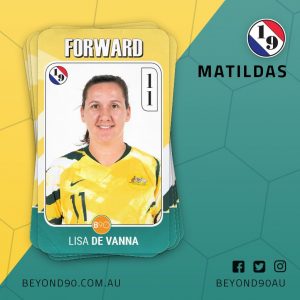 Lisa De Vanna has unparalleled experience in the Matildas squad and is the highest goalscorer with a total of 47 goals.
Gifted with pace and a steely determination, De Vanna sets the game alight and demands the best from herself. She has been considered as one of the world's best footballers and was named in the 2007 FIFA's Women's World Cup All Star Team and she was also nominated for the 2007 FIFA World Player of the Year award.
De Vanna will be appearing in her fourth World Cup and has also appeared in two Olympics (2004, 2016).
---
#15 Emily Gielnik, 25
DOB:

13 May 1992

Caps (Goals):

28 (7)

Club(s):  

Melbourne Victory (AUS)

World Cups:

Debutant

Follow:

Twitter:

@EGielnik

Instagram: @EmilyGielnik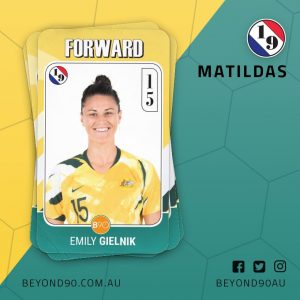 Emily Gielnik makes her debut in this World Cup squad. The tall striker provides a strong presence on the flanks and has nailed stunning goals in recent times from wide, often acute angles. Her ability over a dead ball, particularly from corners, as well as her height on set pieces makes her a multi-dimensional attacking threat.
Gielnik is a big game player and is a major weapon as a super sub, but can also be considered as a key for the starting XI.
After missing World Cup and Olympic selection in 2015 and 2016 respectively, Gielnik reinvigorated herself at Melbourne Victory with Head Coach Jeff Hopkins.
---
#16 Hayley Raso, 24
DOB:

5 September 1994

Caps (Goals):

34 (3)

Club(s):  

Brisbane Roar (AUS) /  Portland Thorns (USA)

World Cups:

Canada 2015

Follow:

Twitter:

@HayleyRaso

Instagram: @HayleyRaso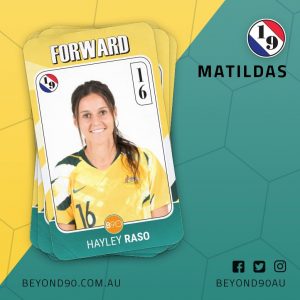 One of Hayley Raso's biggest attributes is her speed, with pace to burn players down the wing, the strength to hold her own on the ball, and the ability to send looping crosses in from wide areas.
Her call-up to the squad following her recent injury is one of the most remarkable comeback stories of the tournament.
Raso is unafraid of the tough contests and also has the versatility to drop back into defence if required.
---
#17 Mary Fowler, 16
DOB:

14 February 2003

Caps (Goals):

4 (0)

Club(s):  

Bankstown City FC (AUS)

World Cups:

Debutant

Follow:

Instagram:

@MaryFowlerrr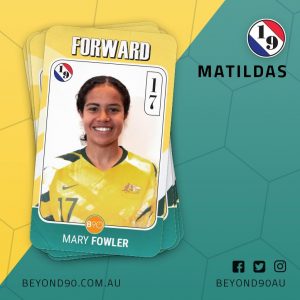 Mary Fowler is set to make her World Cup debut after previously becoming the fifth youngest player for the Matildas at the 2018 Tournament of Nations.
Fowler is already a commanding presence on the field, with previous head coach Alen Stajcic quoted as saying she has "probably got the most amount of weapons I've seen from a young player her age in women's football".
The praise is also extended by current coach Ante Milicic: "She is an extremely explosive athlete. She's very mature for her age, very good back to goal, very good left foot and right foot and she is a genuine finisher."
---
#20 Sam Kerr, 25
DOB:

10 September 1993

Caps (Goals):

76 (31)

Club(s):  

Perth Glory (AUS) / Chicago Red Stars (USA)

World Cups:

Germany 2011, Canada 2015

Follow:

Twitter:

@SamKerr1

Instagram: @SamanthaKerr20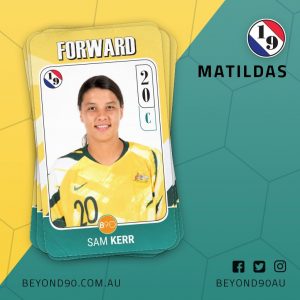 Hardly needing any introduction, Sam Kerr made her debut with the Matildas at 15 years of age and has elevated herself and the Matildas practically to the top of the world.
Athletic and fast are two of Kerr's key attributes. Kerr can split defences and has some of the best aerial skills on display in the women's game.
Domestically Kerr continues to dominate in both the NWSL and W-League where she secured her second consecutive golden boot.
Internationally had an amazing year in 2018, shortlisted for "The Best FIFA Women's Player of the Year award" as well as a finalist for the BBC Women's Footballer of the year in 2018 and 2019.
Kerr was also named AFC player of the year in 2017.