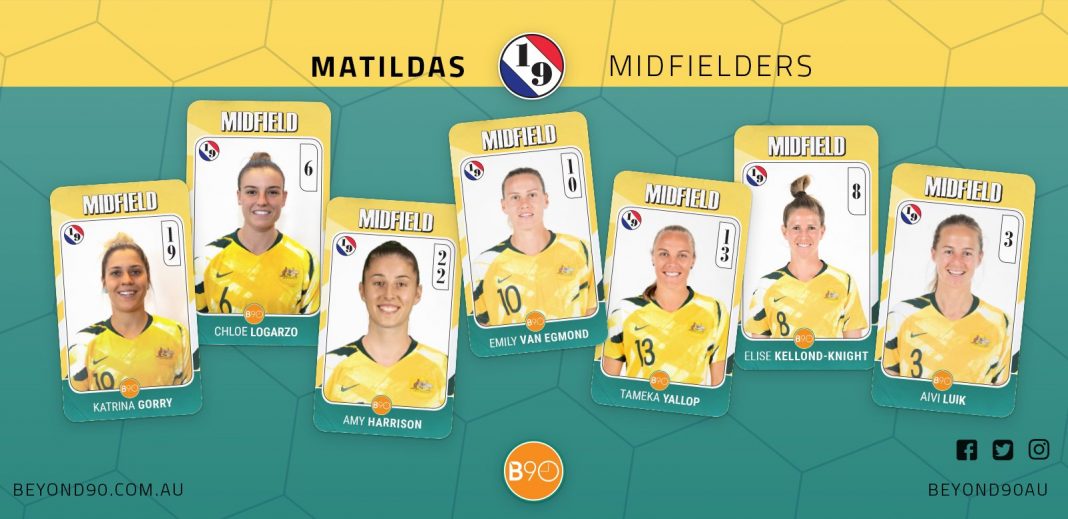 The Matildas' engine room is one of its most experienced areas on the pitch.  
Several members of the midfield head into their second or third FIFA Women's World Cup and that stability and knowledge of the pressure of a tournament will be key for the connective tissue of the Matildas.  
For an attacking team, the midfield also possesses goals as well as the creativity required to feed one of the most potent attacks in women's football.  
These are the Matildas midfielder for the 2019 FIFA Women's World Cup.
#3 Aivi Luik, 34
| | |
| --- | --- |
| DOB: | 18 March 1985 |
| Caps (Goals): | 21 (0) |
| Club(s):   | Levante (ESP) |
| World Cups: | Debutant |
| Follow: | – |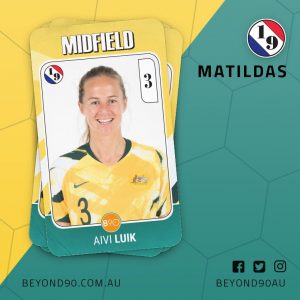 It seems inconceivable that this will be Aivi Luik's first FIFA Women's World Cup.  The 34 year old has been a mainstay in Australian women's football for over a decade and is one of the most decorated players.  
Part of the 2010 AFC Women's Asian Cup winning squad, the calm holding midfielder has won five W-League Championships with Brisbane Roar and Melbourne City before heading to Spain to ply her trade.  Luik has the distinction of being only a handful of Australian women to play in the UEFA Women's Champions League.
While she has gone close in the past, injuries and being out of favour has meant that Luik missed the 2011 and 2015 editions but in 2019, she finally gets her chance.  She will be deputy to Elise Kellond-Knight in the number 6 role and for the Matildas there really couldn't be a better, more mature and stable back up choice.
Of Luik, Lisa De Vanna once said that she is the representation of perseverance and it has finally paid off.   
---
#6 Chloe Logarzo, 24
DOB:
22 December 1994
Caps (Goals):
37 (6)
Club(s):  
Sydney FC (AUS) / Washington Spirit (USA)
World Cups:
Debutant
Follow:
Twitter: @clogarzo

Instagram: @chloelogarzo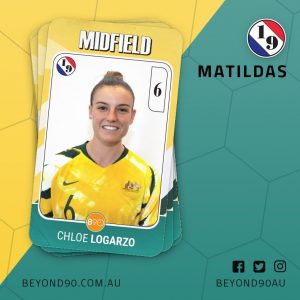 It was touch and go for Chloe Logarzo after her World Cup hopes were put in jeopardy on the day that should have been a triumph – the 2019 W-League Grand Final.  
While she scored a stunning goal, she also hobbled off the pitch and didn't see the grass for almost three months.  Back playing for Washington Spirit, Logarzo has quickly demonstrated all of her attributes – the skill on the ball, the attacking nous and one of the biggest engines in the women's game.  
Logarzo's work ethic and versatility in the front third sees her provide Milicic with a number of different ways to deploy her, whether out wide on the wing or centrally as an 8 or 10.  
Although a member of the Rio 2016 Olympics squad and the 2018 AFC Women's Asian Cup squad, this will be Logarzo's first FIFA Women's World Cup.    Once considered too small to make it, for the 24 year old it has been a journey of ignoring the doubters.
---
#8 Elise Kellond-Knight, 28
DOB:

10 August 1990

Caps (Goals):

106 (1)

Club(s):  

Melbourne City (AUS) / Reign FC (USA)

World Cups:

Germany 2011, Canada 2015

Follow:
Twitter: @elise_kk8

Instagram: @elise_kk8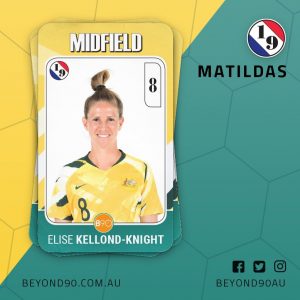 Since debuting for the Matildas 12 years ago, Elise Kellond-Knight has become a true stalwart of the team.  
Composed, calculating, intelligent and neat on the ball, the 28 year old is the point from which Australia builds its attacks and an important defensive shield.  
A veritable World Cup veteran now, the holding midfielder heads into her third campaign and one the two main fulcrums of the Matildas midfield.  Her last two campaigns end in her named in the FIFA All Star teams for 2011 and 2015, and if Australia are to go deep, Kellond-Knight will need a similar tournament.  
---
#10 Emily van Egmond, 25
DOB:

12 July 1993

Caps (Goals):

85 (18)

Club(s):  

Newcastle Jets (AUS) / Orlando Pride (USA)

World Cups:

Germany 2011, Canada 2015

Follow:
Twitter: @em_surf

Instagram: @emilyvanegmond10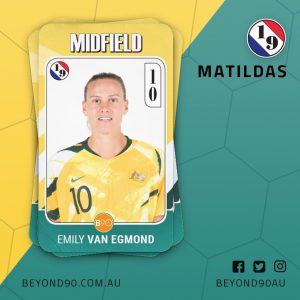 If ever there can be a player considered a young veteran  then it's Emily van Egmond. The 25 year old burst onto the Matildas scene as a prodigiously talented 17 year old scoring a spectacular World Cup goal against Equatorial Guinea.  
A neat technician on the ball with good vision and varied passing range, whether playing as regista or in further advanced roles,  Van Egmond works as the connectivity between the defence and the attack.
Heading into her third World Cup, her role in the team alongside long time midfield partner Kellond-Knight will be again key to the Matildas fortunes in France.  
---
#13 Tameka Yallop (nee Butt), 27
DOB:

16 June 1991

Caps (Goals):

78 (10)

Club(s):  

Melbourne City (AUS) / Klepp IL (NOR)

World Cups:

Germany 2011, Canada 2015

Follow:
Twitter: @tamekabutt

Instagram: @tamekabutt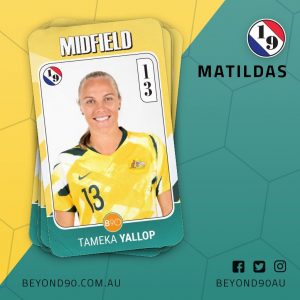 Tameka Yallop heads her third World Cup in career best form.  
For clubs and for country the attacking midfielder has enjoyed a productive 18 months as she found her goalscoring and creative instincts once again.  
In a disappointing season for Melbourne City, Yallop was a bright light with her intelligent runs and improved finishing she provides another advanced midfield option for Milicic.  
---
#19 Katrina Gorry, 26
DOB:

13 August 1992

Caps (Goals):

73 (14)

Club(s):  

Brisbane Roar (AUS)

World Cups:

Canada 2015

Follow:
Twitter: @katrinagorry

Instagram: @katrinagorry10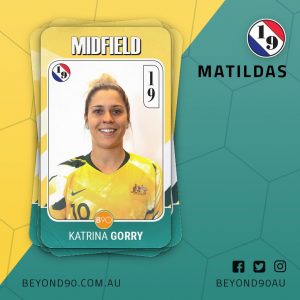 It has been a tough 24 months for Katrina Gorry.  
Injuries, form slumps and self acknowledge confidence issues meant it was not always certain the midfielder would be on the plane to France.  And it would have been a shame.
In full flight, Gorry is an all action and incredibly dynamic attacking force.  The 2014 AFC Women's Player of the Year, Gorry has strong ball skills, a good range of passing, confident in possession, with an ability to create and draw teammates in and an eye for goal.
At her best, her midfield combinations with Van Egmond and Kellond-Knight powered the Matildas to their heights in 2015, 2016 and 2017 and having her back in her best form will boost Australia's title hopes.  
---
#22 Amy Harrison, 23
DOB:

21 April 1996

Caps:

23

Club(s):  

Sydney FC / Washington Spirit

World Cups:

Debut

Follow:
Twitter: @amy_harrison7

Instagram: @amyharrison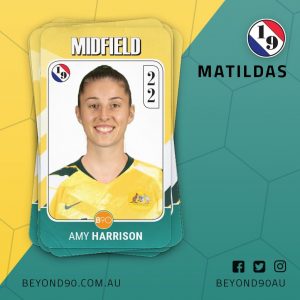 There have been some dark times for Amy Harrison in recent years with back to back ACL injuries.  
That the former Young Matildas captain finds herself on the plane to France is a testament to her resilience.
Harrison is another of those smart and creative players who understands space.  As a full back, she is a solid and dependable, if not spectacular, performer but it is her time in the midfield that she comes alive.  How Milicic uses her versatility remains to be seen.