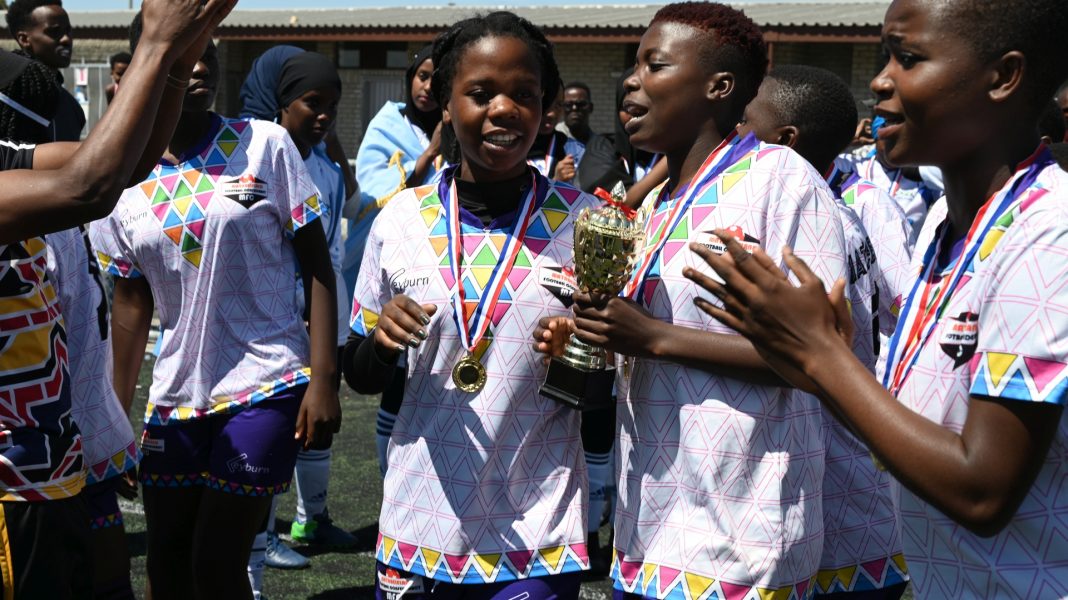 Somali Women's Football Makes History with First International Match
By Artis Curiskis
Photos by René Jacobi
Months of organising, days of travel, and hours spent sorting logistics brought the Golden Girls Sports Centre from Mogadishu, Somalia to Cape Town, South Africa to play a historic 90 minutes of football.
The Golden Girls became the first Somali women's football team to play an international match on 8 July in a 3-0 loss to Queen Lozikeyi Academy from Zimbabwe at the Human Rights Cup 2019.
The Human Rights Cup celebrates the United Nations Declaration of Human Rights on 10 December 1948, and addresses Sustainable Development Goals such as Good Health and Wellbeing, Gender Equality, and Reduce Inequalities. Despite the loss, Golden Girl's Nimco Cali Osman won player of the match.
The first rendition of the Human Rights Cup was hosted last year in Johannesburg, South Africa with men's and women's teams from South Africa and Zimbabwe. The tournament is organised by the Matabeleland Football Confederacy, an organisation using football to represent the culture and history of the Matabeleland region. The region, once a historical kingdom before European colonisation arrived, covered what is now considered Matabeleland North and South provinces in Zimbabwe and parts of South Africa.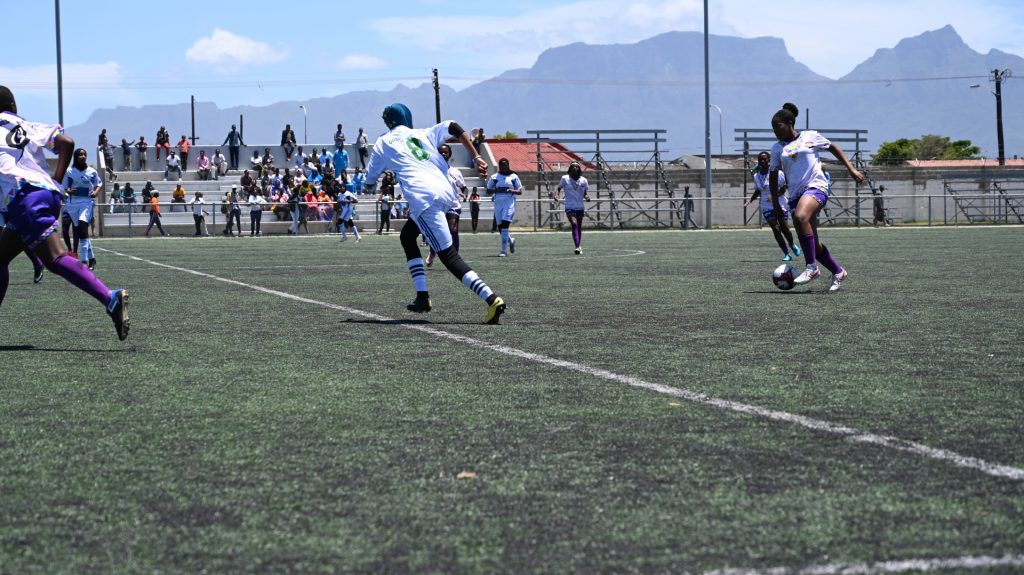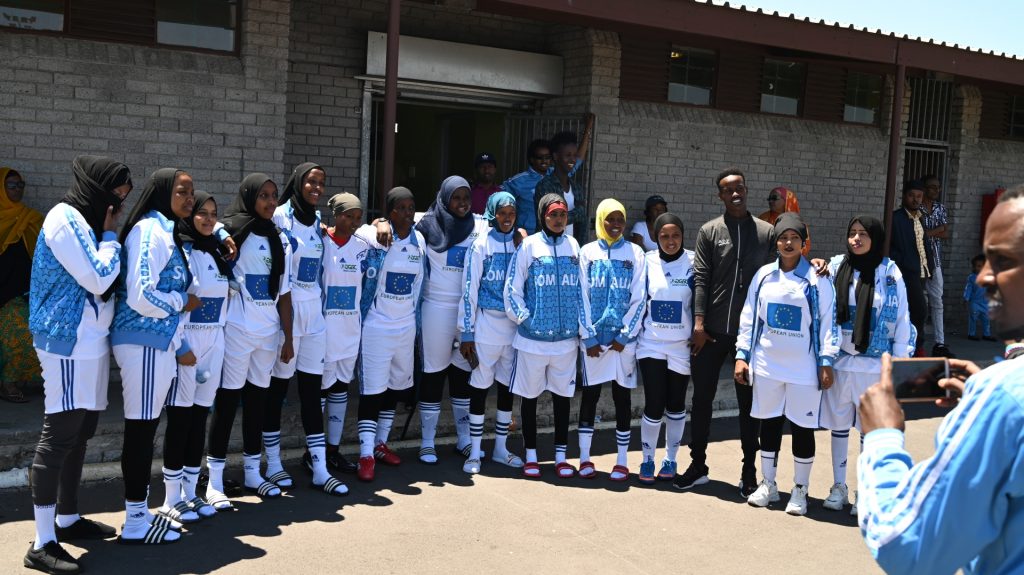 Champions of History – The Golden Girls Sports Centre
The Golden Girls flew over 6,000 kilometres from Mogadishu, Somalia to Cape Town to become the first Somali women's team to play an international football match. The Golden Girls mission statement says they are "​focused on the dedication of promoting sportsmanship, gender equity, and empowerment and development of women and girls through sports​". This statement aligns with the Human Rights Cup's goals towards improving human rights and promoting the UN's Sustainable Development Goals.
Shaima Mohamed, founder of Golden Girls Sports Centre, was proud of her organisation's achievement in making Somali women's football history. She believes this breakthrough can lead to more opportunities for Somali women.
"This tournament was a pathway for all Somali women out there, and also for the upcoming future generations because they will now have the freedom to chase their dreams and fight for their rights," Mohamed said. "We made history in football, that's more than legacy."
Due to minimal funds, the journey to the Human Rights Cup proved challenging, yet Mohamed knew this opportunity could impact women around the world, but especially in Somalia. After spending five months seeking out sponsorship to help cover costs Mohamed connected with Batula Sheik Ahmad, the chairwoman of Somali National Women Organisation. Ahmad agreed to help financially but required a partial loan. Her support was enough to make the Golden Girls trip to Cape Town possible according to Mohamed.
"We reached where we wanted, one person showed us support and we reached where we are, and I believe if the world could support us then we could reach the World Cup", Mohamed said.
Outside of financial support, the Golden Girls team was bolstered by NUR Women's Football Club, a London based sports organisation for black, Asian and minority ethnic women. A handful of players from NUR joined the Golden Girls in Cape Town. Together, the Golden Girls and NUR, all represented Somalia explained Mohamed. Upon both teams arrival in Cape Town, they were informed by the Human Rights Cup about a lack of funding to cover their entire accommodation and meals. In response, the local Somali community gathered together to help the Somali women settle in Cape Town and prepare for the match.
Since returning to Mogadishu, Mohamed explained the team still owes money to those who helped them achieve this feat. On the national team level, the Somali Women's football team struggles with a complete lack of funding and support. This results in zero international matches completed, earning them an unranked FIFA position due to inactivity. Unranked status is a common occurrence among FIFA's Confederation of African Football, where there are 54 active men's teams to 31 women's teams. This disparity illustrates the imbalance of opportunities for women to represent their nation through football, an issue all participating parties of the Human Rights Cup wish to tackle.
The organiser of the Human Rights Cup, Busani Sibindi, acknowledged effort put forward by the Golden Girls to attend the event. He said the Golden Girls attendance further supported the mission of the Human Rights Cup and ensured it was a successful event.
"Getting a team like the Golden Girls Sports Centre from Somalia to participate in the Human Rights Cup meant a lot to the purpose and mission of the annual event in terms of championing equal opportunities and providing empowerment for women," Sibindi said.
Mohamed said her team left the tournament with a new belief in themselves.
"It's not about what you have, it's about what you have in the heart​," Mohamed said, "It's not about the opportunities that you have, it's about how passionate you are about it."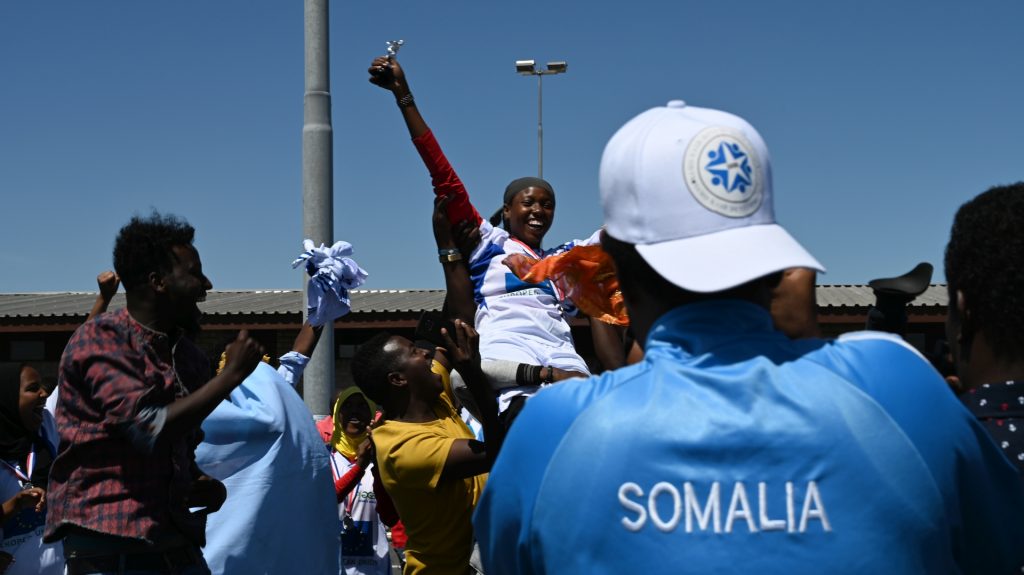 Champions of the Cup – Matabeleland's Queen Lozikeyi Academy
The Queen Lozikeyi Academy travelled by bus from Bulawayo, Zimbabwe to Cape Town totalling about 24 hours on the road. The Lozikeyi Academy are part of Matabeleland Football Confederacy. Last year, they lost in the Human Rights Cup final match by penalties to Blue Birds Ladies from Alexandra, South Africa after reaching 2-2 in regulation time.
Many players on Queen Lozikeyi Academy participated in the Human Rights Cup last year. For Queen Lozikeyi Academy goalkeeper, Gugulethu Dube, this was her first time playing in goal at the Cup.
"It gives a spotlight and a great platform for women to showcase their talents, and to bring about strong issues that affect them in different spheres of their lives," Dube said.
Winning the Cup was a moment of redemption for the Academy players after last year's disappointing finale. This year, they will carry the winners trophy along their journey back to Zimbabwe, likely celebrating the entire way there.
Upon their return, Queen Lozikeyi Academy, as part of Matabeleland Football Confederacy, will continue to use sports to reach out to the larger Matabeleland community around the world. Sibinid explained the Confederacy is a vessel helping connect people with their identity and culture in relation to the Matabeleland region.
Planning for the Human Rights Cup 2020 began directly after the culmination of the 2019 Cup. Sibindi is building an international organisation group to help oversee and bolster the Human Rights Cup's efforts.
More information about Matabeleland Football Confederacy can be found ​here​.
More information about the Human Rights Cup can be found ​here​.
More information on the Golden Girls Sports Centre can be found ​here​.
---
Article originally appeared on My Soccer Pilgrimage. Republished with permission.