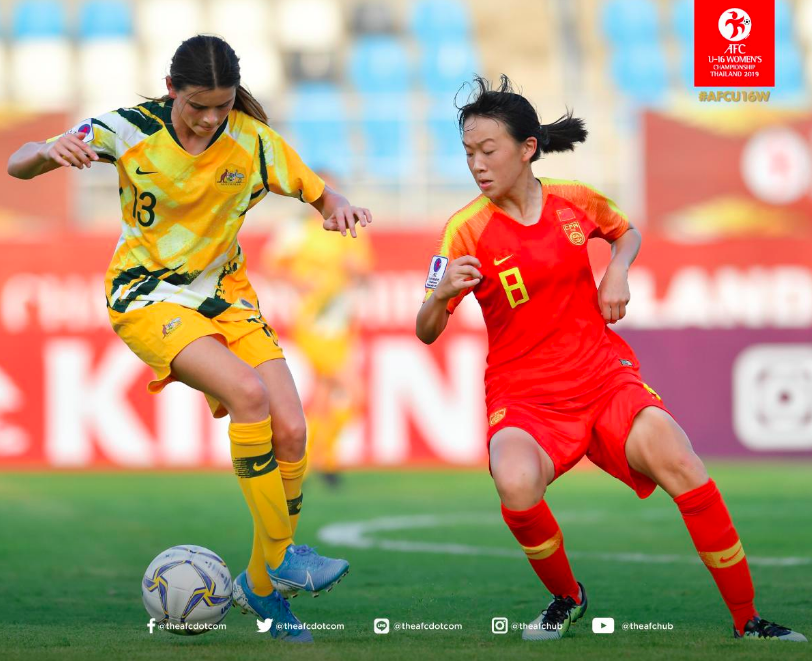 The Junior Matildas have equalled their best-ever result at the AFC U-16 Women's Championships today, finishing fourth after conceding two late goals to lose to China 2-1.
Having dealt with difficult conditions including heat and extreme humidity throughout the group stage, and then falling to three-time Champions North Korea in the first semi-final on Wednesday, the Junior Matildas came out looking refreshed and ready to take home a medal.
Head coach Rae Dower made a number of positional changes to try and shake things up for Australia, moving midfielders Hana Lowry and Nia Stamatopolous to the right wing and false 9 positions respectively, while centre-back Claudia Mihocic anchored the midfield in the number 6 role. Isabella Wallhead and Josie Morley got their first starts for the Junior Matildas at centre-back and right-back.
These changes seemed to catch China off guard, and Australia got off to the best start possible as a result, opening the scoring in the 28th second of the match despite China kicking off. Tournament stand-out Lowry, who had been moved from central midfield to right wing for this match, latched onto a perfectly-weighted cross from winger Alana Jancevski, slamming home her third goal of the tournament at the back post to make it 1-0.
Australia had most of the momentum in the opening stages of the first half, using their speed and physicality—particularly in wide areas—to pull China's defenders apart and allow for the runs of Stamatopolous, Charlize Rule and Paige Zois through the middle, while Morley and fellow full-back Jamilla Rankin were able to provide overloading options down either wing.
However, China defended solidly, forcing the Junior Matildas into shots from distance and then slowly working their way back into the game in the final 20 minutes of the half, dominating the midfield and applying a higher press to Australia's defenders, who began to make errors under pressure.
Goalkeeper Miranda Templeman made her first big save of the match on 40 minutes after China's Zou Mengyao intercepted an under-hit pass across the back line and launched a strike toward the roof of the net, but Templeman stuck out a strong hand to tip it over the crossbar. Minutes later, Australia lost goal-scorer Lowry to a rolled ankle, forcing Dower into an early substitute, bringing on Jordan Jasnos.
The teams went into half-time with Australia in the lead, but it felt like only a matter of time before China equalised, having turned up the pressure on their opponents towards the back-end of the first half.
China began to get more physical in the second half, and one has to wonder whether substitute Shao Ziquin should have been sent off after two rough challenges: one on Jessika Nash and another on Miranda Templeman, both of which involved studs. However, the striker was shown a simple yellow card, while other Chinese players continued to give away unnecessary fouls that began to deplete Australia's stocks. Nia Stamatopolous was substituted after being kicked in the achilles in the 62nd minute, a few minutes after Australia could have extended their lead following an uncleared corner, but no Matildas could get a toe in to poke the ball home.
This was a game about being in the right place at the right time, and China showed just how important those moments can be, equalising in the 78th minute following several waves of threatening attacks. After Claudia Mihocic gave away a free kick from an accidental hand-ball just outside the area, the ball was clipped beautifully for onrushing midfielder Shi Xiaomin to get her head onto, diverting the ball back across goal and into the net. Many of Australia's defenders were planted to the spot, watching helplessly instead of tracking the runners, and the expression on Templeman's face after conceding said it all. 1-1.
Less than five minutes later, China were in the lead. Again being pushed back into their own defensive third following spells of Chinese pressure, a poor clearance from an exhausted Rankin fell right to the feet of Zou Mengyao. Nobody expected what happened next. Instead of passing in to feet, which China had been doing for most of the game, Zou took two steps in-field and, from 30 yards, unleashed a rocket of a shot that sailed into the top left corner of the net, out of the reach of any goalkeeper in the world, to make it 2-1.
Despite an offensive substitution in the closing minutes from Dower, taking off Wallhead for Tijan McKenna, the Junior Matildas couldn't claw their way back into the game.
However, the players and staff should be incredibly proud of themselves, having equalled their best-ever finish in this tournament – a result first set ten years ago. It's undeniable that this team is filled with future stars of Australian football, and we can all take comfort in the fact that this is just the beginning for this talented group of young women.
Final score:
Australia: 1 (Hana Lowry 1')
China: 2 (Shi Xiaomin 78', Zou Mengyao 82')
Teams:
Australia: Miranda Templeman, Josie Morley, Claudia Mihocic, Jessika Nash, Isabella Wallhead, Charlize Rule, Paige Zois, Hana Lowry, Jamilla Rankin, Alana Jancevski, Nia Stamatoplous, Georgia Beaumont, Jordan Jasnos, Tijan McKenna
China: Luo Yu, Sun Fangxin, Shi Ciaomin, Wang Qianqian, Zou Mengyao, Wang Xinling, Jiang Chenjing, Chen Jiayu, Liu Xin, Huang Mengyu, Xu Zixian, Shao Ziqin, Wang Huimin, Dai Xinyao