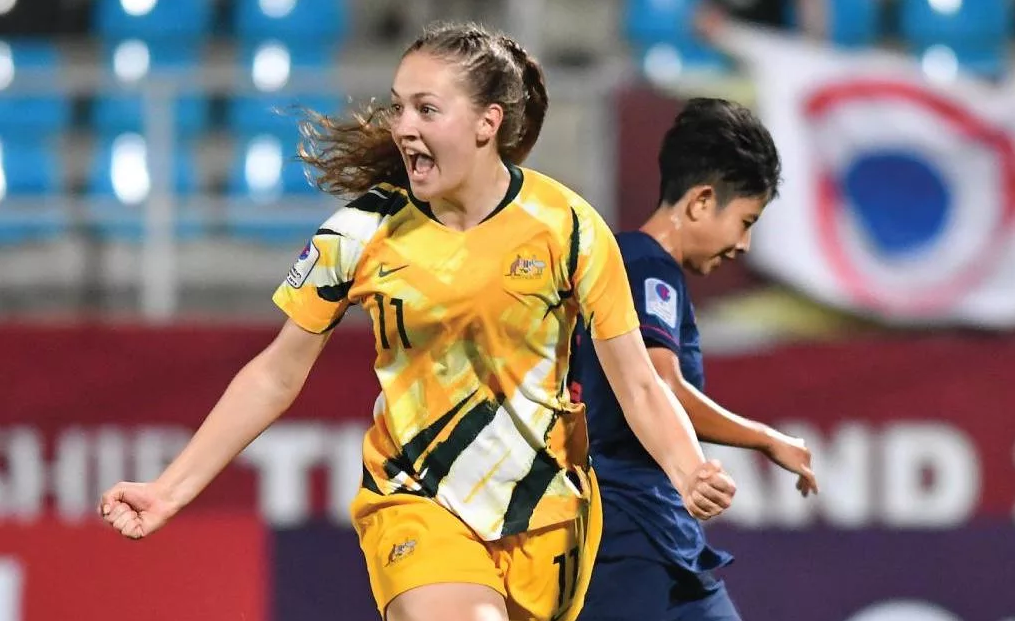 The Junior Matildas stand on the cusp of qualifying for the knockout stages of the AFC Under 16s Women's Championship for the first time in a decade after a comprehensive 6-1 victory over hosts Thailand on Wednesday night.
Two goals each inside the opening half from player-of-the-match Alana Jancevski and midfielder Hana Lowry, and a second-half brace for substitute Georgia Beaumont were enough for Rae Dower's side to secure their first win of the tournament in the heat and humidity of Chonburi.
However, a superb team goal finished by Thai midfielder Janista Jinantuya 20 minutes from the final whistle will give Dower and the team pause for thought in the lead-up to their final group stage match against Bangladesh on Saturday evening.
Despite fielding a number of changes after their hard-fought opening day draw against Japan, the Junior Matildas looked to push forward immediately from the kick-off, pressing high up the park in the opening stages and working to force errors from Thai centre-backs Khwanjira Ngok-wong and Supapron Intaraprasit.
It was that defensive urgency further down the pitch that was the catalyst for the opening goal, as Nia Stamatopoulos nipped in to steal a pass in midfield, allowing Claudia Mihocic to play a superb 40-metre pass through the Thai defence for Alana Jancevski to slot under keeper Pawarisa Homyamyen from the edge of the box.
Thailand's willingness to work hard in possession and play out from the back allowed them to pass through the Junior Matildas' high press in the opening stages of the match, only to be cut off or harried out of possession by Mihocic and defensive partner Jessika Nash, or let down by a loose pass into midfield.
The hosts' best chance of the first half came from a free kick just outside the box after Mihocic felled striker Thanatphat Bungthong in trying to clear out of defence, however Thawanrat Promthongmee could only watch her effort fly helplessly over Templeman's crossbar.
Jancevski had a golden chance to double her tally on 24 minutes, stealing in behind the Thai defence to meet Lowry's perfectly-weighted cross on the six-yard box, but her shot rattled the crossbar and deflected to safety.
However three minutes later Lowry herself would get on the scoresheet through a combination of pure instinct and dumb luck; beating midfielder Thanchanok Jansri to a contested header in midfield, Lowry played Rankin into space down the left flank, deflecting Rankin's cross off her knee and over the outstretched arms of Homyamyen to double her side's lead.
Australia's midfield three morphed more into a midfield five as the first half wore on, with wing-backs Kirsty Fenton and Emma Ilijoski pushing up the park to overload the Thai midfield and overlap their attacking teammates in Jancevski and Jamilla Rankin.
That pressure higher up the field reaped its rewards in first-half stoppage time, as Rankin raced down the left flank and provided a whipped cross into Homyamyen's area, only for the Thai stopper to mishandle and allow Jancevski to side-foot into an empty net.
Australia would score their fourth only two minutes later, as midfielder Paige Zois capitalised on a misplaced touch from a Homyamyen clearance, with Jancevski coolly finding Lowry on the edge of the box, who curled her low effort past the keeper into the far corner.
The Junior Matildas started the second half much as they did the first, with midfielder Nia Stamatopoulos being replaced with the more attacking Georgia Beaumont, allowing Rule to play more between the lines in attack.
Despite Australia's attacking dominance, Thailand were still able to fashion chances of their own, as Jansri capitalised on a loose touch from Mihocic in the 49th minute, her driving run towards goal ending in a shot from just inside the box to force a smart save from Templeman.
Dower's attacking change would pay off moments later, as Beaumont added Australia's fifth goal with a well-taken header from close range.
Winning a strong tackle to wrestle possession from stiker Chattaya Pratumkul, Zois' industry allowed Jancevski to play a sweet diagonal pass between two Thai defenders and free up Rankin on the left, her dipping cross from the byline finding Beaumont unmarked in the six-yard to head home.
Beaumont was again on the scoresheet six minutes later, this time through a superb piece of individual brilliance. Ghosting between two Thai defenders, the striker expertly brought Rule's cross from the right wing under control with a deft touch off her thigh, turning to volley past the sprawling Homyamyen to take Australia's tally to six for the match.
Thailand would get a goal back in the 70th minute – and what a goal it was. Passing out of the back, the hosts let loose with a crisp five-pass attack to tear the Junior Matildas open through the middle, and finally put their mark on the scoresheet.
Attacking directly from a throw-in deep in their own half, the Thai front line sprung into action, with striker Pratumkul dropping into midfield to lay a pass to Jansri, whose neat lobbed through-ball put Jinantuya in on goal, the midfielder winning the footrace into the box to slide her shot under Templeman for what would be her side's only goal.
Dower's side continued to press forward in search of a seventh goal, but struggled to break down a Thai defence that eventually developed into more of a 9-0-1 formation as the game wore on, relying on the speed and tireless effort of Pratumkul in attack.
Beaumont missed the opportunity to complete a second-half hat-trick in the 87th minute, again making an expertly-timed run into the box and latching onto a low cross – this time from substitute Josie Morley – only to blaze her effort on the turn well over the Thai goal.
It was Beaumont who would have the final chance of the match, turning smartly away from her defender with her back to goal and firing a crisp shot towards the bottom corner in the final seconds of stoppage time, only for keeper Homyamyen to produce yet another diving save.
https://twitter.com/theafcdotcom/status/1174321289605066753
Defender and captain Jessika Nash said after the game that despite their dominance on the scoreboard, her team is always looking to learn from the different challenges posed by their opponents.
"I thought the team overall did very well, and I thought I gave it my best, but I can always improve," she said.
"[The] goals I thought were very well-worked … as a team, and their goal I think was a good team goal as well, and we'll definitely take some lessons out of it."
Despite being the youngest member of the squad, Nash took inspiration from the adage that if you're good enough you're old enough, and said that the team once again worked well as a unit, no matter who wears the armband.
"We all want to be coaches on the field like Rae [Dower] says, everyone has to coach on the field. Wearing this badge is a privilege, an honour, and being the youngest I don't think really matters – you can be a leader at any age."
The result leaves the Junior Matildas second in Group A behind Japan, who sit atop the group thanks to a superior goal difference.
https://twitter.com/theafcdotcom/status/1174327129590435840
Australia 6 (Jancevski 5' 45'+1, Lowry 27' 45'+3, Beaumont 51' 59')
Thailand 1 (Jinantuya 70')
Australia: Miranda Templeman; Emma Ilijoski, Jessika Nash, Claudia Mihocic, Kirsty Fenton; Paige Zois, Nia Stamatopoulos (Georgia Beaumont 46'), Hana Lowry (Josie Morley 60'); Jamilla Rankin, Charlize Rule (Charlotte Farmer 72'), Alana Jancevski.
Thailand: Pawarise Homyamyen; Oumapron Sronhirun (Suchavadee Chomoaeng 37'), Khwanjira Ngok-wong, Supapron Intaraprasit, Sawitta Boonwong; Thawanrat Pronthongmee (Saranya Lamee 72'), Janista Jinantuya, Pleumjai Sontisawat, Thanchanok Jansri, Thanatphat Bungthong (Fasawang Kaetkeaw 52'); Chattaya Pratumkul.