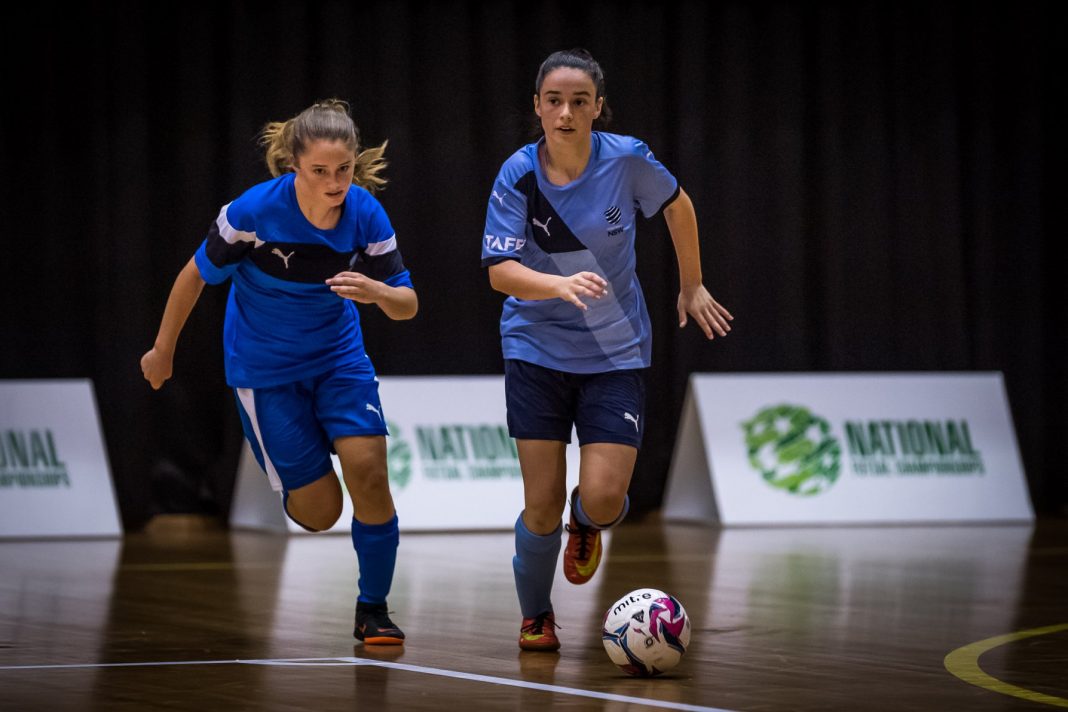 Darcey Malone has had a very busy six months.
A Junior Matildas debut in September 2018 was quickly followed by her W-League debut with Sydney FC in October, while this month she was a key part of the squad that qualified for the 2019 AFC Under 16 Championship.
If that wasn't enough, she also played for Campbelltown City Quake in the NSW Futsal Premier League, and won the 2019 FFA National Futsal Championships as part of the Football NSW Thunder U15 side.
The 16-year-old said the initial call-up to the Junior Matildas training camp came as a surprise, but she enjoyed the experience and particularly the opportunity to work with coach Rae Dower.
"It was pretty unexpected, and I was very honoured. Rae Dower is lovely, and serious to an extent, but also she doesn't put too much pressure on."
Her efforts at the camp were enough not only to earn selection to the Junior Matildas squad for Round 1 of the AFC Under 16 Championship qualifiers (held in Kyrgyzstan), but also to be named in the squad's leadership group, along with Jessika Nash, Emma Ilijoski & Nia Stamatopoulos.
After a successful round of qualifiers, with four wins from four games, Malone was invited to train with Sydney FC ahead of the 2018/19 W-League season. She relished the opportunity to work with a number of established W-League stars, in particular Sydney FC captain Teresa Polias.
"Teresa was terrific, but so were many of the Sydney FC players. I was pretty nervous coming in because I hadn't done anything like that before, but the players were so hospitable and encouraging."
The Junior Matilda also had nothing but praise for Sydney FC coach Ante Juric.
"He is awesome to work with, as a coach and as a person. He's really, really nice to us younger girls, and knows our limits, but he still pushes us."
While she was happy just to be given the opportunity to train with Sydney FC, Juric had bigger plans, signing her as an injury replacement player for the opening two rounds of the season.
"Ante pulled me aside and said he was thinking of signing me for a couple of weeks, until they got their players back from injury … I was not prepared for that! It was really out of the blue.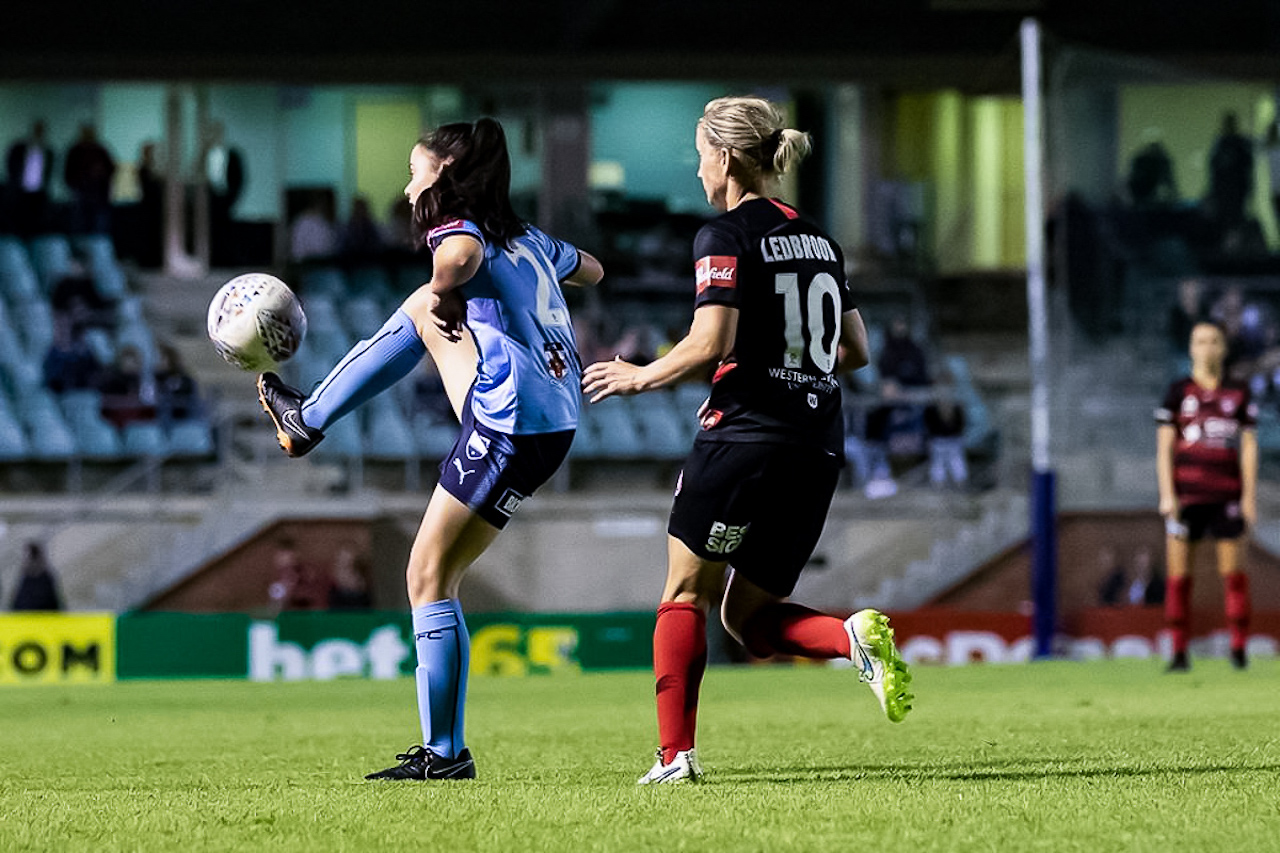 Malone ended up making her W-League debut as a substitute in Round 1 against Western Sydney Wanderers, saying that "the whole day was a blur." The surprises kept coming, as she retained her spot in the squad for the following week's away trip to Melbourne City, making another appearance off the bench.
"That was even more out of the blue. I didn't expect to travel for the next round, as I thought the others would be back."
With Malone getting noticed in the W-League, it was no surprise to see her invited to another Young Matildas training camp in January, ahead of the second round of qualifiers for the AFC Under 16 Championship in Laos.
She maintained her place in the squad, and the Junior Matildas were successful once again, qualifying for the AFC Under 16 Championships. Malone said the time spent together in Kyrgyzstan last year was a great help to the team.
"I feel like we were much closer, and we'd obviously bonded the first time. We were going in more confident, and we'd played together for a while now."
After all this, you would be forgiven for thinking that Malone was happy to take a break over the summer. Instead, she was active on the futsal court. Malone helped her local team, Campbelltown City Quake, reach the 2018/19 NSW Futsal Premier League semi-finals in three different divisions (U15 Girls, U17 Girls & Open Women), while also helping the Football NSW Thunder U15 side achieve victory at the FFA National Futsal Championships in January 2019.
The Junior Matilda was quick to credit the indoor game with helping her develop as an outdoor player.
"Futsal's played a pretty big role, it's improved me skill-wise, and confidence-wise as well, because it's a pretty tight game. I've played at Campbelltown City Quake for a while now, and Quake's great, it's like a family."
Family is a recurring theme for Malone, and last year her and her four siblings (Christian, Maddie, Declan & Bridget) were all playing for NPL NSW teams.
Darcey and Maddie spend the most time together, going to the same school (Westfields Sports High School) and playing for the same clubs (Football NSW Institute and Campbelltown City Quake). Maddie was invited to the most recent Junior Matildas training camp in January, narrowly missing out on the final squad, while the two of them are also former Western Sydney Wanderers ball-kids.
Darcey sees the positives in having a talented younger sister.
"We actually play the same position. We want each other to succeed, so having her at Westfields Sports High School and also in futsal pushes me, because she's such a good upcoming player, I want to keep improving as well."
The Junior Matilda can now turn her attention to the 2019 NPL NSW season, where she will be part of the 1st Grade side at Football NSW Institute. The signs are positive, with 1st Grade coach (and former Matilda) Leah Blayney one of the big reasons for her move to the Institute from the Macarthur Rams back in 2017.
"Leah enquired about me moving to Westfields Sports High School. A lot of girls who go to Westfields also play for Institute, so both Maddie and myself moved at the same time."
Malone's progress over the past year has been fascinating to witness, and after earning the respect of coaches at both club and national team level, you get the feeling that this is only the beginning of her story.