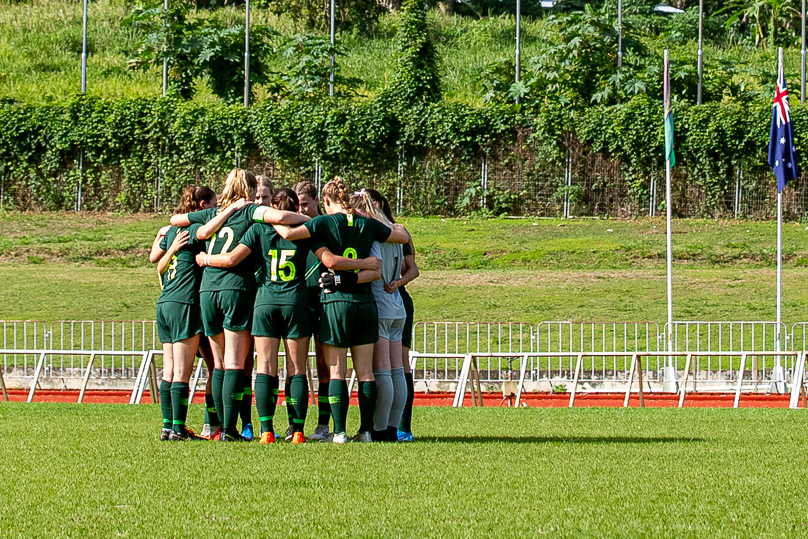 After a final training camp in Sydney over the weekend, the Junior Matildas are set to fly out to Thailand tomorrow to compete in the AFC U-16 Women's Championships.
Australia will compete in Group A of the tournament, and will play Japan, hosts Thailand, and Bangladesh in the group stage, with the top two teams from both groups advancing to the semi-finals.
If the Junior Matildas reach the final, they will automatically qualify for the FIFA U-17 Women's World Cup in India next year.
Group B of the AFC tournament, which includes North Korea, South Korea, China, and Vietnam, also promises to deliver some exciting contests.
Following two extended training camps over the last two months—one in the Pacific and one on the Gold Coast—the final squad was selected late last week.
Head coach Rae Dower said the camps have been especially useful in the lead-up to the AFC tournament, not just in allowing the team to continue to gel, but also in adapting to the environment and conditions that await them in Thailand.
"The camp has been a great opportunity for us all to come in, with the final squad now selected. The girls have been working really, really hard to prove themselves and to make the final squad, which was a really difficult decision," Dower said.
"There are some really good players who have been left out, so it means our depth is continuing to improve. The girls know that themselves, they know how privileged they are to be here because some of their team-mates have missed out on the final squad, but they know the hard work is just starting now.
"[This camp] give us a good opportunity to build on some of the principles we've been working on the last couple of months; we had that two weeks together in the Pacific which was really great, especially in terms of the climate, the heat and the humidity."
The various camps that have been held over the past few months has also allowed the coaching staff to assess a larger number of players in the interests of squad rotation and positional flexibility, as the number of games played in such a short period of time in these tournaments can take their toll on the minds and bodies of players.
"There's only two days in between games for us," Dower said.
"Usually the first and second-round qualifiers are only one day in between, so every Match Day Minus 1 is actually a recovery day, and a Match Day Plus 1 as well. We've done really well to rotate players through that; we know how much that can take out of them on a daily basis, ticking over every day doing something, whether it's an active recovery or a walk-through for a familiarisation session of the opponent. That's why a lot of our work has been done before we get to Thailand.
"Players play where they think they're suited, or where they usually play. But one of the responsibilities of myself and my coaching staff is to identify potential areas where we think they might be able to improve as players, and also to do a job for us in the middle of a game. For example, you might cop an injury and you might have to move a player without substitutions left. You've got to be able to prepare players [for that] in this environment where there's no pressure, to provide them with opportunities to experience those different positions and see for themselves. We're also looking at different combinations to try and find the right combination to be effective on the given day against your opposition."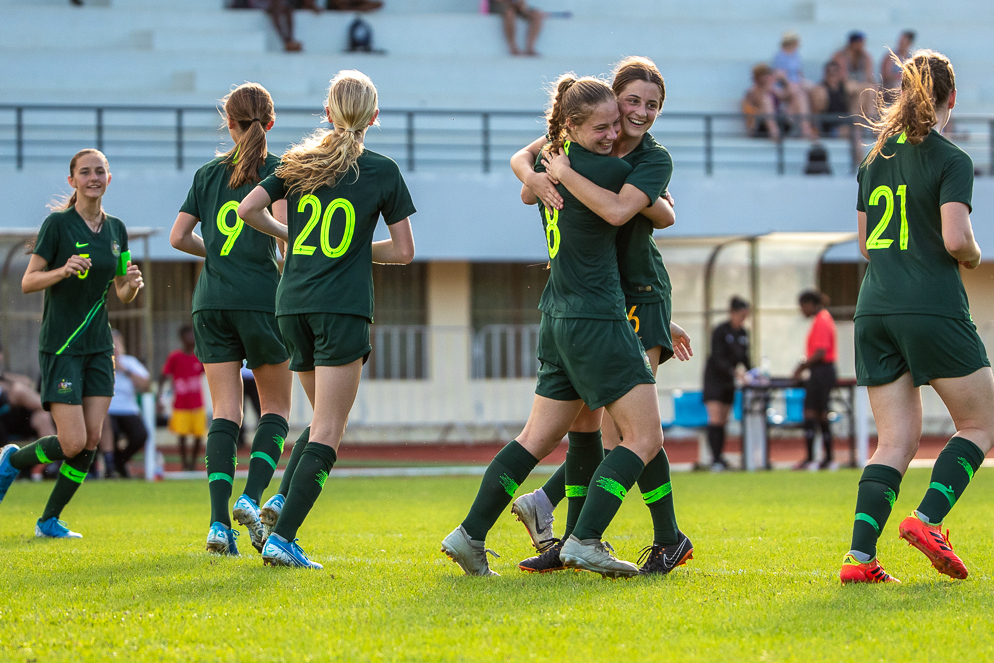 The team arguably has their biggest challenge in the very first round, coming up against three-time AFC U-16 Women's Championship winners Japan. In fact, Japan hasn't finished below third place in this tournament in almost 15 years.
"Their history speaks for themselves," Dower said.
"They are the standard-bearers. So it presents a great opportunity for us. Every champion still has ways that you can break them down; on your day you still have to be able to execute your own game plan to the best of your ability and make sure you nullify their strengths.
"We think we've had a pretty good opportunity now to understand what the strengths are of Japan, we've worked hard to nullify those, and we know we've also got some great attacking weapons and some great opportunities we'd like to be able to exploit of theirs. Finding that balance in terms of the preparation is important but it's something we've really focused ourselves on in getting a result in that first match, which will set us up for the rest of the tournament.
"[Playing Japan first] is a great opportunity because we come in fresh. Of course you've got those first-game nerves, which both teams will have, but the history Japan have can also be a burden in terms of the success that the team is expected to achieve.
"We've already done a bit of work around how we might play our other two opponents in Thailand and Bangladesh, but we also get an opportunity to see them in action on Match Day 1; we can see them and study them a bit further and set up a bit more specifically for those two games to follow. At the moment our focus is firmly on Japan and playing the way we'd like to play against them to get a result."
On the standard of play to be expected from this year's tournament, Dower did not shy away from the challenges she know the Junior Matildas will be up against.
"This is the best of the best," she said.
"This particular confederation is the most successful confederation in U-17 World Cup history. To make it into this last eight is a really great achievement for us—it's something we've been able to do successfully on a number of occasions—but we haven't got past this stage of the tournament since we moved into the Asian confederation. So that's the challenge. We'd like to create a bit of herstory in relation to that. For us, we know it's a great challenge, but it also provides a great opportunity.
"This is a really talented group of players. If we look at our last cohort, a number of those have gone on to represent the Young Matildas already, and there's a number that are in and around the Future Matildas program as well. If I look at this group here, there are some really talented players who I think can really push to be in the Matildas squad for 2023.
"In particular, I think the depth is getting greater and greater. We definitely have more depth in this cohort than our previous one. I also think we have more players here with that cutting edge—that individual brilliance—which you really need to be able to help in those big moments in matches. That's what I'm really pleased to see—that the depth is continuing to increase."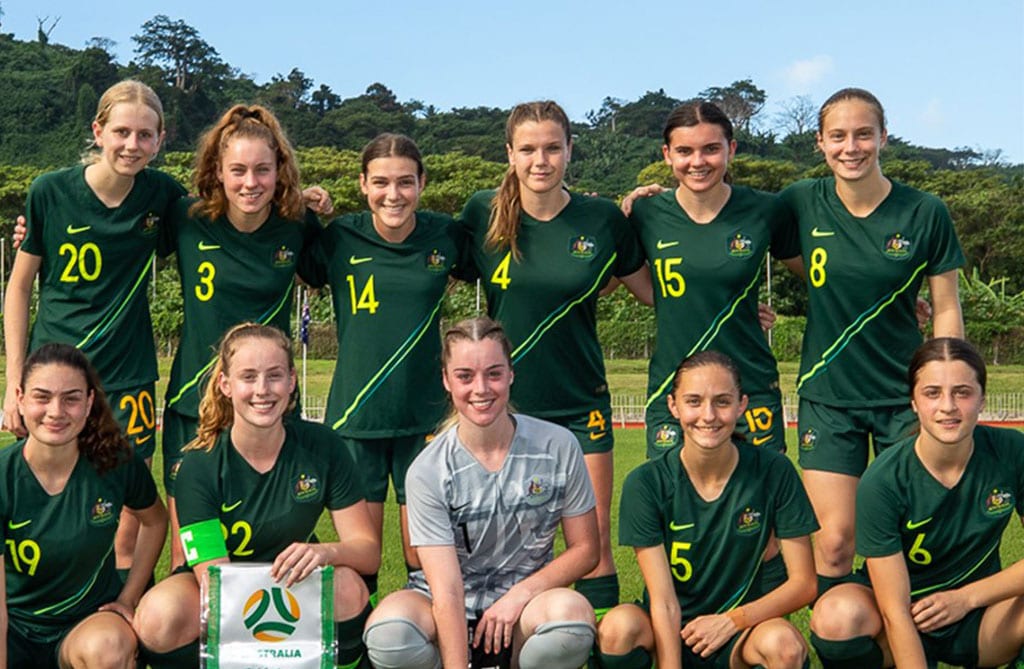 Three Junior Matildas who are also buzzing to be part of the squad and looking forward to the upcoming tournament are midfielders Nia Stamatopoulos and Paige Zois, and goalkeeper Miranda Templeman.
"Everyone amongst the team is very excited. It's a big challenge for us, but as a team we've prepared for this for twelve months. So if we keep doing that, I think we'll be ready," Stamatopoulos said.
"On and off the pitch, it's working. We're a second family and it shows on the pitch in how we are and how we play.
"We just have to take every game as it comes and focus on that. Instead of thinking of the big picture—obviously we have to have our goals set and everything—we just have to take it step by step."
For Zois and Templeman, both of whom were part of the "Pacific Step-Up" tour that travelled to Tonga, Vanuatu, and the Solomon Islands, the camps have been the best preparation for what they can expect in Thailand.
"We've been putting in the hard yards at training," Zois said.
"Even off the pitch, we've been bonding really well, and I think we're all really great friends now.
"The food and the climate [will be a challenge]—we know it's going to be really humid over there, so the Pacific tour was really good to acclimatise."
"I think it'll be really good to challenge ourselves a bit more than we have. This is what we've been leading up to," Templeman said.
"The Pacific tour was really good to get used to the environment because it was a similar climate to what we're going to be playing in.
"It's really different because you have to drink a lot more water than you usually would here, so you think you're hydrated but you're actually not."
On what they're most looking forward to, Zois spoke for all three players: "Nothing beats the feeling of walking out and playing for your country. That's really exciting."
And with the prospect of Australia hosting the 2023 Women's World Cup on the horizon, these young stars have their sights firmly set on using the AFC tournament as a springboard to one day represent their senior national team.
"The 2023 World Cup is everyone's goal here," Templeman said.
"If we get it on home soil, I don't think there's any better feeling than walking out in front of a home crowd."
The Junior Matildas kick off their AFC Championship campaign on Sunday 15 September.
Japan vs Australia
Date: Sunday, 15 September 2019
Venue: IPE Chonburi Stadium, Chonburi, Thailand
Kick-off: 4.00pm (local); 7.00pm (AEST)
Broadcast: AFC YouTube page
Australia vs Thailand
Date: Wednesday, 18 September 2019
Venue: Chonburi Municipality Stadium, Chonburi, Thailand
Kick-off: 7.00pm (local); 10.00pm (AEST)
Broadcast: AFC YouTube page
Australia vs Bangladesh
Date: Saturday, 21 September 2019
Venue: IPE Chonburi Stadium, Chonburi, Thailand
Kick-off: 4.00pm (local); 7.00pm (AEST)
Broadcast: AFC YouTube page