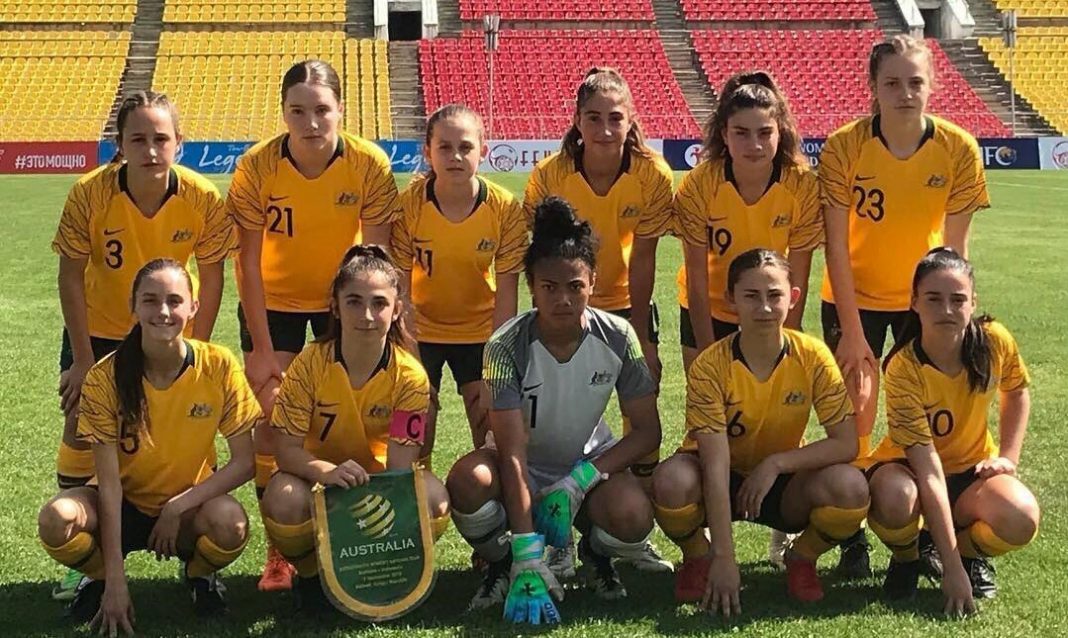 The Westfield Junior Matildas will begin their three-country Pacific tour next week as part of the "Pacific Step-Up" and Australian Pacific Sports Linkages Program.
It will be the first time that an Australian national football team has visited the Pacific since the Socceroos in 2005.
Led by FFA International Relations Manager Kieran Lilley, the team will be accompanied by a travelling party that includes Westfield W-League players Emma Checker and Hannah Brewer, match officials Lara Lee, Sarah Ho, and Joanna Charaktis, FFA Girls Youth Development Manager Debbie Fisher, and Football Queensland Women & Girls Development Officer Kerry Hammersley.
From August 5 – August 16, the tour will see the Junior Matildas visit Tonga, Vanuatu, and the Solomon Islands. The team will play a series of friendlies against each country's U-19 women's national team, while the travelling party will deliver a number of skills clinics, as well as coaching and refereeing workshops.
Thanks to a partnership with the Australian Department of Foreign Affairs and Trade, the Junior Matildas will also be joined by an expanded media team of photographers, writers, and film-makers, including Gold Leaf Creative, the production company behind the television series KICK.
Junior Matildas head coach Rae Dower has spent the last few weeks travelling between Coffs Harbour and Canberra, observing potential tour players during the Westfield National Youth Championships and NTC Challenge competitions.
"From a technical perspective, it's great that every team involved in this tour can use these friendlies as an opportunity to prepare for tournament fixtures that happen shortly afterwards," Dower said.
"Tonga, Vanuatu and the Solomon Islands will contest the OFC U-19 Women's Championship at the end of August, and our squad will be travelling to Thailand in September for our AFC Championships.
"Competing and testing yourself against opposition from outside your home confederation is an important development opportunity for the players too, because they'll be exposed to different players and playing styles which brings about different problem-solving opportunities to a match situation.
"For this squad, it's an opportunity to develop personally as well – the team worked with the Australian Embassy in Vientiane and the Lao Football Federation earlier this year, and it'll be a new experience travelling to multiple countries on the one tour, with the quick changes in environment and having to adjust to new surroundings."
Squad:
| | |
| --- | --- |
| Name | Club/Program, State |
| Emma ILIJOSKI | Gungahlin United FC, ACT |
| Mia McGOVERN | Canberra United Academy, ACT |
| Jessika NASH | FNSW Institute, NSW |
| Darcey MALONE | FNSW Institute, NSW |
| Bryleeh HENRY | FNSW Institute, NSW |
| Charlize RULE | FNSW Institute, NSW |
| Jordan JASNOS | FNSW Institute, NSW |
| Chloe CARMICHAEL (GK) | Marconi FC, NSW |
| Charlotte FARMER | Brisbane Roar FC / Queensland Academy of Sport, QLD |
| Georgia BEAUMONT | Brisbane Roar FC / Queensland Academy of Sport, QLD |
| Jamilla RANKIN | Brisbane Roar FC / Queensland Academy of Sport, QLD |
| Alana MURPHY | Football Victoria NTC, VIC |
| Grace TARANTO | Football Victoria NTC, VIC |
| Paige ZOIS | Football Victoria NTC, VIC |
| Alana JANCEVSKI | Football Victoria NTC, VIC |
| Claudia MIHOCIC | Football Victoria NTC, VIC |
| Tijan MCKENNA | Football West NTC, WA |
| Taneesha BAKER | Football West NTC, WA |
| Miranda TEMPLEMAN (GK) | Football West NTC, WA |
| Hana LOWRY | Football West NTC, WA |
| Ruby JONES (GK) | Newcastle Jets Academy, NSW |
| Kirsty FENTON | Newcastle Jets Academy, NSW |
| Josie MORLEY | Newcastle Jets Academy, NSW |
Match details:
Tonga U-19 Women's National Team v Westfield Junior Matildas
Date: Thursday, 8 August 2019
Kick-Off: 1:00pm (local); 4.00pm (AEST)
Venue: Tonga Football Academy, Nuku'alofa, Tonga
Vanuatu U-19 Women's National Team v Westfield Junior Matildas
Date: Monday, 12 August 2019
Kick-Off: Details to be finalised
Venue: Details to be finalised
Solomon Islands U-19 Women's National Team v Westfield Junior Matildas
Date: Thursday, 15 August 2019
Kick-Off: 4:00pm (local); 5:00pm (AEST)
Venue: Lawson Tama Stadium, Honiara, Solomon Islands