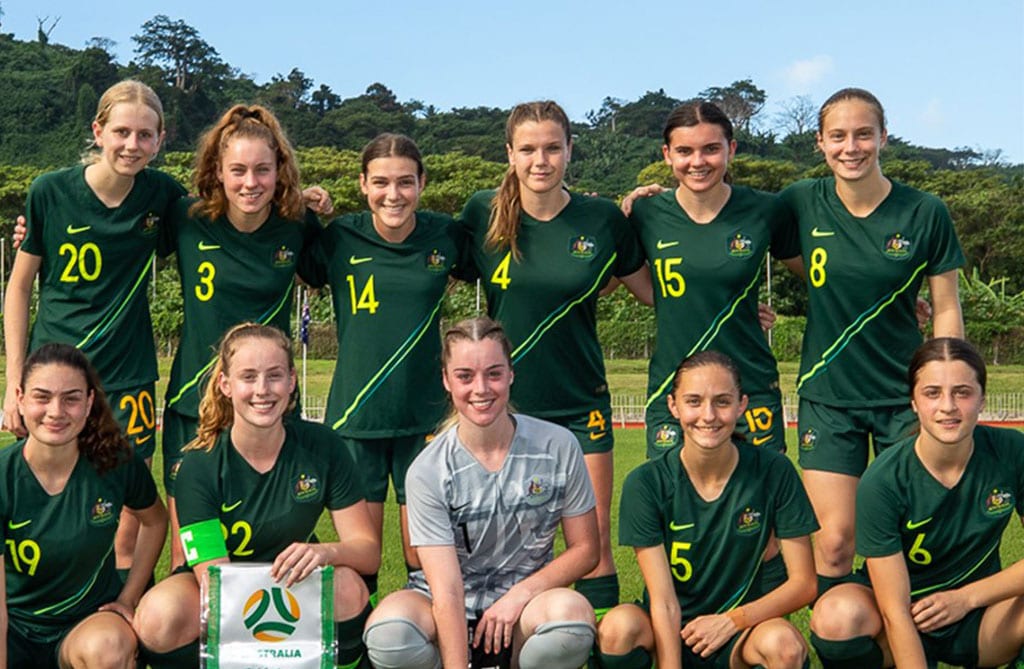 Westfield Junior Matildas head coach Rae Dower has announced the squad that will travel to Chonburi in Thailand to take part in the AFC U-16 Women's Championship next week.
The Junior Matildas will compete in Group A of the competition alongside hosts Thailand, Japan, and Bangladesh. The top two teams from each group will advance to the semi-finals.
If Australia reaches the final, they will automatically qualify for the 2020 FIFA U-17 Women's World Cup which will be hosted by India.
Following two training camps that included a tour of the Pacific nations of Tonga, Vanuatu, and the Solomon Islands, as well as a week more recently on the Gold Coast, Dower has chosen players who she and her staff believe will give Australia the best chance to win the AFC tournament and qualify for next year's World Cup.
"We've got a really well balanced team on and off the field and the chemistry developed over the last 12 months together will serve us well in really trying conditions in Thailand," Dower said.
"During our 'Pacific Step-Up Tour' and recently completed camp on the Gold Coast, we've been able to trial a number of players from across the group and believe we've developed substantial depth across the park.
"We're excited to play Japan first up and have been working hard on areas of our game where we can be successful. We know the players and staff will represent Australia with passion and pride, and are confident that the principles we've been working on will give us the best opportunity to be successful in Thailand."
The Westfield Junior Matildas will travel to Thailand on Tuesday, 10 September 2019 before playing their group games on September 15, 18, and 21 against Japan, Thailand, and Bangladesh respectively.
The semi-finals of the 2019 AFC U-16 Women's Championship will be held on Wednesday, 25 September 2019, with the Final to be contested on Saturday, 28 September 2019.
Final squad:
| | |
| --- | --- |
| Name | Club/Member Federation |
| Alana JANCEVSKI | NTC Victoria/Football Victoria |
| Bryleeh HENRY | Football NSW Institute/Football NSW |
| Charlize RULE | Football NSW Institute/Football NSW |
| Charlotte FARMER | Queensland Academy of Sport/Football Queensland |
| Claudia MIHOCIC | NTC Victoria/Football Victoria |
| Darcey MALONE | Football NSW Institute/Football NSW |
| Emma ILIJOSKI | Gungahlin United FC/Capital Football |
| Georgia BEAUMONT | Queensland Academy of Sport/Football Queensland |
| Hana LOWRY | Perth Glory FC/Football West |
| Isabella WALLHEAD | Football West NTC/Football West |
| Jamilla RANKIN | Brisbane Roar FC/ Queensland Academy of Sport |
| Jessika NASH | Football NSW Institute/Football NSW |
| Jordan JASNOS | Football NSW Institute/Football NSW |
| Josie MORLEY | Newcastle Jets Academy/Northern NSW Football |
| Kirsty FENTON | Newcastle Jets Academy/Northern NSW Football |
| Mia BAILEY (Gk) | Queensland Academy of Sport/Football Queensland |
| Mia MCGOVERN | Canberra United Academy/Capital Football |
| Miranda TEMPLEMAN (Gk) | Football West NTC/Football West |
| Nia STAMATOPOULOS | NTC Victoria/Football Victoria |
| Paige ZOIS | NTC Victoria/Football Victoria |
| Ruby JONES (Gk) | Newcastle Jets Academy/Northern NSW Football |
| Taneesha BAKER | Football West NTC/Football West |
| Tijan MCKENNA | Cockburn City/Football West NTC |
Match schedule:
Japan vs Australia
Date: Sunday, 15 September 2019
Venue: IPE Chonburi Stadium, Chonburi, Thailand
Kick-off: 4.00pm (local); 7.00pm (AEST)
Admission: Open to the public
Broadcast: TBA
Australia vs Thailand
Date: Wednesday, 18 September 2019
Venue: Chonburi Municipality Stadium, Chonburi, Thailand
Kick-off: 7.00pm (local); 10.00pm (AEST)
Admission: Open to the public
Broadcast: TBA
Australia vs Bangladesh 
Date: Saturday, 21 September 2019
Venue: IPE Chonburi Stadium, Chonburi, Thailand
Kick-off: 4.00pm (local); 7.00pm (AEST)
Admission: Open to the public
Broadcast: TBA