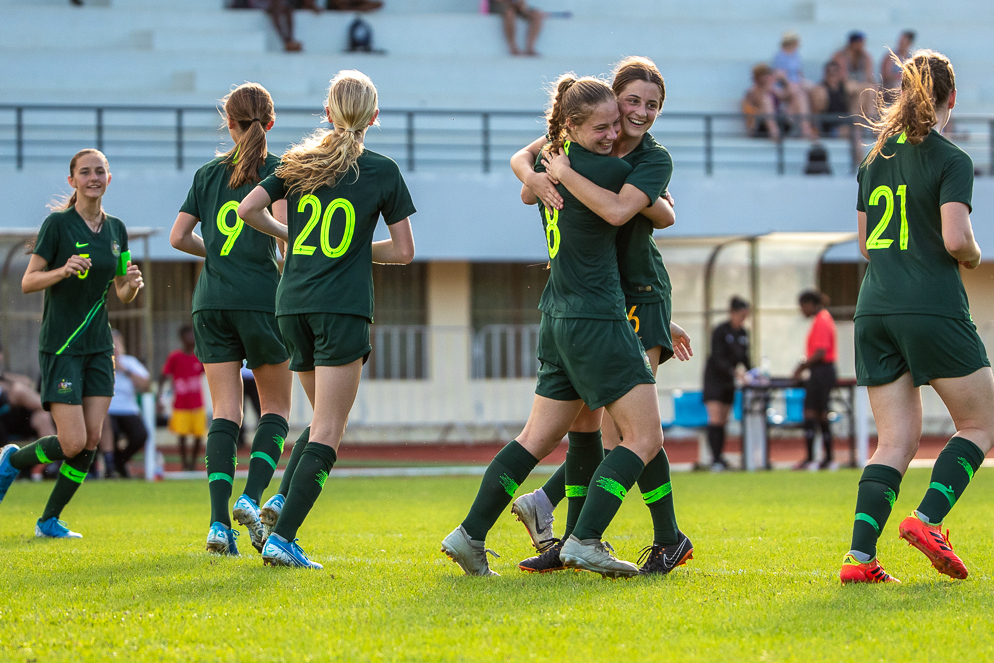 The Junior Matildas kicked off their AFC U-16 Women's Championship campaign on Sunday, playing out a dramatic 0-0 draw against three-time tournament winners Japan at IPE Stadium in Chonburi, Thailand.
Australia couldn't have asked for a more difficult test in Japan, whose youth system has been revolutionised in recent years—with the nation most recently winning the FIFA U-20 Women's World Cup in 2018.
The 2015 AFC runners-up got off on the front foot, registering their first dangerous chance in just the first minute. After a poor give-away by Australia while trying to play out from the back, Japan winger Maika Hamano found herself in behind the Matildas' defence just inside the box, but she pulled her low shot wide of the far post.
It didn't take Japan long to settle into their 4-4-2 formation, which allowed them to flood Australia's midfield and cut off any sneaky balls in behind for attackers Bryleeh Henry and Taneesha Baker to run onto. This set-up also meant Japan found plenty of joy through central areas themselves, registering a number of shots in and around the D in the opening ten minutes. Australia centre-backs Jessika Nash and stand-out Claudia Mihocic were forced into several last-ditch blocks and clearances that kept their team in the game.
Australia therefore had to play a more counter-attacking style than what they were used to during their recent Pacific tour. Setting up in a 4-3-3 with full-backs Kirsty Fenton and Emma Ilijoski alternating when pushing further up the park in attacking phases, the Matildas regularly tried to play an expansive, lateral game, attempting to pull Japan's defensive players apart when on the ball and applying a high press when off it.
This high press paid off and Australia had a huge chance to take the lead in the 10th minute when striker Brylee Henry latched onto a poor back-pass from Shinomi Koyama and rounded goalkeeper Nina Noda, who had been caught out of position. However, Japan centre-back Rion Ishikawa made an unbelievable sliding save to block Henry's follow-up shot from inside the six-yard box, with Noda tracking back quickly enough to get fingers on Henry's attempted square ball for Rankin on the back post.
The Matildas began to assert themselves on the game in the ten or so minutes that followed, using their speed and physical strength in wider areas—particularly with Jamilla Rankin down the left wing. However, her crosses were sub-par and easily cleared by a well-organised Japanese defence.
Japan's second big chance of the match came in the 20th minute after a delightful chipped pass out to right winger Chisato Minowa was missed by Matildas left-back Ilijoski. Minowa took one touch into space in the box and fired, but her shot pinged excruciatingly off the crossbar. Ten minutes later, another curled pass from Japan found its way in behind Australia's defence following a questionable free-kick, and it would have been a certain goal at the back post had goalkeeper Miranda Templeman not rushed out to smother just in time.
Woman-of-the-Match Templeman was at the ready once more in the closing minutes of the half, flying out to block another shot from tricky striker Hanon Nishio, who found space yet again in behind Australia's defence following a clever through-ball. Less than a minute later, some easy one-two passes between Nishio and fellow striker Momoko Nebu sliced through several Matildas defenders around the top of the box, but as Nebu was winding up to shoot, Fenton had charged back and blocked the attempt.
It was much of the same in the second half, though Australia were more resolute in defence and didn't allow as many short slicing passes in behind. Midfielders Paige Zois, Charlize Rule and Hana Lowry continued to struggle moving the ball out from the back as Japan's central midfielders pressed quickly and in numbers to regain possession and flood forward once more. However, Australia were their own worst enemy at times, forcing passes that were easily intercepted and allowing Japan to reach contested balls first on a number of occasions. Hopeful long passes forward were a last-ditch option that rarely paid off.
Japan could have taken the lead in the 52nd minute after Ilijoski was turned inside-out by winger Hamano down the right, but her shot hit the outside netting at the near post. Australia had one of their only second-half forays into Japan's attacking third five minutes later when Ilijoski sent a looping cross into Charlize Rule, who'd made a run from deep in midfield, but her header was sent wide of the far post.
As the humidity and nervous energy of the day started to wear out both sides, the game became more open and frantic. In the 70th minute, substitute winger Jordan Jasnos found enough space in behind Japan's defence down the left side to send a cross across the face of goal, but fellow sub Alanna Jancevski wasn't on her toes to meet the ball at the back post. Less than three minutes later, Templeman made another huge smothering save after Nebu found space in behind Australia's defence once again. Thirty seconds later, Fenton had an opportunity up the other end after Japan's goalkeeper was forced off her line to head a ball away outside the box—the cleared ball fell right to Fenton's feet, but her shot past Noda was tired and easily cleared by a back-tracking defender.
Having made several key challenges throughout the game, Jamila Rankin made the tackle of the game in the 80th minute when Japan substitute Aemu Oyama was all but through on goal after a clever one-two at the top of the box. Oyama was one-on-one with Templeman but Rankin, screaming in from her new position at centre-back, stretched every muscle as she slid in to take the ball out of Oyama's path.
But it was Templeman who won Australia the point in the 89th minute, making another brave smothering save to deny Mahiro Nishigori at the back post, having latched onto a perfect dipping cross from Oyama. Nishigori met the ball easily enough with the side of her foot, attempting to simply re-direct it in at the far post, but Templeman had charged off her line and stayed big to block the shot and force the ball out.
The final minutes were filled with wild, exhausted clearances from the Matildas as they tried desperately to hold onto the draw, with the team screaming in delight on the final whistle.
With the biggest defensive test of Group A now out of the way, Australia can take the lessons they learned against an organised and determined Japan side into the following two games against Thailand and Bangladesh.
Miranda Templeman was thrilled with her team's performance, as well as her own.
"I think the girls just wanted to go in hard. It was a really important game; it was a big draw for us at the beginning of the tournament and I think we just proved to everyone that we can go along with the best of them here," she said.
"I just tried to lead the girls from the back, talking to them, making sure they know what's up. Just putting my body on the line, as everyone was; last ditch tackles every time. I'm so proud of the girls today.
"This is just a stepping-stone for us; this is just [a] sign of bigger and better things to come. I think this proves to everyone that we're a force to be reckoned with here."
Final Score:
Japan: 0
Australia: 0
Teams:
Japan:
Nina Noda (C, GK), Rion Ishikawa,  Manaka Hayashi, Moe Ota, Hanon Nishio, Shinomi Koyama, Chisato Minowa, Maika Hamano, Yuri Ogikubo, Aemu Oyama, Yuko Inose, Momoko Nebu, Mahiro Asayama, Mahiro Nishigori.
Australia:
Miranda Templeman (GK), Kirsty Fenton, Jessika Nash (C), Claudia Mihocic, Jamilla Rankin, Paige Zois, Taneesha Baker, Hana Lowry, Charlize Rule, Emma Ilijoski, Bryleeh Henry, Alanna Jancevski, Jordan Jasnos, Nia Stamatopolous.