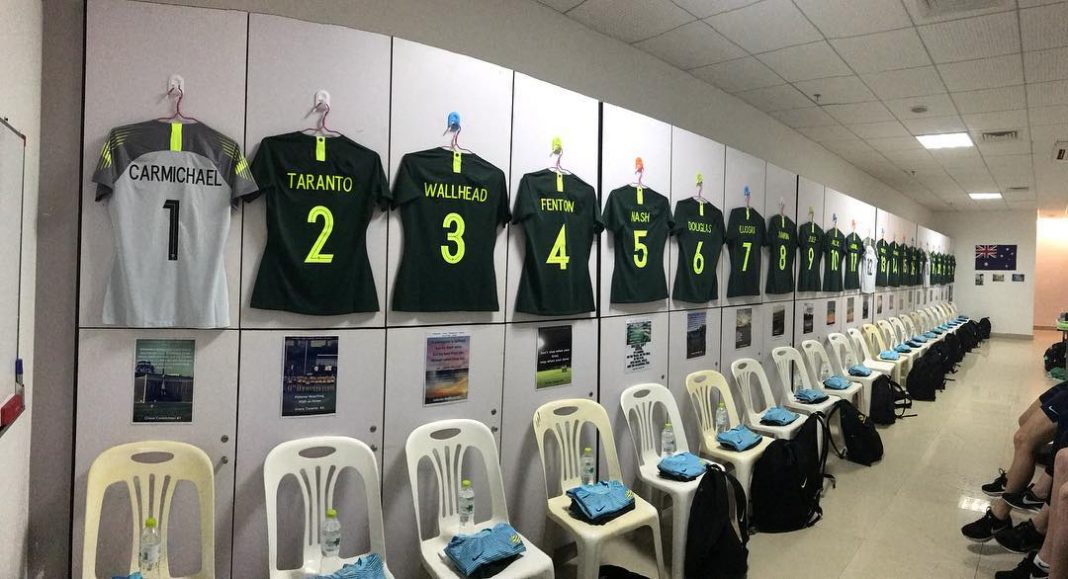 Junior Matildas Head Coach Rae Dower named Australia's 23-player squad for the upcoming 2019 AFC U-16 Women's Championship qualifiers in Vientiane, Laos.
Australia will meet Iran, Vietnam and Laos in Round 2 as they aim to qualify for the 2019 AFC U-16 Women's Championship.
They will need a top 2 finish to progress through to the final tournament later in September this year.
"I'm excited to announce the team for the upcoming round two qualifiers to be held in Laos in early March," Dower said.
"We've seen the players at a hotly-contested training camp recently at the AIS in Canberra, and in an internal match at Valentine Sports Park."
Australia will have a longer build-up to the qualifying with the Junior Matildas set for a training camp on the Gold Coast.  It provides Dower with an opportunity to spend time with the newer members of the squad.
"I'm really looking forward to getting the team together for our upcoming camp in Queensland before we head off to Laos. We'll all be working hard in preparation with our sights firmly set on the Iran match on 3 March," she said.
"We've made a couple of changes since the first phase of qualifying which provides an opportunity to strengthen the depth of this playing cohort, exposing them to international competition.
"Naturally some players will be disappointed, but it's important for the players that missed out to continue to work hard back at their clubs and look to improve themselves so that they're ready to go when the next opportunity arises.
The 2019 AFC U-16 Women's Championship will serve as the qualification process for the 2020 FIFA U-17 Women's World Cup.
---
Junior 
Matildas

 23-Player Squad | 2019 AFC U-16 Women's Championship Qualification – Round Two (Vientiane, Laos)
| | |
| --- | --- |
| Name | Member Federation / Club |
| Emma ILIJOSKI | Capital Football / Canberra United Academy |
| Charlie RULE | Football NSW / FNSW Institute |
| Jessika NASH | Football NSW / FNSW Institute |
| Darcey MALONE | Football NSW / FNSW Institute / Sydney FC |
| Kahli JOHNSON | Football NSW / Manly United Football Club |
| Chloe CARMICHAEL (GK) | Football NSW / Western Sydney Wanderers FC / FNSW Institute |
| Anna HUNT | Football NSW Country / NSW Western Mariners |
| Jordan JASNOS | Football NSW Country / Riverina Rhinos |
| Charlotte FARMER | Football Queensland / Brisbane Roar NTC |
| Georgia BEAUMONT | Football Queensland / Brisbane Roar NTC |
| Jamilla RANKIN | Football Queensland / Brisbane Roar NTC |
| Mia BAILEY (GK) | Football Queensland / Brisbane Roar NTC / JCU Strikers FC |
| Grace TARANTO | Football Victoria / NTC Victoria |
| Paige ZOIS | Football Victoria / NTC Victoria |
| Alana JANCEVSKI | Football Victoria / NTC Victoria |
| Nia STAMATOPOULOS | Football Victoria / NTC Victoria / Melbourne City FC |
| Hana LOWRY | Football West / Perth Glory |
| Isabella WALLHEAD | Football West / Perth Glory |
| Tijan MCKENNA | Football West / Perth Glory / Cockburn City |
| Josie MORLEY | Northern NSW Football / Newcastle Jets Academy |
| Kirsty FENTON | Northern NSW Football / Newcastle Jets Academy |
| Ruby JONES (GK) | Northern NSW Football / Newcastle Jets Academy |
| Teagan DOUGLAS | Northern NSW Football / Newcastle Jets Academy |
Matche Schedule
Australia v IR Iran – 2019 AFC U-16 Women's Championship Qualification (Round 2)
Date: Sunday, 3 March 2019
Venue: New Laos National Stadium, Vientiane, Laos
Kick-off: 3.00pm (local); 7.00pm (AEDT)
Vietnam v Australia – 2019 AFC U-16 Women's Championship Qualification (Round 2)
Date: Tuesday, 5 March 2019
Venue: New Laos National Stadium, Vientiane, Laos
Kick-off: 3.00pm (local); 7.00pm (AEDT)
Australia v Laos – 2019 AFC U-16 Women's Championship Qualification (Round 2)
Date: Thursday, 7 March 2019
Venue: New Laos National Stadium, Vientiane, Laos
Kick-off: 6.30pm (local); 10.30pm (AEDT)