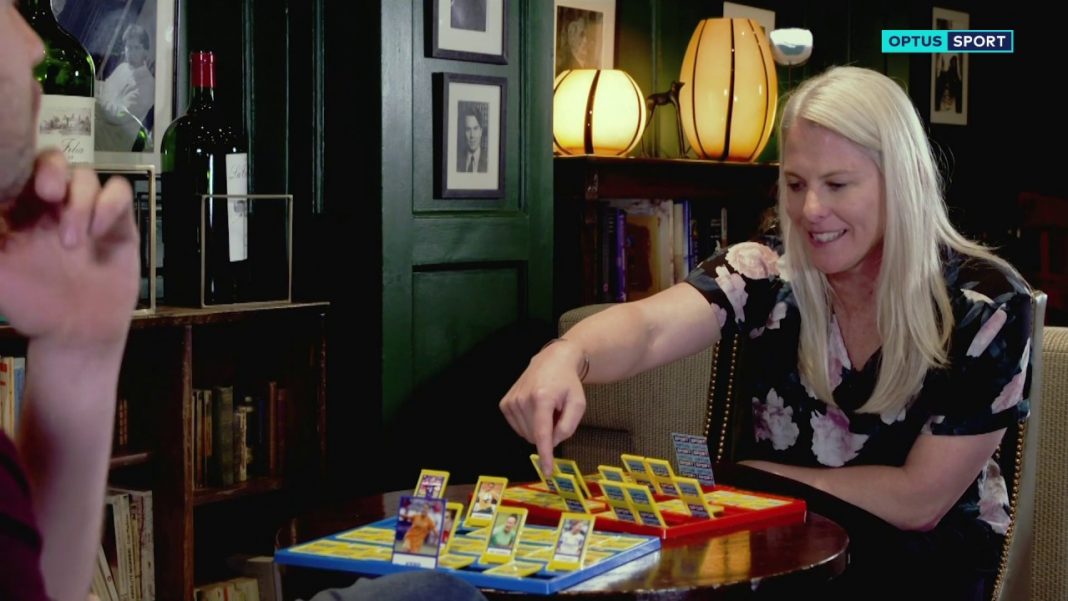 "It's not really about me, because they [the Matildas] all have such interesting stories. That's my main objective for this job. To tell their stories and tell them well," says Alicia Ferguson, describing the underlying belief she brings to covering the FIFA Women's World Cup. Ahead of gracing Australian screens for the tournament as an Optus Sport Expert, the England based former Matilda tells of her journey behind the scenes covering football.
ALICIA FERGUSON'S STORY
The ex-Brisbane Roar star hung up her boots at the end of the Roar's 2009 W-League Grand Final winning season, upon rupturing her cruciate ligament for the second time. Since then Ferguson has boldly accepted many of the opportunities within the game that have come her way.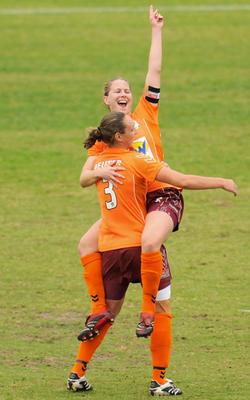 "I thought my pathway was going to be through the coaching avenue when I was back in Australia, because I loved coaching. But that changed when I moved to London. I've been extremely lucky and grateful to end up where I am now," the former footballer talks on the changed trajectory in her post-football career. Starting in the wings of then Brisbane Roar coach Jeff Hopkins, she soon found her way working in media.
Opportunities co-commentating with the ABC provided the initial door opener into the industry. However the game changer would be provided by Matildas great Julie Murray.
"Basically ESPN contacted her [Murray] because it was doing a massive production for the Women's World Cup in Germany [2011]," begins the Optus Sport Expert.
"Julie said she wasn't really keen to do it… but [said] you should contact Eesh, suggesting me off the back of the co-commentator stuff with the ABC."
One YouTube highlights reel later, Ferguson got the phone call to work on the American production. It was here she met her now husband Steven, an Englishman. Making the move to England in 2011, the former Matilda shifted her focus to off camera ventures, working as a producer.
Spending time at BT Sports, Pits International and more recently as a freelancer, Ferguson has produced an impressive array of content covering both men's and women's football.
Before heading to the Matildas pre-season camp in Turkey with Optus, Ferguson worked as a producer of Women's Football World for Channel Four in the UK. Hosted by highly-esteemed UK presenter Clare Balding, the show ran for six episodes, and has the potential to extend post-World Cup. The production covers the women's game in Italy, USA, France, Sweden, Norway and England, with the hope to expand further to places such as Brazil and Australia.
"I don't think it could have happened without my contacts within the game, and obviously my knowledge of the players, the storylines and stuff like that," the ex-footballer admits honestly, when speaking on the tight deadline the show was given (two weeks pre-production).
TELLING THE MATILDAS STORY
At the core of Ferguson's work is a hunger to be a good ambassador for the game and to genuinely give back to the sport. This is evidenced through her approach in covering football broadly, as well as directly in the next month with the Matildas.
https://www.instagram.com/p/ByH3APrAOGe/
"So I think my biggest point of difference is the fact that I can ask footballer questions to footballers," Ferguson speaks of the personal, tangible connection she has with the Matildas and how that is reflected in her ability to cover the Women's World Cup.
"I understand what footballing questions I can ask them and to probe a little bit deeper rather than skimming the surface. I don't think just another broadcaster would be able to know that information. I think they trust me, and that I'm here to support them.
"I want to tell their stories."
Capped 66 times for her country, Ferguson goes on to praise the current Matildas ahead of the tournament.
"The biggest compliment that all of us former Matildas can pay to these players is that a lot of them are making the journey to France to come and support this team, because we're all really thrilled and excited.
"We're kind of getting away a little bit from that underdog tag. I think we found that more comfortable, being underdogs," Ferguson admits, comparing the past with the present.
"That mentality that no matter what happens, you're going to win. Then if you don't win, nothing changes. You just go 'right, that's out of the way. Next game we're going to win.'
"I think we're definitely on the right pathway to having that."
THE OPTUS STORY
For the first time ever, every single Women's World Cup match will be covered and accessible. It's a massive statement from Optus Sport. In addition, they are providing a host of well regarded pundits of the game, with women front and centre.
"It's a fantastic array of experience, knowledge and characters as well," Ferguson says, speaking on the cast to take Australia through the competition.
"I think this whole Cup is such an exciting tournament. It's going to be the biggest and the best World Cup that we've ever seen for women. I'm just really glad that people in Australia have the opportunity to watch every game live and get some expert analysis on it.
"I think it just shows how the game has grown in the last four years, someone like Optus wanting to invest in covering this and doing it well," said Ferguson, pointing out how Optus Sport sending her to Turkey during the Matildas pre-tournament camp signals their intentions towards the tournament.
"Things like that, I think that is a massive turning point [in the coverage of women's football]."
VISIBILITY OF WOMEN'S FOOTBALL
With an increase in media getting on board, the visibility of women's football and the stories surrounding the game have never been more accessible.
"It's all about visibility. Getting those young girls to watch their role models and pick out players they want to grow up to be. That's happening a lot more now. It's phenomenal," Ferguson speaks of the reality visibility is bringing.
"Now I'm seeing young girls with player's names on the back of their jerseys, even young boys, brilliant!"
With one final thoughtful reflection on the outlook of this month's Women's World Cup, Ferguson states:
"I think it's one of those seminal years. I think the '99 World Cup was a massive turning point for the game. I know that's like 20 years ago now. But I think this year is another one of those points in time that we're going to look back and go, 'yep, that's when we took another step forward'."
Optus Sport's coverage of the FIFA Women's World Cup is available to Australian school kids at no cost. Simply visit an Optus store to redeem. For more information, click here. Optus Sport is the only place to watch all 52 matches of the FIFA Women's World Cup live and on-demand.