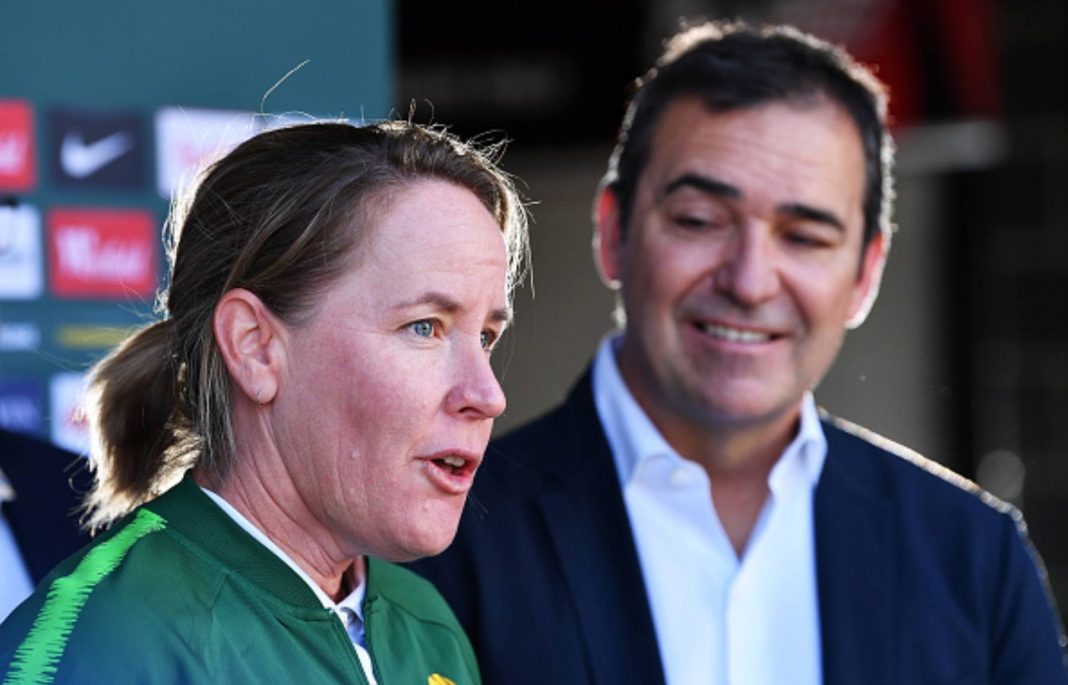 In the second part of a series of conversations with Mel Andreatta, we get an update on her role at the Brisbane Strikers, as well as insights into the evolution of the game in Asia and what it means to football in Australia.
---
It's early days for Mel Andreatta in her role as the Brisbane Strikers U16 and U18 coach, but already it has been a positive and welcoming experience for the Matildas Assistant coach and ex-Head Coach of Brisbane Roar W-League.
"I have been on the grass for the last three weeks, working really closely with all the Strikers staff on the club direction and vision," Andreatta said.
"We started with three workshops for all staff where Nacho [Ferrer, Brisbane Strikers Technical Director], the Academy Director, high-performance staff members, and club sports psychologists told staff about the key areas of the club and how they work to support the players to help the players perform.
"It was really awesome to have that professional development and insight into what the Strikers have done, the direction they want to take and how we 'new' staff members can help them turn that vision into reality."
With eyes wide open, Andreatta also sees the parallels and opportunities with her Matildas role.
"With National teams, there is so much more investment, financial and resourcing. There's a multidisciplinary approach as you work your way through the system of football," she said.
"The NPL doesn't have the same level of investment and so you have to use what you have pretty wisely to support staff and players as best as you can.
"I think the Strikers have found a really a good way of balancing that, being able to access an array of different experts to give Strikers players the best chance of performing at a high level."
The goals and success criteria are clear: how many Strikers they can export to top academies domestically, such as A-League clubs, but also internationally. 
"The Strikers have partnered with Chinese investors, so we're looking into Asia and I think that's a really important partnership Australian football needs to have."
Ultimately Andreatta estimates it will provide more opportunities for Australian players to play more football at high levels, whether that's through players coming from Asia to play in the A-League or vice versa. Beyond that, it's also an opportunity for Australian coaches to be exposed to the broader game.
"As coaches, we need to be leaders, teachers and students [of the game]. It's not one or the other. The minute you stop, you're behind the ball and not evolving with the game," she explained.
"The idea with the Strikers, for instance, is this partnership is not only to give Strikers players more opportunity in Asia but also for coaches. I'm certainly excited about that, being someone who wants to keep evolving and learning through the game, so I definitely think there's a lot to learn from the AFC."
Andreatta quotes the success of Japan, Korea Republic and DPR Korea on the world stage at youth level in particular, clearly highlighted by the recent AFC U-19 Women's championship results where Japan defeated the Young Matildas 7-0 in the Semi-Final and Korea Republic then went on to record a 9-1 victory against the Young Matildas in the third-place playoff.
Andreatta's passion to use all of the learning opportunities around her to develop and grow has been noticed, with at least two overseas clubs noting their interest in Andreatta's skills to help continue the growth and success of their clubs.
"It's only early days and with my manager, I will look at whatever is on the table but it has got to be the right opportunity for me. I am with the Strikers and feel this is the right environment for me."
Until then, Andreatta is relishing the Strikers role and notes both similarities and differences between the Strikers role, and that with coaching women at Roar and the Matildas.
Solid week in ⚽️ training with @TheMatildas ✅ pic.twitter.com/8UQI0noEV2

— Mel Andreatta (@MelAndreatta) October 8, 2019
"Whether it's a new club or a new team there's always going to be differences. You know, I've certainly found the common theme that hasn't changed is this willingness to work and a commitment to being better," Andreatta said.
"These young men that I'm getting to know, they are just such hard workers and so committed to being better. It has been excellent. 
"For me, it's about understanding what they really enjoy and what works for them in a high-performance environment.
"On the grass, the biggest difference week in week out is the speed of the game. They're so quick.
"The game is played at such a pace, it's exactly what I hoped for. That real speed of play that you get at W-League level and beyond, I am being exposed to each session and game.
"It has been excellent for me as a coach to help identify problems and solutions at a quicker speed and then implementing the Strikers training methodology has been awesome.
"There are some similarities to my own method, but there have been some clear differences as well. Taking from Nacho's experiences in Spain and adapting them to mine, that has been an excellent coaching development for me. It has been a good start and I'm excited about preseason next year."
Andreatta also reflects that she has felt warmly welcomed into the Strikers environment, with no gender-based obstacles in sight and football is seen as just football.
"I'm blessed in Brisbane, people are pretty familiar with me. I've coached at various high schools so there are a few boys in the squad who were formerly at the high school I taught at so perhaps that helps, but I haven't sensed any barriers or resistance. The boys all shake my hand and want to work hard," she said.
"I genuinely feel that these young men know they're getting professional support from experienced coaches who want the best for them and they're coming to training to work hard, to learn and to get better, and I don't feel any different working with this team and this group of young men than I did with the Brisbane Roar W-League side. I feel respected and supported and they have my respect and support."
The Strikers coach is adamant that sharing and opening doors is integral to learning and development, and notes her own experiences with Queensland and FFA.
"I was one of the fortunate coaches on the Female Mentor Coach program with FFA. For two years that was a great program but it sort of stopped when the funding stopped," Andreatta stated.
"Here in Queensland, we've identified that a number of females start their advanced coaching licenses but then don't complete it because of various reasons – the assessments are difficult, they're not coaching, the filming. So we started a program this month where we invited all of the coaches to the girls QAS training sessions, just opening the doors.
Supporting more @FootballQLD @QldAcademySport ⚽️ coaches to progress through @FFA_Coaching licences. Commitment to being better through shared Professional development experiences. pic.twitter.com/RhvLxpKk3o

— Mel Andreatta (@MelAndreatta) October 26, 2019
"I think we really need to bring down the walls in football and just share what we're doing, and having a united approach in supporting Australian footballers to be the best they can be and to do that, everyone has to share their knowledge and experiences so that it pushes us all to be better.
"If you're stuck in a silo, you're not challenged to improve or it's easy to just keep doing what you have always done.
"By opening the doors and bringing the walls down, the coaches have seen it's not so scary, it's not too different to what they're doing and there are things that can be added to what is being done to make their practice even better.
"It's probably really helping their confidence, essentially that they've got something to give to the game and they're worth the investment."
While Andreatta is busy with the Matildas and the Strikers, there hasn't been much time to evaluate Brisbane Roar's W-League chances, other than to note some key players in the squad.
"There have been some great signings and re-signings that have been executed. They're looking like a contender for the finals this W-League season," she said.
"I think it will be another exciting season for Brisbane Roar, but I think it's definitely going to be a really competitive one again. I mean, look at Western Sydney. What a list. Wow!"
With the W-League entering its twelfth season, staying relevant and competitive is a critical goal to the ongoing success of the league. Matildas such as Sam Kerr and Emily Gielnik have made the switch for experience and money, and Andreatta sees the same equation for W-League coaches in the future.
"Twelve to fourteen games a season isn't enough for Australian coaches to continue developing and growing. So whether that's going to take more W-League coaches over to Europe or to the US or NPL and different domestic leagues I'm not sure," she explained.
"But, I hope when the W-League Working Group information is more solid, that there are definitely changes to our W-League to provide more opportunities for success for all involved.
"I think it's important to spend time together but also continue to build depth in the squad, ready for those qualifiers."
Read Part 1 – The Clear Goals of Mel Andreatta