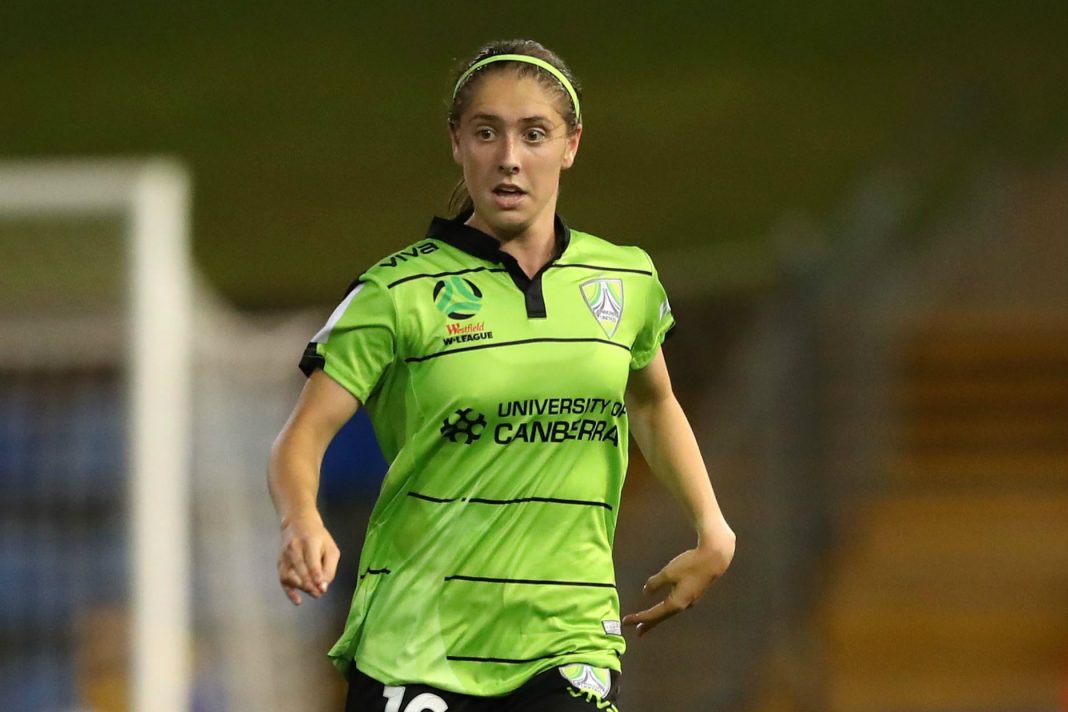 For some W-League fans, there was a single moment when they knew that Karly Roestbakken was ready for the big time.
It wasn't a moment as significant as taking the field for the first time for her national team – at a World Cup mind you – something she had dreamed of since first pulling on the boots at age 10.
90+4' It's a @FIFAWWC debut for Karly Roestbakken!#AUSBRA #FIFAWWC pic.twitter.com/Ho71JUSIe3

— Westfield Matildas (@TheMatildas) June 13, 2019
It wasn't even nearly as significant as Roestbakken being in the starting lineup for the national team for the first time, just days later at the same tournament, or when she led the Young Matildas at the AFC Women's U-19 Championship in October 2019, or when she was named as co-captain for the season 2019-20 Canberra United side – all moments that make a Canberra football fan's heart beat with pride.
It was a moment that occurred on her 18th birthday in the last Canberra United home game of season 2018-19, just prior to her World Cup call-up, that was in its own way just as important: in a scene that had been repeated all season on the way to Melbourne Victory becoming Premiers, Victory and Matildas winger Emily Gielnik – who had taken all before her in that campaign – was poised to sprint past her defender with the ball and fire in another devastating cross.
Except this time, she looked up and saw that it was Karly Roestbakken in front of her, body angled to invite the attacker down the line, as defenders are taught to do. You could almost see the flicker of doubt crossing Gielnik's mind – "I'm just not going to win this contest" – as she decided to instead turn around and play the ball back, while this writer sat quietly in the crowd doing a mental fist pump.
It was only a small moment – a flicker in time – but one that showed that Roestbakken had the respect not only of her W-League team-mates and home crowd, but also of her soon-to-be fellow Matildas; a sign that she could mix it with the best, and of great things to come.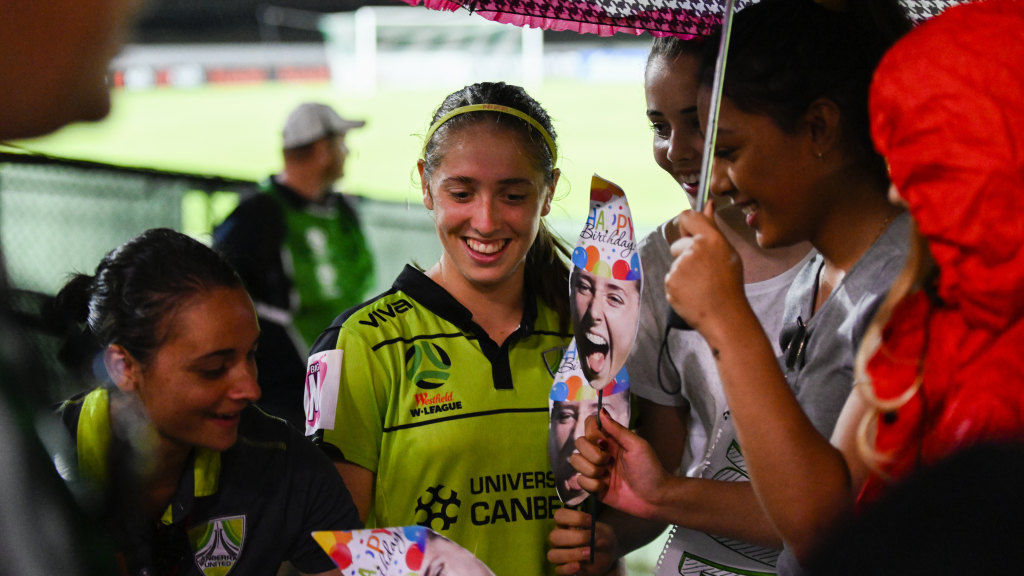 In conversation it is quickly apparent that Roestbakken is well balanced and measured; highly motivated and determined, yet easy-going; without ego, yet confident. She has worked hard to get where she is, but is under no illusion that there is still a lot to learn and much to do to keep her foothold in the oh-so-competitive Matildas squad. She is grateful for the experiences she has worked hard to achieve to be in, and displays a willingness to take on board what is on offer from coaches and from more senior players around her.
It's no doubt these qualities endeared her to her national team teammates – such as Matildas defender Alanna Kennedy – and coaches – Gary van Egmond included – alike.
Early days
Roestbakken first pulled on the boots for the Monaro Panthers juniors at age 10, but was identified early on for representative honours.
"I was there for … two years with the girls and then one with the boys before I went to Canberra United Academy," Karly said.
"When I was with the boys I [was also with] a rep team; we trained and prepared for Nationals. I really enjoyed playing in the boys' premier league. I was full time with Capital Football [Academy] at 13 and did that till age 17. In 2016 I went to Vietnam with the U17s Australian team and came back, and was then signed to Canberra United with [coach] Rae [Dower]".
Meet the two newest squad members for @CanberraUnited 15 year olds Karly Roestbakken & Laura Hughes. #WINNews6pm pic.twitter.com/pgpwAmHqj7

— Caitlyn Chalmers (@caitlynchalmers) October 13, 2016
Best friend Laura Hughes has been with her for much of the way.
"We actually knew each other when we were three because we had mutual friends. People who lived right behind me were friends with Laura's family so we … became friends with them. They ended up moving so we lost touch, and then when I was 13 with the [Canberra United] Academy she came to trial and that's how we reconnected… and ever since then we've gone for every team together".
In just her second W-League game at age 15, Roestbakken became the first player to score a winning goal against then W-League pacesetters Melbourne City in City's second season in 2016/17.
Parents Jack and Lisa have not only been immeasurable in their support of both her and brother Sam's sporting goals through the years, but have also passed on some good genes.
"I always did athletics and cross-country in school. I went through all the stages of that every year, and at times I'd make it to Nationals but wouldn't go because of soccer [commitments]. But I think it's also my genes from my Dad and my Mum. My Dad played soccer when he was younger, and my Mum was a tennis player".
When asked about her willingness to do the hard yards; her drive; and whether she is a serious person, Roestbakken laughs: "I don't think I'm serious at all! I'm pretty laid back and just go with the flow. But with sport, with football especially it's very serious to me. It's also very fun, I sometimes just relax and have a bit of fun with it. Football is a big go with me."
"There's two sides to me: when I have a passion for something and I want to achieve something great, I will put my head down and do it for something I absolutely love. I want to achieve something great, and I want to play at the highest level."
"I set that bar when I was young when I first started. And so that's where I got a love for and a passion for the game – that's where I get most of my drive from – from when I was younger, and I [still] want to achieve that."
2018: Two turning points in a year of growth
2018 is the year where Roestbakken made major advances in her game. With her first full W-League season under her belt, she took on the captaincy of the Canberra United Academy NPLW team and moved to a central defensive midfield role which allowed her greater freedom and a higher degree of influence on games. For spectators at these games, the transformation – and step up into a leadership role – was breathtaking.
In the middle of that NPLW campaign, Roestbakken travelled with the Young Matildas to Indonesia to contest the 2018 ASEAN Football Federation (AFF) Women's Championship, and this also had a marked impact on her.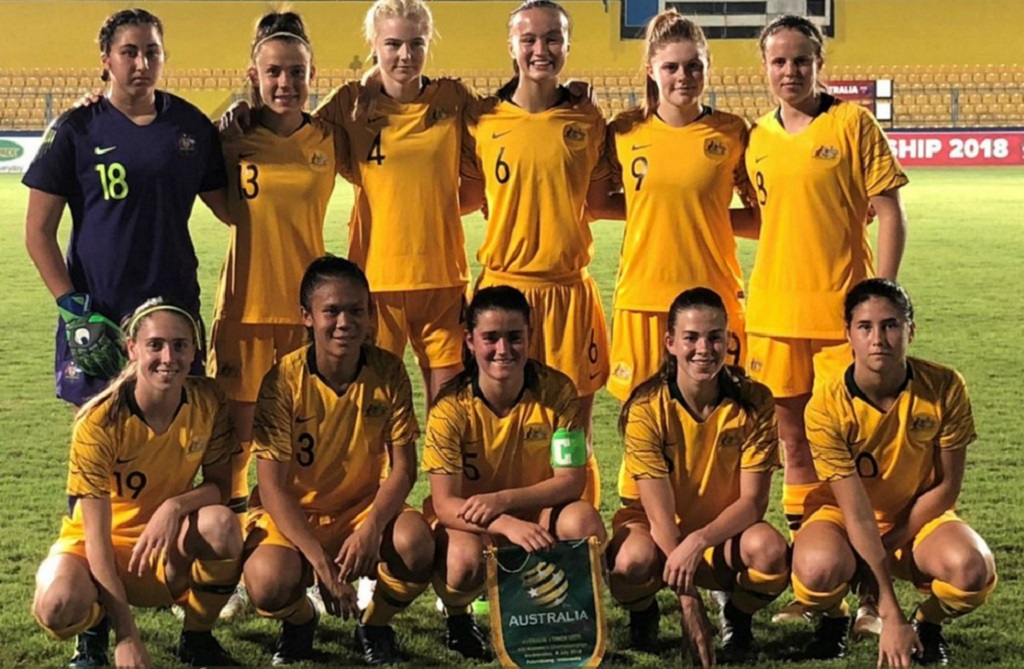 "Yes, that NPL season in Canberra, I think that did help me because I was a bit more relaxed, I could … have more freedom."
"On the park I could take control – not in a cocky way – but I could play in a free role. You know, I think I let loose when I was there. I think that did open up different sides to me".
"But I also think that the trips with Young Matildas – I did a trip with the AFF tournament with Alex Chidiac, Cortnee Vine and Larissa Crummer and others – I pick that as a good moment because I was playing with older players and I really had to step up in that scenario.
"I think that was a huge point for me as well, as well as coming into the last [2018/19] W-League season. I came in a bit nervous, but coming off [that NPL season] I thought 'it's football, I'm just going to play and have fun', and I referred back to the NPL season I had. So I do kind of look at it that way – 'hey, I can play like how I did in the NPL season'. I picture moments from it, and just have fun, let loose. So I think it did help me, but also with the balance of [the] Young Matildas [experience]".
Lifting the lid on the Future Matildas programme
The Future Matildas programme was established in 2018 but is an unknown quantity to many fans. Roestbakken was able to outline how the programme operates from her experience there in 2019.
"There were only about eight people who were full time [while I was there] and then there were another 8 to 10 who were there part-time – they trained, but they played with a club," she said.
"Those of us who were full time played against the TSP boys (Football NSW's Talent Support Program) on Sundays. We'd have maybe two field sessions on Tuesdays and Fridays and then a gym session as well. And then [we had] one on Wednesday, one Saturday morning, and then play Sunday.
"They were good at managing it; we always had the day off after the game and then normally the Thursday we'd have off as well."
Taking the field in the first home game of the current W-League season, Roestbakken looked so much stronger than the previous season that it took some members of the Canberra United crowd a few moments to recognise her.
"We had a nutritionist with us who we could contact at any time and she could help with your meals and [the like]. But it was also the training load; gym, but also the training field sessions that went with it. You need the training to balance the gym, to even it out. Having the two sessions on the same day helped me put on the muscle. And then also because I was training so much I was eating a lot more."
Interstate based players stay with a host family, and Roestbakken believes her time in Sydney with the programme has changed her both physically and mentally.
"Some people have said I have matured a lot. Being away from home has definitely taught me a lot. My parents [say] I am quite independent. I loved being away from home, in Sydney, although I did I miss my family and I did miss my home of course. But no, I think I have definitely grown as a person."
Reflecting on the 2019 AFC U-19 Women's Championship
October 2019 saw the Young Matildas contesting the AFC U-19 Women's Championship in Thailand, and Roestbakken had the honour of leading the side. Filled with W-League talent, Leah Blayney's team were looking to improve on their 2017 Championship result of fourth place in order to guarantee qualification for the U-20 World Cup in Nigeria in 2020.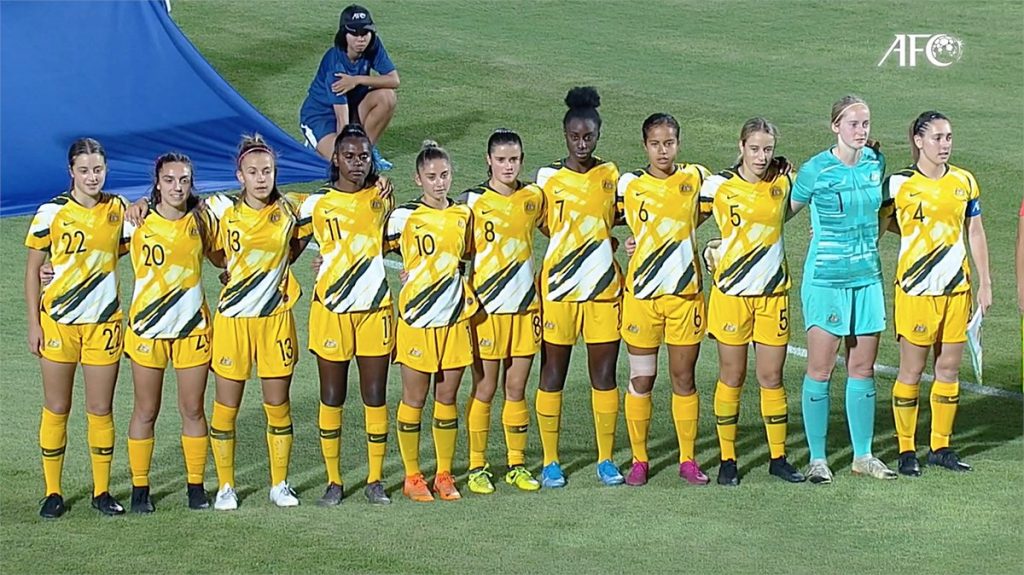 While the squad missed out on qualifying for the Under 20 World Cup finals in losing the third place playoff game against the Korean Republic (and thereby replicating the 2017 result), Roestbakken's efforts during 2019 were recognised by the Asian Football Confederation when she was one of three nominations for AFC youth player of the year.
Nominees for AFC Youth Player of the Year (Women)

🇦🇺 Karly Roestbakken
🇨🇳 Wang Linlin
🇯🇵 Jun Endo#AFCAwards2019 pic.twitter.com/3zqHD0FWe9

— AFC (@theafcdotcom) November 16, 2019
The championship saw Roestbakken adopting a different role in central defence.
"I really enjoyed playing centre-back. I think it's helped me out a lot as a player – you need to be a bit more disciplined, smart, and you need to just play the ball. Playing centre taught me a lot, you have to be aware you're the last line of defence before the keeper. So you have to think a lot earlier, be one step ahead. Once it gets past the defensive line, it really counts. [I also like that] you can see the whole field as well. It was really fun."
Asked why the team didn't do well in the last couple of crucial games in the tournament given the talent in the squad, even if the opponents were ranked highly in the world, Roestbakken mused about the squad's preparation for the tournament and its inability to put it all together when it mattered most.
"It's a big learning curve. You can definitely see that we are far behind countries like Japan and North Korea. To be fair, North Korea could have been a much closer game. I think we were capable of beating them or at least pulling out a draw, or a closer game. Even South Korea – even though it was a really big score, we had a really good team and something just didn't… we weren't switched on, we kind of fell through the cracks a bit."
"I think it's been hard though because we don't have much preparation. I mean, we have the Future Matildas program, which kind of coincides with Young Matildas, but it's still not the same."
"Japan, they played over 20 international games for this tournament. We
played against Sydney FC virtually the day before we flew out. And that's nothing to do with the coach, it's just … how can we match them if we don't have the same preparation?"
"And we did have the team – we had a fantastic team – we didn't put it [our best display] on the park and we didn't win."
Laura Brock and transitioning into the Women's World Cup squad
"When I first went over to France, Laura Alleway was a huge [support] to me and she took me under her wing, even though that unfortunately, things didn't go her way.
"She was always there for me, even back in Australia when we were training [as] the Australian based Matildas who were there preparing for the World Cup. She was looking out for me there so I think she … really, really helped me to transition in."
"I owe her everything for that … unfortunately it didn't go her way because she is a great player and I really wanted to see her out on the park there, but I wore that number 5 for her and I really just hope I did her proud."
Brock (Alleway) spoke about Roestbakken and the impression that the new squad member left on the injured defender in June 2019.
Co-captaining Canberra United with Nikola Orgill
"I'm loving [co-captaining with Nikola Orgill]. I'm really good friends with her; it's great being a co-captain with one of your best mates.
"Obviously it's a role that I still need to learn [more] of. I still have a long way to go leading and with leadership roles. That's why I think Nik is a really good person [to be co-captain]. Everyone in this team is a leader and so I can learn off all the older players as well. I think that's what's the most enjoyable about it; it's not like it's just me, I think everyone here is a leader and and I think everyone really helps me do that, especially Nik".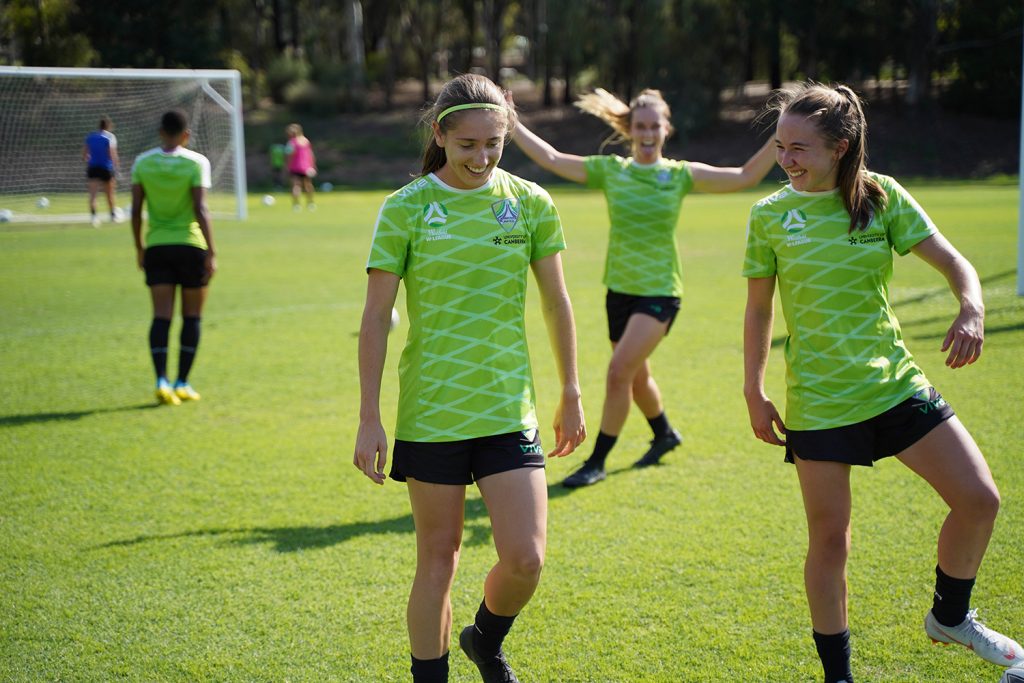 Roestbakken says each co-captain brings something different to the role.
"I think I'm a bit more behind the scenes if I'm being honest. Heather [Garriock] will come to both of us but Nik's more the person that will speak out a bit more.
"If anyone wants to come talk to me I think I'm quite approachable. If anyone has any issues, … they can come and speak to me and I can translate that to Heather. And I also want to be a voice that Heather can come through as well. Kind of being there for the players; and if something isn't right, they can come to me and they can be honest with me."
Where to next – the Matildas, the W-League, and the future
As keen as she is to retain her footing in the Matildas team, Roestbakken is under no illusion regarding the task ahead of her.
"I really want to be in the team from now, and … keep my spot in there. It's hard getting there but it's hard keeping your spot there, as many Matildas said to me. Ellie [Carpenter] is in there at right back and she's killing it at the moment, and you've got Steph [Catley] at left back who's an unbelievable player as well. So I think I'm just going to try every time I go in there … to learn as much as I can off all the players.
"Every player who might be in my position might have something to offer me so I'm going to try being kind of a sponge and just try to learn as much as I can, and then hopefully progress as the years go on. Obviously I'm going to try and fight for a spot but I think at the moment I need to gain a bit more experience off the players."
Which way the W-League should turn – a longer season to grow the league and to benefit our domestic players in the light of the rise of the European women's leagues, versus the benefits of having US imports in the league – is a tricky question for anyone, but has been uppermost in Roestbakken's thoughts lately as she plans for her own playing future.
"[The W-League] needs to go to full home and away. The season is way too short. We play [some] teams once and then we play other teams twice. And it's a good season, but it has to be longer to really be fair … you really have to be [firing] from the get go in the W-League. From the first game you have to be switched on and you have to be winning; and sometimes it takes teams a few games to settle in, and you can't do that in the W-League.
"So it really has to go to [full] home and away. But there's an argument as well that if you go to [full] home and away, you don't get many internationals, so [it would] have to be pretty much all Australian based players. And I think that can be done, but it's just whether or not they want internationals in there or not.
"It's tough because … internationals boost the league and I think without them the competitiveness may not be there and the standards may not be there. But I'm a bit torn because then you also want a [full] home and away and it will be good for the youngsters coming up. It will probably boost the national team and give more selection variety for that.
"I don't know what to say because I'm someone who really wants to go to Europe and play over there. I've been speaking to the Matildas coaches, and they think I shouldn't stay in Australia. So I am looking to going overseas, and we'll see what happens"
Whichever way Roestbakken turns, we – and especially those Canberra-based fans who have proudly watched her rise from junior ranks to national team selection, the World Cup, and even the forthcoming Tokyo 2020 Olympics qualification – cannot wait to see where the game takes her next.