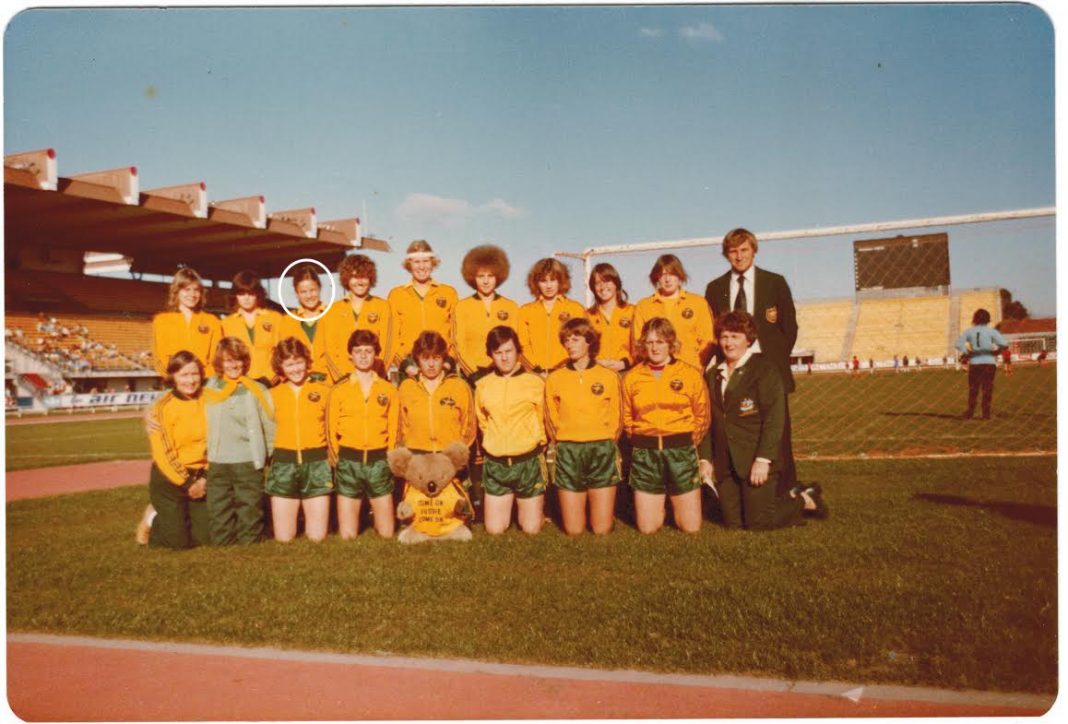 Jamie and I met playing Australian Rules football in Sydney for the Sydney University team in the inaugural Sydney Women's AFL competition in 2000. Both of us fairly (fiercely) competitive, we found ourselves playing up front and feeding each other plenty of assists, passes, and shepherds. Along with our pal Trinette Bagnall, we also scored plenty of goals. There's something about the physical protection you provide for your team-mates in AFL that particularly bonds players, and those bonds stick. After a narrow loss to Western Suburbs in double-extra time in the first grand final of the Sydney Women's AFL, then a premiership in the second season, the Sydney University team was busting at the seams, and it was then Jamie decided to establish a new football club in the heart of Newtown. She reached out to her closest pals, and we committed to her and the team, and went on to form the Newtown Breakaways. But that's another story…
Half a life-time before that, Jamie Rosman (Robertson) was part of the first team to ever play an officially recognized international women's football match. While her rise to the national team was neither deliberate or expected by her, it epitomizes Jamie Robertson's subsequent success in business, AFL, and more recently the fast growing game of Pickleball.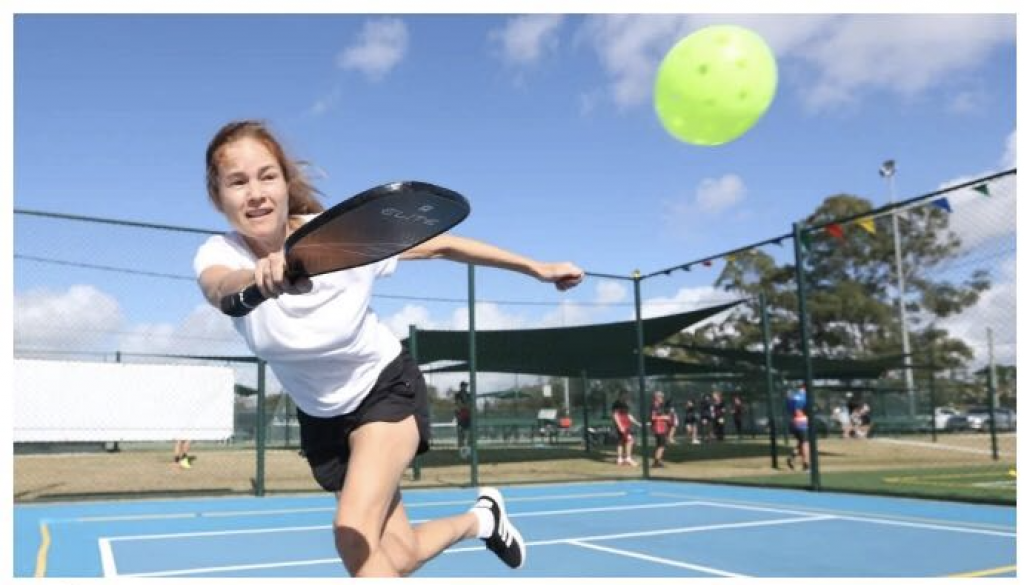 So who was Jamie Rosman, 79-er?
"As a 15 year old growing up in the 70s in the Sutherland Shire, soccer was an outlet that became more than just a weekend sport. If I had a challenging time at school or personally, soccer gave me the opportunity to smash the teenage angst and negatives out of my system, have a laugh, to achieve and to form strong friendships with team players. The unrestraint and physical exertion of soccer was pure therapy for the Puberty Blues era! 
"It was a relatively new sport in 1978 for girls, and obviously easier to make selection to represent at the various levels, and it was only a few years after playing, I was invited to attend a training camp with Jim Selby, Tom Petrov and Trixie Tagg. This took my skills to a higher level, and importantly began to learn the methods and strategies of playing football. I couldn't get enough of it – if only we had had youtube then!"
"Playing comfortably and with assurance at club and rep level, my confidence was tested when selected to play for NSW in the Darwin championships in August 1979 and then subsequently in the Australian team two months later. Most of the other girls had known each other and were in their late teens or early twenties, while I was still at school and a relative newbie.  
"I was elated to be selected for both teams, but the pressure – especially as right  back (don't let the goals in!) – was immense. I was a little intimidated, and desperately didn't want to let the team nor the coach, Jim Selby down. I valued his belief in my playing that position and that psychologically lifted me enormously. I was also lucky to form a few friendships – especially with Sharon Mateljan from WA, who was incredibly supportive and just an all-round nice guy who put me at ease." 
"Playing our first game at Seymour Shaw park was thrilling, as it was the first time we played in front of a significant crowd and I was very proud and excited to have my family there to watch. It was also exciting and a privilege to be playing along side the likes of players such as Cindy Heydon, Julie Dolan, Rose van Bruinessen etc.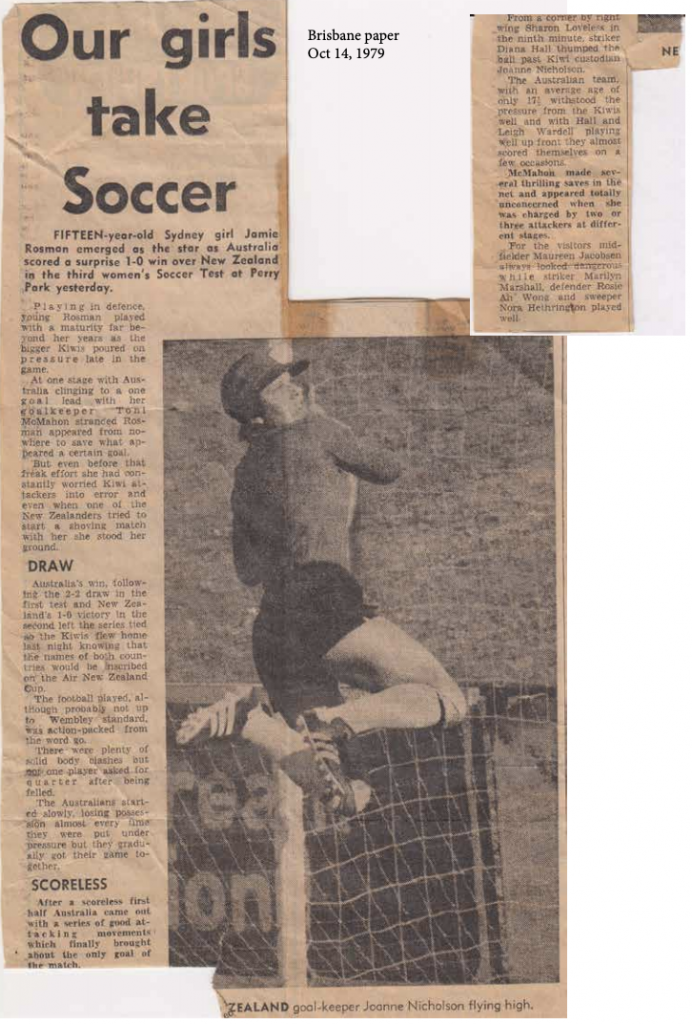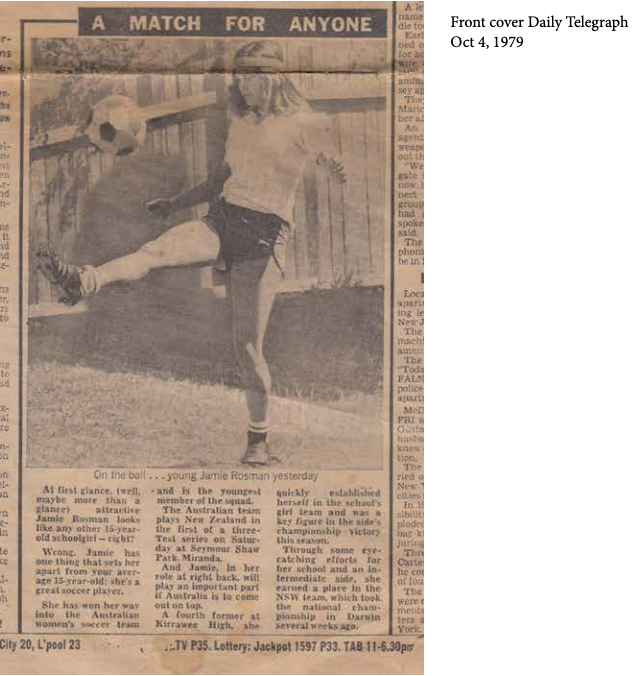 "Another highlight was the third game of the series against the Kiwis in Brisbane – being able to stop a dead certain goal, while Toni [McMahon] our keeper had been drawn off the goal line and out of the line of fire. It was at that moment, I felt I had earned my passage. We won that game 1-0 and I felt I had a positive impact in that game."
We can all look back at the astounding achievements of the 79ers, and most of us can only imagine the pride and elation of being part of a national team. But there were hard times too. 
"Because I was the youngest in the team, I probably gained more than my fair share of media attention (including a picture and article on the front page of the Telegraph – a then popular Sydney newspaper), and on reflection, it added to the pressure I already felt.
"I only played with the Australian team the next year when we toured NZ, as I decided to focus on school, however have played soccer intermittently and love every chance I get to kick a ball.
"After soccer, I went on to co-found the most successful Sydney women's AFL team to date – the Newtown Breakaways – both playing, but mainly coaching, taking most of the techniques and strategies – straight from the game of soccer!"
I must admit, when Jamie mentioned, quietly and humbly, that she had played for the Australian women's soccer team when she was a teenager, I checked the record books. That name just wasn't familiar to me. As a former administrator in the Australian Women's Soccer Association's head office, I felt I knew those records pretty well. But Jamie had changed her surname from Rosman in the intervening years. Neither of us knew the significance of that match until this year. 
"I had no idea that match we played at Seymour Shaw was the first officially recognised international match. When I think of the Australian team, I see myself as a bit player. I was pleased to part of it, but I'm under no illusion I was a star."
Jamie Rosman (Robertson), you are a star. As a pioneer of both women's football and AFL in this country, we salute and thank you.
---
For more information about Jamie Rosman, head to The Grassroots Football Project.