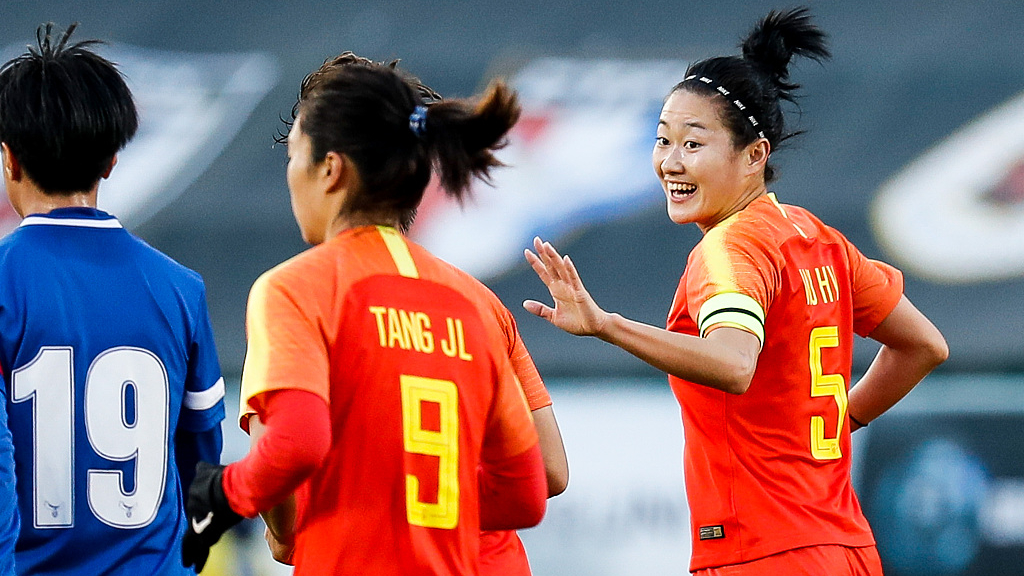 For some teams, the road to Tokyo 2020 has been a long and winding one; for others, a steep sprint will guarantee their place at this year's Olympic Games. From here, just five matches stand between these teams and their tickets to Tokyo, where they'll etch their names forever among their nations' proudest Olympians.
Beyond 90 takes a look at the Matildas' opponents as they fight to compete for Olympic glory.
CHINA PR (CHN)
"Always the bridesmaid, never the bride" – during the glory days of Chinese football, no phrase rang truer than this, as China PR came within moments of global success year after year. The true superpower of Asian football through the late 1980s and into the 1990s, the Steel Roses dominated what would become the AFC Asian Women's Cup, winning every edition for more than a decade. FIFA tournaments were no different, with China PR consistently ranking among the world's elite, finishing fourth in the 1988 International Women's Tournament – the precursor to the current Women's World Cup – before making the quarter-finals of the inaugural championships in 1991. The late 1990s brought more success for the team, with genuine global superstar Sun Wen – winner of both the Golden Boot and Golden Ball at the 1999 Women's World Cup, and scorer of a ridiculous 106 goals in 163 international matches – leading them to a fourth-place finish in 1995 and silver medal in 1999, as well as a silver medal at the 1996 Olympics in Atlanta.
Since the glory days of players like Sun, Han Duan, and Pu Wei however, China have struggled to compete consistently with stronger Asian nations such as Japan, Australia, and DPR Korea. Having failed to finish better than third at an AFC Asian Women's Cup tournament since 2008, China PR's best major international tournament result was finishing runners-up to Japan at the 2018 Asian Games, and making the quarter-finals at the 2015 Women's World Cup.
The past 12 months have been no different for the Steel Roses; despite conceding just 14 goals in 2019, China PR finished the year with a middling 7-4-6 record, losing the 11th-placed playoff at the Algarve Cup and being knocked out in the Round of 16 at the Women's World Cup. Even with the excellence of Wang Shuang and Wang Shanshan in attack, Jia Xiuquan's side has consistently struggled to find the net against quality opponents – a fact that will not go unnoticed by Ante Miličić and his staff as they prepare the Matildas' for their upcoming encounter.
Coach:
Jia Xiuquan
Captain:
Wu Haiyan
Ranking:
16
Best Olympics result:
Silver medal (Atlanta 1996)
Last 5 Matches:
WLDDW
3 Key Players:
Liu Shanshan:

Since making her senior international debut in 2012, Liu has cemented herself as a mainstay of the Steel Roses' defence. A Beijing Normal University graduate and the daughter of a professional footballer, the wily left-back has now won over 110 caps for her country, and plies her trade with CWSL club Beijing Phoenix, counting South African striker Thembi Kgatlana and Spanish midfielder Verónica Boquete among her former teammates. Having played every minute of China PR's four matches at the recent Women's World Cup, Liu's trusty left peg and willingness to work hard both with and without the ball make her a tricky customer no matter the match.

Zhang Rui:

The beating heart of the Chinese midfield, Rui has made more than 150 appearances for her country since debuting as a 20-year-old at the 2009 Algarve Cup. Having spent the majority of her club career at Bayi – the football club of the People's Liberation Army – Rui is now starring for Changchun Zhuoyue, starting all but one game in the CWSL this season as her club finished third. The Steel Roses' metronome, Rui played every minute in last June's Women's World Cup, leading her team in both successful interceptions and completed passes. Look out for Rui working tirelessly in front of her back four, nipping in to break up attacks and pass her side out of trouble.

Wang Shanshan:

With superstar winger Wang Shuang remaining in her hometown of Wuhan due to the city's ongoing health concerns, the majority of China PR's attacking impetus will be channelled through her strike partner and namesake Wang Shanshan. Wang, who in 2018 scored nine goals in 29 minutes against Tajikistan, has played as the point of the Steel Roses since moving into the striking role from defence around halfway through her career, a move that makes sense considering her eye for goal and ability to find space between defenders in the final third. A veteran of more than 130 caps, Wang is closing in on the top ten all-time most-capped Chinese players, and while she may not have quite the goals-per-game ratio of Wang Shuang, China PR will be hoping the Dalian striker can add to that tally a number of times over and push the team on to Tokyo 2020.

The More You Know…
Between its first competitive match in 1986 and the 2001 AFC Women's Championship semi-final, China PR didn't lose a single match in Asian tournaments. This incredible run saw the Steel Roses claim seven consecutive AFC Asian Women's Championships and a three-peat of Asian Games gold medals, running up a 39-2-0 record and a remarkable +306 goal difference. China PR's streak finally came to an end when they lost 1-3 to DPR Korea, the team that would eventually beat Japan 2-0 in the final to be crowned 2001 Asian champions.
CHINESE TAIPEI (TPE)
https://www.instagram.com/p/B6IKoHfAQgU/
Considering their status as the second-lowest-ranked team in this stage of Olympic qualification, the last 18 months have been remarkably kind to Chinese Taipei's women's national team. Coming off the back of a successful 2018 Asian Games campaign – which saw the side finish fourth, despite being seeded in the third of four pots – the side lost only once in a run of 12 matches. With current manager Echigo Kazuo taking over from interim coach Yan Shikai in January 2019, the Taiwanese outfit managed to navigate the first two rounds of Olympic qualifying without so much as a hiccup, winning all seven matches and scoring 44 goals along the way.
Since November however, things have taken a turn for Mulan; defeat to Myanmar in a friendly in Yangon was followed by three more defeats in the final round of the East Asian Championship, which saw Chinese Taipei finish bottom of the group with a -13 goal difference. Having kept faith with a majority of the squad, Echigo – who also coached Nadeshiko League side Vegalta Sendai – will be hoping a serious uptick in results sees them on their way to Tokyo 2020.
Of the three teams in Group B, Chinese Taipei are the most unknown to both the Matildas and their fans. Despite facing each other 12 times since 1984, the two teams haven't played a single fixture since 2012 – an East Asian Championship qualifier that saw Australia win 7-0 – and while the majority of Miličić's current Matildas squad took part in that tournament, few of the players saw game time against the Taiwanese side.
Coach:
Echigo Kazuo
Captain:
Wang Hsiang-huei
Ranking:
40
Best Olympics result:
Final Qualification Round (Beijing 2008)
Last 5 Matches:
LLLLD
3 Key Players:
Lee Wan-chen:

Having played college football at University of California Riverside for the past four seasons, Lee – also known as Isabelle – is one of the newer faces in the Taiwanese squad. One of only three foreign-based players in the team, 22-year-old defender Lee will be looking to follow on from her solid showings in each of Chinese Taipei's last three games and further cement her place during the Olympic qualifiers.

Michelle Pao:

Born in Hsinchu County but raised in the United States, Pao played her college football at Pepperdine University, becoming the first player in school history to win four all-conference honours during her career. After college, Pao was drafted by NWSL club Sky Blue in 2014, but turned down the New Jersey club's offer in favour of a contract with Swedish club Vittsjö. After returning to Asia and winning the Golden Boot in Japan's second tier in 2017, Pao signed with Taiwanese Mulan League side Taichung Blue Whale, averaging almost a goal a game in her homeland. A talented midfielder with an eye for goal, Pao will add some much-needed spark to the Chinese Taipei attack, while also feeding her teammates further up the pitch.

Tseng Shu-o:

A name familiar to any long-time W-League fan, Tseng spent two seasons at Canberra United between 2009 and 2011 as part of a jetsetting career that has seen her win titles in Serbia and Austria, as well as spells in Iceland, France, the United States, and Croatia. Despite bursting onto the scene at the 2002 AFC U19 Women's Championship, Tseng has made only a handful of appearances for her national team over the last few years, and after recently considering retirement, will hopefully have a chance to sign off her international career with a bang in this tournament.

The More You Know…
Chinese Taipei was the original Asian football superpower, winning three consecutive AFC Women's Championships between 1977 and 1981, as well as OFC Oceania Women's Championships in 1986 and 1989. The side also reached the quarter-finals of the inaugural Women's World Cup in 1991, qualifying as one of the two best third-placed teams by virtue of a superior goalscoring record, before losing 7-0 to eventual champions the United States.
THAILAND – (THA)
https://www.instagram.com/p/B73X_CWjdlX/
To paraphrase the footballing cliché, 2019 was a year of two halves for Thailand: after losing five of their first six matches for the year, Naruphol Kaenson's team were written into Women's World Cup history for all the wrong reasons, losing 0-13 to the United States in the sides' opening group game. Two more defeats – 1-5 to Sweden and 0-2 to Chile – would follow, though Kanjana Sungngoen's stoppage time goal in Nice would be remembered as one of the moments of the tournament with the emotions of players and staff spilling over on the sideline in celebration of Thailand's first-ever World Cup goal. The latter half of 2019 however was much kinder to Chaba Kaew, losing only twice in their last 11 outings; unfortunately though, those 0-1 losses came against rivals Vietnam in extra time, in both the ASEAN Football Federation Championship final and the Southeast Asian Games final.
The Matildas will go into their match against Thailand under no illusions as to the opponent they face; while it's easy for fans to remember fondly the 5-0 drubbing handed out at Perth Oval in March 2018, Miličić and co. will be looking to erase the demons of the side's disastrous Asian Cup semi-final six weeks later, in which Australia needed a Kanjanaporn Saengkoon own goal, Alanna Kennedy's stoppage-time equaliser, and penalties to get past the stubborn Thai resistance. That 2-2 (3-1) result will be front of mind for both teams going forward – Australia looking to wipe the slate clean and continue its dominance in the fixture, and Thailand looking back at their successful blueprint and aiming to replicate it on the Matildas' home patch.
Coach:
Naruphol Kaenson
Captain:
Duangnapa Sritala
Ranking:
38
Best Olympics result:
Final Qualification Round (Beijing 2008 & London 2012)
Last 5 Matches:
DWLWW
3 Key Players:
Waraporn Boonsing:

Having earned over 140 caps before her 30th birthday, Boonsing is by far the most-experienced member of Thailand's squad. Marked for greatness from a young age, Boonsing made her debut for the Thai under-17 team aged just 14, helping her side to a bronze medal at the 2005 AFC U17 Women's Championship in Korea Republic – to date the side's best-ever finish.

While her lack of height has posed issues against taller opponents, Boonsing's composure on the ball and willingness to dive into contact – owing to her talent as a futsal player – stand her in good stead as both an organiser and a shot-stopper inside her penalty area.

Pitsamai Sornsai:

Having won more than 120 caps for her country, scoring 77 goals along the way, Sornsai undoubtably is one of Thailand's greatest-ever footballers. Her nation's all-time leading scorer – six ahead of men's counterpart Kiatisuk Senamuang – Sornsai has been a consistent member of the Chaba Kaew set-up since making her debut in 2009.

After missing the 2015 Women's World Cup due to a knee injury, Sornsai has once again become an integral part of the team, recently switching from attack to defence to marshall her side around the park. Capable of slotting in anywhere through the middle, Sornsai's wily play and experience in big tournaments will be invaluable for Thailand as the side looks forward to Tokyo 2020.

Kanjana Sungngoen:

Thailand's first-ever World Cup goalscorer, winger Sungngoen is clearly the fastest player in Thailand's squad. An athlete growing up, Sungngoen's pace has the ability to stretch defences on the counter, while also closing down opponents as they turn defence into attack.

Having already scored 20 goals in her half-century of appearances for Chaba Kaew, Sungngoen is more than a handy contributor on the scoresheet, while also able to provide service to her striking partners further up the pitch.

The More You Know…

Like their men's team, which goes by Changsuek or the War Elephants, Thailand's women's team also bears a pachydermic nickname. Known locally as Chaba Kaew, the team is named for the kind pink elephant in the popular Thai children's story Khan Kluay.
Match Schedule – Women's Olympic Football Tournament Qualifiers – Group B
Matchday 1 – Monday, 3 February 2020 – Campbelltown Stadium, Leumeah
Thailand v Chinese Taipei – 7.30pm (AEDT)
Matchday 2 – Friday, 7 February 2020 – Campbelltown Stadium, Leumeah
China PR v Thailand – 4.30pm (AEDT)
Australia v Chinese Taipei – 7.30pm (AEDT)
Matchday 3 – Monday, 10 February 2020 – Campbelltown Stadium, Leumeah
Chinese Taipei v China PR – 4.30pm (AEDT)
Thailand v Australia – 7.30pm (AEDT)
Matchday 4 – Wednesday, 12 February 2020 – Western Sydney Stadium, Parramatta
Australia v China PR – 7.30pm (AEDT)