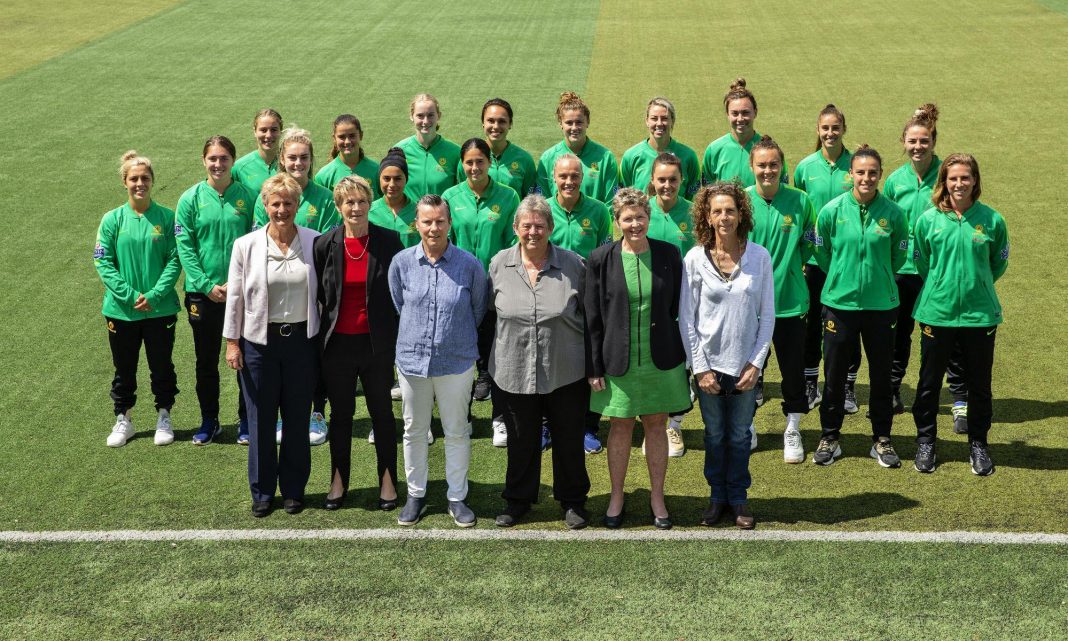 The pitch at Seymour Shaw Park is today laid with pristine synthetic grass, yet the tunnel to the field is the same as when the Matildas played their first international 'A' game on 6 October 1979.
"I pointed to the left but some people pointed to the right… so there may be a bit of conjecture about which dressing shed we had." said Julie Dolan, the Matildas' captain of that match. "It does [bring back] a lot of memories".  
Memories abound, but it's easy to pass this modest stadium lodged between two busy roads in the Sydney suburb of Miranda, with little mind as to the stories it holds. It was here that the original Matildas battled it out against New Zealand, on the world stage for the first time, 40 years ago to the day.
"I think you're concentrating on the match itself", said Dolan. "It's an enormous occasion to pull on a green and gold jumper so you're thinking about that, you're thinking about the coaches' instructions and there's no thought whatsoever as to being back here in 40 years time."
Yesterday, Dolan and several other players from the 1979 Matildas team did come back. Together with players from the current Matildas squad, they witnessed the unveiling of a plaque commemorating that very first match. The plaque is the first act of the FFA's new Football Heritage Committee, established in August to preserve and celebrate Australian football history.
"[The first generation's influence] definitely flows through," said current Matildas midfielder Tameka Yallop. "…That initial passion. Everything follows on from where it all began. When you do realise or are shown the sacrifices that are made back then so that we can step out on the field today with the support we have today, [the '79ers] are where it's all come from."
Knowing and learning the origins of women in Australian football, of their struggles and their wins, is key to defining the progress of the sport. "You don't have the present or the future without the past", said Yallop. 
In future, Yallop is keen to see women continue to play, even if it's not at elite level. "It's important that we open up more opportunities [for women] to continue playing at a high level even if it's not professional, because I think that will really help grow our game and it will also help our youth coming through. [We need to] reach even further into our grassroots."
Opening up opportunities is a formula well-known to four decades of Matildas. From humble, grassroots beginnings they have fought their way into not only increased opportunity but stunning accolades.
"These girls have gotten it, they've run with it, they've added their own flavour and their own colour," said Dolan. "I could never have imagined the progress that they've made. It's just astonishing and something that we're all proud of."
Proud indeed, both players and fans. But we may not be able to determine with any conviction whether it was dressing room left or right. It's a small detail, but one that reminds us that as memories fade and blur, so too do histories. It's paramount that we record the testimonies of these women who have forged our game to avoid relinquishing these histories.
"A sport that forgets its past has no future", Football Heritage Committee member Simon Hill told ffa.com.au in August. Seymour Shaw Park may have new synthetic turf, but it's important never to forget the feet that once scuffed the ground underneath.