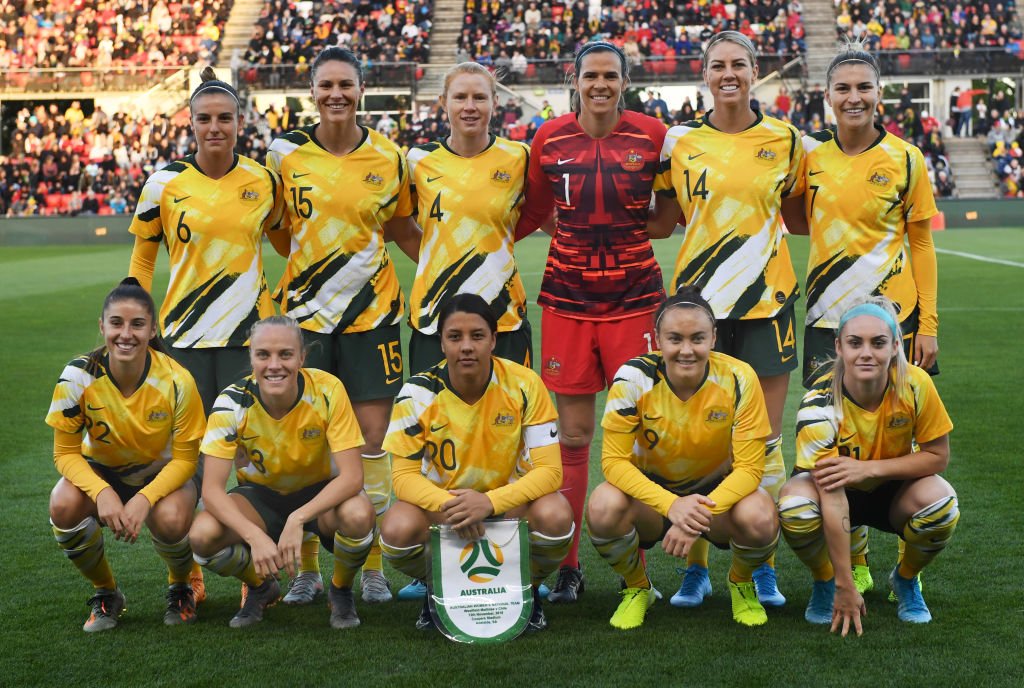 The second and final game of the two match series against Chile was played in Adelaide at Cooper's Stadium on Tuesday evening. The Matildas wrapped up the series with a hard fought 1-0 victory over their plucky South American opponents thanks to Emily Gielnik's first half power strike from a narrow angle.
GOOOOOAAAALLL!!! ⚽️@EGielnik makes it 1-0 in Adelaide!

🎥: @FoxFootball #WeAreMatildas #AUSvCHI pic.twitter.com/Cx4m1sfq0A

— Westfield Matildas (@TheMatildas) November 12, 2019
After Saturday's win at Parramatta Stadium in front of a record Australian crowd for a Matildas game, general consensus was that the positives included shoring up the central defensive stocks (after Jenna McCormick's outstanding debut). However, there were still some question marks.
Australia had some difficulty closing the game out and were unable to keep a clean sheet. Many of the players have had little recent game time – for example, of 14 NWSL based Matildas, only 4 have been playing regularly – while the side could have done more with the weight of possession on Saturday.
Until Saturday's game, however, Chile had not been defeated since the World Cup in France, beating four South American opponents in that time, while the Matildas had not played since then.
For the Matildas, Alanna Kennedy returned following suspension, and Tameka Yallop earned her first minutes of the two game series to start – somewhat surprisingly – in the defensive midfield role where Aivi Luik excelled on Saturday. Other starters included Saturday substitutes Emily Gielnik and Amy Harrison, the latter paired with Yallop in central midfield. Dropping to the bench were McCormick, Luik, Hayley Raso, and Emily Van Egmond, and Karly Roestbakken was added, having returned from the AFC U-19 championship in Thailand.
https://www.instagram.com/p/B4wjvCBAAzW/?utm_source=ig_web_copy_link
For Chile, the big news was that captain Christiane Endler had returned to Europe for club football commitments. There were five changes to their team all up, with two debutants, the most impressive of whom was to be the combative Nayadet Lopez in central midfield, while stand-in keeper Natalia Campos was also to have an outstanding game.
It was an unsatisfying first 20 minutes for the Matildas. Chile came out with instructions to press much harder than they did on Saturday, and they were impressively able to sustain this all game. As a result the Matildas did not look as assured at the start of the game. Possession was evenly shared at this time, and chances were few and far between for the home side.
Friendlies are there to try things out and the Yallop-at-defensive-midfield experiment was an interesting one, following on from the use of Van Egmond and Luik in the role at the World Cup, and Luik on Saturday. Not used to playing a defensive screening role, Yallop gave it her best shot, working hard at all times and tidy in her work; there were a few occasions where both she and Harrison were caught forward, or where she had lost track of an opponent (the coaching staff were watching intently and quite vocal when this occurred). Yallop has been playing regularly recently and it showed; she was adept on a number of occasions in navigating out of tight situations, and kept the ball nicely at feet throughout. Her instincts are more attacking than our other options in this position, and that can work as long as the core screening aspect of the role is fulfilled. It didn't look as natural a role for her as it does for the likes of Luik or the hamstrung Kellond-Knight, who seem to have the role embedded deep within their pores (and frankly, few others do from what we have seen).
Coach Milicic is obviously still looking at defensive midfield options, so it will be interesting if Melbourne Victory's Jeff Hopkins sticks with employing former Young Matilda captain Grace Maher – another who naturally has the same mindset as Yallop – in this role in the forthcoming W-League season, as another option for Milicic (and his successor) in the national set-up at some point.
Yallop's midfield partner Harrison also did well in her first midfield start for the Matildas in four years, having some good moments in surprising her opponents on occasion with deceptive turns, generally distributing effectively, and striding forward for a low and hard shot on goal in the second half. The central midfield partnership with Yallop is new to them both, so it is perhaps unfair to apportion 'rustiness' to their combination.
Tactically the Matildas settled into the game at around the twenty minute mark. Up until this point, Chile had well and truly matched them in midfield, but thereafter the Matildas were able to re-establish dominance for the majority of the rest of the game in possession, number of passes, and passing accuracy. The level of 'rust' in the form of balls getting away from under player control may have marginally improved from Saturday – witness Foord's sharp second half dummy, and better control with ball at feet in this game. Like Saturday's game, however, Australia were at their most dangerous in the wide channels (especially the right channel in the first half).
Fullback Ellie Carpenter was awarded player of the match having also had an outstanding game paired with Raso on the right flank at Bankwest Stadium in Parramatta, but new right flank partner Emily Gielnik must have pushed her all the way for this honour in Adelaide.
Congratulations to @CarpenterEllie on being voted the Player of the Match from #AUSvCHI! #WeAreMatildas pic.twitter.com/xO6L8teZ5F

— Westfield Matildas (@TheMatildas) November 12, 2019
A key element of the only goal of the game in the 23rd minute was Gielnik's awareness to change her run from an inside run towards the penalty box to an outside run, creating the channel for Kerr's pass to her on the outside which led to her powerful strike on goal.
Two minutes later Gielnik's intelligent running was again on show, calling and pointing for the ball just as Carpenter advanced with it. Space opened up for Carpenter, who played it to Gielnik and immediately received a smart cutback only 10 yards out, but Carpenter's  strike was skied over the bar. Gielnik gives the Matildas something a bit different up front – another example is the variety of balls she delivers from wide spaces, never predictable – and it's not hard to see after this performance why Bayern Munich were interested in her.
Alanna Kennedy played until the 75th minute, and although the sweeper/libero role is no longer in fashion, one can't help but see that style of play in her game. She likes nothing better than to stride forward ahead of her defence, looking up with ball at feet, and using all her midfield experience to play long passes to her speedy wide options. Together with her set piece abilities, positional sense, and height advantage in either penalty box, Kennedy really is – and has been for some time – one of the brightest jewels in the Matildas' crown.
The icing on the cake for the local crowd came in the second half with the appearance of locals Jenna McCormick and Emma Checker, proud moments for all. Instructions from Milicic at half time were to increase the tempo of balls played in the backline as a way of breaking the Chilean lines. As was the case in Sydney, however, the second half was often an exercise in frustration as goal-scoring chances presented themselves but were narrowly missed or spurned, feeling at times like an extension of Kerr's penalty miss just before half time. Crossbars were hit at either end in the second half, with Kerr's curling 48th minute effort match by Guerrero's deflected effort on 77 minutes.
Steph Catley inspired attacks down the left channel – often working together with Chloe Logarzo, who had seemingly spent much of the game pitched in battle with Chilean debutant Nayadet Lopez – became more prevalent as the game wore on. The Chilean backline had to absorb a lot of Matildas pressure around their penalty box in the last ten minutes and were somehow able to do so, while presenting the occasional threat to Lydia Williams's goal at the other end.
At the end of the day, the Chileans appeared to have learnt and improved more since the last outing compared to the Matildas, who will be pleased nonetheless that they were able to close the game out with a win and a clean sheet. Two wins from two in the series is what the team would have aspired to, and provides a level of optimism for the forthcoming Olympic training camp early next year. All players will benefit from more sustained game time in the forthcoming W-League season (for those participating).
Some statistics out of the game (Matildas shown first):
18 shots to 7
7 to 2 shots on goal
65% possession
501 passes to 276
Passing accuracy 82% v 65%
Fouls quite even at 9-8
10 corners to 2
FULL TIME | We finish off 2️⃣0️⃣1️⃣9️⃣ with a win!#WeAreMatildas #AUSvCHI pic.twitter.com/7NgMBGlWhr

— Westfield Matildas (@TheMatildas) November 12, 2019