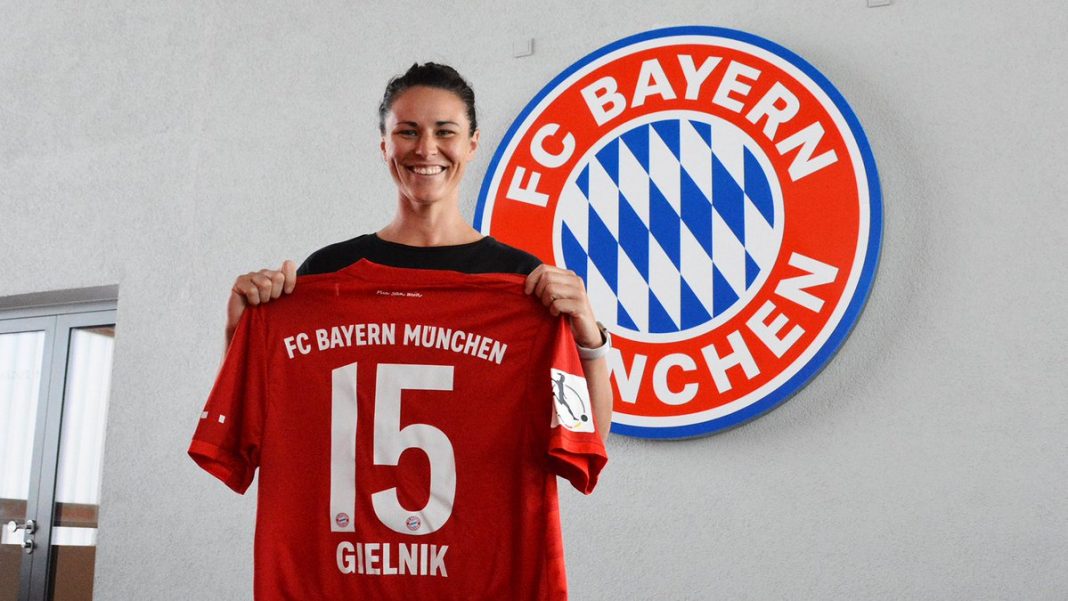 Hard work always pays off. Emily Gielnik is living proof of that after securing a move to German powerhouse FC Bayern München (FLYER ALARM Frauen Bundesliga) earlier this year.
The striker was initially hesitant about the move away from her W-League outfit Melbourne Victory, where she played an integral part in their premiership last season.
"I had some really good people there, great support and I have a great relationship with [coach] Jeff Hopkins," she shares. "It's always hard to leave a team behind especially when they are doing so well, [but there has to be] no hesitation in terms of a footballer's opportunity. That's what you have to do in football to get further ahead."
"It's obviously one of the things you dream about as a young footballer. I think I knew at one stage in my career that I wanted to be at one of the best clubs in the world – didn't expect it to be this year that's for sure! It's a good dream come true."
Gielnik said she had been longing for a challenge like this for years but is determined to go even further with her club ambitions.
"Although it seems I am at the club of my dreams, I'm almost halfway there. Having such a high calibre of players around me, including national team players… it's about rising to the occasion. I'm really excited to earn the minutes and make something of myself for the club."
Gielnik can include herself in the category of national team players, she herself being a Westfield Matilda. Her first major senior international tournament was last year's AFC Women's Asian Cup, where she made three appearances including in the semi final against Thailand. She missed out on playing in the final, where the Matildas went down 1-0 to eventual two time cup winners Japan.
More recently still, she was included in the 2019 FIFA Women's World Cup squad, an experience she termed "surreal."
"Being in France – the footballing nation that it is – and putting on the jersey is always special but being at a World Cup and being a part of it heavily is even more special. You can't take it lightly. Having my mum and dad there was really special for me as I don't get to see them often at games.
"It would of been nice to do that at a younger age but I think everything happens for a reason. Me doing it at the time that I did it feels like it's almost the start of my career. It's been nice representing my national team at these tournaments but I'm nowhere near where what I hope to achieve."
Whilst making the World Cup is a significant accomplishment, she feels anything but complacent. "I'd love to get my record of goals and assists up. As a striker you want to have a good resume to look back on, leave somewhat of a legacy behind. [I want] to make sure I'm a part of every camp and every tournament – [an] important part and not just an add-on, making sure I know deep down that I've worked hard to be there and earned my spot. That's really important for me as a mental aspect"
The Matildas crashed out in the Round of 16 against Norway, but Gielnik says the Matildas deserved more than what they got.
"[The team] prepared as best as we could, had some amazing support in every match and, unfortunately, the disappointing thing is that we fell short of well what we were capable of and to have that desire to win the World Cup."
"I'd love to win something with this team…. I think with this team we can achieve something special and for me I'd love to achieve it with this squad right now"
The Matildas kick-start their lead in games to Tokyo 2020 qualification with a two match series against Chile. For Gielnik, these games are an opportunity move forward as a squad and push for better performances.
"We are so excited for this first game. We want to put the World Cup behind us. That's just us going in a forward direction, learning from the mistakes in France.
"We want to treat every game like a final, to put in the best performance possible to get us ready as a group. We don't get that much time together unfortunately, so it's important that we do perform well when we are in camp together and playing in front of our country."
Gielnik is looking forward to the games in Sydney and Adelaide, and wants to take advantage of it.
"It's a blessing to have some games in front of Australian fans. Sydney is a big one for us. We have had a great crowd there before and Adelaide is a new destination.
"It's nice that all different parts of Australia get to watch us play now, and obviously with the equal pay and all these things that are happening for women's football right now there is no better time being a female footballer. I'm really proud to be a part of that."
Chile have developed something of a rivalry with the Matildas after handing them a shock 3-2 defeat in the previous opening fixture back in Penrith last year. The team will be looking to avenge that performance.
"That first loss was an early eye opener for us and we don't want that to happen again. We will do our best to make sure that [it doesn't].
"I think with the bigger teams we naturally rise to the occasion and sometimes… not that we underestimate but lose a bit of focus and don't treat it as quite as a tough enough game or opponent. But we have learnt now through Chile.
"Even the likes of Thailand, we just can't take our foot off the pedal no matter where they are standing on the FIFA World Rankings. It makes no difference. If we want to win medals and lift trophies every game we play has to be a must win and we should treat it as if we are playing the World No 1.
"We want to be back in that top three again, that's what we are striving for."
Gielnik, like all her teammates, is pushing for selection in the 2020 Tokyo Olympics should the Matildas qualify. Selection for the Olympics is stricter, unlike the standard 23 players who are called up for other tournaments and friendlies.
"Nobody likes missing out. Having 18 players instead of 23 is that challenge there that presents itself but I think that will only make us stronger as a squad and I'm really looking forward to that fight"
Gielnik has experienced the downsides of the tougher selection process. She missed out by one spot due to being a standby player to go to the last Olympic Games in Rio where the Matildas went down in the knockout stages to Brazil (0-0 FT, 7-6 in penalties).
"Personally for me, four years is a long time. Without it being a cliche of a dream to be an Olympian, I want to earn my spot there.
"I'll make sure I do everything in my power to get myself there and leave no stone unturned. To get there would really be surreal."