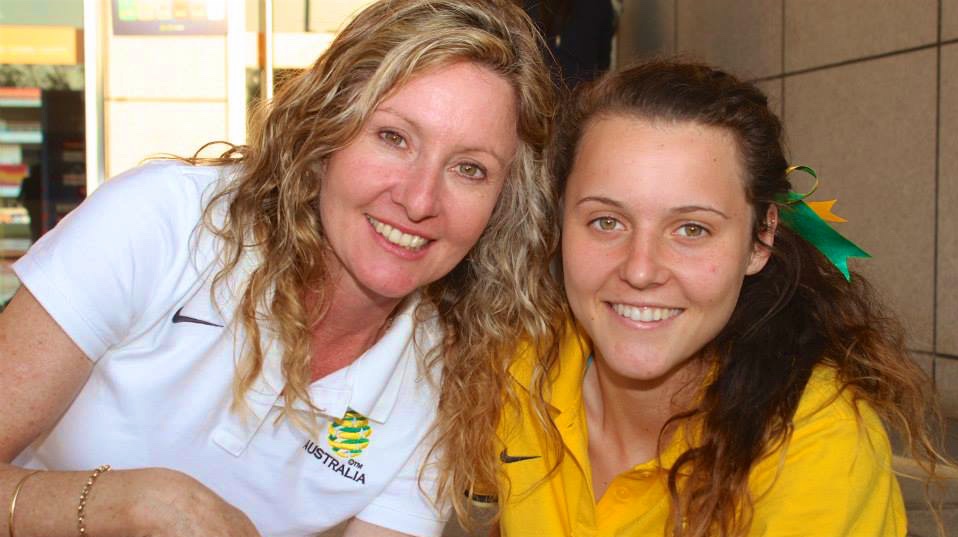 It was supposed to be a routine flight home after an enjoyable weekend away with friends; having lunch and a great time.
In a Virgin airline lounge in Sydney, Renaye Sweeting arrived early to arrange her laptop and settle in to watch a football match.
The match was 15,701km away, just outside Washington D.C. Connecting the laptop to watch her daughter Hayley Raso play for the Portland Thorns in the National Women's Soccer League was a familiar ritual.
An hour into the match, Renaye Sweeting's world was rocked.
"I straight away knew that there was something really wrong because Hayley is so brave," she remembered.  "She never complains and she is so tough. When I saw her go down and stay down, I knew that this was something really bad."
What followed was a six-month nightmare that would test not only Raso but also Sweeting and their entire family.
Personal pain in a public place
Portland's match against the Washington Spirit should not have been life-altering for either Raso or Sweeting.
The Spirit had fired their head coach two weeks prior and the Thorns were one of the favourites for the NWSL title.
For Raso, she was on the comeback trail after suffering a knee injury in the 2018 AFC Women's Asian Cup.  Playing well, the winger had already set up US superstar Tobin Heath to help put the Thorns 1-0 up.
In the 59th minute, as she had done many times in her career, Raso looked to latch onto a long ball. Spirit goalkeeper Aubrey Bledsoe also came out to punch the ball away, resulting in a hard collision between the two.
Sweeting watched it all unfold in horror.
"I could see how much pain she was in it, and it was terrible," she said.
"I was just sitting there beside myself and just hoping the commentators would say something."
Although frantic for information, there were few avenues to find out what she needed.  No information came from the commentators despite the whispered pleas, there were no tweets from the club or league account, there was no phone number to contact – nothing.
In the end, Sweeting decided the best course of action was to send a message to Raso's phone – even though she could see her daughter being loaded into an ambulance on the 13-inch laptop screen.
Sweeting's search for information continued right up until her flight to the Gold Coast.  She contacted her son, and Raso's brother, Lachlan to see if he had heard anything further through the media or through Raso's father who was currently watching her play in the United States.  
As the plane prepared for take off, Sweeting finally received a call. The information was sparse; Hayley was being taken to a hospital but they weren't sure what was wrong. All they knew is she was in a lot of pain.
"It was the longest, worst flight ever. I couldn't get settled and my mind was racing the whole time,"
Before she could ask for more information, the announcement to switch phones to flight mode played. They took off soon afterwards.
By Australian standards, the flight from Sydney to the Gold Coast is not a long one – just an hour and 20 minutes. However, for a mother still in the dark about her daughter's welfare, it was an eternity.
"It was the longest, worst flight ever. I couldn't get settled and my mind was racing the whole time," Sweeting said.
"The minute we landed I turned my phone on and there was a message from Hayley that said 'Call me straight away.'
"I knew then that this is going to be bad."
"I'm here. I made it."
Renaye Sweeting knows the determination of her daughter Hayley.
As a 16 year old, Raso found herself unable to break into a star-studded Brisbane Roar team.  Undeterred, the teenager chased her W-League dream elsewhere. Packing her bags she ended up trialling for Canberra United in the nation's capital.  
New Canberra United coach Jitka Klimkova recognised the raw talent of Raso and signed her up quickly. By the end of the season Raso was starting in the Championship match against none other than Brisbane Roar. Ninety minutes later, she was a W-League champion.  
It was that same determination that saw her make the most of a lifeline from the Portland Thorns after being cut from the Spirit roster in 2016.  
And Sweeting knew that determination would be required again as she called and was informed that Raso had suffered a non-displaced fracture in three vertebrae.
Once again, it was privately devastating news delivered in a very public place – the cabin of a taxing airplane.
"I just couldn't breathe," Sweeting remembered. "When the plane stopped, I just took off my seatbelt wanting to get off the plane. I just couldn't breathe. I just had to get off the plane."
Back home on the Gold Coast, Sweeting continued to search for more specific information to gain a better understanding of the situation.
"I just couldn't breathe."
It was a process undertaken in a swirl of activity. Phone calls and messages were flying to and from her phone as she tried to speak to the doctors in Washington D.C.. The questions were plenty – would Hayley stay in Washington? Will they transfer her back to Portland? How long will the pain and swelling last?  – but the answers were slow to come.
It left Sweeting feeling unmoored and helpless.  
After an afternoon and evening of uncertainty, Sweeting's husband, Troy, cut to the point.  
"I had been lying in bed completely beside myself. I was crying, I couldn't speak and every minute felt like an hour," she said.  
"Troy said to me, it doesn't matter where she is, you need to just go. Get on a plane and head over there.  If you get to Washington and she has been transferred to Portland then you just get on another plane and go there too.
"That was what I needed to hear so I booked a ticket to Washington the next day."
With a decision finally made through the haze of confusion, Matildas Head Physiotherapist David Battersby provided some much needed details.
Battersby had obtained more specific information about Raso's injury and was able relay the extent of the issue to Sweeting. He confirmed that while Raso had broken vertebrae, there was, significantly, no damage to the spinal cord.
Hayley was going to be able to walk again.
Gold Coast to Sydney to Dallas to Washington; travelling to east coast USA from Australia is not easy at the best of times. However, that August morning, it seemed the universe was conspiring against Sweeting.
An hour into the flight from Sydney to Dallas, a captain's announcement explained there were issues with the one of the cabin doors so they would be turning back. Another plane was organised but the original crew had already exceeded their flight hours. A new crew was organised, but by then the Sydney flight curfew was in effect.  
A frustrated Sweeting would spend the night in Sydney. Finally, the next morning, she departed.  
49 hours after first boarding a flight from the Gold Coast, Sweeting entered the Washington D.C hospital room where Hayley lay.
"I remember just dropping my bags, running over to her and just saying 'I'm here. I made it.'"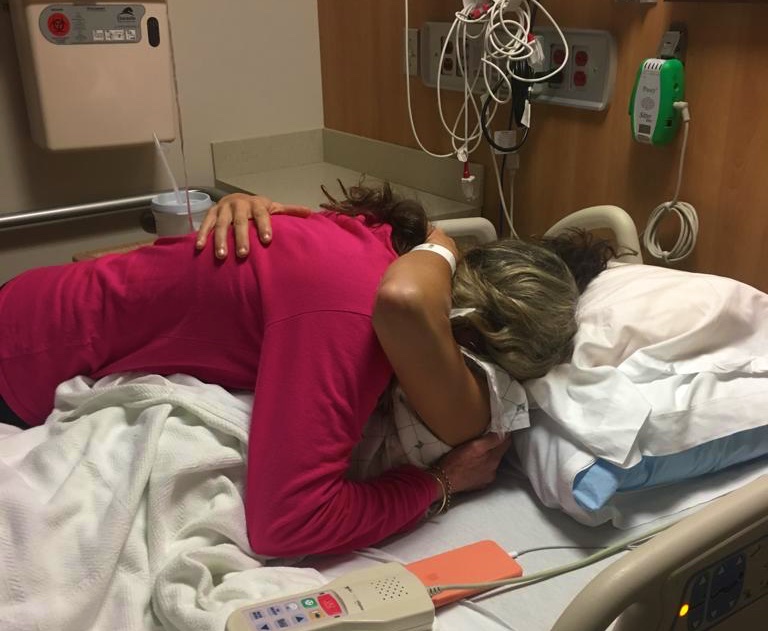 Rehab like you aim to play
Hayley Raso is an attacker in her on-pitch position and her off-pitch attitude to life.
"From when she was a baby, Hayley has always been strong and really motivated in everything she has done.
"She has always been really out there, energetic and tenacious in everything.  She has always achieved anything she has set her mind to."
That attitude translates to an unforgettable football persona; a 5'4" Tasmanian-Devilish whirlwind of a fearless competitor.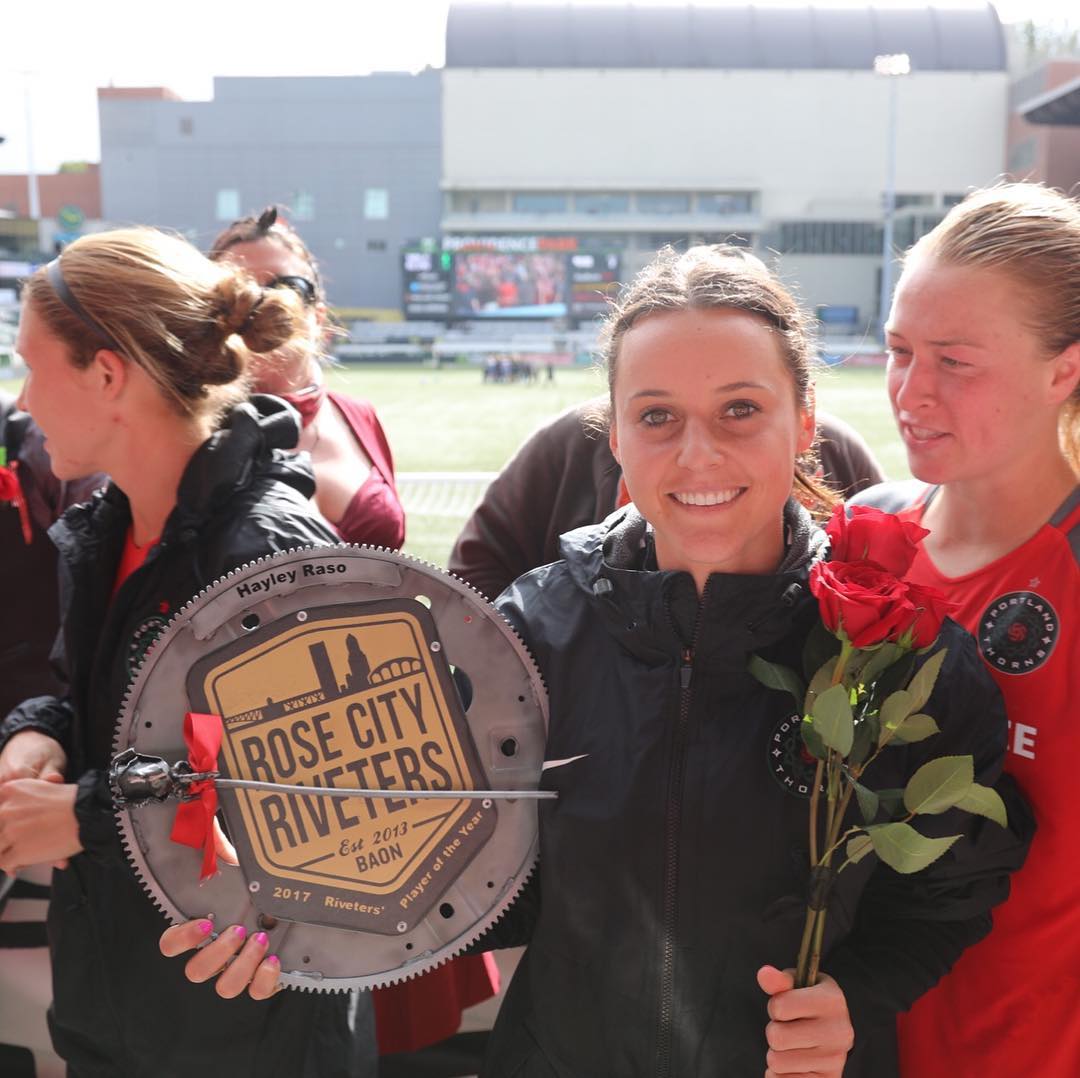 While pace and speed are trademarks of her game, equally noted is her no hesitation, full throttle commitment to the game. It is what has endeared her to supporters at club and Matildas level, and it's what has made Sweeting sit nervously in the stands on many occasions.
"I've said to her before, 'could you just try and not go into challenge quite so hard, to maybe pull it back a little or jump over somebody?'
"But if that's the way she plays and it makes her the player she is, I've got to let her do that."
Now, in a hospital room in Washington D.C., the energetic whirlwind was contained.
Due to the swelling around her spine, there was barely a plan to get Raso standing up, let alone back out onto the pitch. It would be a day-to-day journey.  
"Hayley could barely move. I was there just trying to do all the little things she needed to do."
Rolling over in bed, sitting in a chair, taking a step or two; all tasks taken for granted, but for Raso they took monumental effort, all under the fog of excruciating pain.
Sweeting didn't know how long they would be in the hospital. She didn't know if or when her daughter was going to be okay.
"We didn't know anything.  We just took each day as it came.
"She had lots of down days. The pain, I just don't know how she got through every day to be honest."
Pain was a shadow that stalked the 24-year-old daily, hourly. In two instances, the pain was so intense that Raso lost consciousness.
"She always got back up the next day.  She always got back up.
"The fact that she did just shows that motivation, that drive, that strength that Hayley has."
Goals were not yet spoken about; they were glimmers in the distance, but in that room, Sweeting worked to make her daughter's world brighter. The actions were small; hanging her jersey on the back door of her hospital room, adding balloons, flowers and cards sent from around the world, motivational posts on the whiteboard, or just standing at the window and looking out into the light of a clear, warm day.
"There was a little squirrel, actually, that lived in the tree outside her room that made us smile," Sweeting laughed.
"It was the smallest of things that you think would be insignificant but it was to try and be happy and have a laugh."
Celebrating the special days was one way of keeping a semblance of normality. With Raso's 24th birthday coming up while she was still bed-bound, Sweeting swept the gift shop to find small trinkets like colouring in books, socks and balloons to put a smile on her face.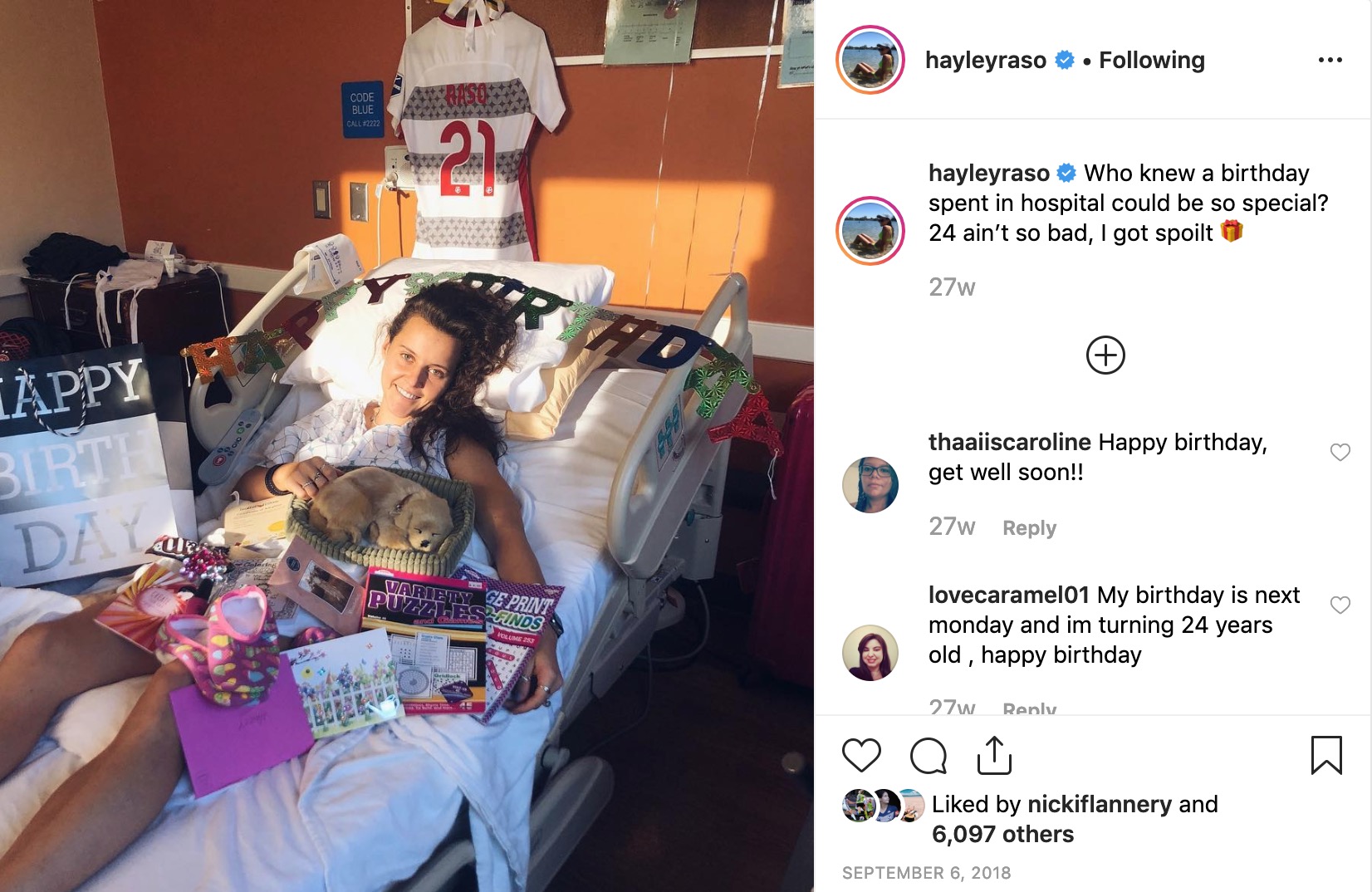 One day, Sweeting logged online and ordered a small toy basketball and hoop, sticking the hoop on the back of the door.
Whenever possible, mother and daughter would have basketball competitions to see who would come out on top.
"It made her smile and that felt really good to me. I just wanted to see Hayley happy sometimes."
And there was happiness. However, recovery is never linear; with every peak, there are as many troughs. There were days when Raso struggled.
"She would say to me 'I don't want to do it [shoot basketballs] anymore. I can't get it in.'"
Sweeting would gently encourage her daughter to achieve even the smallest of wins; making a basket.
"I was trying to keep her motivated, even in just that little basketball game. The mental part of it was so hard, the pain was so bad I was scared that it might just get too much."
Every basket was symbolic; an indication that her daughter was there and fighting.  
"I felt like my heart was broken"
If you are on the internet on Mother's Day, there is every chance that you would have seen a variation of a famous quote.  It reads:
"All that I am, or hope to be, I owe to my angel mother."
While Hayley Raso was working her way through the gruelling physiotherapy regime, steadily at her side was her angel mother.
Watching her daughter battle her way through simple things like rolling over in bed, then sitting for long periods of time, standing, and then eventually taking regular steps; all these things took their closely-guarded toll.
"I felt like my heart was broken," Sweeting said emotionally.
"Just seeing Hayley in that position absolutely broke my heart but I couldn't let her know that."
Often when traumatic moments happen to a person, there is little light shed on how the recovery process affects loved ones. Who supports the support systems? Where do they pull strength to lend it to their partner, their child, or parent?
For Sweeting, her support team – Troy, Lachlan, and her equally-worried 83 year old mother – was half a world away.
"Each day I would talk to Troy on the phone and tell him everything," she remembered.
"I would cry to him and he would tell me everything was going to be okay. Lachlan was also absolutely amazing.
"He helped Hayley so much on the phone and he also thought about me. I did that each day and then I would walk back into her room ready to go again.
"Many times I crashed and burned but I tried never to let her see that. I wanted her to focus on herself."
Progress was incremental but it was there. A series of small wins and 28 days after the collision, Hayley Raso and Renaye Sweeting were on their way back to the Gold Coast.
What a return!
If you walk down the leafy streets of the inner-west of Sydney, you will find iconic grounds tucked away in the nest of suburbia.  Whether it's cricket, rugby league or football, many of these grounds have extensive history steeped in their grandstands and grass-banked hills.
One such ground is Leichhardt Oval, and on 28 February, another story was woven into its rich history.
Called up to the Matildas squad for the first time in six months, Hayley Raso was substituted into the match in the 72nd minute. Three minutes later, she was on the scoreboard.
⚽️ Best goal of the #CupOfNations ⚽️

Do you think @HayleyRaso's strike deserves to take out the honour?

Vote here: https://t.co/50OMH9vJcv pic.twitter.com/RYSq6MiyXv

— Westfield Matildas (@TheMatildas) March 12, 2019
While her reaction was a determined clench of the fist, in the grandstand watching and cheering her on, as she had done the whole six months, was Renaye Sweeting.
"I jumped out of my seat. I was screaming and jumping up and down," Sweeting laughed.
"It wasn't until I had sat back down I realised that every person in the seats around me was turning around. When they realised she was my daughter I had people from behind me patting my back.
"It was amazing for her. It was the best feeling."
Sweeting's reaction was also tinged with relief.
After returning from the United States late last year, Raso's recovery continued to accelerate with tangible milestones; a first training session with Brisbane Roar in November 2018, a first W-League match and goal in January 2019, and finally the Matildas call-up in February.
The physical transformation was clear, but it was the mental and emotional recovery that kept Sweeting on edge.
"I didn't know whether she was going to make it through emotionally," she confessed.
"I didn't know whether I was going to make it through emotionally either, but we did.
"I honestly think that for her it was 'let's just see that goal; that goal is to get back on the field. Let's just look at that and do whatever it takes to get there.'"
https://www.instagram.com/p/Buc0wQ1hXKk/
Sweeting believes that the key to Raso's mental and emotional recovery was a strong connection to her teammates – whether it was the Portland Thorns, Brisbane Roar or the Matildas.
From the moment of the collision, there were regular messages, flowers, and phone calls to check in. It was therefore no surprise that when Raso went away with the Matildas, Sweeting knew that she would get all of her daughter back.
"That was the first time that I had actually heard the excitement in her voice and seen the happiness in her," she said with a hitch in her voice.   
"That was definitely the turning point for Hayley. It took a really long time but it's just so nice for me to see that and I know now she is going to be okay."
Stronger than ever
"Never to take anything for granted," Sweeting said of the lessons from the last seven months.
"Life can change in the blink of an eye. There are clichés that are just so true, that you don't realise how true they are until it happens to you.
"I think about that morning compared to that afternoon and how my life changed in that split second. I went from being happy and relaxed to my whole world crashing down."
For Sweeting and her family, the past seven months have been full of trauma, challenge and pain, but also of incredible joy and gratitude. The manner in which her support systems of Troy, Lachlan and her mother, as well as her extended family and friends bound together fills her with pride.
And then there is Hayley.
"I am so proud of her," she said stirringly.
"I am so proud of how strong she is, what she can overcome and what she can achieve."
The ordeal has also increased Sweeting's respect for her daughter and the woman she has become since she left home as a 16-year-old to play with Canberra United in the W-League.
"A lot of people wouldn't have come out the other side but for Hayley to, in my opinion, come out better, she inspires me," she said.
"Whenever I think I don't want to do something, I think 'don't be ridiculous. If Hayley can overcome all that, then so can you.'"
"A lot of people wouldn't have come out the other side but for Hayley to, in my opinion, come out better, she inspires me."
Hayley Raso now has her eyes firmly set on the squad for the 2019 FIFA Women's World Cup.
After all she has endured, it would be a brave person to bet against her making the plane to France.
And when she does, the person who will be still standing and cheering her on the loudest in the crowd, as she has done every day, will be Renaye Sweeting.