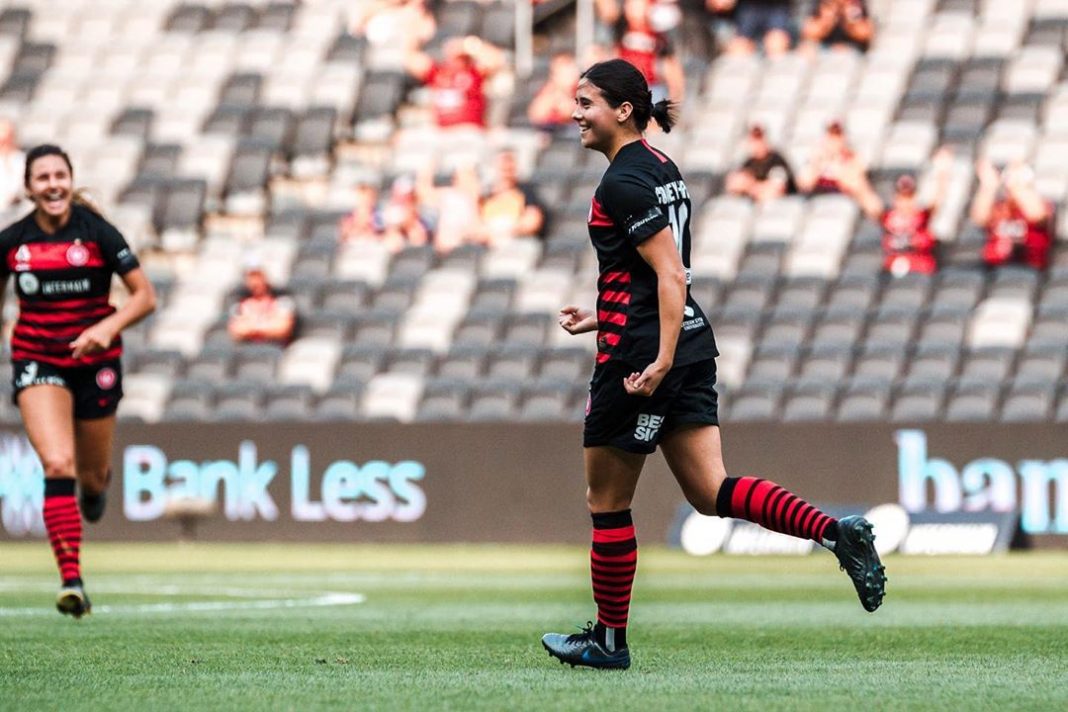 Over the last two and a half months, W-League fans have been treated to a fairy-tale story of rags-to-riches from the Western Sydney Wanderers.
So far this season the rejuvenated side have emphatically won six of their nine matches, playing a brand of football a far cry from that seen during their seven-year-long residency near the foot of the ladder.
Their new-found confidence has been palpable for fans and foes alike. Spurred on by their own story of redemption, Wanderers are currently tied with Sydney FC in second place behind the undefeated Melbourne City.
One of Western Sydney's stand-outs this season has been fledgling superstar Kyra Cooney-Cross, a player for whom the feeling of validation is a little more personal, especially after almost giving up the game completely.
Cooney-Cross made her W-League debut as a 15-year-old in the 2017/18 season, signing on with Melbourne Victory.
It was evident early on that the youngster was destined for great things. She possessed a maturity on the ball beyond her years, scoring two goals in 12 matches during her debut season.
However, it wasn't just domestically that Cooney-Cross was turning heads; the talented midfielder was banging in up to six goals per junior international tournament, scoring 14 from 14 appearances at under-17 level, and seven from eight so far in the under-20s.
Victory fans were eager to see what this Young Matilda would bring to the squad the following year and when it was announced she would again play for the side in the 2018/19 season, it seemed their calls would be answered.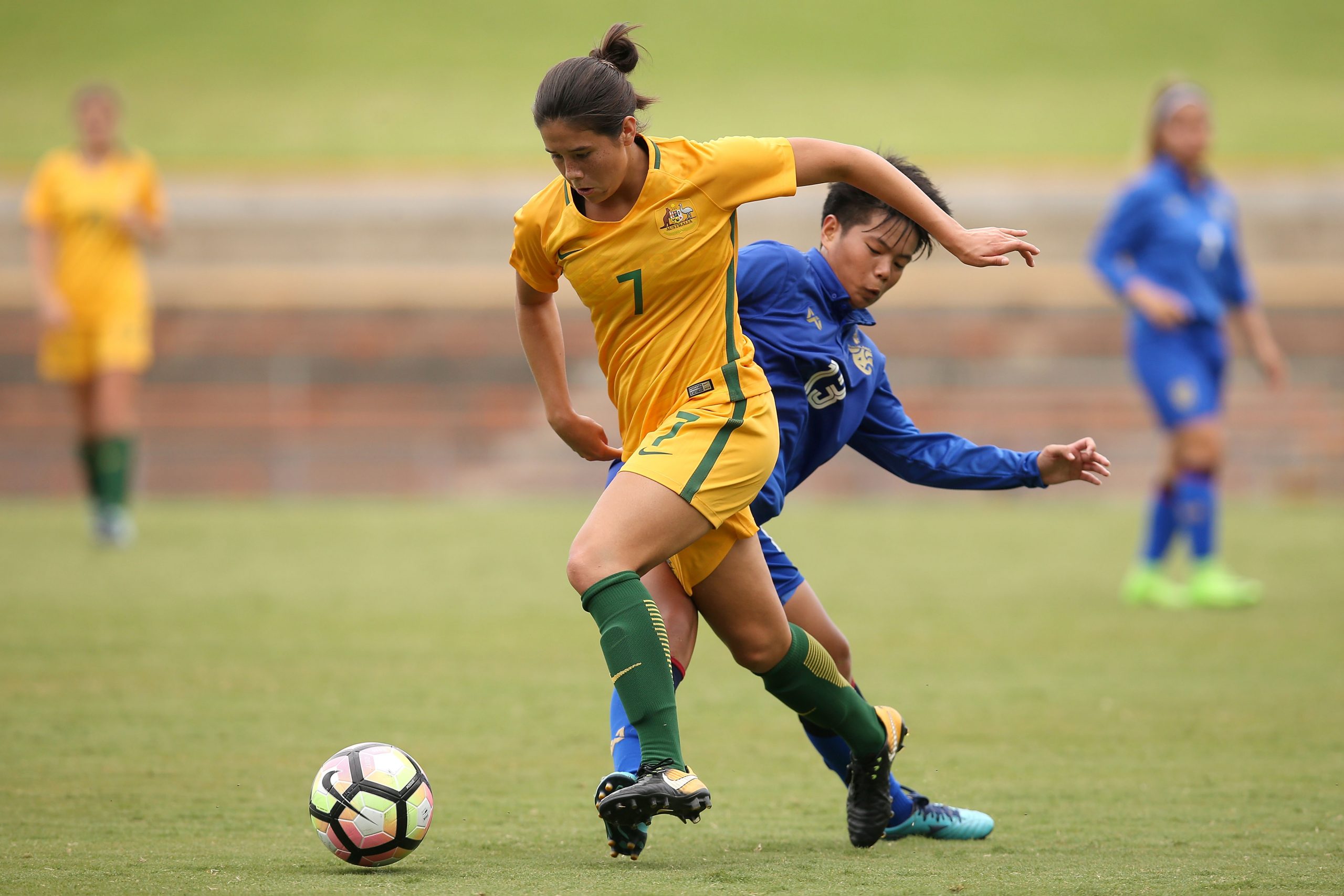 That season saw Victory claim its maiden W-League Premiership, but surprisingly Cooney-Cross only played in four matches.
'The Vuck' sat in an enviable position: having a team peppered with both experienced domestic and international talent meant that, understandably, some players would see less minutes than others.
Younger and developing players needed to fight hard to earn their spot in the starting XI with many missing out, but for Cooney-Cross, the feeling of not being good enough hit hard and the Brisbane native was left dejected.
"The two years I was at Victory, I felt like I didn't really get a chance to prove myself," Cooney-Cross said of her stint with the reigning premiers.
"I didn't mind coming off the bench during my first season because I didn't have much experience, but not playing during my second season with Victory was really hard.
https://www.instagram.com/p/BtiKL-NgGWI/?utm_source=ig_web_copy_link
"I was getting hardly any minutes and I basically missed out on an entire year of being able to prove myself as a player."
"The times I would be on the bench or actually get to play, I never felt comfortable to go on, because I was too scared of stuffing up," she continued.
"I became very unhappy and I wasn't a positive person to be around. I didn't want to train and I didn't want to play anymore."
Not starting – or not playing at all – was a bitter pill to swallow for the kid who had dedicated her life to football from the time she could walk.
She had a ball at her feet from the time she was four years old after her dad Jai signed her up for Soccer Squirts in Coolum, QLD.
By the time she was 13, Cooney-Cross was playing in the NTC against girls who were four or five years older than her.
She attended six different schools across four states to chase the game she loved, which for the self-confessed introvert was tough.
"I'm a pretty shy, quiet person so having to make new friends at school and in soccer teams took me a while," she explained.
"I was born in Brisbane, then moved to Alice Springs when my parents split up, then to Victoria for football, and finally to Sydney for the Future Matildas program."
Football was never just a game to Cooney-Cross, even as a child. She took her performance seriously and was her own harshest critic.
"When I was growing up, if I'd had a bad game it would take me days to get over it. I wasn't fun to be around," she said.
"Even if I'd scored, I would still overthink my performance or second guess myself and worry that I hadn't done well."
It's the kind of passion that drives a kid from playing park football to the grandest stadiums of them all.
Having its pros and cons, that passion is an emotion the teenager will learn to master as she grows and matures as both a player and a person, but for now Cooney-Cross' sights are set on making the most of her opportunities with the club that's helped reignite her love of the game.
"My time with the Wanderers has been amazing," she said.
"Along with representing the Young Matildas, coming to the Wanderers, playing my first Sydney derby and scoring two goals is what I am most proud of."
Fans have seen her flourish, scoring three goals for the club, two of which came during the 5-0 derby drubbing of Sydney FC; in fact, the only game Cooney-Cross hasn't started for Western Sydney came in Round 1, where she was a 51st-minute substitute, scoring her side's winning goal in stoppage time.
"We've already made history for our club, going undefeated for six weeks and personally, getting game time and being able to score has been so good," she said.
Cooney-Cross says she is grateful for the support and belief Wanderers has instilled in her.
"I'm so thankful to Dean Heffernan, Catherine Cannuli, and Michael Beauchamp for trusting and believing in me. That's why I've been able to do what I've done because they've given me that experience to grow."
And it's not just the coaching staff that have fostered a new sense of confidence for the 17-year-old; playing alongside stalwarts like captain Erica Halloway, Matildas midfielder Amy Harrison, and international W-League game-changers Lynn Williams, Kristen Hamilton and Denise O'Sullivan has boosted both her knowledge of the game and her determination to keep working hard.
https://www.instagram.com/p/B52Ls6kHE9K/?utm_source=ig_web_copy_link
"Myself, Courtney [Nevin], and Susan [Phonsongkham] only came in a week before the first game and had two training sessions, but the girls made us feel so comfortable and we gelled straight away," she said.
"Being able to play with people like Erica, Kristen, Lynn, Denise and Amy has really helped me develop," she said.
"Even just seeing them train and paying attention to the little things that they do, you just learn by watching them.
"They help me in training sessions by letting me know if I need to work harder or what I need to do better, especially Kristen and Lynn because they're behind me in position so are always the first to give me advice.
"Being in that environment where the coaching staff support you and everyone including your teammates help you feel comfortable and give you guidance, has really helped me get back my love of the game," she said.
"I've learned so much from all the girls and I'm so happy to be playing football again."
When asked if she thinks the Wanderers could nab their first Championship Trophy, Cooney-Cross had no doubts, even against current table-toppers, Melbourne City.
"I'm confident we can win it, even against Melbourne City. We beat China PR who are ranked 15th in the world and we believe in each other, so I think we can beat anyone."
As for what else is ahead for Cooney-Cross, after being selected as a train-on for the 2019 FIFA Women's World Cup, she is also on standby for the Tokyo 2020 Olympic qualifiers in Sydney next month, another feather in the cap of a youngster whose star is on the rise.
---
Read more Western Sydney Wanderers coverage.