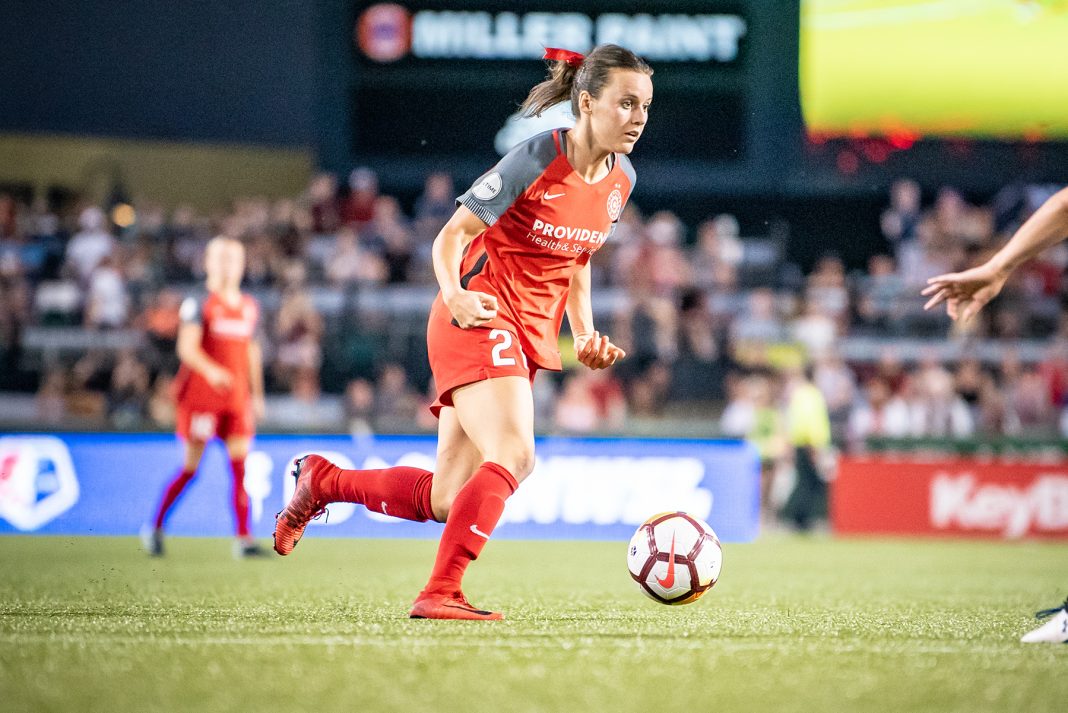 The last 12 months have been a rollercoaster ride for Matilda and Portland Thorns winger Hayley Raso. This time last year, she wasn't sure she would ever walk again. Today, the Nike Mercurial athlete is tearing it up in the National Women's Soccer League, cementing her spot as one of the competition's most dangerous forwards.
Beyond 90 spoke to Raso about her year so far—from her career-threatening injury to her triumphant return at the 2019 FIFA Women's World Cup, the Portland Thorns, hopes for Australian women's football, and plenty more in between.
---
It's a bright, warm Sunday afternoon in Portland, Oregon, in the north-west of the United States.
A bustling and vibrant place in the height of summer, the city of Portland is quiet today; its cafés and bars and restaurants emptier than usual.
But if you listen closely, you'll hear the soft, steady rhythm of distant drums, thumping through the streets like a heartbeat. Follow the noise west of the Willamette River, towards the dark pine forest on the hill, and you'll soon realise where the people of Portland have gathered.
Nestled at the foot of the hill, in the story-book suburb of Goose Hollow, is Providence Park, the city's newly-renovated football stadium. Inside, over 25,000 fans have gathered in the summer sun; a cacophonous sea of red and black crashing up the stands in every direction.
They've turned out on this cloudless afternoon, with flags and banners and drums in tow, to watch the city's women's football team, Portland Thorns, take on defending Champions North Carolina Courage in the National Women's Soccer League.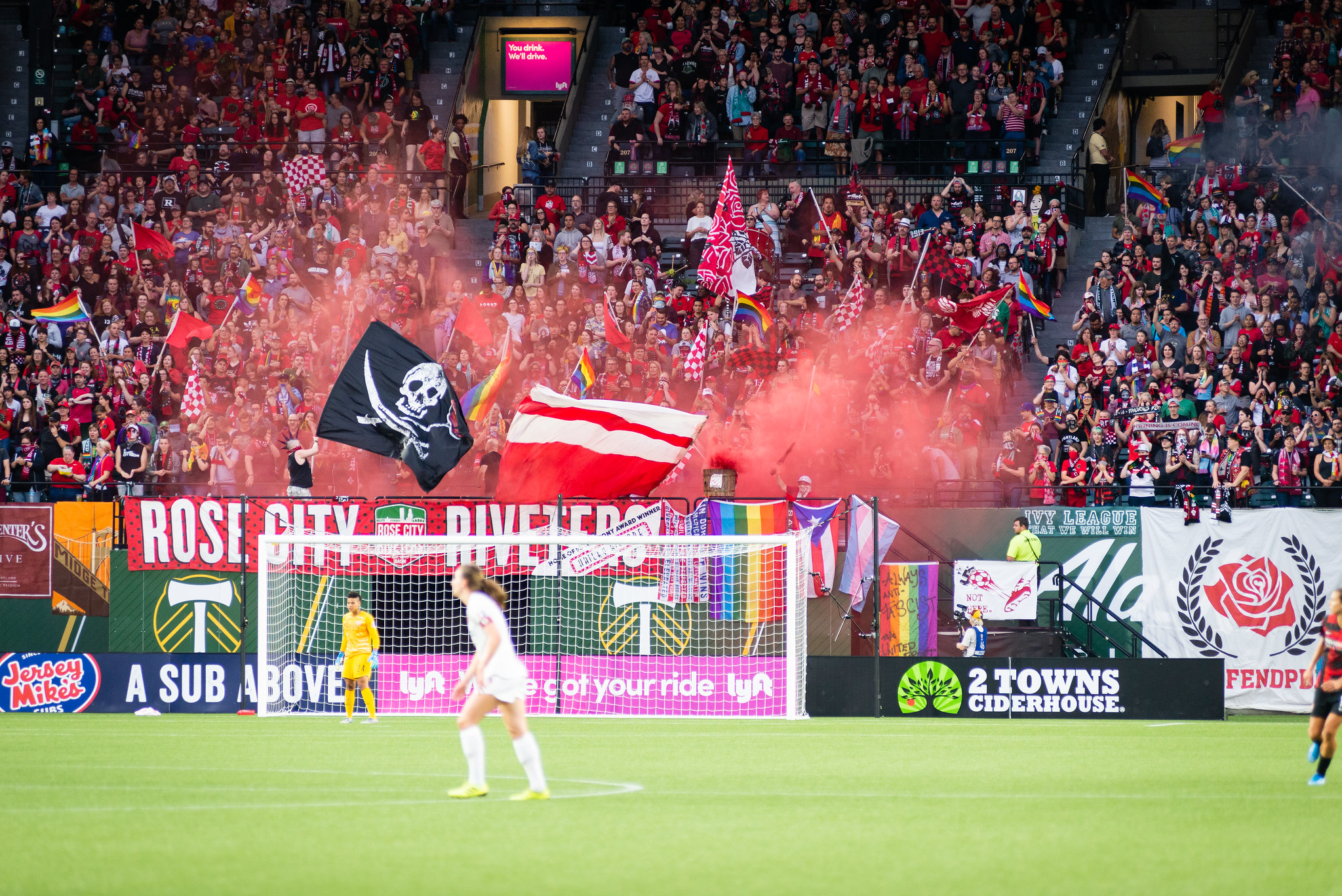 It's half-time. Portland are down 1-0. North Carolina—one of their biggest rivals, who sit one point above them on the ladder—silenced that heaving crowd in just the third minute, slamming home the goal that now separates them.
Shades of last season's grand final loss have coloured this first half. Held at this very stadium, North Carolina steam-rolled Portland 3-0 to claim the 2018 Premiership-Championship double. Today, having conceded a goal before sweat could gather on their brows, there is a real sense of déjà vu.
Portland's first half has been slow and predictable, so to try and provide his side with some much-needed spark, head coach Mark Parsons makes two half-time substitutions.
There is a palpable shift in the atmosphere of the stadium as the players re-enter the field—the fans are keeping an eye out for one footballer in particular. And then, she arrives. Bounding across the synthetic grass to join her team-mates for the second half is Australian winger Hayley Raso, her characteristic hair ribbon—this time in Thorns red—shining in the sun.
The Aussie import has become a crowd favourite since arriving in Portland in 2016. Her dynamic, leave-it-all-on-the-pitch style of play has captured the hearts of one of the competitions most famous supporters' groups, the Rose City Riveters.
Known for their enthusiastic active end during home games, the Riveters have created a number of banners and flags in Raso's honour.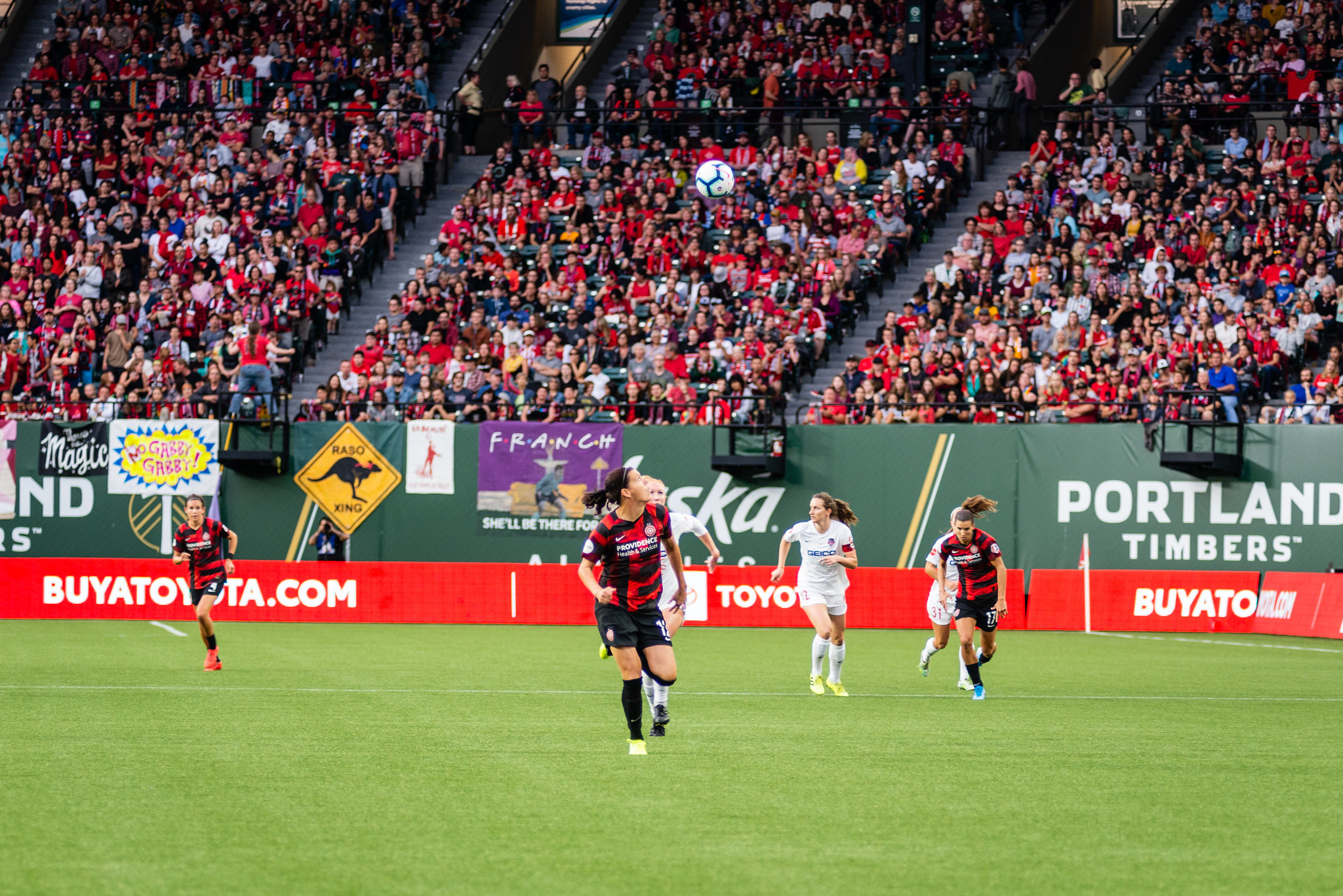 "The community of fans and our supporters' group are an extremely inclusive group who create such a unique experience and atmosphere at every game," Raso said.
"I love playing for Portland Thorns. Not only am I in an extremely competitive environment where I'm developing every day, but I get to be supported by one of the best fan groups in the world.
"Portland is a huge football city, where the fans love the game as much as the players do.
"The quality of play as a team and also as a league is what drives people to turn up, watch the games, and show their support."
Following a breakout season in 2017 where she scored 7 goals and assisted 3 more, Raso was voted the Rose City Riveters' Player of the Year.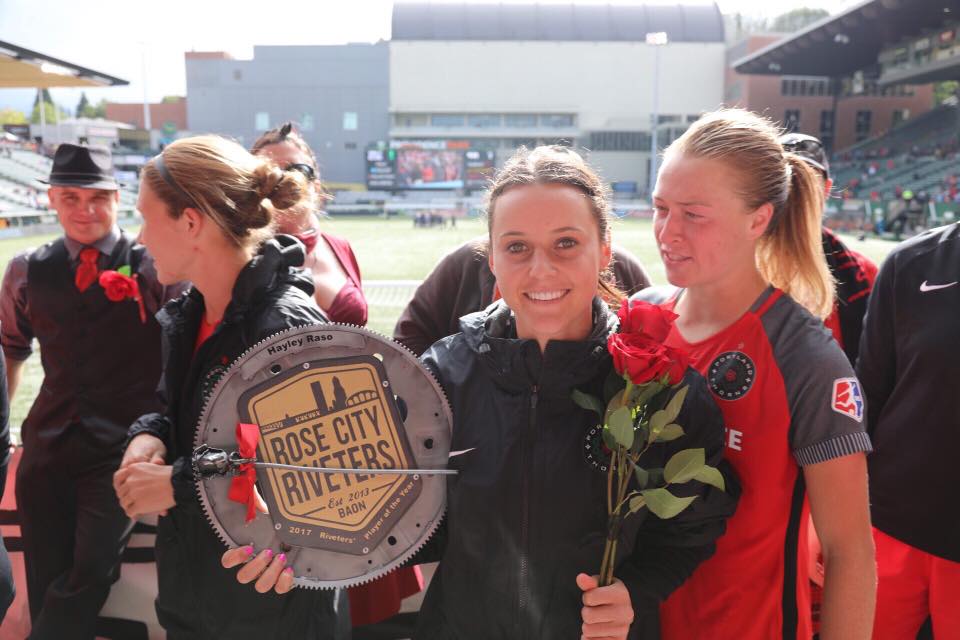 But her wings were about to be clipped, and through no fault of her own.
In August the next year, Raso sustained an injury to her spine that almost ended her career. While playing for Portland against the Washington Spirit, she challenged for a ball in the air and fell onto the knee of an opponent. She broke her vertebrae in three places. Wrong place. Wrong time.
As a testament to how important Raso had become to Portland's fans, at the end of the next home game, while she was still recovering in hospital, they sung her name for the TV cameras, knowing she'd be watching.
She may be on the other coast, but @HayleyRaso is here too. 🌹 #PORvSEA #BAONPDX pic.twitter.com/96PjZtASZj

— Portland Thorns FC (@ThornsFC) September 8, 2018
Less than a year later, she was walking out in front of tens of thousands of fans in France to play for the Matildas in the FIFA Women's World Cup. Her resilience and determination to return from her injury so quickly was one of the stories of the tournament.
"Speaking about this still gives me goose-bumps, as I remember the feeling so well," she said.
"The moment I stepped out onto the field for that very first game was the exact moment I felt so much pride in myself for being there. I didn't think I would ever walk again, let alone be running around on the biggest stage in women's football, so for me that was a huge accomplishment in itself.
"During my time in hospital and rehabilitation, all I could think about was putting on that Matildas jersey for a World Cup, so to make that happen after everything I went through was a dream come true."
https://www.instagram.com/p/ByNKedzgiwk/
We all love a sporting comeback story, and Raso's return to football after her injury is the kind of comeback story that Hollywood makes movies about. But what tends to be forgotten when we idolise these individual narratives is the role that wider support networks play in allowing these people to achieve their dreams.
Raso's family, and in particular her mother Renaye Sweeting, were there every step of the way.
So, too, were a number of back-room staff from the Portland and the Matildas—and these staff members remain key to Raso's ability to perform on the field.
"Back-room staff are vital to my own individual performance, but also to the whole team in general," she said.
"For me personally, the Matildas medical team have played a huge role in making sure I'm fit, strong, and injury-free leading into every single training session and game. Our strength and conditioning coach also provides me with programs and gym workouts to stay in peak shape.
"The Matildas psychologist helped me battle the mental side of my back injury, and step by step, overcome what I went through. There are a lot of people who work tirelessly alongside the coaching staff to make sure I'm performing to the best of my ability every day."
It wasn't always this way. Women's football has only captured the public consciousness within the last few years—a result of better marketing of domestic and international competitions, greater visibility and accessibility of athletes, and a constantly-improving standard of play.
Despite this, many women footballers still aren't paid full-time, professional wages, and so must find other ways to supplement their incomes.
In the past few years, the increased visibility and marketability of women footballers has opened up the avenue of brand sponsorship. Raso is one such player whose talent and profile both on and off the pitch has seen her named a Nike Mercurial athlete.
It's an important development in women's football and has been crucial to Raso being able to dedicate all her time and energy to the game.
"Being a Nike-sponsored athlete means a lot to me and it's incredible being able to represent one of the biggest brands in the world," she said.
"I'm so grateful that Nike believes in me and it's great that my own personal mantra aligns with Nike's. It's a great fit. I think it's important for athletes to have these kinds of sponsorships as it provides individuals with the potential to continue growing themselves through their brand throughout their playing career and into the future."
https://www.instagram.com/p/Bxlk_5PBTST/?utm_source=ig_web_button_share_sheet
One of Raso's most recent campaigns with Nike has been around the release of the Nike Mercurial 360 Superfly boot. It wasn't that long ago that women footballers only had the option of wearing boots or hand-me-down jerseys that were designed for the bodies of male players. Recent moves by Nike and other big brands to create football gear for women athletes reflects how far the game has come in a commercial and a cultural context.
"Women's football is continually growing. It's exciting to see how much it has changed throughout my career, and I'm excited to see it continue to progress in the future," Raso said.
"The make of this boot fits my foot perfectly, meaning I don't have to worry about what's on my feet, and can just perform at my best. Another reason why I love this boot is because it was designed for speed, which is a big strength of my game.
"I think global interest since the World Cup has definitely risen—more fans are coming out to watch club games, people are buying merchandise, engaging with players, and turning up to support their favourite team locally and at international games.
"We as players want to inspire others and feel valued, so it's amazing to see fans wearing our jerseys and supporting us. Earlier this year, Nike designed the first ever exclusive national team collection for the Matildas, which was really exciting and a huge step forward.
"As a team, we want to create an environment that is truly welcoming and supportive for our fans, so it's amazing to be able to give them a jersey to wear that really embodies who we are as a team."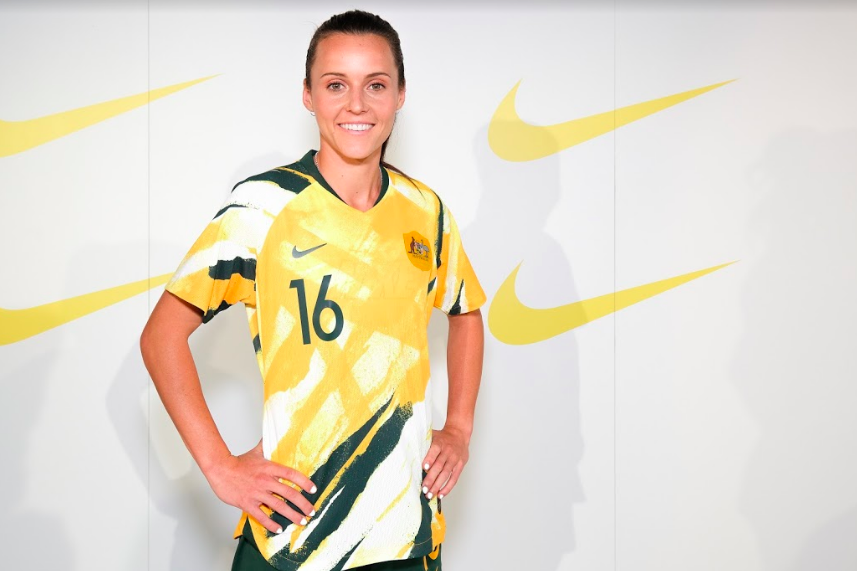 With the end of the NWSL season on the horizon, Raso has her sights set on a return to the W-League—itself in a crucial stage of its development in the wake of the World Cup. As one of the few players who have had experience in both leagues, Raso is well-placed to comment on where the W-League needs to improve if it wants to become an internationally competitive domestic competition, which can only benefit the Matildas now and into the future.
"The Westfield W-League is such an important league in Australia. It allows young developing girls to be recognised and rewarded in the top league, while also providing a competitive league for Matildas players and future Matildas players to participate in," she said.
"The NWSL is a hugely professional league where players are well supported by their teams, have access to top facilities, and are followed by large groups of fans.
"The W-League will continue to grow through investment, by media coverage, selling tickets, and providing players with substantial resources both on and off the field, so that they can perform at their best.
"The more we show the world what women's football in Australia is all about, the more the league will grow and develop into hopefully one of the best."
But for the time being, Raso's focus remains on Portland.
And on this day, it's on North Carolina.
Ten minutes after she's substituted on the field, Raso leaps for a ball in the air. Images flash of her injury, of the surgery and the rehab and the hope she thought was lost.
But this time, she doesn't fall awkwardly; instead, she lands firmly on both feet, forcing the own goal that has tied the game.
And in the 82nd, with the roar of a club record crowd at her back, she sprints past her opponents to latch onto a perfectly-weighted cross from team-mate Christine Sinclair. Raso dives, showing the same determination and bravery that got her through these past twelve months, and pokes a hopeful toe. The ball takes a nasty deflection and nestles in the back of the net. The fans erupt. For just the third time in their history, the Thorns have defeated North Carolina.
And Hayley Raso, like those distant drums, was at the heart of it all.
https://www.instagram.com/p/Bz9WjKhAsDO/?utm_source=ig_embed&utm_campaign=loading