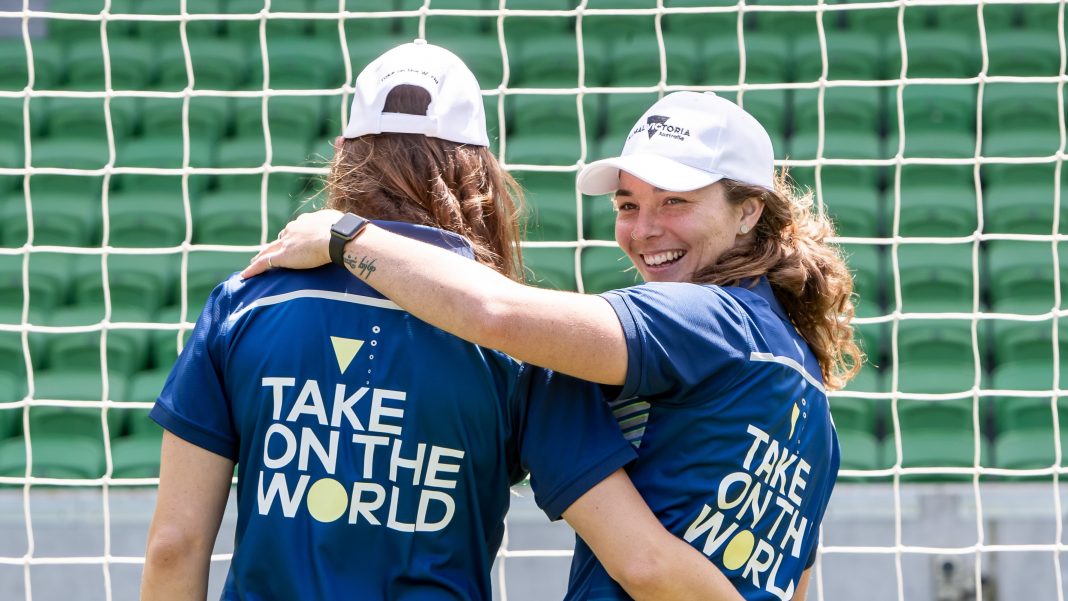 One of the driving motivational factors behind her decision to focus her energies on football, Jenna McCormick's Olympic dreams took a huge leap forward on Wednesday when she was announced as one of the 20 players in Australia's squad for Tokyo 2020 qualifying.
The defender, who has played every minute of every W-League game for fourth-placed Melbourne Victory so far in 2019/20, is one of three specialty centre backs – the others being Alanna Kennedy and Clare Polkinghorne – to have received call-ups by Head Coach Ante Miličić for the upcoming slate of games.
Sorted into Group B for the newly overhauled qualification process, the Matildas will commence their campaign against Chinese Taipei at the Dongxihu Sports Centre in China on February 3, before meeting Thailand on February 6 and China on February 9 at the same venue.
Should Australia finish as one of the top-two finishers in their group, they will then either play the winner – should they finish second – or runners up – should they come in first – of Group A in a home-and-away format with a spot at the Games of the XXXII Olympiad on the line.
Group A – whose games will be staged in South Korea simultaneously with Group B – features South Korea, Vietnam and Myanmar.
"Joy, excitement and I guess just a little bit of relief," McCormick said when asked of her emotions. "Coming off what I would have described as an amazing debut in the Chile series and an amazing experience that was sort of just … it was a bit like dipping the toes into what I want to be doing for a long time.
"It gave me a taste and it just meant that I was eager to be involved in the next gathering, which are these Olympic qualifiers. To be involved is huge for me and was the next step that I was focusing on coming out of that Chile series."
McCormick featured in both games of Chile's tour of Australia in November, starting and playing 86 minutes in front of an Australian-record crowd of 20,029 at Bankwest Stadium before serving as a halftime substitute for Polkinghorne in the second tie at Coopers Stadium.
Pictures of McCormick soaking up the atmosphere ahead of her international debut at Bankwest Stadium became some of the defining images of the series, one that she says presented an invaluable learning experience in her quest to stake a claim on a regular berth with the Matildas.
"The intensity was something that I've not experienced before," the 25-year-old said. "That was something that I was exposed to that I had to quickly sort of adapt to. Also, just little things positionally and specific to being a centre back that I learnt.
"It's good to know what those things are and have them come to light so that I'm aware of them and can be doing them to ultimately better my game. I learnt a lot of things and I was exposed to a lot of new things. So, I had to wrap my head around quite a few things.
"At the conclusion of that and coming back to the W-League I was really conscious of doing all those right things, trying to put into practice what I'd learned and what they want in me as a player – what they see as my strengths and just trying to work hard at them.
"I guess I had them at the back of my mind, going into the first half of the W-League season.
"I'm not in a position where I can feel comfortable with anything. I've always got to be working hard and I'm very much aware that things can change in a matter of seconds.
"You might be involved one time and not the other so I just try to keep a lid on it and try and really focus on what I can do and what my strengths are. Hoping that doing all those right things will get me another opportunity."
Alongside the World Cup, the Olympics represents the pinnacle of athletic endeavour – a once in a lifetime event that few athletes could ever dream of, let alone realistically compete in. It's a goal that could very easily come to dominate one's thinking, especially with the time ahead of the 22 July kick-off getting smaller and smaller with every passing day.
Nonetheless, seven months is a long time in football, and McCormick, despite the Olympics serving a goal she has been striving toward, is trying to remain focused on the task at hand and not get caught up in the sentiment.
"Obviously we've got to qualify first," she explained. "And I've got to get through these games and prove my spot but, to be honest, I've had that tournament in my mind for a while now as something that I've wanted to work towards and get to.
"For me, it's been a step-by-step process, so I haven't allowed myself to get too involved in the future as I just don't know what's going to happen.
"I might not even get to be involved and I'll just be dealing with a lot of disappointment.
"So, I haven't thought too much about the emotions and what it would mean but, of course, it would mean achieving one of my dreams, one of my goals and I think I would be able to be better describing those things when it actually does happen.
"So, happy to take a raincheck on that one and hopefully revisit it and answer when it's more accurate."
Header Image Credit: Melbourne Victory