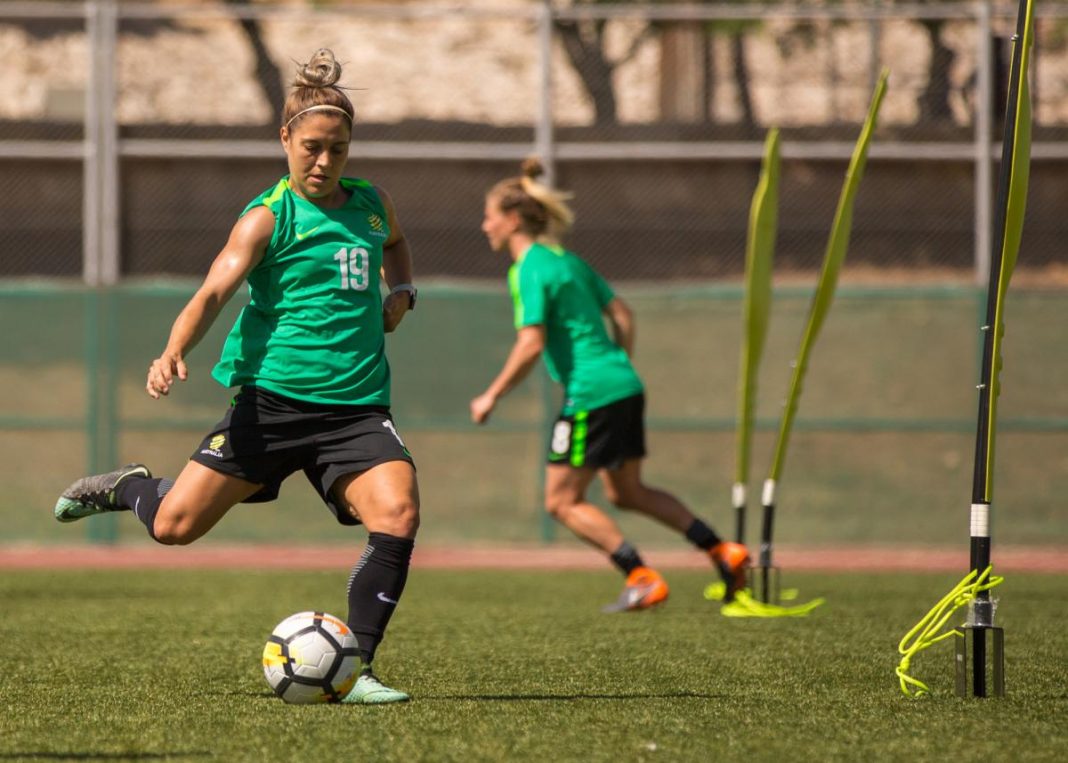 Injuries in football are as predictable as thunderstorms in Melbourne; you don't always know when they will happen, but they're bound to crop up at some point. What matters, though, is how well you can weather the storm.
For Katrina Gorry, rupturing her syndesmosis (the point just above the ankle where the tibia and fibula meet), an injury that put her in a moon boot, was a poorly-timed thunderstorm.
The injury finished Gorry's 2018/19 W-League season with Brisbane Roar and came right at the beginning of a World Cup year. However, the Matilda has since found herself in a good space; excited to be back in the Matildas fold, but mostly she was happy to just get back out onto the pitch.
"I had the surgery about eleven weeks ago. It was kind of my aim to be available for this tour so things went pretty smoothly for me," Gorry said.
"I had tendinitis issues, but I've managed to pull through that and back full training."
Gorry revealed that despite her season-ending injury, she was able to see the up-side.
"I guess it gave me a bit of time to step away from the game," she said.
"I got to reflect on the last few years and the kind of ups and downs I've had.
"Also [to] give myself a bit of time to fall back in love with the game and get my mind back on what I want to do and what I want to achieve in the next couple of years."
Whilst sitting on the sideline is never fun, it's particularly more difficult when your side is contesting silverware, as Brisbane Roar were.
"As much as it's always hard being out of the game and having to be on the sidelines watching Brisbane Roar play, and wanting to be out there with the girls. It was nice to sit back and watch everyone develop." 
https://www.instagram.com/p/BvjYv9aHBUw/
Despite being a mainstay in the Matildas set-up in recent years, Gorry admitted that she was still nervous when it came time for the squad to be selected for the upcoming friendly against the USA.
"Obviously, waiting for the email to come through to see if I was selected for the US tour was pretty worrying for me, I guess because I didn't really know where I stood," she said.
"But I was excited when I got the email, it kind of felt like when I got my first email to get into the Matildas.
"So it's all very exciting to me.
"I felt the same kind of way when I was coming over here on the plane, like it was my first camp.
"Since I've been here, the environment's really positive and Ante's been really refreshing for me, which has been nice to be in."
With the World Cup around the corner, Gorry looks set to stay closer to home.
"At the moment, I've been training with the under-16 boys at Brisbane Roar, which has been awesome. They're really high tempo and [have a high] speed of play, which is good.
"Then we obviously have the promising Matildas program in Sydney that a lot of us will be part of who are staying in Australia over the next few weeks.
"So that's probably where I'm looking at being."
https://www.instagram.com/p/BvqH6S_Hm4l/
Gorry explains the impact new head coach Ante Milicic's philosophy has had within the Matildas camp.
"After watching the girls play in Australia… we've come so far.
"The philosophy that Ante is wanting us to play out, I think, is one that suits us.
"And you see people coming in and playing with a big smile on their face and just enjoying the game for what it is.
"I think that's important with this team.
"We have a lot of characters in the team, and you want to show what they're made of.
"I think that's exactly what he wants them to do as well."
Reflecting the approach of Ante and the Matildas squad towards their upcoming USA match, Gorry's own approach is simple:
"I just want to keep a smile on my face. If I get on in the US game, then I'll be pretty happy."